A Million-Dollar Pardon Offer at the Trump Hotel
Corey Lewandowski allegedly wanted a hefty fee in exchange for helping a government whistleblower win a pardon from the former president.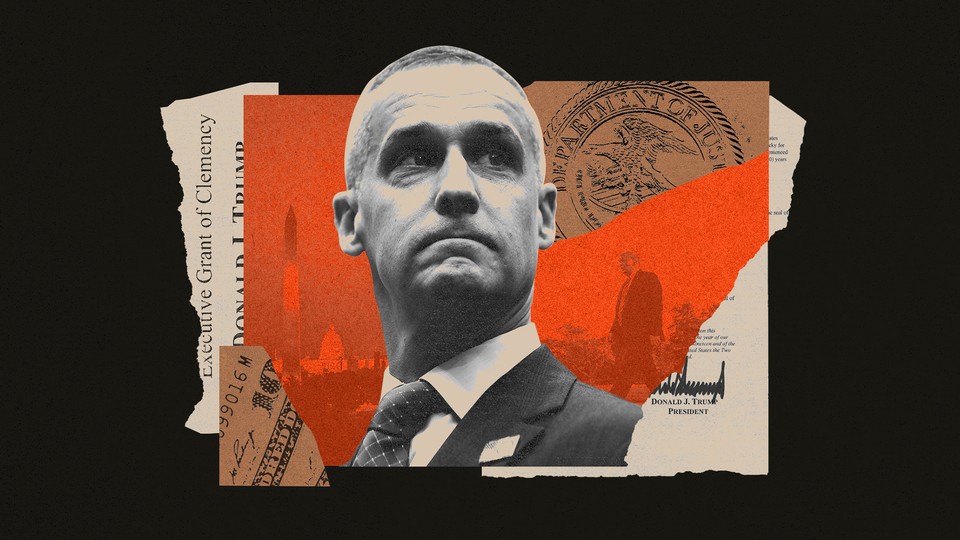 Updated on February 10, 2021 at 6:16 p.m. ET
Soon after the November election, a business colleague of Donald Trump's close ally Corey Lewandowski offered a whistleblower and convicted ex-banker an expensive deal: In exchange for a $300,000 fee up front—plus another $1 million if successful—the two men would push the then-president for a pardon, according to the ex-banker and an associate who heard the pitch.
Brad Birkenfeld, whose exposure of tax-evasion schemes yielded billions of dollars for U.S. coffers, told me he received this offer in person from Lewandowski's colleague Jason Osborne. In a later phone call with a second Birkenfeld associate, Lewandowski, Trump's former campaign manager, upped the initial fee to $500,000 and boasted that he was meeting with Trump the next day to discuss pardons, Birkenfeld told me. Birkenfeld, who said he rejected both offers as "shakedowns," tried other avenues to obtain a pardon, but a handful of associates working pro bono on his behalf were unsuccessful in securing him one. Osborne and Lewandowski both denied Birkenfeld's claims, but a January email from Osborne to Birkenfeld suggests that two pitches were made offering "our assistance" in obtaining a pardon.
Birkenfeld told me how Osborne made the first pitch during a chance encounter they had not long after the presidential election in the lobby of the Trump International Hotel in Washington, D.C., where Birkenfeld was giving away copies of his book, Lucifer's Banker Uncensored, about his career and whistleblowing history. Birkenfeld, accompanied by an evangelical pastor who was trying to help him obtain a pardon, offered copies to Osborne and a colleague. During a brief chat about what Birkenfeld was working on, he told Osborne about his interest in securing a pardon. "That is exactly what we do, and we're doing it for other clients," Osborne replied, according to Birkenfeld. The lobbyist, who worked on Trump's 2016 campaign, said, "Corey [Lewandowski] is my partner, and we're doing this for other people."
Birkenfeld told me he was taken aback by Osborne's proposed fee. "When anybody offers something for six figures without a guarantee, there is something rotten in Denmark," Birkenfeld said. The pastor, whom I agreed not to name because of privacy and professional concerns, likened Osborne's pitch to "speed dating." It was "very off-putting and very crass," he told me.
In an email reply to queries, Osborne told me, "We recommended we could connect him with someone" who could help with Birkenfeld's desire for a pardon. "I never solicited him," Osborne added, saying he never took any money from Birkenfeld, Birkenfeld's associates, or any clients seeking pardons. Asked twice whom he planned to "connect" Birkenfeld with for pardon help, Osborne did not reply.
Birkenfeld told me that his dealings with Osborne and Lewandowski didn't end at the Trump hotel. His claims reveal a new twist in a larger dynamic by which a number of well-connected lawyers, lobbyists, and Trump associates reportedly cashed in on Trump's well-publicized plan to grant numerous pardons before leaving office. On his last day as president, Trump granted more than 140 pardons and sentence commutations, including highly controversial ones to close political allies and people with influential backers.
Birkenfeld, a U.S. citizen who lives in Malta, flew home after his brush with Osborne, and for almost two months, heard nothing more about the offer.
But Birkenfeld said that after another associate, who knew Lewandowski, told him the former Trump campaign aide might be of assistance, Birkenfeld spoke with Lewandowski on the phone for 18 minutes on January 4. They didn't discuss fees, Birkenfeld told me, but Lewandowski wasn't shy in suggesting that he could be helpful. "I'm going to see Trump at 11:30 tomorrow regarding pardons," Birkenfeld recalled Lewandowski saying.
Birkenfeld said he made clear to Lewandowski that he had a team helping him pro bono with a pardon: "I told him I wasn't paying anybody." At that point, Birkenfeld asked Lewandowski to speak with a key ally in Washington who was coordinating Birkenfeld's pardon drive, which Lewandowski did that day.
Soon after that, the ally told Birkenfeld that Lewandowski had hiked the fee to $500,000 up front, with the same $1 million payout if the pardon came through, both the ally and Birkenfeld told me. Further, Lewandowski informed the ally that he wanted the funds wired to him on January 5 by 11 a.m.—30 minutes before he was slated to speak with Trump. (The ally spoke with me on the condition of anonymity because of privacy and professional concerns.)
Later the same day, Osborne sent Birkenfeld an email suggesting that he and Lewandowski were still eager to help him. "I understand you just talked to my Partner Corey Lewandowski," read the email, which Birkenfeld shared with me. "Im not sure what happened two months ago when I offered our assistance.  Let us know if you are still interested. Thanks Jason."
Birkenfeld said he was mystified that Lewandowski would propose an up-front fee that was $200,000 higher than the one Osborne had suggested. "It was a shakedown," Birkenfeld told me, noting that he did not respond to the pitches and had no further contact with either of the men. "Why would anybody ask for a six-digit wire in 24 hours with no guarantees?"
In a heated phone interview, Lewandowski told me that the January 4 calls were initiated by Birkenfeld and his ally. He said he told them to talk to Osborne about pardon-lobbying assistance and that he wasn't doing that kind of work. "I never engaged with them," Lewandowski said. "I was never paid to do it. I never asked for money." (Birkenfeld's ally told me that they did discuss a fee during their January 4 call.)
Asked whether he had spoken to Trump at 11:30 a.m. on January 5 about pardons, Lewandowski told me, "I can't talk about that," and suggested I request White House visiting records. (Trump White House visitor logs are not publicly available.)
Birkenfeld contradicted Lewandowski's account: He "never mentioned Osborne's name, and he told my associate he needed $500,000 sent to his bank before he met the president. There is no doubt in my mind that what Corey was doing was attempting to sell expensive access to the president of the United States."
Osborne and Lewandowski, who worked together on Trump's 2016 campaign, for which Osborne was a mid-level staffer, became business colleagues soon after Trump took office. They've worked closely together at two lobbying firms, Turnberry Solutions and Avenue Strategies, which Lewandowski left in 2017 after allegations that he hadn't registered as a lobbyist, as required, and had used his post for influence peddling for clients with the White House. (In a move that seemed aimed at attracting new lobbying clients, Turnberry's name echoes that of a Trump golf course in Scotland.) Osborne, who co-founded Turnberry in late 2017, told Politico that Lewandowski would not do any lobbying when he joined the firm as a senior adviser in early 2019; that arrangement has meant that others at Turnberry handle the direct lobbying while Lewandowski offers strategic advice to clients, a practice that some ethics watchdogs have historically criticized as a way of covertly lobbying.
Although Birkenfeld rejected the pair's offers, he tried other ways to secure a pardon. Several people working pro bono on his behalf made contacts with top Trump aides, such as Chief of Staff Mark Meadows and White House Counsel Pat Cipollone, Birkenfeld and his key ally told me. He also took out a full-page ad in The Washington Times in mid-December, featuring strong comments in his favor from Bo Dietl, a former New York Police Department detective. Influential conservatives with Trump ties, including the author Peter Schweizer (who wrote a foreword to Lucifer's Banker Uncensored) and MyPillow CEO Mike Lindell, wrote roughly half a dozen letters arguing that Birkenfeld deserved a pardon, he told me, in part for the key role he played in exposing offshore tax-evasion schemes involving Swiss banks, including UBS.
The scams allowed thousands of wealthy Americans to avoid taxes through covert bank accounts. Altogether, Birkenfeld was instrumental in the U.S. recovering about $20 billion from banks and individuals after more than 50,000 people turned themselves in. In the aftermath of his disclosures, UBS in 2009 paid the government $780 million, and forked over the names of more than 4,500 American clients with secret offshore accounts in order to avoid criminal exposure. Just a few years after Birkenfeld's disclosures, 80 Swiss banks also signed agreements with the U.S. to end criminal tax-avoidance schemes.
Notwithstanding Birkenfeld's help, the government charged him with a single count of conspiracy involving his dealings with a major billionaire client who evaded millions of dollars in taxes.* Birkenfeld pled guilty and spent two and a half years behind bars. Once he got out, he received a check for $104 million, the largest ever awarded to a tax whistleblower for helping the government.
To be sure, Birkenfeld's whistleblowing was lucrative for the government—not to mention his own bank account. But as Birkenfeld's hunt for a pardon heated up last year, the very expensive offers he says he received from Lewandowski and Osborne could potentially raise legal questions, former Justice Department officials told me. "While a demand by an attorney or lobbyist for a 'success fee' for a presidential pardon may not in and of itself be a crime, it certainly reeks of corruption and could attract law-enforcement scrutiny," Paul Pelletier, a former acting chief of DOJ's fraud section, told me.
Phillip Halpern, a former prosecutor in California who retired last fall after 36 years of handling major corruption cases, framed the alleged offers in harsher terms: "If Lewandowski was simply trying to shake down potential clients seeking pardons, such sordid moves would be typical of the inhabitants who have crawled out of Trump's cesspool of corruption," he told me.
Already, Trump's pardon and commutation record has elicited strong criticism from watchdogs and other veteran prosecutors: Reports in The New York Times and The Washington Post suggest that out of about 240 clemency grants overall, many went to close Trump allies, associates of Trump allies, and individuals who seemed to benefit from intense or costly lobbying drives. Among the pardons flagged were ones granted to the Trump allies Paul Manafort and Roger Stone, both of whom were convicted as part of the Russia investigation, and to two ex-members of Congress who were early backers of Trump in his first campaign. (One ex-member pled guilty to campaign-finance violations and the other to securities-fraud charges.)
Some Trump allies who reaped big paydays for their pardon lobbying failed to produce for their clients: The lobbyist and chair of the American Conservative Union, Matt Schlapp—whose wife, Mercedes, worked in the Trump White House and on the 2020 campaign—was paid $750,000 to help Parker Petit, a convicted Georgia businessman and major GOP donor. He didn't succeed. By contrast, Alan Dershowitz, who helped defend Trump in his first impeachment trial, and John Dowd, a former lawyer for Trump, were among those who got paid thousands by individuals Trump pardoned.
"Trump promised to drain the swamp, but he never did," says Robert Maguire, the research director for the watchdog group Citizens for Responsibility and Ethics in Washington. "And in his last weeks in office, he pardoned a slew of corrupt cronies and wealthy, well-connected allies who, in some cases, had the help of the kinds of high-powered lobbyists, lawyers, and donors Trump used to decry."
Asked how he feels about not getting a pardon when so many well-connected Trump allies did, Birkenfeld told me he's not angry or bitter. But he still feels slighted: "I think my case was the quintessential one that had the merits deserving a presidential pardon."
---
* This article previously mischaracterized why Brad Birkenfeld was charged with conspiracy.