Impeaching Trump Was an Act of Self-Defense
In impeaching President Trump a second time, Democrats believe they're acting to remove "a clear and present danger" not only to American citizens and democracy at large, but to themselves specifically.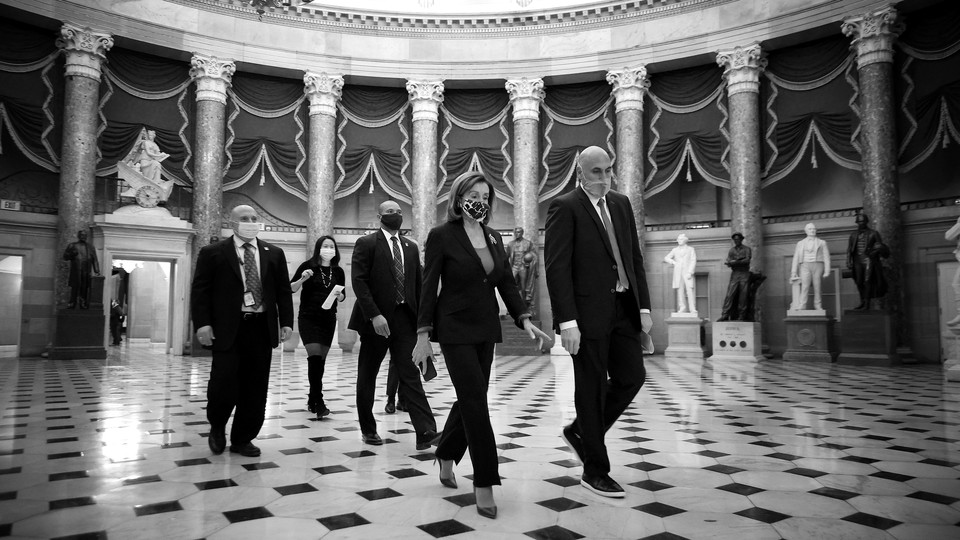 Updated at 4:35 p.m. ET on January 13, 2021
Representative Jan Schakowsky of Illinois, a 12-term veteran of Congress, was holed up in her office when the mob arrived. Thousands of MAGA diehards had followed President Donald Trump's call to march to the Capitol to protest the certification of the Electoral College vote. "It was like a declaration of war against the United States, issued by the president of the United States," Schakowsky told me.
When she returned to Washington yesterday to impeach a president she holds personally responsible for the attack, she didn't wear her members' pin in public. The threat against lawmakers is ongoing—a reality driven home for Democrats like Schakowsky in a briefing they heard on Monday night, when leaders of the Capitol Police told them of a plot by insurrectionists to surround the Capitol, the White House, and the Supreme Court ahead of next week's inauguration of President-elect Joe Biden.
So when congressional Democrats voted today to impeach Trump for inciting an insurrection, they believed they were acting to remove "a clear and present danger" not only to American citizens and democracy at large, but to themselves specifically. And the fear that Democrats have following the assault on their Capitol extends beyond Trump to their own House colleagues. After impeaching Trump, Democrats are likely to pursue punishments against Republican members—including Representatives Paul Gosar and Andy Biggs of Arizona, Mo Brooks of Alabama, and Lauren Boebert of Colorado—who either spoke at last week's rally or applauded the rioters who stormed the Capitol. Brooks addressed the same rally as Trump and told the crowd, "Today is the day American patriots start taking down names and kicking ass." Boebert tweeted during the attack that Speaker Nancy Pelosi had been removed from the House chamber, infuriating Democrats who saw the tweet as a signal to rioters of the speaker's whereabouts.
"Absolutely they should be expelled," Representative Mondaire Jones, a New York Democrat who took office just 10 days ago, told me. Representative Mikie Sherrill of New Jersey said last night that she saw Republican members, whom she did not name, leading "reconnaissance" tours of the Capitol the day before the attack. Representative Alexandria Ocasio-Cortez of New York detailed her terror to more than 100,000 of her Instagram followers, saying that she felt unsafe being in the same room with "white supremacist" members of Congress who she feared could disclose her location to rioters. "I had a very close encounter where I thought I was going to die," Ocasio-Cortez said. Democrats were already angry at Republicans for refusing to wear masks while they hid together from the mob; three members in that room have since tested positive for COVID-19. And last night, Boebert and other GOP lawmakers clashed with the Capitol Police after Pelosi ordered metal detectors to be placed near entrances to the House chamber.
The drive to impeach and remove the president in the final days of his term gained momentum overnight, when five House Republicans declared their support for impeachment and multiple outlets reported that Senate Majority Leader Mitch McConnell was open to voting to convict Trump. The chances that the evenly divided Senate will muster 67 votes to convict the president are higher than when House Democrats impeached Trump a little over a year ago. But even if Trump won't leave office a minute before his term ends at noon on January 20, congressional Democrats—and at least a handful of Republicans—are bent on ensuring that he leaves in shame.
Several lawmakers told me they see the impeachment of Trump for inciting an insurrection at the Capitol as both a tool and a message. It's a tool that the Senate can use to oust the president in the final days or even hours of his term if Trump acts again to stir up violence against Congress, pardons the rioters, or takes reckless military action. And failing that, they said, impeachment represents a message of accountability that Democrats are determined to send not only to Trump but also to the nation and the world: The president's encouragement of the riot that left at least five people dead would not go unpunished.
"This was an attack on the Capitol," Representative David Cicilline of Rhode Island, a co-author of the single article of impeachment the House is considering, told me by phone yesterday. "The notion that we would simply say, 'Oh, you know, this was an effort to overthrow the government, a coup and insurrection against the government, but he's going to be gone in 12 days so we should just overlook it' is completely unacceptable."
In 2019, Democrats took weeks to draft and build support for the impeachment of Trump over his personal plea for Ukraine's president to investigate Biden. Not a single Republican backed impeachment the first time, but 10 voted with Democrats today—making this the most bipartisan impeachment of a president in American history. The breakaway Republicans include the chair of the party's House caucus, Representative Liz Cheney of Wyoming, who said Tuesday "there has never been a greater betrayal" by a president of his oath of office. The House last night approved a nonbinding resolution calling on Vice President Mike Pence to initiate the process of removing Trump through the Constitution's Twenty-Fifth Amendment—a step that could be done immediately but would require support from a majority of the Cabinet—but Pence has ruled out such an effort.
Democrats have scoffed at suggestions by Republicans, and yesterday by Trump himself, that impeachment would further inflame divisions and undermine Biden's pledge to "heal the soul of the nation." Indeed, among the many unprecedented aspects of the current crisis is that lawmakers acted against a man who they believe unleashed not just an invasion of the seat of government, but an attack that put them in physical danger, their lives at serious risk. The sense of personal fear that pervades Congress extends to Republicans as well: Representative Jason Crow of Colorado, a Democrat, told MSNBC this morning that GOP lawmakers confided to him that they were "afraid for their lives" if they voted for impeachment. Despite the plots that Democrats have learned about, Biden told reporters earlier this week that he was "not afraid" of taking his oath outside the Capitol, on the same dais that rioters defiled last week and could threaten again. Schakowsky wasn't so sure. "If I were him," she told me, "I'd stay inside."
Democrats are demanding that the Senate reconvene immediately to hold an impeachment trial, but they'll need McConnell's backing to end a recess scheduled through January 19. And McConnell told the Democratic leader, Chuck Schumer, on Wednesday that he would not call the chamber back early, meaning that the trial will not begin until after Biden is sworn in the next day. Democrats would then be faced with the prospect that an outgoing president who craves attention would dominate the national spotlight days or even weeks into Biden's term. A Senate trial could further delay the confirmation of Biden's Cabinet and undermine his public pledges to turn the page on the Trump era and move rapidly to get the COVID-19 pandemic under control. Some House Democrats, including Representative James Clyburn of South Carolina, the party whip and a close Biden ally, had suggested the House pass the article of impeachment but hold off on sending it to the Senate until after Biden's first 100 days.
As the House prepared to vote, that option appeared to be off the table. Democrats were buoyed by the surprising news that McConnell might turn against Trump—a move that could serve as a permission slip for Senate Republicans to follow and potentially lead to a conviction. "If McConnell supported conviction, you'd likely see a lot more," Democratic Senator Chris Van Hollen of Maryland told me shortly after The New York Times reported that the GOP leader was considering it. Even before that news broke, Van Hollen told me that based on conversations he had had with Republican colleagues, it was clear to him that the number voting to convict the president would exceed the single GOP senator, Mitt Romney of Utah, who backed Trump's removal a year ago. Senator Ben Sasse of Nebraska has sharply criticized Trump's role in last week's assault, and Senators Lisa Murkowski of Alaska and Pat Toomey of Pennsylvania have said he should resign. "All I can predict now is that there will be more than before, but how many, we just don't know," Van Hollen said.
A conviction in the Senate, even if it came after Trump had left office, still carries with it an additional sanction enticing to Democrats and possibly quite a few Republicans: The Senate could vote to punish Trump by barring him from holding office and preventing him from running for president ever again. "That's a lot more than symbolic," Representative Conor Lamb of Pennsylvania told me. "In almost any other scenario I would say, 'Well, tough, we just got to go out and beat him the old-fashioned way.' But I think he proved with this attack last week that he just simply should be disqualified from even seeking that office."
For Democrats in the House, however, that consequence is beyond their control. The vote today was their final chance to affix one more infamy on Donald Trump's legacy, to send him out of the White House not with a wave but with a kick. "It's important," Schakowsky told me, "that he be disgraced."