How a Well-Meaning Health Policy Created California's Coronavirus Nightmare
The state's hyperefficient health-care system runs pretty well—unless a pandemic strikes.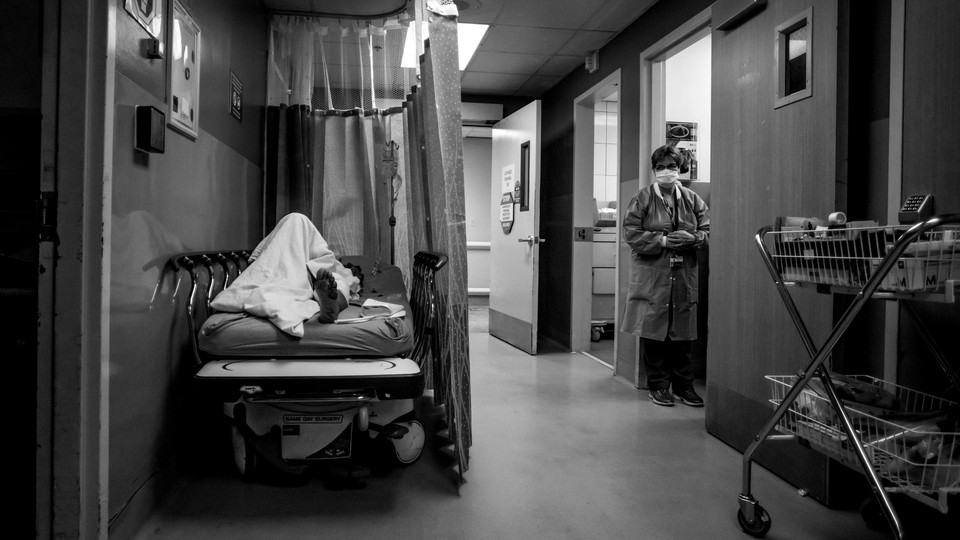 Everyone's worst pandemic nightmare is happening in Los Angeles. Intensive-care units are overflowing with patients gasping for breath, and there might not be enough ventilators to go around. If a patient has virtually no chance of survival, ambulances have been told not to bother transporting them to a hospital at all. People experiencing a heart attack or kidney stones can't count on a bed being available for them.
But perhaps it should be no surprise that California's hospitals are full to bursting: the state has one of the highest COVID-19 hospitalization rates in the country, and it has relatively fewer hospital beds than most other states—just 1.8 per 1,000 people, compared with 4.8 in South Dakota, which has the most beds in proportion to its population. California's relatively few hospital beds are attended by relatively few nurses, compared with other states' staffing levels. Now the state's hospitals have become overwhelmed, flooded with COVID-19 patients and unable to help them all.
The health-care system in California is fraying because the state has tried to run its health system efficiently. The principles are simple: Keep patients out of hospitals, funnel people to primary-care doctors, and don't build hospitals you don't need. In normal times, that strategy would make perfect sense. Typically, doctors' trying to treat patients outside of hospitals is smart. Medical advances mean that procedures such as mole removals and knee replacements can be done in just a few hours instead of a few days. And holding patients in hospital beds is much more expensive than sending them home, while people languishing in hospitals risk acquiring infections.
[Read: The real reason Americans aren't quarantining]
For a time, California was succeeding in limiting the spread of the coronavirus. California didn't have as many COVID-19 cases last spring as New York did. A Navy hospital ship docked in Los Angeles in March and treated fewer than 100 patients. "Perhaps many of us were unduly optimistic over the summer and into the early fall about our ability to contain the virus," the UC San Francisco health-policy professor Janet Coffman told me.
But this most recent coronavirus wave complicates the idea that fewer hospital beds are better. The viral surge has strained California's hospital resources like nothing else has in the past, experts told me, including the swine-flu pandemic of 2009. "Do you build hospitals with the anticipation of these once-a-century epidemics?" says Ralph Catalano, a professor of public health at UC Berkeley, "or do you build them for 98 percent of the time?"
Any hospital administrator would pick the latter. It's unrealistic for a hospital to operate with three times the capacity it normally needs, just in case a freak virus sweeps the planet. The vast majority of the time, that type of excess would have led to frustration over the high cost of health care, rather than relief that the state is ready for a once-in-a-lifetime pandemic.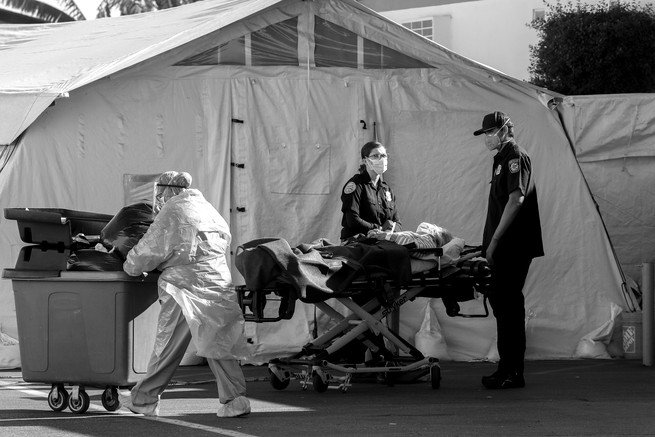 California's hospitals run unusually lean for some state-specific reasons. People began moving to California in large numbers just as treating patients in hospitals for weeks at a time was becoming less common—the state's population tripled in the second half of the 20th century. The state suddenly became a very densely populated place without a lot of extra room in its hospitals. California's unusually young and healthy population typically doesn't need as much hospital capacity as an older, sicker state might. The slightly higher-than-average percentage of Californians on Medicaid, the health-insurance program for the poor, tends not to be an attractive population for hospitals to spring up to serve. Because the area is vulnerable to earthquakes, several Los Angeles hospitals have closed in recent years rather than retrofit their buildings to make them more seismically sound. (However, L.A. County still has more beds per capita than other parts of the state, according to data from the California Health Care Foundation.)
[Read: How to tell if socializing indoors is safe]
Finally, many Californians are on HMOs, or managed health plans that incentivize people to seek treatment at primary-care doctors' offices and avoid the hospital. Nearly three-quarters of commercially insured Californians have HMOs, according to CHCF data, compared with about 20 percent of all American workers. One popular California health-insurance firm, Kaiser Permanente, owns its own hospitals and medical practices. To manage costs, it tries to minimize the amount of time patients spend in the hospital. With no expectation that so many patients would be requiring such long stays in the hospital simultaneously, Kaiser and others never saw the need to set up the extra beds.
The shortage of nurses and doctors to take care of all the incoming COVID-19 patients is an even bigger issue than the limited ICU beds, experts told me. Doctors can warehouse patients temporarily in a hospital tent or an empty building, but patients still need someone to come hook up their ventilators and monitor their vital signs.
When some California hospitals closed, their health workers lost their jobs. Add to that a meager number of trainee primary-care doctors and a high cost of living, and "we just don't have enough doctors, nurses, allied health professionals to take care of everybody here," Kristof Stremikis, an expert on the state's health-care system at the California Health Care Foundation, told me. "That's something that was an issue that we were dealing with before, and that we'll be dealing with after."
The pandemic has exacerbated this shortage, as some nurses have fallen sick; others aren't working, because they're in a high-risk category for COVID-19 complications; and the reserves of short-term "traveling" nurses have already been tapped. California legally limits how many patients each nurse can take care of, and though the state overrode those limits in December, the new rules haven't entirely solved the crunch. "There are hospitals with empty beds, and it's because we can't staff them," says Renee Hsia, a professor of health policy at UCSF and an attending physician at the San Francisco General Hospital.
If hospitals had seen this coming, they could have postponed elective surgeries more quickly, and cross-trained nurses and doctors to work in ICUs, Coffman said. They could have held on to the temporary nurses they hired in the spring. But really, the time to prepare for the strain on California's health workers, Stremikis and others say, was years ago. In 2019, a panel of health experts recommended that the state boost the number of nurses and doctors by providing additional funding for scholarships and loan repayment, increasing residency slots, and expanding the scope of practice, among other things. But "these are long-term investments rather than short-term fixes," Stremikis said. "It's like planting trees or putting money in a 401(k). You might wish you had done more of it 10 or 20 years ago, but the second-best time to do it is right now."
The office of California Governor Gavin Newsom, a Democrat, did not make officials available for interviews for this story, although his office and the state's health department both released statements saying they had taken "aggressive" steps to deploy additional staff and beds.
Last week, Newsom did ask for 500 federal medical workers to be deployed to California to help, but as of Friday the request was "still awaiting adjudication by federal officials," the governor's office told me. These workers could have been in place before the state reached a crisis point, but the federal government has refrained from coordinating any element of the pandemic, whether testing or contact tracing or vaccine distribution. It has also failed to control the coronavirus, which is really the only way to keep a hyperefficient hospital system like California's functioning during a pandemic. And now, much as states have been on their own to handle other parts of the pandemic, California is on its own to find enough nurses, too.