It Was Supposed to Be So Much Worse
And the threat to the U.S. government hasn't passed.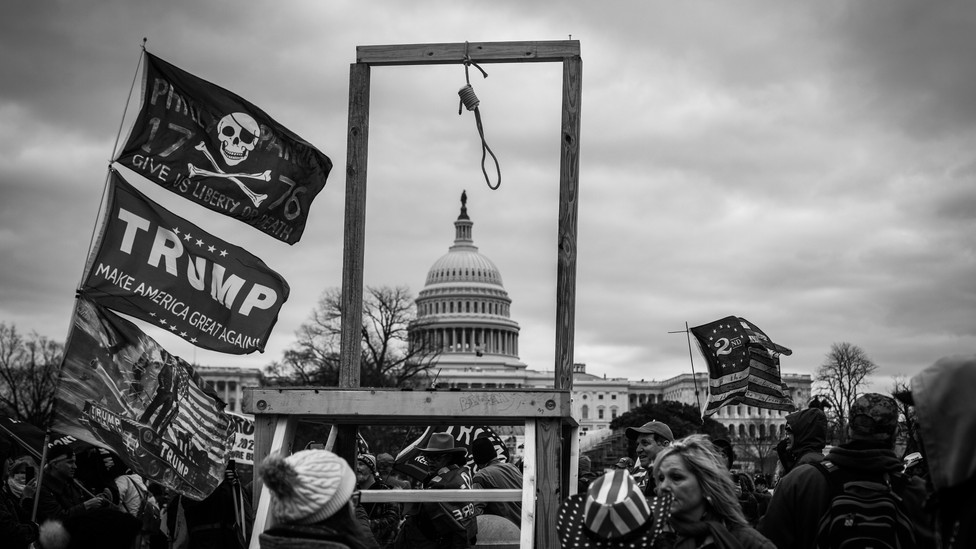 Updated at 8:45 a.m. ET on April 21, 2021.
On the West Lawn of the Capitol Wednesday, a man in a pom-pom beanie clamored for blood. "Execute the traitors!" he shouted into a megaphone. "I wanna see executions!"
The man got the deaths he wanted, if not the executions. Four rioters died as a result of Wednesday's insurrection at the Capitol.* Some of them had bigger plans too: Before the protest, pro-Trump radicals had posted online about their intentions to kill Vice President Mike Pence. They brought zip ties and wore Kevlar vests. Rioters erected a wooden gallows next to the Capitol Reflecting Pool, and police discovered two pipe bombs on Capitol Hill.
The violence could have been even worse. Some of the rioters clearly wanted it to be. And Wednesday's attack may have had another, more insidious effect: to embolden extremists. Already, Trump-supporting zealots online are promising to return to Washington around Inauguration Day.
"President Trump has ignited fire within people," a protester named Maria told me on Wednesday afternoon, before either of us knew that rioters had broken into the Capitol. "Some of these guys … they're ready to go to war or die for their country today. This is not going away anytime soon."
As the rioters breached the Capitol walls, Representative Susan Wild of Pennsylvania was in the House gallery, watching her colleagues debating on the floor below. She watched as the Capitol Police evacuated Speaker Nancy Pelosi and House Majority Leader Steny Hoyer. Suddenly, officers announced that rioters had entered the Capitol Rotunda, and ordered Wild and her colleagues to put on the gas masks below their chairs. Wild dropped to the floor. She and several other members of Congress crawled on their hands and knees from one side of the gallery to an open exit on the other. She FaceTimed her two adult children to reassure them. After she hung up, the panic set in—the sensation of being trapped, cornered like a caged animal. This, Wild told me, was probably the moment captured in the now widely circulated photo of her being comforted by Representative Jason Crow of Colorado, a former Army Ranger. "I had an image of an overwhelming number of armed people invading the Capitol coming in to shoot us up," she said. "I remember thinking, Wow, this is what it's come to."
The rioters didn't shoot any lawmakers, but Wild was close to real danger. A screaming mob had forced its way into the Capitol on the west side, and more people were climbing through the broken windows of the east entrance. A group led by a man in a QAnon T-shirt chased a police officer up to the second floor, chanting and demanding to speak with senators. Some wore tactical gear—helmets, armor, and black masks covering their entire face. It was easy to miss them with all the coverage of the costumes and poop-smearing and poses struck in Statuary Hall, but they were there, these military-styled men, carrying blunt instruments and fistfuls of zip ties, better known as flex cuffs, capable of restraining hostages. At least one was an Air Force combat veteran, The New Yorker reported. They seemed to act with purpose and knew their way around the Capitol. One carried a semiautomatic weapon and 11 Molotov cocktails. Later, police officers found the two pipe bombs. The devices were outside the buildings housing the Democratic and Republican National Committees, just blocks from the Capitol. Federal agents discovered a truck full of rifles, shotguns, and bomb-making supplies parked outside the RNC headquarters.
"We are lucky, more than anything else, there wasn't a large death toll," Peter Simi, an expert on extremist groups at Chapman University, told me. "It could have been far, far worse."
Rioters could have set off these bombs, used the flex cuffs to take lawmakers hostage, or set up a kind of kangaroo court for the politicians they consider to be traitors to the MAGA cause, Simi said. "The idea of taking folks who have committed treason prisoner, those are ideas that are widely circulating in [far-right] circles," he said. "All the Democratic lawmakers and any of the Republicans that have criticized Trump or not fully supported Trump would be eligible." A Reuters photographer on the scene said he heard at least three different rioters say they wanted to find and hang Pence, who supported certifying the results of the election.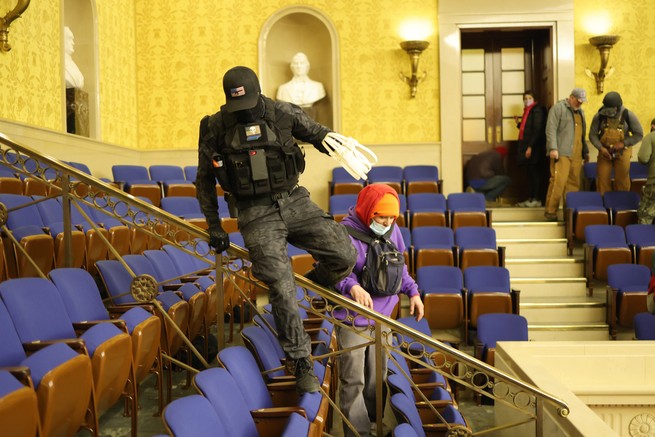 Some of the rioters were well-known extremists or members of radical groups. Members of the Proud Boys, a group of self-described "Western chauvinists" who have participated in violent street rallies over the past year, attended the riot this week. Other attendees included a white-nationalist social-media personality known as Baked Alaska; at least one neo-Nazi group; and a QAnon adherent named Jake Angeli, who was dressed in an animal pelt and horns, the Daily Beast reports. The man who put his feet up on a desk in Pelosi's office was Richard Barnett, who'd previously called himself a white nationalist and written on Facebook that he was prepared to die violently. Some of the far-right insurrectionists live-streamed the Capitol invasion on a fringe gaming website.
On sites such as TheDonald.Win and Parler, Trump supporters had been plotting the attack for weeks, promising violence if Congress didn't overturn the results of the presidential election. They discussed the weapons they would bring and brainstormed which lawmakers they would hang first. "I'm thinking it will be literal war on that day," one commenter posted on TheDonald's forum last month, according to the Daily Beast. "Where we'll storm offices and physically remove and even kill all the D.C. traitors and reclaim the country."
But despite all the chatter about storming the Capitol and the general call for violence, most of the insurrectionists did not appear to have a clear blueprint for action—and the ones who seemed to have a plan were driven off by police reinforcements. Rioters killed a police officer, but they failed to follow through on their threats toward political leaders. Part of the reason for this, Simi said, is that most of the people who entered the Capitol were not armed, and many were likely unprepared for how simple their task would be. "I think what happened was [rioters] had no idea it would be that easy to breach the perimeter, so they weren't prepared for the potential easy opportunity to do a lot of damage," Simi said.
Law enforcement is preparing for future violence. This week, the Army announced that it will deploy 6,000 National Guard troops for Joe Biden's inauguration. But far-right extremists are not deterred—far from it. They are already reportedly plotting more rallies, including a return to Washington, D.C., before or on the inauguration, this time with more guns. For many Trump rally-goers, the events at the Capitol on Wednesday may be the "spark" that radicalizes them, Simi told me—or further radicalizes others. Among neo-Nazis on the Telegram app, "there's been a real hailing of the predominantly MAGA crowd" that stormed the Capitol, he said. "They're saying, 'The lemmings are starting to see the light. Our ranks are growing.'"
The halls of the Capitol were quiet on Thursday morning. The only evidence of the previous afternoon's forced entry could be found on the second floor: the broken glass and boarded-up windows; the bloody bust of President Zachary Taylor; and the lonely can of Axe body spray likely tossed or dropped by a Trump devotee. The building's silence carried with it a sense of relief, like the end of a horror movie, when viewers can finally exhale. But it could just as easily mark the beginning of something worse.
---
* This article originally cited reporting from The New York Times that Capitol Police Officer Brian Sicknick had died after being beaten by the mob. On April 19, Washington, D.C.'s chief medical examiner released a report finding that Sicknick had experienced two strokes and died of natural causes.