It's Over
The president of the United States is out of options to fulfill his authoritarian dreams.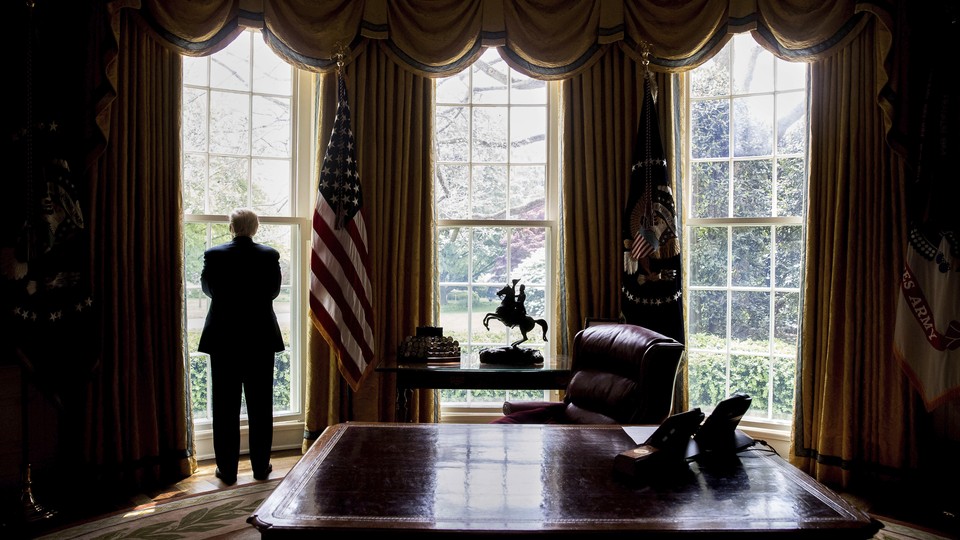 Walk toward the White House during the final days of the Trump presidency, and you'll get an unmistakable feel of a government under siege. Buildings near Pennsylvania Avenue are boarded up in anticipation of street violence. Monuments are choked with fencing. A tall metal barricade has been erected at Lafayette Square, just north of the White House, and is covered top to bottom with signs—welcome proof that as Donald Trump maneuvers to defy the Twelfth Amendment and cling to power, the First is very much intact. You're fired, one sign reads.
Guards let me through the White House's north gate, lengthened and fortified last year, and inside the complex. I was there the morning after the release of a recorded phone call in which Trump attempted to coax and scare Georgia election officials into finding the votes needed to overcome Joe Biden's victory margin and flip the state. Georgia's secretary of state, Brad Raffensperger, rebuffed him, just as a slew of courts have done over the past two months. For now, at least, democracy is holding; Trump is on his way out.
On a day like this, you'd expect the West Wing to be teeming with people. Normally you'd see aides crowding the hallways, or reporters in a single-file line outside Press Secretary Kayleigh McEnany's doorway. The West Wing halls accessible to the press have a desultory vibe, more like a temp agency than the beating heart of the free world. As I wandered, a handful of aides worked at their desks and talked quietly among themselves. Not one wore a mask, befitting the COVID-19 denialism that has turned the complex into a breeding ground of infection.
They're caretakers for a White House that is shutting down. And for the most part, the people who work in the building know it. None of the advisers and aides I've spoken with over the past couple of weeks is under any illusion that Trump will serve a second term. They realize it's over, though one aide, who, like others, spoke on the condition of anonymity in order to talk more freely, told me that they've gotten no guidance from senior officials on what will happen come noon on January 20, when Trump's term constitutionally ends.
"I don't know of anybody in the building who thinks there will be anything but a Biden inauguration on January 20, and quite frankly, I think that includes Trump on most days," one former official told me. Trump hasn't admitted as much. Yet, in rare moments of clarity, he seems to acknowledge the obvious. At his Georgia rally last night, he slipped into the past tense when talking about his dealings with North Korea, offering what sounded like a valedictory. "I got along very well with Kim Jong Un," he said of the country's leader.
"He knows he lost," Representative Adam Kinzinger, an Illinois Republican, told me. "He may buy the conspiracy theories that he reads on Twitter, but at the end of the day, he knows he lost. He realizes that for the next 10 years of his life, he'll have to answer for this, and he wants to be able to say it was stolen. It's all about him and his pride right now."
One person close to the White House has said that privately, Trump talks about his postpresidential plans as opposed to any kind of second-term agenda. Another friend, Chris Ruddy, the CEO of the conservative news outlet Newsmax, told me that Trump may discover that life outside the White House is in some respects a happier existence than inside. "I think he's going to like being a former president," Ruddy said. "You have a lot of influence."
Should he choose to run again, Trump would be the clear front-runner for the Republican nomination in 2024. Ruddy doubts he will try. "He's never really liked being a captive of the White House. He was a guy who liked moving around, not being so much on a schedule. He likes to do his own thing."
Even among Trump allies, there is a consensus that his efforts to overturn the election results have been futile. "All of his true friends believe that this is a total shit show and he's only hurting himself," a person close to the president told me. Steven Groves, a former press deputy who also represented the White House in the Russia investigation, drew a contrast between the Trump campaign's effort and George W. Bush's legal fight during the Florida recount 20 years earlier. "The Bush campaign brought in former Secretary of State James Baker to quarterback the thing," Groves said. "Major law firms with hundreds of lawyers were retained. When similar things didn't happen here within the first couple of weeks after the election, it looked to me like a completely unserious effort. It seemed to be fruitless and they'd just make a show of it."
The show's about to end. Tomorrow, a joint session of Congress will meet to count the electoral votes, formalizing Biden's victory. A number of Republicans in both the House and the Senate plan to object, citing baseless claims of voter fraud and irregularities, though not enough to nullify Biden's victory. As ever, Trump has cast what is supposed to be a ceremonial event, a consecration of the popular will, into a test of his party's obeisance to its leader. What he's finding are the limitations of the power politics he's practiced over the past five years. Senate Republican leader Mitch McConnell isn't going along with the charade, nor is the party's whip, John Thune. (In reprisal, Trump says he wants Thune to face a primary challenge when he's up for re-election in South Dakota in 2022.)
"Most Republicans know that Trump doesn't really have their back when things get tough, so I don't think they feel any sort of loyalty to have his back when things are tough," a Republican Senate aide said.
With a detectable note of relief, people close to Trump described the congressional vote as a natural end point. They hope it will stop the quixotic effort to convince the world of an unreality: that he won the election. "After January 6, I think you'll see a traditional defeated president," another person close to the White House told me. "Like a Jimmy Carter or a George H. W. Bush. Or as traditional as he can be." Meaning: not one bit. There's no worse epithet in Trump's view than loser, and he'd never admit to being one. He'll need a face-saving way of describing his fate. "He'll acknowledge that there has to be a transfer of power because he can't definitively prove that they stole it from him," this person said. "That's what he'll do—and that's the best Biden will ever get. And I don't think he'll celebrate Biden's presidency one minute."
When he looks out from the White House's north windows, Trump can see the layers of fencing that have sealed him in his temporary home. But he can also see the steady progress that workers have been making on the inaugural viewing stand rising up on Pennsylvania Avenue. Fixed to its front is a huge American flag. The edifice is a visual reminder that in a healthy democracy, power is impermanent. Self-government depends on the Constitution, but also on acts of courage by people such as Raffensperger.
"The Constitution is a piece of paper!" Garry Kasparov, a former world chess champion who grew up in the Soviet Union and is now the chairman of the Renew Democracy Initiative, told me. "It's not carved in stone. We have to be active. We have to be engaged. We have to fight for democracy."