Mitch McConnell's Slipping Grip on the Republican Party
What happens when GOP senators stop listening to their own majority leader?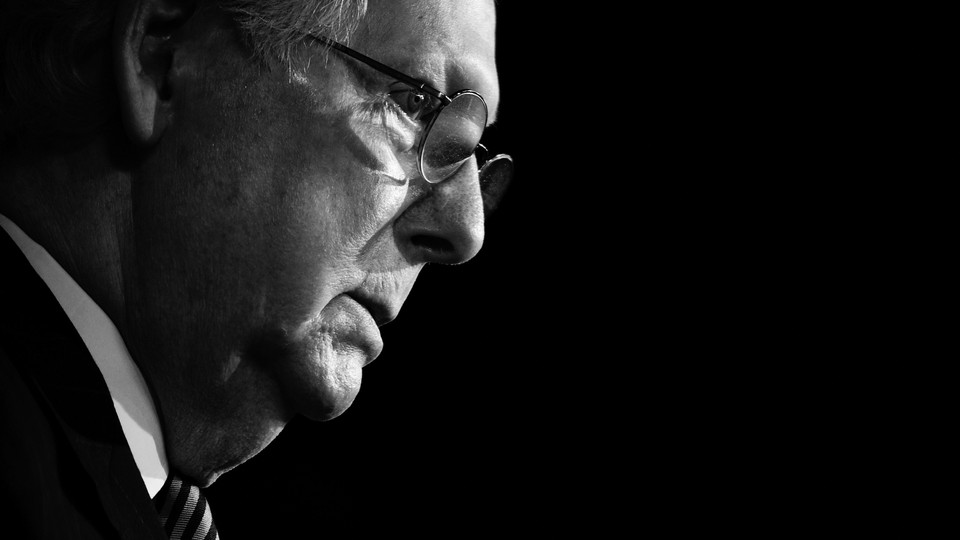 Mitch McConnell begins the new year with his hold on the Senate, and on his own party, loosening by the hour.
A pair of runoff elections in Georgia tomorrow could end the Kentucky Republican's six-year reign as majority leader, and on Wednesday, he'll have to watch as nearly a quarter of his members challenge the clear results of the presidential election in defiance of McConnell's explicit wishes. Democrats and Republicans alike have warned that the effort, led by Senators Ted Cruz of Texas and Josh Hawley of Missouri, while doomed to fail, is a worrisome sign of a fraying commitment to democracy among a significant portion of the GOP. More troubling still is the realization that these Republican senators are not acting simply out of personal loyalty to President Donald Trump, but as representatives of a sizable constituency of Americans who are unwilling to accept an electoral defeat. Regardless of the outcome of their effort, the stunt will make subverting the will of voters easier for the next would-be authoritarian.
That may be true in the long term, but the more immediate challenge is to McConnell and the considerable sway he's held over Senate Republicans. McConnell's influence during the Biden administration will depend on his ability to keep Republicans unified—whether to block a progressive agenda in the majority or to stifle the new president using the Senate filibuster in the minority. But three weeks before Biden's inauguration, McConnell's conference is splintering over the outgoing president, with a growing faction of Trump loyalists willing to ignore the majority leader's pleas.
In mid-December, after the voters of the Electoral College confirmed Biden's victory over Trump, McConnell urged Republicans in a private call not to join House Republicans in objecting to the results when Congress convened to certify them on January 6. He reportedly warned them that such a challenge would force Republicans to take "a terrible vote" pitting them between the Constitution and Trump.
The first Republican to buck McConnell was Hawley, the first-term senator who last week announced that he would object to the certification of Pennsylvania's electoral votes. McConnell then called out Hawley in another party conference call and, according to Axios, told Republicans that the vote certifying Biden's election and upholding the democratic process would be the "most consequential" he's taken during the 36 years he's served in the Senate. Just two days later, 11 more Republicans defied McConnell: A group led by Cruz declared that unless Congress created a commission to conduct an "emergency" audit that could overturn Biden's victory, they would not agree to certify the Electoral College votes. McConnell hasn't responded to that announcement, and spokesmen for the majority leader did not reply to requests for comment.
A mere two months ago, McConnell stood at the peak of his power in Washington. He had just steered Judge Amy Coney Barrett through an unprecedented preelection confirmation to replace the late Justice Ruth Bader Ginsburg on the Supreme Court. The move cemented his joint legacy with Trump as Republicans who did more to push the federal judiciary to the right than any other pair of leaders in modern history. Despite howls of protest, Kentucky voters rewarded McConnell with a 20-point reelection victory over one of the best-funded Democratic challengers in the nation.
Yet McConnell is concluding his up-and-down partnership with Trump on a sour note. Though he held off on acknowledging Biden's win until the Electoral College vote, he has refused to indulge the president's false allegations of widespread voter fraud in the weeks since. McConnell led the Senate in overriding Trump's veto of the annual defense authorization bill—the first such rebuke during his presidency—and he rejected Trump's push, backed by Democrats, to increase the amount of new stimulus checks from $600 to $2,000 a person. Predictably, the president lashed out on Twitter, criticizing the "weak and tired" GOP leadership and warning that Republicans were sowing the seeds of future defeats.
McConnell isn't exactly in danger of irrelevance. There's been no serious talk of a challenge to his leadership position, and the legislative filibuster will grant McConnell plenty of clout even if Republicans lose both Senate races in Georgia and, with them, their majority. (Democrats are unlikely to be able to gut the filibuster with so narrow an advantage.) But either way, he'll have to manage a conference divided between Republicans inclined to work with Biden on bipartisan deals (such as Senators Lisa Murkowski of Alaska, Susan Collins of Maine, and Mitt Romney of Utah) and a dozen or more conservatives who won't even acknowledge the Democrat's legitimacy as president.
Trump's staying power—politically, if not in office—is certainly the main factor complicating McConnell's hold on his conference now. Republicans like Hawley and Cruz have presidential ambitions in 2024 and are making a blatant play for the president's base in the hope that Trump loyalists will remember their fight in the years ahead. McConnell's reputation as an all-powerful parliamentary mastermind, meanwhile, has veered toward myth in recent years: Democrats have cast him as a cynical, even diabolical, obstacle to progressive achievement in the Senate, and to burnish his own standing among conservatives, McConnell has been eager to embrace his image as a villain to the left. He has crowed about the maneuver that defined his tenure as majority leader before Trump took office, whereby he denied then-President Barack Obama's nominee for the Supreme Court, Judge Merrick Garland, so much as a hearing in the Senate before the 2016 election. Although the move fell well within the Senate's constitutional prerogative, it defied long-standing norms and has left McConnell with little claim to the institutional high ground as he tries to keep rank-and-file Republicans in check.
Still, Democrats are looking to the Senate leader to act more forcefully than he has, and to declare publicly what he has, so far, said to his fellow Republicans only in private. "McConnell needs to rise to the occasion and decide how much the Constitution means to him," Representative Adam Schiff of California, the chairman of the House Intelligence Committee, told The Atlantic. "He can paper over it, try to ignore it, dance around it, but anything less than a full-throated rebuke of this attack on our peaceful transfer of power will tar his reputation indelibly."
Yet for all his skills in steering Republicans, McConnell's authority as leader has never been a match for the presidential ambitions of his members. In 2013, McConnell, who was at the time the Senate minority leader, and then-Speaker John Boehner begged conservatives in both the House and the Senate not to force a government shutdown over the Affordable Care Act in their spending standoff with Obama. McConnell and Boehner warned that the GOP would inevitably lose the battle and suffer electoral consequences in the next election, just as Republicans had in the mid-1990s. A first-term senator with an eye on the White House ignored their pleas and led the fight that resulted in a 17-day shutdown. Republicans did lose the skirmish over Obamacare, but they won the next election: In 2014, the GOP captured control of the Senate and elevated McConnell to majority leader.
The senator who led that supposedly doomed effort was Ted Cruz, who would go on to make a serious bid for the presidency in 2016 before losing to Trump. The Texas conservative is clearly eyeing another bid for the White House, and once again he's defying McConnell's wishes in order to wage another battle that will undoubtedly enhance his standing on the right. McConnell likely will survive this embarrassment, just as he has previous ones. But for the Republican Party, and perhaps eventually for the country, the stakes of this split are much higher.
Peter Nicholas contributed reporting.