The Biden Generation's Last Chance
The country's future now rests in the hands of a generation that won't be around to see the outcomes of its decisions.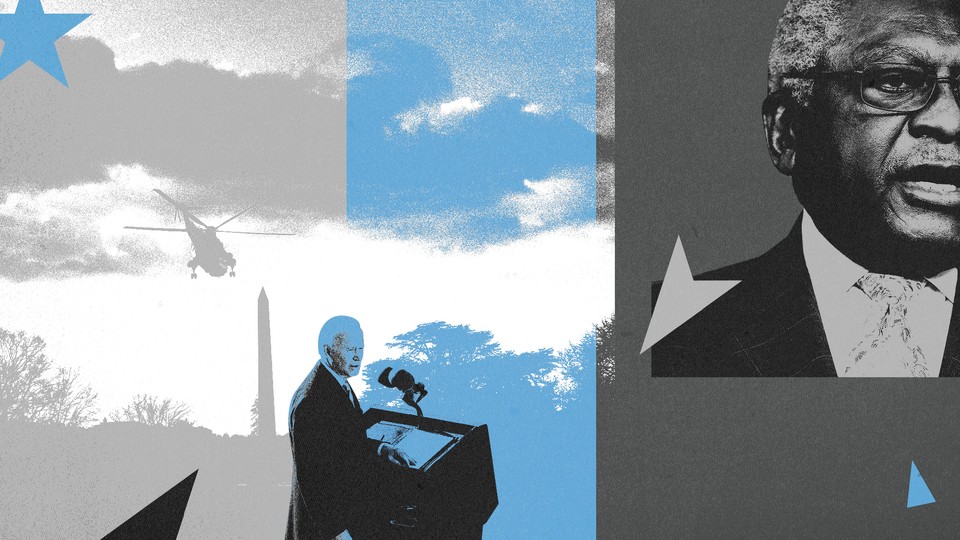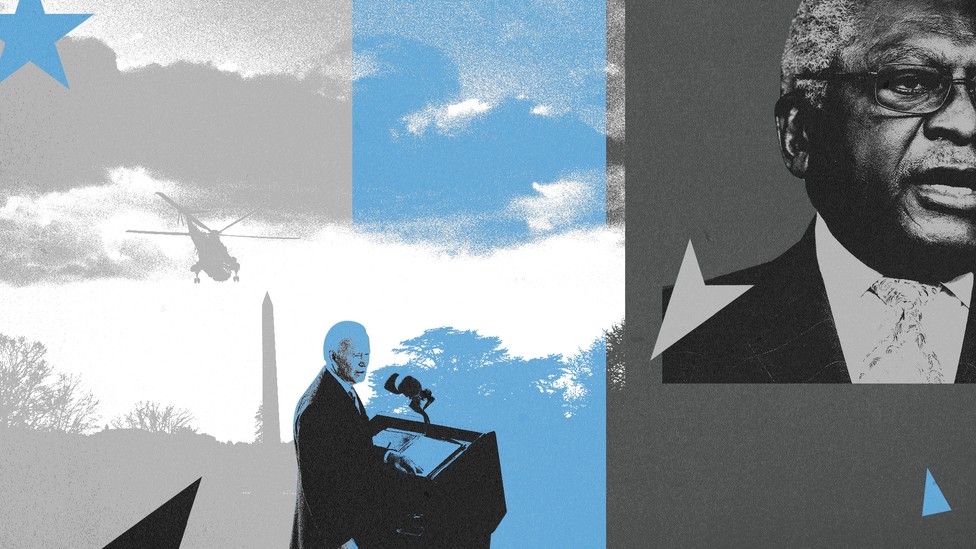 Jim Clyburn sat by himself on the dais at Joe Biden's inauguration, thinking about his late wife, Emily, who wasn't there with him.
Without Clyburn, the third-ranking House Democrat, who endorsed the former vice president at a crucial moment last year, Biden might not have taken the oath of office yesterday. But without Emily's influence, Clyburn told me, that endorsement might never have happened. Without Emily, he might have watched Donald Trump be sworn in for a second term yesterday—a catastrophe he likened to the fall of Rome. Former President George W. Bush agreed, telling Clyburn at the ceremony that he was a "savior." Bill and Hillary Clinton credited Clyburn too. "I'm taking all the credit because my late wife is not here to take it," Clyburn replied.
Clyburn's endorsement of Biden in February 2020, four days before the South Carolina primary, helped make Biden the Democratic front-runner. Emily Clyburn died in September 2019, but she had made her preference for Biden known one evening the previous June, after Clyburn got home from his "World Famous Fish Fry," the big political fundraiser he's hosted back home every year since 1992. Twenty-three Democrats seeking the presidency had appeared onstage at Clyburn's event that night.
"Well, I know it's a big crowd, and I know we've got good friends running," Emily told him, "but our best hope for defeating Trump is Joe Biden."
As they mingled at Biden's inauguration yesterday, Democrats and Republicans alike told me they were optimistic. But they also had a very real sense that this presidency might be the last chance for the leaders of Biden's generation to save the republic—that the country's future now rests in the hands of a generation that won't be around to see the outcomes of its decisions.
Biden is old. He's the oldest president ever. He's also two years younger than Clyburn. He's two years younger than House Speaker Nancy Pelosi. Chuck Schumer, who took over as Senate majority leader yesterday, is a baby by contrast, at 70. But Clyburn says Biden and the others were meant for this moment: "Thomas Paine wrote back in 1776, when the country was trying to give birth to itself, 'The times have found us.' I think the times found Joe. People say it wasn't his time before, but maybe the time wasn't for him before." The pairing of Biden and Vice President Kamala Harris, who's 20 years younger, Clyburn told me, is "a little bit biblical." Scripture, he explained, "talks about the elders being called because of their knowledge; the youngsters, because they've got strength. And so, knowledge and strength are the things we need to move this democracy forward."
The next generation isn't sitting around waiting, though younger Democrats are ready to defer to Biden for now. Before the inauguration ceremony, I caught up with Eric Swalwell, a California congressman who's half Clyburn's age, and who briefly ran for president in 2019 with buttons that read Pass the Torch. The gag poked fun at Biden, who had called for the generation before him to hand over power in a 1986 speech, when Swalwell was in kindergarten. Most people remember the first Democratic primary debate for Harris's run-in with Biden, but a few minutes before that, Swalwell took a swing of his own: "If we are going to solve the issue, pass the torch. If we are going to solve climate chaos, pass the torch. If we want to end gun violence and solve student debt, pass the torch." Biden laughed. "I'm holding on to that torch," he said then.
Yesterday morning, looking up at the bunting and the presidential seal in front of where Biden was about to appear, Swalwell told me he was ready to acknowledge that his pitch hadn't been what the country needed. "I ran making the generational case, but I get why the country right now feels like it [needs] experience and seasoning," he said. Swalwell wants intense and speedy action out of the White House and Congress to restore Americans' faith in government. "I don't think we've got any more lives left," he told me. "People need to see [that] government is working."
Andy Kim, a Millennial congressman who worked on the National Security Council during the Obama administration and was elected as part of the 2018 wave, hopes that Biden and other Democratic leaders are ready to share power with younger generations. "It's hard to put myself in the heads of the older leaders up there, but as the 38-year-old son of immigrants, married to the daughter of immigrants, who won a House seat—I hope that shows America that we have a new generation stepping up," Kim told me. "I don't want us to constantly feel like we're on a precipice."
Clyburn was thinking of his congressional colleagues, too—but also of the storming of the Capitol two weeks ago, and of Martin Luther King Jr. "King told us in his 'Letter From Birmingham Jail' that he was coming to the conclusion that the people of ill will in our society were making a much better use of time than the people of goodwill." That sort of attitude, he said, was what led to the Capitol siege. "People of goodwill were just sitting on the sidelines, pretending nothing was going on, indifferent to the whole thing," he said. The mob that had climbed the scaffolding set up for the inauguration, in an attempt to subvert the Constitution, reminded him of the fragility of democracy, especially the democracy Biden has now inherited.
"The weather was a good metaphor for today," Clyburn said. "It was pretty murky weather for every other inauguration that I've attended. Today there was snow falling… and it was not long before all of a sudden the sun came out real bright, as if we were starting a new day and a new era to end the error"—he paused to spell out the letters of the pun—"the e-r-r-o-r that the people made four years ago."