Jamie Raskin Lost His Son. Then He Fled a Mob.
The day before the Capitol riot, a congressman buried his 25-year-old son, who had left a note for his family on New Year's Eve.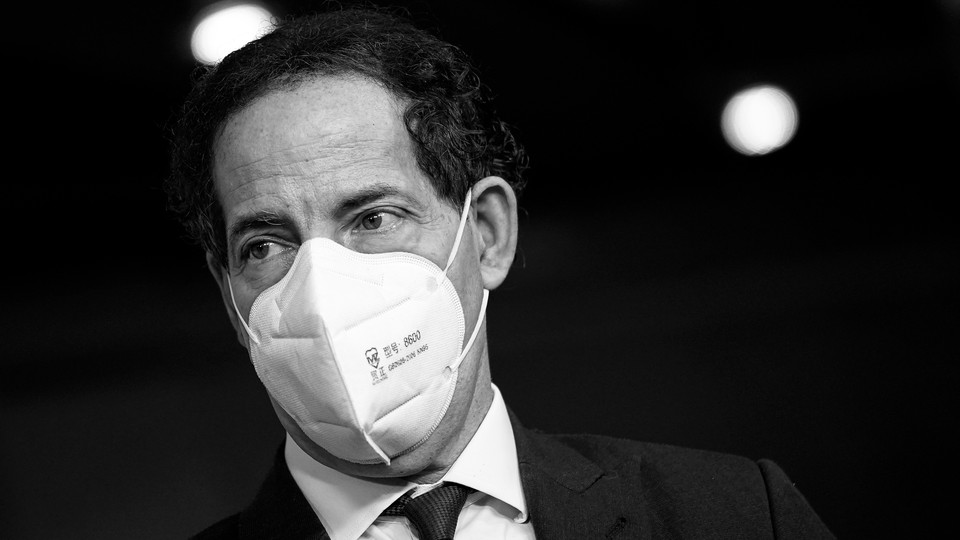 Updated at 4:22 p.m. ET on January 13, 2021.
As the mob seized the Capitol, Jamie Raskin thought not of himself, but of his younger daughter, Tabitha, who had asked him not to go to work that day. "This is an essential constitutional moment," he had told her. Rather than stay home, he proposed another idea: What if she came along?
When Raskin, the congressman from Maryland, rose to address the chamber around 1:45 p.m.* on Wednesday, he received a bipartisan standing ovation. He peered around the room, patting his heart in gratitude. His fingers lingered over a torn black cloth affixed to the lapel of his gray suit jacket. The day before, Raskin had buried his 25-year-old son, who on New Year's Eve left his family a note: Please forgive me. My illness won today. Please look after each other, the animals, and the global poor for me. All my love, Tommy.
On the House floor, Raskin quoted Abraham Lincoln, reminding his fellow lawmakers that they were there to carry out the will of the people, not the orders of one man. Minutes later, voices echoed through the Capitol's marble hallways. Raskin heard what sounded like a battering ram slamming against the door. He and his colleagues were instructed to retrieve their gas masks. Guns appeared. The chaplain led the room in a prayer. Raskin's mind flashed to Tabitha, 23, who, along with her sister's husband, Hank, was seated in the second-floor gallery.
Raskin and the others on the House floor evacuated the building and made their way to a secure location, but spectators had to seek shelter inside the Capitol. Raskin's chief of staff, Julie Tagen, led Tabitha and Hank to an office, where they hid beneath a table while insurrectionists overtook the building. A group of rioters repeatedly attempted to enter the room. Tagen stood guard next to the blockaded entrance, clutching a fire iron. "I asked her to protect them with her life, and she did," Raskin told me.
I reached out to Raskin yesterday because he had been through more in one week than most people experience in a lifetime: He lost his son to suicide, he and his daughter survived a rampage, and, in the hours before we talked, he began working with two colleagues to prepare articles of impeachment against the president of the United States. "The president is a lethal danger to the American republic and the American people," Raskin told me. "There has been nothing like this since the Civil War."
He had gone to bed at about 5 a.m. Thursday morning and was running on fumes—members of Congress "were living off of Skittles and Cheez-Its." We spoke first in the early evening and then again late last night. There was unmistakable exhaustion in his voice, but he was both lucid and candid. Over the previous seven nights, Raskin and his wife, Sarah, had stayed up late talking about their son. I asked if speaking about the loss makes it easier. He paused.
"My wife captured it perfectly: She said that there is so much pain and so much love, and it's all mixed together," he said. "But every day we're able to disentangle them more, so that we can experience the love more purely and the pain more purely, and it doesn't hurt to love him."
Raskin spoke fondly of Tommy for long, uninterrupted stretches of time. Occasionally I could hear the voices of his family members in the background. "When you lose a child under these circumstances, you're plagued with thousands of questions about things you may have done differently, missed clues, alternative ways you may have dealt with this or that situation," he said. "And it's just cognitive quicksand. The questions never end. And people tell us it's normal, it's natural—but ultimately it's unresolvable and inscrutable and futile."
Two days before the attack at the Capitol, Raskin released a 1,700-word tribute to his son. It was more than a standard obituary; it was an intimate, soulful look at Tommy's kaleidoscopic life: soccer player, poet, playwright, pianist, anti-war activist, animal lover, brother, cousin, son, and, in recent years, person with depression. At the time of his death, Tommy was attending Harvard Law School, as his father had in the 1980s. Due to the pandemic, he was temporarily living in the basement apartment at his parents' house.
"He really did feel every little bit of pain and suffering around him in the world and he wanted to act on it, but he was also an enormously fun-loving and comical person," Raskin told me. "He wanted everybody not just to have enough food; he wanted everybody to be happy and laughing, including himself." A memorial fund has already raised a quarter of a million dollars. A neighbor told Raskin that when her son was in middle school and depressed, Tommy was the only kid who tried to spend any time with him, and that he always tried to make him smile. Notes from strangers continue to pour in. "One guy wrote us a letter and said that he had had cancer twice and he had depression, and he would take 10 cases of cancer over depression." Another person simply referred to it as the "Beast," with a capital B.
"One of my close colleagues in the House called me and said something which really floored me—I almost dropped the phone," Raskin said. "She said, 'You have to respect his decision.' And I said, 'What are you talking about? We have to accept his decision because it was made.' But she said, 'You loved him, you gave him everything, and he loved you. But obviously the pain was unbearable for him, which is why he went to these lengths, and nobody can know anybody else's pain.' And I've been fighting with that in my head ever since she said it."
Republican colleagues have reached out too. I asked why he thought his political opponents are able to empathize with his son's death, but not reckon in any serious way with the forces that yielded Wednesday's attack—an event that has, as of this writing, taken five lives. "I'll probably spend the rest of my life trying to figure it out," he said.
Read: Better security cannot stop a coup
I told him that it was notable to include the reality of Tommy's mental illness in the tribute essay, including the message from his suicide note. "Why would we suppress that?" Raskin asked. "I want to live by that note. That is my road map for the rest of my life." He said Americans need to use society's resources to work toward a cure for depression. "But in the meantime," he said, "we obviously have to bring it out of the shadows."
Multiple congressional colleagues asked Raskin on Wednesday how he was able to be present, let alone serve as a floor leader during the Electoral College fight. "I really felt that my son was with me—and you know, that may sound too mystical and spiritual or religious for some of my rationalist friends, but I felt very much the spirit of my son with me."
In this period, he said, "I've only done the work that I have to do." The work just happens to be impeaching a runaway president. "The republic is in danger. I made a commitment when Trump was elected that I would do whatever I had to do to defend our democracy."
Around 2:30 a.m. Thursday morning, some 12 hours after he finished his first floor speech, Raskin returned to the microphone to oppose the Republican objection to the Pennsylvania vote certification. "Madam Speaker, my family suffered an unspeakable trauma on New Year's Eve, a week ago, but mine was not the only family to suffer such terrible pain in 2020," he said. "Enough, my beloved colleagues. It is time for America to heal. It is time for our families and communities to come together. Let us stop pouring salt in the wounds of America for no reason at all."
---
*This story previously misstated the time that Representative Jamie Raskin rose to address the House on January 6. He began to speak around 1:45 p.m., not 2:15 p.m.