The Secret Service Is Bracing for Dangerous Times
Any chance of a normal security environment for the president-elect evaporated during the Capitol siege.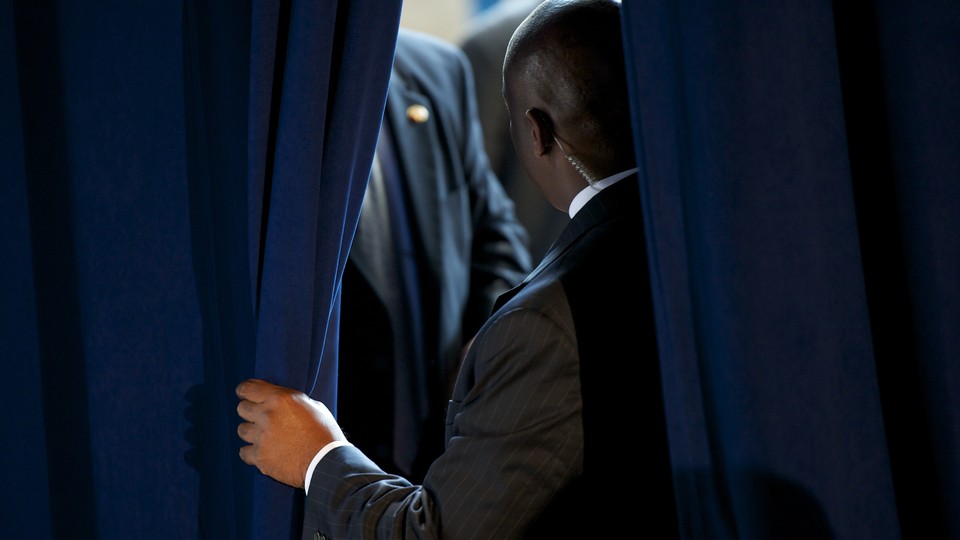 For the first time in modern American history, the possibility of a peaceful transfer of power is in doubt. Extremists swarmed the U.S. Capitol on January 6, and at least some of them intended to hunt down and kill elected officials. During their riot, they left bloodstains on the inauguration grandstands.
Now, in the final hours of the Trump presidency, security forces have turned Washington, D.C., into a fortified encampment in an attempt to prevent further violence. The transformation of the U.S. Capitol into a Baghdad-style Green Zone is unlike anything Washington has seen since 9/11. Joe Biden, already physically isolated by COVID-19, will be further distanced from the American people, who have traditionally crowded onto the National Mall by the hundreds of thousands to witness a presidential swearing-in.
The Secret Service is facing a challenge the likes of which it has never experienced.
More than 130 staffers tested positive for COVID-19 after agents on its protective details were forced to attend Trump rallies and put themselves in the splash zone of a highly infectious president. During the Capitol siege, Secret Service officers rushed Pence—the target of would-be assassins, according to prosecutors—to his office near the Senate floor, just steps ahead of the mob. Now the service must adjust to a world where white-supremacist or restorationist violence is expected, where mobs can suddenly breach perimeters, where drone technology is cheap and therefore easily available, and where members of the military and law enforcement are potential insider threats.
Any possibility of normalcy evaporated during the Capitol siege. "That went out the window, based on the current threat environment," Chuck Marino, a former Secret Service supervisory special agent who retired in 2015, told me. "The domestic threat, violent extremism, and what we saw on [January 6]—you're seeing, in this case, the Secret Service adapt." he said. The agency could do more to make sure that extremism in its ranks is detected and neutralized, six former members of presidential protective details told me. (The Secret Service did not respond to a request for comment.)
One of the things the Secret Service is adapting to is the previously unimaginable fact that the president of the United States is the one inciting political violence. "You do need to take the president into the threat environment," Marino said.  "It's not normal that we need to take the language of a commander in chief into account in the threat assessment. But here you needed to."
On the day insurgents attacked the Capitol, Donald J. Mihalek, a former Secret Service agent and the executive director of the Federal Law Enforcement Officers Association, worried about his brother, Daniel, assigned to guard one of the doors to the complex for the Capitol Police. After learning that Daniel was safe, he wrote on LinkedIn that "a reckoning [for] these radical extremist[s] must occur."
This is a touchy subject. The Secret Service, which guards foreign dictators with the same vigilance as it guards U.S. presidents, maintains that its nonpolitical stance is a rigorously enforced foundational value. "Violence is violence," Stephen P. Monteiro, a member of President Bill Clinton's detail, told me. "There is violence on the left and violence on the right. We don't differentiate between the origins of violence."
Some violent movements tend to differentiate themselves, as some are more salient than others: The U.S. does not now face a threat from, for example, anarchists (a radical named Leon Czolgosz killed President William McKinley in 1901) or Puerto Rican nationalists (several launched an assault on President Harry Truman in 1950).
Getting into the service requires intensive panel interviews and a polygraph. Usually, agents are reexamined for character deficiencies or suspect affiliations once every five to seven years. But radicalization, especially online, can happen far more quickly than that. A "continuous evaluation process" is required, J. J. Hensley, who worked in the agency's personnel-and-recruitment and protective-intelligence divisions, told me. "A lot can happen in five years," he said. Social-media posts have already landed at least one officer in the uniformed division under investigation since the siege; according to The Washington Post, the officer urged "patriots" to go on the "offense" to secure victory for Donald Trump.
Protective advance trips need to change, too. The Hollywood version of Secret Service advance work shows agents looking at a watchlist and keeping tabs on people known to have threatened a protectee. In real life, Hensley said, preparing a city for a protectee's visit is far more challenging—and will become even harder in the future. "You go there maybe a week … ahead of the president or vice president. Now you're going to be looking at social media and seeing what's out there on open source. You have to rely on local counterparts because maybe they may have a lot more information than you do just coming off the plane, especially coming out of Washington, D.C., and you land in Joplin, Missouri—you're not going to know everything about it."
"They still have the old threats, and now they have the new threats: We're worried about everything from a switchblade to a drone, which could have explosives on it."
Vic Erevia was the special agent in charge of President Barack Obama's detail from 2011 through 2013. He oversaw the hundreds of people involved in the president's security operation during his second inauguration and white-knuckle foreign trips to Indonesia, Afghanistan, Myanmar, and Israel and the West Bank. Erevia was also in charge of the detail when more than a dozen agents were sent home because they'd patronized prostitutes in Cartagena, Colombia. None was a member of the presidential protective detail itself, and Obama's personal security was never compromised, but that was small comfort. The service had deeply embarrassed the president.
I asked Erevia about how the agency was responding to COVID-19, Trump, and the insurrection.
"The culture is rigidly hierarchical and unforgiving, with every aspect of an agent's performance scrutinized with no margin for error," he said. "I worry, frankly … how the last four years may have impacted that culture. My hope is that that has not changed. This current period feels distinctly more dangerous than at any time during my lifetime. I believe the challenges it presents will persist. Travel will bring new tests for the protective details as they deal with emboldened actors armed to the teeth. You can't launch the National Guard every time the president goes somewhere, and this will result in greater demands on local partners."
A security plan, Erevia and several other agents told me, is only as strong as its outermost perimeter. And although local police have been sufficient in the past, they might not be today. "You didn't have the emotional content in the environment that you do now,"  Erevia said.
"Distance is your friend in security," he said, meaning it's best to stay far away from threats. "One of the most immediate things I can envision happening is I can see the travel of the president potentially limited more than what we've seen in the past."
Monteiro predicted a change in the "push and pull" balance between presidential staffers on the one side, who want to make sure the president sees and touches—and is seen seeing and touching—as many people as possible and the service on the other side, which would envelop the president in an armored-glass box if it could. That balance, he said, will likely tip in favor of caution. "Now I don't think you're going to see the staff even want to do any of this … They've seen our political leaders accosted. So I think it's going to be a natural occurrence where we're going to be pulling back from the type of exposure [to risk] that we've had in this country."
Monteiro was on Clinton's detail in 1996, when Lew Merletti, then the special agent in charge, got into a shouting match with the president about rerouting a motorcade in Manila, in the Philippines, according to author Lewis Gormley. The National Security Agency's embassy-based surveillance had picked up chatter about a bomb plot, but Clinton did not want to change his plans. Merletti won the argument and the day: Police later found explosives underneath a bridge on the original motorcade route. In 2005, President George W. Bush was nearly killed in Tbilisi, Georgia, because he insisted on attending an event where the outer perimeter had been breached. A would-be assassin smuggled a grenade into the crowd and threw it at the platform Bush was on. It landed close enough to potentially kill the president, but it did not detonate.
Trust between Biden and the agents protecting him should be easy to come by. His detail leaders are familiar to him, according to a report in The Washington Post, and the new special agent in charge, David Cho, is highly regarded in the Secret Service. Former agents believe that the current director, James Murray, will retire once the transfer of power is complete. The leading candidate to replace him is Leonza "Leon" Newsome III, who was Biden's detail chief during the Obama administration.
During "National Special Security Events" such as inaugurations and State of the Union addresses, the Secret Service sets up a multi-agency command center in downtown Washington. I visited the MACC during an international nuclear-security summit when Obama was president. In a room I could not access, detailees from the CIA, the FBI, and the NSA processed intelligence streams in real time. I visited the tactical-operations center and looked at a map showing the location of dozens of armed tactical teams staged around the city. The smallest incident—such as when a lapel pin identifying a security agent goes missing -- is cause for alarm and analysis.
During peacetime, there are numerous command centers in Washington—for the Secret Service, the FBI, the Capitol Police, and the Metropolitan Police Department. But the federal law-enforcement forces are largely siloed. Commanders and senior officers from different agencies can talk with one another, but the flow of intelligence and situational awareness is not constant. Erevia suggests that a single command center, operating 24/7, with a mission of preventing and responding to events across the region, might solve some of the communication problems that hampered the response to the Capitol siege. "The only way you're able to really manage this stuff is if everybody's on the same sheet of music," he told me, "and that really only happens when everyone is in the same place."
The MACC offers a blueprint for how this could work. However, it is temporary, and once an event is over, it becomes a regular conference room again. After the inauguration ceremony tomorrow, federal law enforcement will return to its traditional posture: Individual agencies will vet information they receive and then determine whether it should be distributed, and to whom. "There are dozens of law-enforcement agencies in and around the immediate vicinity of the capital region. We have to be sure they all have the same intelligence and standing agreements of mutual support that can be activated with a single phone call," Erevia said.
The White House complex has been fortified considerably since the 9/11 attacks. An integrated air-defense system tracks airborne threats, and the Secret Service's Special Operations Division is experimenting  with a variety of anti-drone lasers. As of 2019, multiple batteries were set up around the area, one of which was armed with Stinger missiles. During Obama's presidency, the General Services Administration began work on a new shelter-in-place facility close to the West Wing. Its existence is a barely concealed secret, but at a cost of more than $350 million, it is designed to withstand a lengthy siege and accommodate the president, his family, other protectees, and numerous senior White House officials. Counterassault teams carry a variety of weapons, including a device that can shoot multiple electrified darts at would-be attackers simultaneously. If a mob tried to vault over the improved White House fence— a response to intrusions in 2014—it would be met by numerous tactical units, vicious Belgian Malinois K9s, snipers with permission to kill, and, within a short while, SWAT teams from the FBI and other police agencies. The service completed a costly radio upgrade, allowing agents and officers to be in instant and secure communication with other agencies in the region. Motorcade vehicles have been up-armored, and the electronic countermeasure trucks that trail the presidential limousine are soon to be upgraded with technology that creates a virtual fence around presidential trip sites.
The agents I spoke with insist with pride, and some history to back them up, that if the Secret Service had been in charge at the Capitol on January 6, the insurrection would have been stopped much more quickly.  The verification of the Electoral College vote should have been a National Special Security Event, Marino told me.
After the inauguration, the fortress of Washington will open up again, and the National Guard troops who have descended on the city will return to their home states. Biden has not yet said when or where he will travel next.