The Price Republicans Paid in Georgia
President Trump is the reason the GOP will likely lose its Senate majority.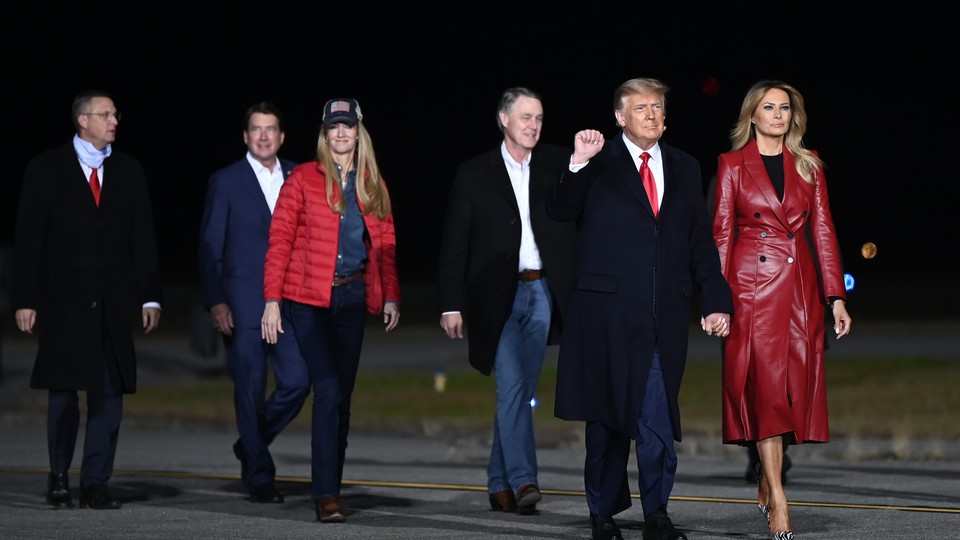 The probability that Republicans will lose both of this week's Senate runoff elections in Georgia crystallizes the risk the party has accepted by allowing Donald Trump to refashion the GOP in his image.
In a state that hasn't elected a Democratic senator since 2000, Democrats now appear to have elected two on a single day by dominating the largest population centers, particularly the Atlanta metropolitan area, with the help of powerful turnout among Black voters. The electorate's strong movement toward Democrats in more populous places allowed the longtime pastor and activist Raphael Warnock to oust the GOP Senator Kelly Loeffler, and also propelled fellow Democrat Jon Ossoff to a relatively narrow but likely insurmountable lead over the Republican Senator David Perdue. The Democratic candidates succeeded despite solid majorities, and even relatively large turnout, for the two Republicans in exurban, small-town, and rural areas where Trump remains revered.
In that way, the race functioned as a microcosm for the electoral trade that Trump has imposed on his party through four years of relentless turmoil, conspiracy-theory-mongering, and assaults on small-d democratic norms—all of which will culminate in today's unprecedented attempt by dozens of House and Senate Republicans to disrupt the certification of Joe Biden's presidential victory.
Trump has expanded the GOP advantage among non-college-educated, nonurban, and evangelical white voters, a pattern that allowed him to turbocharge Republican turnout in November, help his party beat back well-funded Democratic Senate challenges in GOP-leaning states, and recapture at least 13 House seats, mostly in similarly conservative-leaning terrain. But in the process, Trump has virtually exiled the GOP from the fast-growing, economically dynamic urban centers and inner suburbs in almost every state—powering historic levels of turnout against him among young people and minority voters (despite gains in some Black and Latino communities), and repelling many previously Republican-leaning college-educated white voters.
In effect, as Georgia's results underscored, Trump has accelerated the emergence of what could be called the blue beltway: a growing Democratic tilt nationwide in the racially diverse, well-educated (and in many cases more religiously secular) city centers and inner suburbs of large metropolitan areas in nearly all corners of the country. That electoral shift predated Trump, but he has significantly intensified it.
The widening divide between town and country in Georgia and elsewhere leaves both parties on edge. Democrats worry that their weakness in rural areas hurts them in the battle for control of the House and, especially, the Senate, where Republicans have established a stranglehold over seats in sparsely settled, mostly white and Christian interior states. Many Republicans in turn fear that they are surrendering areas with the most voters and the most jobs: Biden this year won 91 of the country's 100 largest counties, and though he won only about one-sixth of the nation's counties overall, his accounted for fully 71 percent of the country's total economic output, according to calculations by the Brookings Institution.
This fundamental geographic and demographic realignment has allowed Trump, on balance, to strengthen the GOP position in the Rust Belt (despite Biden's advancement in several key states' metropolitan areas). But the same changes have notably weakened the GOP's position across much of the Sun Belt during Trump's tenure. Although North Carolina and Florida have remained out of reach for Democrats, Virginia and Colorado have shifted from swing states to solidly Democratic. Since 2016, Arizona, long a Republican bastion, has elected two Democratic senators and backed Biden. Even Texas has become more competitive for Democrats as the party has established a clear advantage in the biggest urban centers and inner suburbs there.
With Democrats' gains there since November, Georgia has emphatically shifted out of the "safely red" category that it's occupied since at least the turn of the 21st century. Until Biden's victory two months ago, the only Democratic presidential nominee to carry the state since native son Jimmy Carter was Bill Clinton in 1992—and even he won just 43.5 percent of the vote in a three-way contest. Until this week, Georgians hadn't elected a Democratic senator since Zell Miller in 2000; Miller was a former governor so conservative that he endorsed George W. Bush for reelection in 2004. And a Democrat hasn't won a Georgia governor's race since 1999.
The Democratic revival in Georgia was fueled by the same factors that have lifted the party across most of the Sun Belt. Over the past several decades, the state has steadily grown more racially diverse, primarily because of a reverse migration of African Americans back to the South. Georgia's Latino and Asian American populations have grown rapidly too; people of color have increased from roughly 30 percent of the state's eligible voters in 2004 to about 40 percent this year. Younger, white college graduates moving to the state's bustling economic centers also boosted the audience for Democratic candidates. These voters "have been gravitating toward the Democrats and have been pushed away by the direction of the Republican Party … before Trump, but even more so under Trump," Alan Abramowitz, a political scientist at Emory University in Atlanta, told me.
An unprecedented grassroots-organizing effort led by Stacey Abrams, the Democratic gubernatorial nominee in 2018, has converted the raw material of that demographic change into a torrent of new registrations and voters, particularly among young people and people of color. (White people accounted for less than one-fifth of the 520,000 new voters registered in the state since 2016, according to the Pew Research Center.) All signs suggest that Black turnout was perhaps the crucial ingredient in this week's Democratic success; Fulton and DeKalb Counties, each with huge Black populations, provided backbreaking advantages of more than 200,000 votes for Warnock and Ossoff alike.
Going forward, "Georgia absolutely is a competitive state; it is a battleground state, where it is a game of inches," Nsé Ufot, the CEO of the New Georgia Project, the voter-mobilization group founded by Abrams, told me. Candidates "are going to have to come and see" Black, Asian American, and Latino voters "if you seriously want to win and win big in our state."
As in Virginia, Colorado, Arizona, and even Texas, the second major factor in the Democrats' Georgia gains was their strength in big suburban counties with large numbers of college graduates. Those places are shifting, in part, because they are much more racially diverse than they once were: Nonwhite residents, for instance, constitute more than a third of the population in Gwinnett County and just over half in Cobb. (Ufot told me that although many political observers remember those northern Atlanta suburbs as the places that first elected the Republican firebrand Newt Gingrich during the 1970s, "when I think about suburban communities, I think about the most ethnically diverse part of our states.") The evidence also suggests that although Republicans are still winning most college-educated white voters in Georgia, Biden and the Senate candidates ran much more competitively among them than the party did even six or eight years ago.
The Democrats' suburban gains in Georgia are especially noteworthy because of historical context and immediate circumstance.
The historical context is that in Georgia, as in most southern states that voted reliably Democratic for the first century after the Civil War, Republicans established their initial beachheads in what were then "white flight" suburbs around Atlanta. Whit Ayres, a Republican pollster who once lived and worked in Georgia, notes that when the GOP started seriously competing with Democrats in the 1980s and 1990s, Gwinnett and Cobb were the party's first strongholds. "As Republicans, we used to get 60-plus percent in Cobb and Gwinnett," Ayres told me. By contrast, both Warnock and Ossoff won almost exactly 60 percent of the vote in Gwinnett, and between 56 and 57 percent of the vote in Cobb.
The immediate context is that Republicans suffered this erosion in the big Atlanta suburbs with two candidates who, on paper, should have been a good fit for their many prosperous subdivisions. Both Perdue and Loeffler are buttoned-down, multimillionaire former corporate executives who had never held public office before taking their Senate seats. (Perdue was elected in 2014, and Loeffler was appointed last year to replace the retiring Republican Johnny Isakson.) And each spent enormous sums on advertising trying to disqualify their opponent as an un-American socialist who would fundamentally, and irrevocably, transform America.
Less than seven years ago, Perdue won his GOP primary race against Representative Jack Kingston, a much more doctrinaire conservative, primarily because of his strong performance among business-oriented Republicans in the Atlanta suburbs. Governor Brian Kemp selected Loeffler in part because he believed that she could help reel back the suburban white women who have been drifting from the GOP in the Trump era.
Instead, Perdue and (especially) Loeffler tried to reinvent themselves as born-again Trump-style populists. Both supported the president unreservedly—to the point of denouncing the state's Republican election officials and backing challenges to the November vote that would invalidate the results, and disenfranchise the voters, in their own state. The apex—or nadir—of their reinvention came on Monday night, the day before the election, when Loeffler (in person) and Perdue (via video) shared a stage in rural northwest Georgia with Marjorie Taylor Greene, the Republican representative who has openly embraced the corrosive QAnon conspiracy. To see "two corporate executives standing on the same stage with [the] QAnon congresswoman creates a head-snapping picture," Ayres told me.
The price of their political makeover may be most apparent in their weak showing in metropolitan counties across the state. Figures provided to me by J. Miles Coleman, the associate editor of the newsletter Sabato's Crystal Ball, show that from 2014 through the 2020 general election, Perdue increased his share of the vote in nearly 120 of the state's 159 counties, most of them smaller, rural, and exurban. But over that same period, Perdue's share of the vote declined in 42 counties, including all 10 of the state's largest. In six of the 10 largest (including Cobb and Gwinnett, both of which he won last time), his vote share declined by double digits from 2014 to 2020. Notably, he declined not only in the racially diversifying inner suburbs, but also in preponderantly white but well-educated exurban counties. Though the Republican strongholds of Forsyth and Cherokee Counties still gave him large margins in November, in each of them his advantage was far smaller than it was six years ago.
The picture looked very similar in the unofficial results from last night. Perdue won Forsyth and Cherokee, but by about the same diminished margin as in November; he lost Fulton, Gwinnett, Cobb, and DeKalb by about as much as he did two months ago, all considerably bigger deficits than in 2014. His problem wasn't only in and around Atlanta: Perdue's deficit in Savannah (Chatham County) was nearly double his shortfall in 2014. Generally, Loeffler ran even a little further behind Perdue in the state's most populous places. The results in the Atlanta suburbs, Ayres told me, amounted to nothing less than "a revolution" in Georgia politics.
Both sides agree that it's an open question whether this "revolution" in Democratic strength across the nation's inner suburbs will stick once Trump leaves the White House and fades at least somewhat from the headlines. But it's equally uncertain whether Republicans in Georgia and elsewhere can rely on the super-hot turnout among nonurban white voters that Trump has generated since 2016. Yesterday's turnout in Republican bastions remained very strong by historic standards, but generally not quite as strong as in the more populous Democratic areas.
"One of the big questions that this runoff today raises is whether Republicans in Georgia can generate the kind of turnout in small-town and rural Georgia that they need to offset the growing Democratic strength in the metropolitan areas, including the suburbs, when Trump is not on the ballot," Abramowitz, the political scientist at Emory, told me.
Looking nationwide, the evidence strongly suggests that the metro-based Democratic coalition is now larger than the Republican coalition rooted in nonurban America. With Biden's victory, Democrats have won the popular vote in seven of the past eight presidential elections—a feat no party has managed since the formation of the modern party system in 1828. Assigning half of each state's population to each senator, and assuming Ossoff holds his lead, Democrats will represent more than 56 percent of the nation's population in the new Senate, according to calculations by Lee Drutman, a senior fellow at the centrist think tank New America.
Yet it still seems fitting that the two parties will likely emerge from yesterday's elections with the Senate divided exactly in half and with Democrats holding only a minuscule majority in the House—one of the most closely divided Congresses in American history. Though larger, the Democratic coalition remains geographically limited in ways that allow Republicans to maximize their leverage, an advantage magnified by aggressive GOP gerrymandering and voter-suppression laws in many red states.
Georgia has likely provided Biden and Democrats with a much stronger hand to advance their agenda than seemed possible on Election Night, and the outcome has underscored the electoral trends that most threaten Republicans at the convulsive end of the Trump presidency. But it's hardly left Democrats in a secure position to dominate the political competition of the coming decade, despite all the demographic trends that favor them. The work of constructing such an advantage begins for Joe Biden two weeks from today.