The Biden Presidency Now Stands a Chance
The Democratic success in the South is poised to change the balance of power in Washington.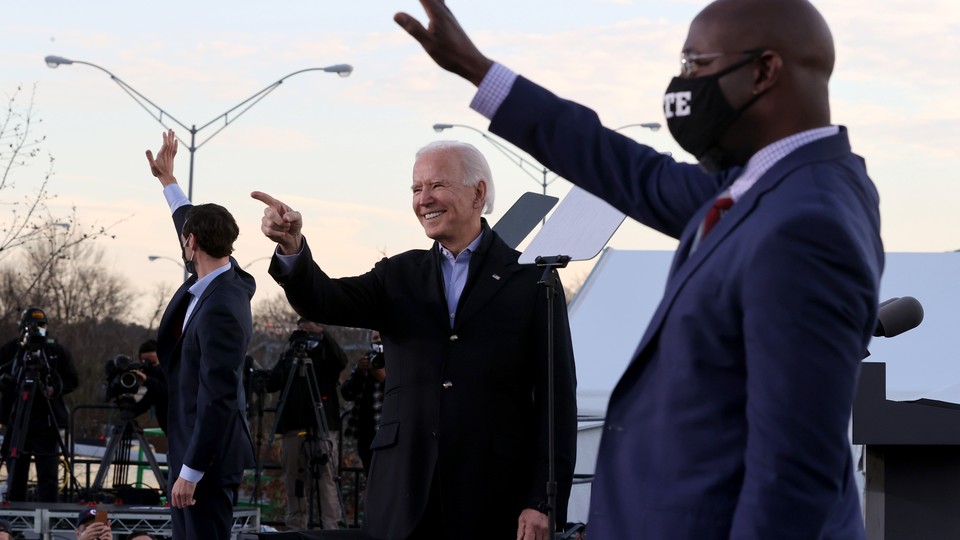 Updated at 4:51 p.m. ET on January 6, 2021.
Joe Biden will begin his presidency with a Democratic majority in both chambers of Congress and a freer hand to install his government and pursue—if not necessarily enact—an expansive legislative agenda. Reverend Raphael Warnock defeated Senator Kelly Loeffler in the Georgia runoff last night, and challenger Jon Ossoff was declared the victor over David Perdue today.
Now that Democrats have captured Georgia's two Senate seats, as projected, come January 20 they will be able to dislodge Mitch McConnell as the majority leader, removing the party's most formidable congressional foe from a post where he could have blocked Biden at nearly every turn.
The Ossoff victory is an extra-pleasant surprise for Democrats, who, despite signs of momentum in early-voting trends, were cautious about getting their hopes up in a state that only barely shifted blue for Biden after decades in the GOP column. Democrats had fared poorly in recent runoff elections in Georgia, and despite Biden's narrow victory in November, more voters in the general election had backed the Republican Senate candidates, although neither received the majority needed for an outright win.
Yet the GOP was hamstrung in Georgia from the moment the runoff campaigns began in November. Republicans spent virtually the entire race fighting with one another, as Donald Trump and his loyalists cried foul over the president's defeat and tried to berate and bully the Republican governor, Brian Kemp, and the Republican secretary of state, Brad Raffensperger, into overturning Biden's nearly 12,000-vote win. Conservatives feared that Trump's attacks on the integrity of the November election would dampen GOP turnout in the runoff, and those worries proved justified yesterday.
Biden campaigned for Ossoff and Warnock on Monday, telling Georgia voters they could "chart the course" for the nation and "break the gridlock that has gripped Washington." More tangibly, he said votes for the Democrats would quickly result in Congress sending $2,000 stimulus checks to every American—a rare proposal with joint support from Biden and Trump that McConnell has blocked in the Senate. But behind the scenes, the president-elect's transition team had been preparing for the strong possibility of GOP control of the Senate. Though Democrats had hoped to capture an outright majority in November, Biden had premised his campaign in part on his decades as a senator and his ability to leverage relationships with Republican lawmakers—including McConnell—to strike the kind of bipartisan deals that had frequently eluded former President Barack Obama. "If there is anyone who can succeed in bringing the Senate back towards functionality and bipartisanship, it's a President Joe Biden," Senator Chris Coons of Delaware, a close ally of Biden's who is likely to be central to the new administration's efforts to engage Republicans, told me.
That promise will still be put to the test. Democratic control of the Senate, under the likely majority leader, Chuck Schumer of New York, means that Biden should be able to get most of his Cabinet and judicial picks confirmed, thanks to changes in recent years that eliminated the 60-vote threshold for nominations. And Democrats will also run the committees, preventing Republicans from launching politically motivated investigations into Biden's son Hunter or specious claims of voter fraud.
Yet on the question that most concerns a new president and millions of his supporters—the passage of major new legislation—the Senate filibuster remains an enormous obstacle to Biden's agenda. In the closing days of the Georgia campaign, Republicans from Trump on down implored their voters to turn out and "save America from socialism."  A hard turn left, however, was never really on the ballot in Georgia. In fact, Biden could struggle just to get legislation out of the closely divided House, where the Democrats' advantage shrunk in November to 222–211, the smallest majority for either party in two decades. Opposition from a handful of fiscal centrists in the Blue Dog Coalition or from progressives on the left, such as Representative Alexandria Ocasio-Cortez and her allies, could doom bills right out of the gate.
Even though Ossoff has pulled off the win, the Democrats' Senate majority will be razor-thin. Such a narrow margin won't allow progressives to achieve their dream of killing the filibuster and its 60-vote threshold. Nor will it allow them to expand the Supreme Court and overtake the conservatives' 6–3 advantage. One Democrat alone could nix those ideas, and Senator Joe Manchin of West Virginia, the party's most conservative member, has ruled out supporting either move.
So on most legislation, Biden will have to find at least 10 Republicans—one out of every five in the Senate—to vote alongside Democrats. Biden's first inclination might be to go around McConnell and strike agreements with bipartisan groups, such as the coalition whose $908 billion proposal formed the basis for the latest round of COVID-19 relief. "That's his comfort zone," Jim Manley, a former Senate aide who advised the late Ted Kennedy and then–Majority Leader Harry Reid, told me. But he'd still need the support of at least 10 Republicans and every Democrat to reach 60 votes and defeat a filibuster. There are only so many moderates like Senators Susan Collins of Maine and Lisa Murkowski of Alaska still serving in the Senate. "There's no going around McConnell," Coons said with a chuckle.
Democrats might get one shot to pass a major bill without Republican votes by using the annual budget process known as reconciliation, which isn't subject to a filibuster. Reconciliation helped Democrats enact parts of the Affordable Care Act and Republicans approve the Trump tax cuts on party-line votes. But the procedure is limited to policies tied to taxes and spending, and just getting 50 Democrats on board would be a heavy lift: They'd have to write an enormous legislative package that both Manchin, a fiscal hawk, and Senator Bernie Sanders of Vermont, a democratic socialist, can support. "It's a relatively challenging and painful process," Coons said. "So I don't know how much we're going to be able to get done through that vehicle."
Biden's best hope—a long shot, perhaps—is that the most significant effect of the Georgia victories won't be the Senate majority itself, but the jolt it could send through the Republican Party. The runoff elections were inseparable from the parallel effort, stoked by Trump and backed by more than a quarter of the Senate GOP in defiance of McConnell's wishes, to challenge the certification of Biden's victory. I spoke with Coons before the polls closed, and he sounded nearly distraught at this development, which he'd found inconceivable even a few weeks ago. "If the people of Georgia send a signal by the outcome of this election that they're not going to continue to reward blindly following that kind of behavior, I think that's a good thing," Coons said. "And I think that sends a signal to Republicans that they may need to recalibrate how closely they're following Trump and listening to his rhetoric in the months and years ahead."
Manley, who told me there was "a partisan poison seeping through the Senate," was more doubtful that the Georgia losses would result in a GOP epiphany. And he cast the ultimate impact of the hard-fought, costly Democratic success that will dethrone McConnell and recapture the majority in a humbler light. "It puts you on the field in a good position," Manley said. "It doesn't guarantee success, but it's a hell of a lot better than the alternative."