Death Stalks Joe Biden Still
In March, most Americans still hadn't grasped the reality, or the lethality, of COVID-19. But Biden had already lost a friend of 30 years.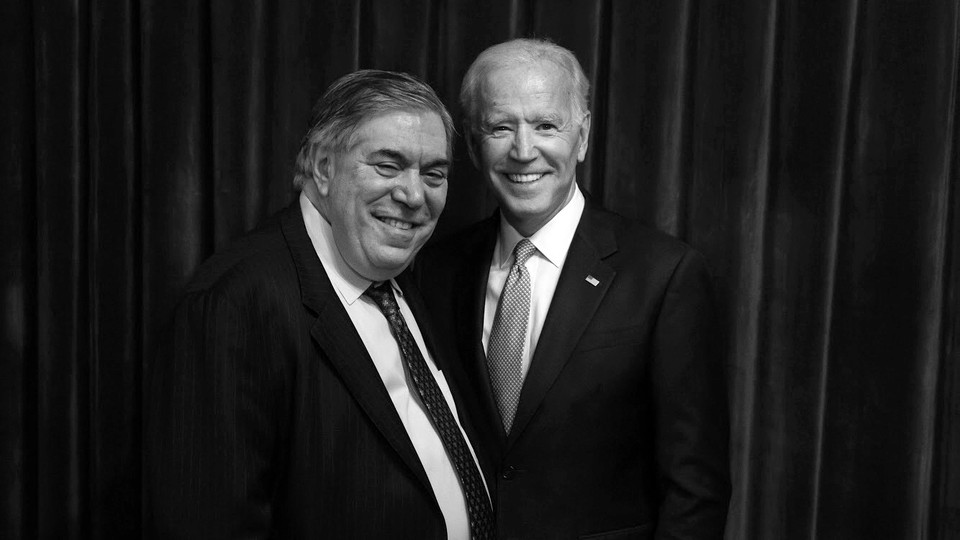 Joe Biden may tell you about the accident, the loss, how it felt, what it means. But the president-elect doesn't always tell grieving families about the depth of darkness that enveloped him during those final days of 1972, just before Christmas. Biden would walk out of the hospital into the night looking for someone to fight. "I began to understand how despair led people to just cash it in; how suicide wasn't just an option but a rational option," he wrote 35 years later.
Maybe you've seen the haunting photo of Delaware state police officers standing next to the mutilated station wagon. It ran on page 2 of a local paper alongside an Associated Press story informing readers that Biden's wife, Neilia, and their baby daughter, Naomi, were "dead on arrival." It's a jarring artifact: To the right of the gruesome report is a cartoon Santa hawking onyx rings and Caravelle watches and "Electric Razors on Credit." Biden's injured sons, Beau and Hunter, spent Christmas in the hospital. Their 30-year-old father tried to make sense of his new life as a widower and single parent.
Death has stalked Biden throughout most of his political career. He was elected to the Senate 41 days before the accident that killed his wife and child. In 1988, months after his first failed bid to become president, Biden suffered two brain aneurysms. In 2016, he opted not to enter the Democratic presidential primary partly because he was still grieving Beau's death from brain cancer.
This election was supposed to be a new start. "The donors are making their preference known," Larry Rasky, a longtime Biden ally and fundraiser, told CNBC on the night of the Super Tuesday triumph that positioned Biden as the inevitable nominee. That day, March 3, before the country started shutting down, before the field hospitals and the refrigerated morgue trucks arrived, Biden was elated. He had so much to be thankful for. And he was sharing this long-sought success with a handful of loyal friends like Rasky, his '88 campaign press secretary, who never lost faith in him, even when others did.
Ten days later, Rasky sent a prophetic tweet: "COVID-19. You can't bomb it. You can't yell at it. You can't ignore it. You can't bully it. You can't really blame anyone for it. The only thing you can do is solve the problem. That's one card #DonaldTrump doesn't have in his deck of magic cards." In the days that followed, Rasky developed what he assumed was normal back pain, but it grew in severity. Then the cough started. On March 22, he died at the age of 69. Most of America still hadn't grasped the reality, or the lethality, of the virus. Biden had already lost a friend of 30 years.
Over the past few months, I've had long conversations with Rasky's only child, Will. We've talked about his father, and about Biden, and about how—if at all—people can find meaning in the face of profound loss.
Sometimes Will says "Larry" and sometimes he says "Dad." The father and son shared a love of music, especially the Grateful Dead. A photo on Larry's Twitter feed shows the duo at a Dead show in Chicago, arm in arm, draft beers in hand. Both have the kind of full-body smiles you can't fake. After Larry died, Will felt drawn to the song "He's Gone." It's a psychedelic barrelhouse ballad, but its soaring chorus reads like a hymn. Will played it, then replayed it, over and over.
And now he's gone
Now he's gone, Lord he's gone
He's gone
Like a steam locomotive rolling down the track
He's gone, gone, and nothing's gonna bring him back
He's gone
Larry posthumously tested positive for COVID-19. Will, his wife, and his mother were forced to quarantine, and were unable to be with friends or relatives while they processed the sudden death. With Larry gone, Will was wearing multiple hats: man of the house, family spokesman, grieving son. The night Larry died, Will answered his mom's cellphone. Biden was on the other end.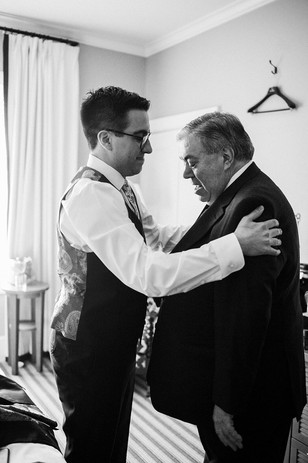 "There was something quite bizarre, something akin to an out-of-body experience happening with that conversation," Will told me. The Biden empathy that he had heard about for decades was now being trained on him. "He really did want us to know how it was going to feel," Will said. He was struck by the shock in Biden's voice. On the phone that night, the two of them seemed to be processing the loss together in real time. "He has this innate, intuitive ability to get at what people are feeling," Will said. "And it's part of why people like my dad tried to pump him up." In our conversations, Will's naturally confident tenor occasionally broke as he spoke about the events of the past year. Sometimes he stopped mid-sentence to cry.
Will turned 30 this year, and he's followed in his father's footsteps, working in political communications. After Larry's death, Will stepped away from his day-to-day duties at his dad's namesake firm. He grieved for weeks, then briefly returned to the business, but wanted to do something to more directly help elect Biden, so he pursued a job with the New Hampshire Democratic Party. His desire to continue his dad's work was all-consuming.
On the first night of the Democratic National Convention in August, Larry's face flashed across the screen during a tribute to COVID-19 victims. The black-and-white photos moved to a soundtrack of John Prine's "I Remember Everything"—the final song Prine recorded before dying of complications from the coronavirus himself in April. "I almost immediately fell apart," Will said.
He was working 80-hour weeks through the fall, trying to remain busy and distracted, trying to make his dad proud. He felt Larry's presence constantly. "There are moments where it is very comfortable and it feels extremely natural—that they are flowing through you," he said. "There are also times that you are feeling the weight of that person's perception of you. That is a deeply held tension. Sometimes it's pulling you forward, and sometimes it's pulling you backwards or sideways. But that pull is very hard to ignore."
In October, Will watched with the rest of the world as President Donald Trump tested positive for COVID-19. Though Trump had access to a fleet of doctors and experimental drugs, his survival was never guaranteed. ("I could be one of the diers," the president reportedly told confidants in nervous phone calls.) After spending a weekend at Walter Reed, Trump returned to the White House, removed his face mask, and released a video with a new message about the virus: "Don't let it dominate you."
"I just—to this day, it almost leaves me speechless to think about how he handled that moment," Will said. "Any rational person had to hope that he would make it through. I think any rational person also would have hoped that such a humbling experience could somehow alter the way he viewed the world." He said he now acutely understands the idiom a slap in the face.
Will spent election week glued to cable news, watching the mind-numbing vote count. On November 7, just after 11 a.m., he had briefly stepped away from his TV when his cellphone lit up: MOM. "She, like my dad, had known President-elect Biden for decades. She was just overjoyed, overwhelmed," Will said. "There was the strong desire to be able to turn to my dad, to Larry, and to see his reaction, and to be able to give him a big hug. I was girding myself for it in advance, but it hit me hard that he wasn't there in person."
Will and I spoke again in mid-November, a couple of days after my Uncle Ric died from complications due to COVID-19. He had contracted the virus inside an assisted-living home in Illinois. He was isolated in a COVID-19 wing of the facility, then transferred to the hospital. Within two weeks, he was in hospice, where he lasted less than 12 hours. My grief was strange and stilted because I hadn't seen or spoken with my uncle in many years. The image of him in my mind is from when I was much younger: He's sitting in the sun behind my old house, wearing suspenders and his Coke-bottle glasses, smoking a cigarette. A pack of smokes bulges from his breast pocket. He looks satisfied, if not altogether happy.
My dad is immunocompromised and lives many hundreds of miles from the place where his little brother died. Near the end, my uncle was on multiple medications, and confused. A nurse held a phone to his ear and my dad told him he loved him. There won't be a funeral until next summer. It wasn't the unexpectedness of my uncle's death—he had multiple comorbidities—so much as the speed of his disappearance that was so rattling. One night you get an email that he's sick. One morning you wake up to a text that he's gone.
This type of loss, sudden and sharp, is the kind that washed over Biden in '72. Hundreds of thousands of families have already experienced that same feeling this year. More families will know it in the weeks and months to come. During the final stretch of his campaign, Biden invoked the image of an empty chair at the dinner table. In one of my last conversations with Will, two days before Thanksgiving, I asked him if he still talks to his dad.
"I find myself knowing, in some ways, what he'd want to say to me," Will said. "That's how a lot of us process loss like this. We find ourselves wanting to communicate a message. And really, it's a message we're trying to communicate to ourselves." Will told me he didn't have to talk to Larry; he never stopped feeling him.