The Republican Plan for the Next Four Years Isn't Normal
The GOP may function primarily as a promotional tool for Trump—to the detriment of its future.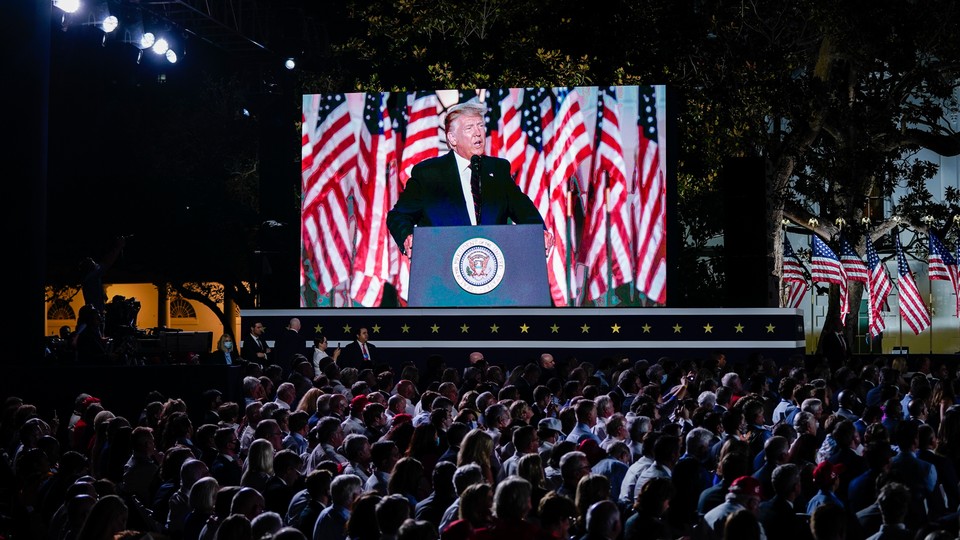 A national party whose leaders won a civil war in the 19th century and a cold war in the 20th looks to be little more than a promotional tool for Donald Trump at this point in the 21st.
Trump will lose his titular role as head of the GOP when he leaves office on January 20, but a party cowed by his grip on voters is poised to advance his interests even when he's out of power. The Republican apparatus is coalescing behind its defeated leader and supplying Trump with a platform as he recasts himself as a kingmaker with ambitions of his own.
He'll get plenty of help from outside the party structure. Conservative media will keep a relentless focus on Trump as he torments Joe Biden from exile. And at a grassroots level, Republican voters will likely donate to a new political-action committee he's created as they pine for him to run one more time. (They may not have to wait long: In a brazen bit of counterprogramming, Trump could launch his next campaign during the Biden-inauguration events he'll likely snub.)
Forces inside the party are trying to stop him. A few prominent officials, past and present, believe the GOP risks extinction unless it purges a president who has relied heavily on a diminishing slice of white voters. They're trying—and, so far, struggling—to win converts and excommunicate Trump. They're up against a GOP leadership that's determined to break from past practice and stick with an ousted president teasing the idea of a comeback.
For Trump, the party is a bankable asset under any scenario. Foreign governments considering his company's projects might be more receptive knowing a once-and-perhaps-future president is on the other side of the deal. Audiences may be more apt to tune in if Trump starts a conservative news venture. Candidates looking for fundraising help will be courting Trump, enabling him to stockpile chits. So will members of Congress hoping to make inroads with his base.
Republican Senator Lindsey Graham of South Carolina, a Trump confidant, told me he's spoken with Trump about another run and wants to see him mount a comeback. "Grover Cleveland did it," Graham said, referencing the Democratic president who was defeated in 1888 and won again four years later. Graham predicted that Trump will indeed run again—and that doing so is "the best thing for the party, frankly."
"Right now, assuming for the moment that Biden wins, it's Trump's nomination if he wants it," Graham told me. (Like many other Republicans, Graham has not yet acknowledged that Biden has won the election.) "He has a lot of sway over the Republican Party. If he objects to anything Biden [does], it would be hard to get Republicans on board. If he blessed some kind of deal, it would be easier to get something done. In many ways, he'll be a shadow president."
An early test of Trump's enduring influence comes next month in Amelia Island, Florida, where Republican National Committee officials will hold their winter meeting and vote on the party's leadership. No other candidate seems strong enough to dethrone Trump's handpicked chair, Ronna McDaniel, who would serve another two-year term.
"I get my most loyal acolytes and keep them in power, and guess what?" former RNC Chair Michael Steele, channeling the outgoing president, said to me. "I've got power. I've got influence."
But relying on Trump to run again could leave the party exposed. If he teases another campaign and backs out, the GOP will have sacrificed itself for him and blocked the rise of up-and-coming candidates for no reason at all. Simply announcing that he'll run is enough to potentially clear the Republican field, or at least monopolize the attention that would normally be paid to candidates positioning themselves for the nomination. "How are you going to say you're running for president in 2024 when Trump is telling everybody he is?" Representative Adam Kinzinger of Illinois, one of the few Republican members of Congress who's been willing to publicly criticize Trump, asked me.
Even before the election, heretics inside the Trump-branded GOP were quietly discussing ways to wean the party from a polarizing leader who stood a good chance of losing. "There are conversations among elected officials who recognize there's no future with Trumpism. It's a dead end," Jeff Flake, the former Republican senator from Arizona, told me.
John Bolton, the president's former national-security adviser, has been talking privately with present and past senators, House members, and governors about redefining the party. Bolton's hope is that over time, the fear that Trump engenders among Republican elected officials will dwindle, creating space for people who care about the party's future viability to plot a course that doesn't involve the 45th president.
"Once Trump is no longer in the Oval Office, once a Trump Twitter rant doesn't risk exiling a member of Congress to Siberia, the dynamic will change dramatically," Bolton told me. "He's not going to disappear, but it's very different when you're a former president as opposed to a sitting president."
Larry Hogan, the Republican governor of Maryland, agrees that the party needs "some serious self-examination" following Trump's defeat. "Successful politics is about addition and multiplication—not subtraction and division," Hogan told me. "And I'm afraid we've been doing an awful lot of dividing lately."
Prominent though they are, neither Hogan nor Bolton nor the Never Trumpers nor any disenchanted Trump-administration cast-offs possess the muscle, for now at least, to banish Trump. He won 74 million votes this year, a total second only to Biden's in the nation's history. The result is even more striking given his performance on the job. Trump presided over an explosion of COVID-19 cases and a withering economic downturn. Sitting presidents have been ousted with records that sparkle by comparison. "You're telling me that a Republican Party that now traffics in fascism and white nationalism and conspiracy theories is ready to free itself of this particular yoke?" Steele told me. "The answer is no … Donald Trump has managed in five years to undo roughly 145 years of [GOP] history."
Political parties rarely cling to a loser who costs them an election. After Mitt Romney lost to President Barack Obama in 2012, no one outside perhaps Romney's immediate family was clamoring to see him back out on the trail. The party commissioned a report on Romney's defeat that was famously dubbed the "autopsy." It was an unsparing self-examination that warned that the GOP was floundering: Young voters were "rolling their eyes at what the party represents," in the words of one of the report's authors. Then, four years later, Trump came along, took the earnest conclusions compiled in the 100-page write-up, stuffed them in the trash, and won anyway.
His supporters have no appetite for a return to the pre-Trump GOP. Kinzinger told me about a conversation he had a few weeks ago with a woman who asked whether he believed Trump would ultimately be declared the winner once the postelection drama played out. No, he told her, Trump had lost. "At least in 2024 he'll run again—or Don Jr. will," she said. The exchange left Kinzinger with a distinct impression: "There are people out there who have come to believe the Republican Party is Trump."
If the party isn't Trump, what is it? One faction wants to see the GOP return to something resembling Ronald Reagan's more upbeat vision of Republicanism. The party should again embrace free trade and international alliances, these Republicans argue. It should present a more welcoming message to voters of color. Yet this wing is up against a pro-Trump majority that's convinced the election wasn't a repudiation of Trump so much as a fraudulent abuse of the electoral system. "It's like losing a game on a bad call," John McLaughlin, a Trump pollster, told me. "The Republican Party will double down."
An entente between the pro- and anti-Trump camps seems unlikely; there's no compromise when it comes to Trump. "I can tell you one thing: The Never Trumpers are banished from the party," Stephen Moore, an outside economic adviser to Trump, told me. "We will never forgive them … Anyone associated with the Never Trumpers—they're done."
If that's the case, so may be the party. Sticking with Trump could undercut the GOP's long-term relevance. The president lost, after all, by 7 million votes. While he made some inroads with Latino voters in a few battleground states, overall he won only about a third of this fast-growing constituency. And exit polls showed that Biden won six out of 10 voters under the age of 30.
No rule says that a political party must endure—ask the Whigs. Before the election, I spoke with David Holt, the Republican mayor of Oklahoma City, who warned that the GOP risked being flattened by "a demographic freight train."
"I don't know if we can assume that this loss, if it happens, will inspire everyone to remake the party," Holt told me. "Sometimes it takes several losses for that to sink in for everyone. That's why I don't see this as a quick fix. It will take many years in the wilderness for everyone to accept that."