The Christmas Crisis
America needs Christmas cheer more than ever. Maybe next year.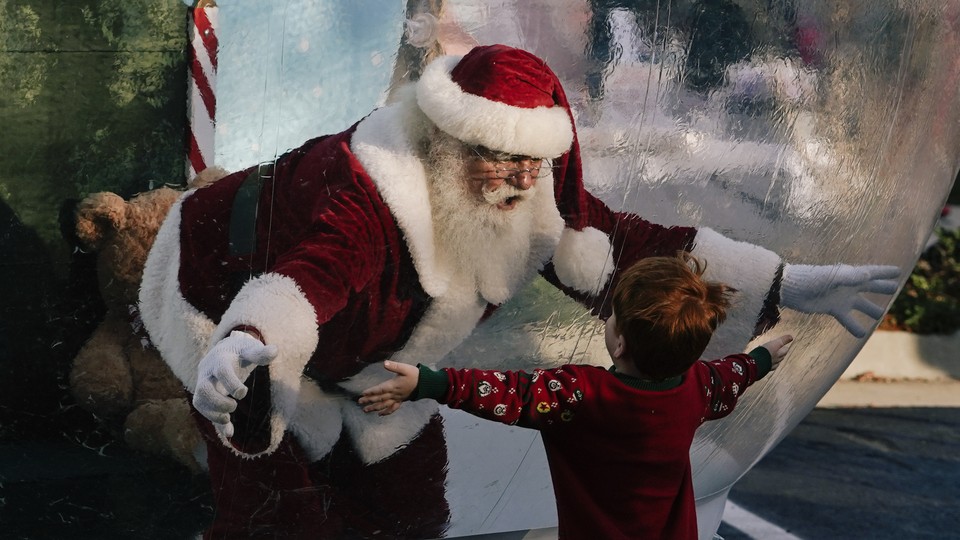 Updated at 9:14 p.m. ET on December 29, 2020
I got a call on a Wednesday morning from a number with a Long Island area code. Long Island? I picked up, because why not.
"Emma? This is Santa speaking."
My caller, it turned out, was not just Santa but the National Santa™, a.k.a. Santa Tim Connaghan, the Big Daddy of American Saint Nicks. Santa Tim's website features pictures of him posing with Giada De Laurentiis, Dr. Phil, and Jewel; he's the guy Melania Trump called for help at a Toys for Tots event. In normal years, he runs a roving school for Santas and Mmes. Claus and supplies a workforce of bearded men to malls and corporate events around the country. But lately Santa Tim—his preferred honorific—has been making a lot of calls. It's hard to socially distance from small children determined to climb on Santa's lap, and he's closing in on 73. "I live on Social Security and the little bit of extra money I get from teaching Santa school, and then the money I get here at the holidays," he told me. "This year, I've stepped back from doing that, because I have a health condition, and another family member has a health condition. We don't want to jeopardize ourselves." He may ride a flying sleigh and fit down a chimney. But even Santa can't avoid Zoom.
America's Santas have been planning for a Christmas crisis since June. The Fraternal Order of Real Bearded Santas replaced the summer version of its quarterly newsletter, "Just Be Claus!," with a special COVID-19 edition about the 2020 holiday season, sourced with contributions from "the titans of the Santa World," according to Santa Ric Erwin, the group's chairman. (Erwin reveres Santa Tim, whom he calls Saint Tim. "I don't think we need that," said Santa Tim.*) In August, Santa Ric testified before a CDC advisory committee, reminding them that "if there was any hope to end the worst year EVER on the best note possible, it would lie in Christmas—which would be more important to the American psyche than ever before," he recalled in an email. His presentation seemed to help the stressed-out scientists, at least: "Santas in America, we want to thank you for your comments and really enjoyed hearing from you," said José Romero, the group's chair. "I really did believe in you all my life."
Although the United States did get a vaccine just in time for the holidays, it won't be enough to save Christmas. After nearly a year in isolation, Americans must now weather Advent season alone. Companies would be wise to toss their spiked eggnog and cancel their holiday parties. Families only need to look at the fallout from Thanksgiving to know that big Christmas dinners are ill-advised. Even this season of enchantment and togetherness reflects the cruelties of COVID-19, which affects the most vulnerable most harshly. "Like everything else in this pandemic, it's hitting kids on the lowest end of the socioeconomic ladder the hardest," says Lonnie Cooper, a Santa who typically works a high-profile Manhattan department-store gig. (He's not allowed to say which one, but you can guess.) "If you've got money, you can get pretty much whatever you want in terms of Christmas cheer." There's a professional hierarchy in the Christmas community, and the top gigs tend to cater to people who can buy seasonal happiness: Mariah Carey concerts, Radio City Rockettes shows, tipsy conga lines at law-office Christmas bashes. Most Santas, however, get into the business for the wholesome stuff, such as visiting the cancer ward at a children's hospital or surprising the family of a soldier stationed overseas. Even the mall is an egalitarian Christmas celebration. Anyone with two or three hours and a smartphone can stand in line and take photographs as the jolly magic unfolds.
This season, Santa is far less accessible. Lonnie—he just goes by Lonnie—told me he's found a few ways to spread community Christmas spirit. He led a neighborhood tree-lighting in a blue surgical mask with a Mrs. Claus friend near his apartment in Upper Manhattan, and a few buddies volunteered for a socially distanced Christmas parade. He's still going hard at home: Nearly every surface in his one-bedroom is covered with the hundreds of Santas he picked up in his days as a roadie for jazz bands and Broadway shows, and if he's lucky, his 9-year-old son will agree to dress up as his elf again. But for the most part, Lonnie is working lucrative private events—visiting little girls' tea parties, letting kids lasso him with string lights from six feet away for photographs. Although he's done okay financially, he had hoped this season would be bigger. It's his second year as a real-beard Santa, although he's been working as a Santa for six. (The real-beard distinction is actually pretty contentious in Claus world. Santa Ric's group, FORBS, requires members to grow and maintain authentic, Santa-like facial hair, and this question has caused bitter divisions within other Santa unions. Lonnie says he doesn't have a problem with the fake beard. It's just hard on his face.)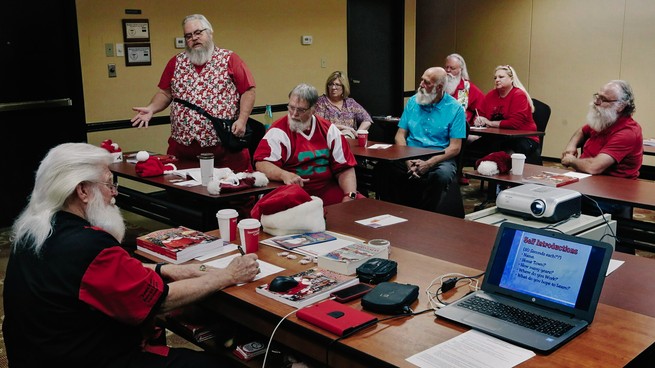 For most Santas, the season has been rough. Santa Tim estimates that he's lost 80 percent of his typical Christmastime income, and he's not alone. Many Santas have seen their seasons shortened from 40 days to 30, or decided not to work at all, he said. Santa Tim has mostly been stuck in his attic, where he talks to kids in front of a green screen featuring a tree, a Toys for Tots teddy bear, and a fireplace with a framed picture of Rudolph over the mantel. Virtual events have their advantages. Santa Tim likes having a crib sheet on Little Tommy ahead of time, instead of questioning kids cold. And yes, Santa Tim confirmed, it is recommended that Santas log on in full regalia instead of opting for sweatpants on the bottom and red suit on top. But something's definitely lost.
"Let's be honest: 20 minutes online with anybody is a long time," Lonnie said. "The kid is going to come in and tell you what he wants and cry or not. It's not like you're going to discuss philosophy or something." Zoom rooms are a dim replacement for a North Pole encounter any time, but especially this year, when America is reeling from a devastating pandemic and a divisive election. "Santa's not Republican. He's not Democrat. He's not really anyone's religion, even," Lonnie said. Santa is hopeful. He's steady. He's not judgy, except in a "naughty or nice" way. America needs Santa now more than ever. But even he can't will Christmas back to normal.
When children ask Lonnie the question of the season, "Can you make the COVID go away?," he knows just how to answer: "Do things in a way that means you know you're all going to get to spend a lot more Christmases together."
---
* This article previously misstated that members of the Fraternal Order of Real Bearded Santas use the term Saint to refer to one another. In fact, this is a title that Santa Ric Erwin uses for Santa Tim Connaghan to denote his high esteem within the Christmas community.