Trump's Risky Bet on Rural America
The president needs to squeeze even more votes out of small-town white Americans to offset his losses elsewhere.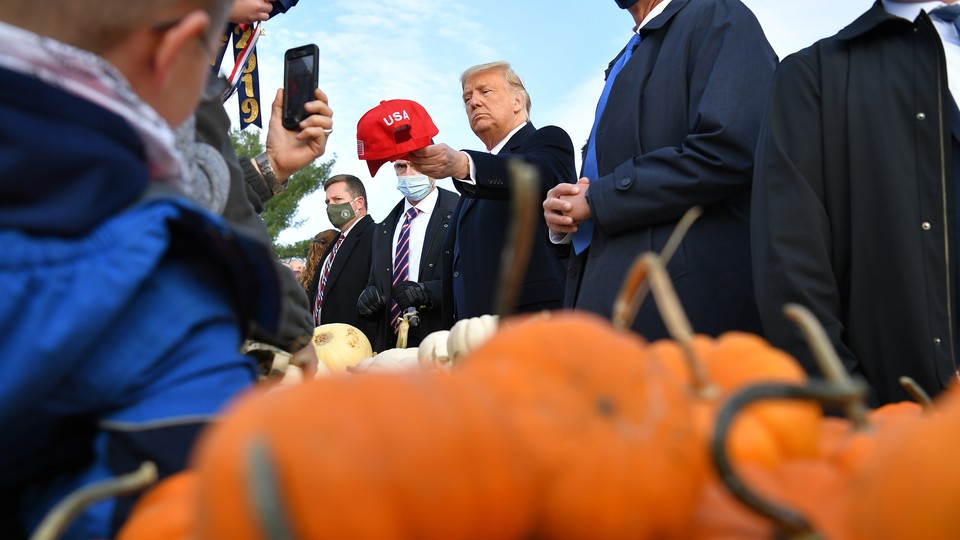 LEVANT, Maine—Hardly anyone knew that President Donald Trump was on his way here. And among those who did get a whiff of the news in advance, even fewer knew his destination was Treworgy Family Orchard in Levant, a tiny rural town about 10 miles northwest of Bangor. Four years ago, two-thirds of Levant's 1,523 votes went to Trump. He needs all of them on Tuesday—and probably more.
The Trump campaign never announced the stop, and even the reporters flying with the president on Air Force One had no idea where he was headed. But word had quickly gotten around. Charles Bernice, an 80-year-old amateur pilot, spotted a notice of a flight restriction in Bangor due to a presidential visit. He and his wife drove two hours from their home in Newcastle without waiting to find out where Trump would appear. Vanessa Lincoln, 55, didn't learn about the event until late Sunday morning, but within an hour, she was standing excitedly in a long security line at the orchard. "I'd have driven five," she told me. Brittany Davis, 36, and her 10-year-old son, Jackson, never heard about the event at all. They just saw all the cars on their street and figured it out. "Trump's coming to Treworgy's!" Jackson had shouted.
By the time the president's motorcade deposited him at the orchard shortly after 3:30 p.m., hundreds of supporters—perhaps more than 1,000—had gathered for a glimpse of him on a sunny fall afternoon. And a glimpse, it turns out, was all they got, because Trump hadn't come to Levant for one of his signature rallies. There was no microphone or sound system set up, not even a platform for him to stand on. Parents held small children on their shoulders, pointing through the mass of people and instructing them to look for—what else?—"the hair." Others kept their phones in the air, the video running, in the hopes that even if they couldn't spot the president, their cameras would. Trump walked through the opening of a bar and signed red MAGA hats for a few minutes. He then grabbed a megaphone, spoke for two and a half minutes, and left. Except for the people standing near the front, it was impossible to hear more than a few words of what the president had to say.
In the cold calculations of the waning days of a political campaign, the citizens of Levant probably weren't worth a full, 90-minute Trump show, if they merited a visit at all. The small town sits in the middle of a congressional district that backed Barack Obama in 2012 but awarded Trump an electoral vote in 2016—the only one he earned in the Northeast that year. But if there aren't many votes in Levant, there are a lot of Levants in America; in a map of the nation's political topography, they are the thousands of specks comprising the enormous red sea between and around the blue metropolises.
The president's goal is to squeeze just a couple hundred more votes—perhaps even a few dozen, in a place like Levant—out of each of these small cities and towns, not only in rural Maine but in its counterparts in New Hampshire, Pennsylvania, Michigan, Wisconsin, and Minnesota. It is in these states that a higher turnout of white, working-class voters is likely to accrue to Trump's benefit rather than Joe Biden's. Levant is almost entirely white, as is Maine, which is the whitest state in the nation. Polls show that Trump has made marginal improvement in his standing with Black and Hispanic voters, but simply based on their numbers, it is white voters who will decide this election, just as they did four years ago. And with more than half the vote likely already in before Election Day, the president's chances appear to rest on his ability to turn out more of the conservative white voters who sat out in 2016, or backed a third-party candidate such as Gary Johnson, the Libertarian nominee who captured 5 percent of the vote in Maine four years ago. On Sunday in Levant, it seemed possible that Trump's bet could pay off. Most of the people I talked with said their decision to back Trump was easier this time around, and a few told me they knew people who would be voting for him for the first time this year.
"He's done everything he said he was going to do," Acacia Emery, a 40-year-old educator from Baileyville, told me. She said she almost didn't vote in 2016 but was happy with Trump's handling of the economy and border security. "I believe he's going to win overwhelmingly," Emery said.
The core problem for Trump, and the reason he is expected to lose his reelection bid, is that the additional votes he draws out of places like Levant must offset the white voters who have deserted him en masse in the suburbs, and to a lesser extent, polls suggest, in exurban and rural communities that backed him so strongly four years ago. Hillary Clinton won Maine by just under three points, 48–45—a margin that came closer than all but one other state (Nevada) to matching the national popular vote. Trump has trailed Biden by double digits in every public survey in Maine for the past two months, as well as in several recent polls of neighboring New Hampshire, which Clinton won by an even smaller margin in 2016. (Unlike in some states, the polling averages for both states in 2016 were close to the eventual result.)
Trump's loss of support in Maine and New Hampshire can't be explained by a surge in enthused opposition from voters of color, because neither state has many of them: The president is doing worse because he's doing worse with white voters.
Over the course of a week in mid-October, at campaign events, polling sites, and in shops and restaurants, I interviewed dozens of voters across Maine, New Hampshire, and upstate New York, which is demographically and politically similar to the upper reaches of New England. The large majority of people told me they were voting the same way they did in 2016, and those who initially hesitated to offer their views were about equally divided between the candidates. From Trump supporters, I heard arguments that were echoes of the president's own rallies and his own favorable coverage on Fox News—the story of a nonpolitician who spoke his mind and had done what he said he was going to do. They frequently questioned Biden's mental acuity, calling him "a puppet" or "a placeholder" for Senator Kamala Harris, his running mate. One couple, Mark and Talia Harmon, who manage vacation rentals in Maine, credited the president's stewardship of the economy for improving their business. "Work has exploded," Talia said. "He's accomplished an amazing amount of great things while being attacked the entire time," Mark added.
As loyal as many of the president's backers were, it was far easier to find new support for the Democrats than for Trump, either from people who voted for Trump in 2016 or who had voted for a third-party candidate. "Nothing's been handled," Ethan Gagnon, a 30-year-old in Lewiston, Maine, told me. He voted for Trump in 2016 ("I just didn't like Hillary," he said) but was switching to Biden, citing the president's handling of the COVID-19 crisis as his top reason. "I'm just ready for it to be done," Gagnon said of the pandemic.
Just as notable were the voters who were there for Trump's taking, who didn't support him last time but were giving him a chance as president. Pete, a sales manager in Bethlehem, New Hampshire, who declined to give his last name, called Clinton "the lesser of two evils" and told me his vote for her wasn't an easy choice. "I was rooting for him the first year, but that was it," he said of Trump. "He's a crook. I just don't believe anything he says."
Despite the lack of racial diversity across the region, the topic of race came up, unprompted, again and again. With a mix of anger and sadness, white voters said they were taken aback by the racism exposed during the past four years, most shockingly in the killing of George Floyd by police officers in Minneapolis and in the protests that followed. In their voices I heard a common lament: The nation had not made as much progress on race as they had assumed, and Trump was making it worse. The president had tried to exploit the unrest to his advantage, warning that cities and suburbs would succumb to violence and crime, while vowing to restore "law and order." Polls found, however, that the strategy backfired on Trump, as white voters recoiled from his effort to crack down on the protests.
Marjorie and Larry Lewis, retired political independents from an upstate–New York district that swung from Obama to Trump, were two voters that the president might have once been able to win over. Larry, 80, voted for Clinton but called it "a mistake." Marjorie, 79, liked Trump when he was on The Apprentice. "When he was on TV, he was funny. He's a showman," she told me, before adding: "He should have stayed a showman."
As we sat in a diner, they wanted to talk about white supremacy, about the Black Lives Matter protests and Trump's handling of them. Marjorie Lewis bemoaned all of the violence. "We have a country that is not safe to live in," she said.
But she and her husband both blamed the president, not the demonstrators. "He stokes the fires," Larry told me. "The Republican Party to me is a dead party until Trump is gone. Anything that is negative in this country goes back to Trump."
More than 150 miles to the northeast, in New Hampshire, Pete from Bethlehem used the same words to describe the president's handling of race: "He stoked the fires." As we stood outside a grocery store on Main Street of the small hillside town, he pointed to the brewery down the street, which had put up a sign supporting Black Lives Matter that was met with racist comments in online forums. "I didn't realize it was as big in this town as it is," Pete told me.
Even among those sticking loyally behind the president, there were hints of wariness about his style. Invariably, Trump's supporters touted his policies while lamenting his rhetoric. In upstate New York, I met David Manny, a 69-year-old independent who had owned a taxi company before the rise of Uber and Lyft destroyed his business—a development for which he blamed Governor Andrew Cuomo. Manny is a truck driver now, and he tried to explain Trump's appeal, and his shortcomings. He told me he can "overlook" Trump's style for his policies, but he acknowledged that many others cannot. "I know why he exaggerates, because I exaggerate," Manny said. "They use his exaggerations, and they call it a lie." Manny compared the president's relationship with voters to that of a doctor and his patients. "It's sort of like a bedside manner. He doesn't have one," Manny said. A lot of people, he noted, want a bedside manner. "I have a lot of doctors," Manny said. "I don't need a bedside manner. If you can fix me, I like you."
Trump's hope is that the Americans who tolerate his bombast will join with those who revel in it to make, if not a majority, then a coalition just big enough to win—that the hundreds who dropped everything and hopped in their cars on a chilly Sunday in rural Maine are indicative of a broader fervor unaccounted for in the polls. But it is equally, and possibly more likely, that the results of the election will show that Trump cannot find enough votes in the Levants of America to make up for the legions of white voters who have deserted him, and that the hearty loyalists who filled that orchard field are not members of a growing movement, but the remnants of a shrinking one.