Just How Badly Does Trump Want Revenge?
Angry about his loss, the president can make life difficult for the officials he believes have crossed him.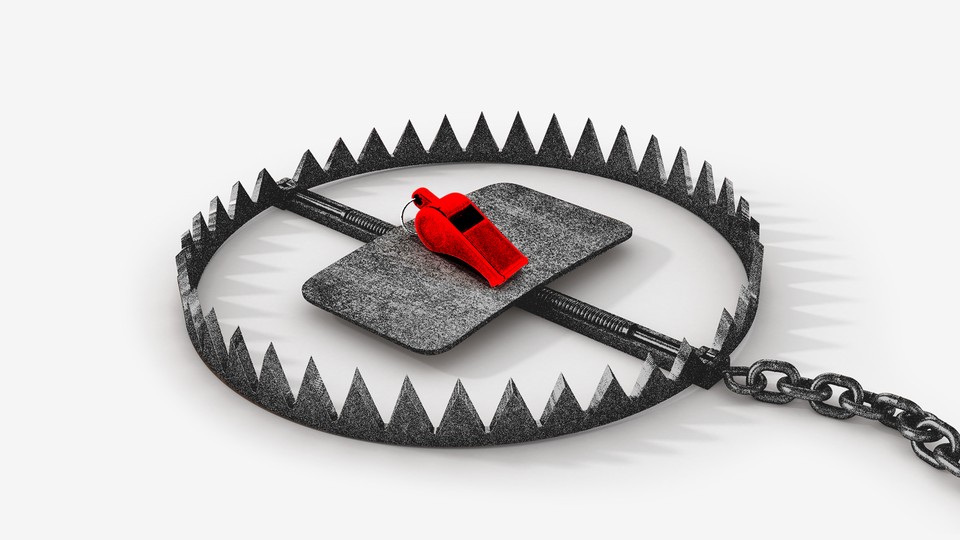 One of the most fateful acts of Donald Trump's first months in power was a firing—his abrupt sacking of FBI Director James Comey, whom he deemed insufficiently loyal. That's how Trump came in, and it's the way he seems to be going out: spiting those he believes wronged him over the course of his presidency.
Earlier this week, he announced in a terse tweet that he had "terminated" Secretary of Defense Mark Esper, "effective immediately." He gave no reason because there really was no clear reason, though one theory is that Esper was among the senior officials who opposed a White House push to declassify information about Russia's interference in the 2016 election. (Right until the end, Trump remains fixated on showing that he won four years ago without Russia's help.) What is known is that Esper had repeatedly crossed the president, including by batting down his idea of sending soldiers into the streets this summer to quash protests over racial injustice. His ouster, part of a broader purge of civilian leadership at the Pentagon, may be only a prelude to more dismissals to come, as Trump, angry and aggrieved over his defeat, makes full use of his executive authority before it slips away.
But he has other means of retaliating against officials who recoiled at his actions or spoke out about his behavior in office. He could strip officials of their security clearance or try to expel career government employees he deems part of a "deep state" conspiracy to deprive him of a second term. Unless Twitter stops him, he can use social media to humiliate critics and expose them to the wrath of his vast following. Some former officials already worry about what may await them between now and Inauguration Day.
"Those of us who served in the administration are convinced that the president will use the lame-duck period to wield the powers of his office to exact revenge against political opponents," says Miles Taylor, a former Department of Homeland Security official who wrote an anonymous 2018 op-ed piece in The New York Times that depicted Trump as dangerously incompetent. "It was something he was prone to do when he was in office and was often talked out of. But now that he's on the way out, I think the president would feel he has nothing to lose."
Former President Richard Nixon kept an enemies list, but it was private. Trump makes no secret of his. "Bad things are going to happen to him," he said at a rally in Florida last month after Taylor revealed publicly that he had written the op-ed. At another rally on the eve of the election, Trump suggested he might fire Anthony Fauci, the veteran government scientist and a member of the White House coronavirus task force whose dire warnings about the pandemic clashed with the president's rosier assessments.
One limitation on Trump's behavior is the clock. He has only 10 weeks left in his term. Recognizing that Trump is on his way out, government officials may subvert any attempt to exact revenge on those who did their job and spoke the truth as they understood it. "Anyone who may want some kind of political future outside of Trump will not want to sully their hands at this moment, if they haven't already," Tim Naftali, the historian and a former director of the Richard Nixon Presidential Library and Museum, told me.
Still, some who have been targeted by Trump are nervous. Taylor told me he has asked his attorneys to prepare for possible legal action from the Justice Department, which has proved attentive to Trump's political interests in the past. (Taylor wouldn't specify what he thought the grounds might be, and it's hard to tell from Trump's blustery accusations. At the same Florida rally, the president suggested that Taylor had committed "treasonous" acts—crimes punishable by death.)
Elizabeth Neumann, another former Homeland Security official, told me she's already seen the lengths to which the administration will go to undermine a critic. Since she left DHS in April, she's publicly criticized the Trump administration for its lax approach to white-nationalist extremism and faulted the president for the "chaos" she says reigns inside the government.
Word came back to her from former co-workers that Trump political appointees were "looking for dirt and negative stories" that could be used to "scare me into being quiet." One was walking the hallways of her old building asking colleagues for information about her, she told me.
"That made me speak out all the more," she said. Rooting out legitimate dissent "is just not who we are as Americans," she added. "The only way to deal with a bully is to stand up against it."
Predicting what Trump might do isn't easy. Consider his erratic treatment of Fauci. Trump both trades on the doctor's reputation as a truth-teller and marginalizes him for speaking truths he doesn't want to hear. When the crowd chanted "Fire Fauci!" at the preelection rally in Florida, Trump thanked them for the "advice" and asked that they "wait until a little bit after the election."
But Fauci isn't so easily dumped. Because he has civil-service protections, Trump can't fire him unilaterally or on a whim. He'd need to order Fauci's boss, National Institutes of Health Director Francis Collins, to begin termination proceedings, though Collins has already said that dismissing Fauci would be "unimaginable." Even then, Fauci could begin an appeals process that wouldn't be resolved until Trump was long gone. One irony: The appeal could ultimately land at the Merit Systems Protection Board, which handles claims of improper disciplinary action. Fitting a pattern of the chronically understaffed Trump era, the board has lacked a quorum for three years and faces a backlog of 3,000 cases, meaning it couldn't take up Fauci's case even if it came to that. Any other career officials Trump tried to fire might also be safe for this reason.
Trump could try one last gambit if he were indeed hell-bent on vengeance. Last month, he signed an executive order that would strip job protections from tens of thousands of senior federal employees who, like Fauci, help make policy. Agencies have until January 19 to identify such employees. So, conceivably, Trump could have the dark satisfaction of firing Fauci and others he sees as adversaries on his last full day as president. In the end, that would be tantamount to giving Fauci a day off from work; surely one of Joe Biden's first acts as president would be to reinstate the longtime public servant, whom much of the public trusts to speak candidly about the virus.
If firings won't work, there's always scorn. Trump's emotional bond with his most loyal supporters is a weapon in its own right. His foes become their foes. When he insults people he dislikes, he triggers his supporters to do the same. Last month, the Brookings Institution released a study that examined a trio of Trump tweets that targeted Democratic officials, including Governors Gretchen Whitmer of Michigan and Ralph Northam of Virginia. Immediately after Trump issued the tweets, "levels of severe toxicity and threats increased" online, the study concluded.
An aide to Whitmer tweeted a video last month showing Trump at a rally in Michigan, in which he said the governor needed to open up the state's economy. When the crowd chanted "Lock her up," Trump replied, "Lock 'em all up." The aide, Tori Saylor, wrote that "every single time the president does this at a rally, the violent rhetoric towards her immediately escalates on social media. It has to stop. It just has to." (Last month, federal authorities thwarted what they alleged was a plot to kidnap Whitmer.)
Taylor has moved into a new home and now has armed security guarding him every hour of the day. He purchased a burner phone for privacy and was stunned to see that detractors somehow got hold of that new number and began sending him messages. Olivia Troye, a former member of the White House coronavirus task force who's spoken out publicly against Trump's handling of the pandemic, is protected by an informal neighborhood watch that her community has set up to ensure that she and her family are safe.
Mary Trump, the president's niece who wrote a critical book about him and their family called Too Much and Never Enough, got a card in the mail at her home with the word shit written on the front over and over. When she opened it up, there was a handwritten note that read: "You're a piece of shit."
"These people are really angry," she told me, "and there are way too many of them."