Democrats' 2024 Problem Is Already Clear
Joe Biden succeeded in bridging his party's past and future coalitions—but the challenges of future elections are daunting.
Joe Biden often describes himself as a bridge between the Democratic Party's past and future generation of leaders. But the 2020 election results signal that he may play an even more indispensable role, as a bridge between the party's past and future electoral coalitions.
Biden won the White House by holding just enough ground in the Rust Belt states that have been trending away from the Democrats, while gaining just enough new terrain in the Sun Belt battlegrounds. However, across both fronts, he carried almost all of the decisive states by narrow margins, even though he's likely to win a greater share of the total national popular vote than any other challenger against an incumbent president since Franklin D. Roosevelt in 1932.
That stark contrast—between Biden's resounding popular-vote victory and his narrow win in crucial swing states—encapsulates the challenge Democrats will likely face in the coming decade. Biden's victory underscores how Democrats now represent a larger coalition than Republicans do: It marks the seventh time in the past eight presidential elections that Democrats have won the popular vote, an unprecedented feat since the formation of the modern party system in 1828. But combined with Republican gains in the House of Representatives and Democrats' inability to win any Senate seats in the states that backed Donald Trump, the close swing-state results illustrate why it may be extremely difficult for that majority coalition to consistently exercise its power in the years ahead.
The election's outcome heralds a decade of grueling trench warfare between the two parties for control of the nation's direction. While it also demonstrated clear problems for the GOP, the results already have Democratic strategists privately asking frank questions about whether any of the next generation of Democratic leaders, starting with Vice President–elect Kamala Harris, can sustain enough of the coalition that elected Biden to the White House without him on the ballot. Biden may be the last Democrat who can reliably hold those Rust Belt states as the party waits for demographic change and shifting suburban attitudes to bring the Sun Belt states more securely within their reach. At least in 2020, "it's pretty clear that no other Democrat could have done what Biden did," says Rahm Emanuel, the former Chicago mayor and representative from Illinois who once ran House Democrats' campaign arm, the Democratic Congressional Campaign Committee.
Last week's results made it clear that the Democrats' core electoral strength is their solidifying dominance of the nation's large metropolitan areas. When all the votes are counted, Biden's margins are likely to significantly exceed Hillary Clinton's already imposing advantages in these population centers, which include not only central cities, but inner suburbs and even some exurban communities on the metropolitan fringe.
The largest urban centers, as always, gave Democrats huge margins. In some places, Democrats increased their net vote advantage compared with 2016, including small improvements in Milwaukee and Las Vegas, a possible advance in Cleveland, and much larger gains in Houston, Dallas, and Atlanta, among other areas. Especially strong for Biden were cities with large numbers of young, college-educated workers in Information Age industries: He posted big improvements over Clinton in places like Denver; Austin, Texas; Madison, Wisconsin; Charlotte and Raleigh, in North Carolina; Columbus, Ohio; Seattle; and Minneapolis. But reflecting Trump's gains with Black and Latino voters, including his dramatic improvement with Cuban and South American voters in South Florida, the president stood his ground in several cities with large minority populations. Biden is likely to only roughly match Clinton's total vote margins in Philadelphia and run well behind her in Miami, with a smaller decline possible in Detroit.
The more consistent thread in the 2020 results was Biden's sweeping advance in the inner suburbs of major metropolitan areas, the same places that fueled the 2018 Democratic takeover of the House. Not long ago, Colorado was a swing state, but Biden carried it decisively by not only romping in Denver but nearly tripling Clinton's margin in the three big suburban counties surrounding it. The key to Biden's Pennsylvania win was his lead of about 275,000 votes in the four suburban counties outside Philadelphia—an almost unimaginable margin that was more than 50 percent larger than Clinton's in 2016 and more than double Barack Obama's edge there in 2012. Biden leads in Georgia because he not only ran up the score in Atlanta, but also won the giant suburban counties of Cobb and Gwinnett by some 100,000 more votes than Clinton did. Essential to Biden's success in recapturing Michigan and Wisconsin were comparable advances in prospering white-collar communities, such as those in Michigan's Oakland and Kent Counties, and small but valuable improvements in the so-called WOW counties surrounding Milwaukee.
Biden's commanding performance in the growing inner suburbs pushed what Emanuel calls the "metropolitan majority" further in the president-elect's direction. In 2016, Clinton beat Trump in 87 of the nation's 100 largest counties. Tabulations by the Atlantic reporters Christian Paz and Catherine Cray show that with many more votes left to tally in the largest urban centers, Biden now leads in 90 of those counties, and a few more could still turn blue as the counting proceeds (particularly Nassau, in New York, and Kern, in California). Biden beat Trump in the two largest counties the president carried last time: Maricopa, centered on Phoenix, and Tarrant, centered on Fort Worth. When all the votes are counted, Suffolk County, on Long Island, may be the only one of the 50 largest counties that Trump won.
Other measures underscore the Democrats' dominance of the large, diverse metropolitan centers now driving economic innovation and growth. Although Clinton won fewer than one-sixth of the nation's counties in 2016, her counties generated 64 percent of the nation's total economic output, according to calculations by the Brookings Institution's Metropolitan Policy Program.
In a new study this week, Brookings calculated that the counties Biden has won so far account for fully 70 percent of America's total economic output, with Trump reduced to just 29 percent. (Some smaller counties remain to be decided.) Trump lost seven of the 12 most productive counties that he carried in 2016 (including Maricopa, Tarrant, and Duval and Pinellas, in Florida). Figures provided to me by Brookings show that Biden counties now host nearly twice as many jobs as Trump counties do (94 million to 48 million) and have grown new jobs at a much faster pace since 2017. Biden counties, Brookings found, are also much more racially diverse and include many more adults holding at least a four-year college degree.
Widespread antipathy to Trump might have allowed any Democrat to win the nation's largest metropolitan centers by big margins. During the Democratic primaries, Biden's unique selling proposition was his contention that he was better positioned than any of his rivals to win back voters in the heavily white and working-class communities that keyed Trump's victory last time, especially across the Rust Belt.
On that front, the evidence suggests Biden sort of, kind of delivered—but only barely. Biden didn't make big gains: For instance, he and Harris spent the day before the election campaigning in the heavily white, blue-collar Beaver and Luzerne Counties, in Pennsylvania, yet lost them by about the same margins as Clinton did. Biden did not loosen Trump's iron grip over the suburban blue-collar counties around Tampa and Orlando, in Florida, and the president posted towering margins in rural, heavily blue-collar counties across the Sun Belt battlefields, particularly in Georgia, North Carolina, and Texas. Still, Biden's modest improvements over Clinton in places like Erie and Scranton, in Pennsylvania; the Green Bay area, in Wisconsin; and Macomb County, outside Detroit, helped him recapture the big three "blue wall" states that Trump dislodged in 2016.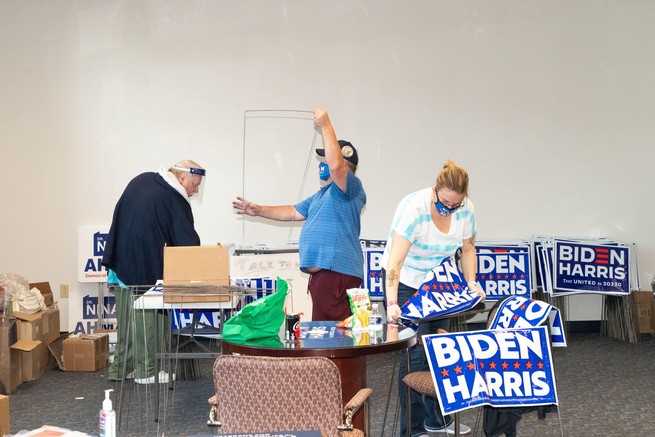 An analysis by The Daily Yonder, a news site that focuses on rural issues, quantifies the modest but important improvements Biden recorded outside the Democrats' metro strongholds. The analysis divides U.S. counties into seven categories, from the most urban to the least. Preliminary results found that Trump padded his already lopsided margins from 2016 in the two most-rural categories of counties, while Biden, in turn, generated comparable increases in the two most-urban categories (major cities and their central suburbs).
On the crucial terrain in between, Biden held his own, The Daily Yonder found. He substantially improved on Clinton's showing in the midsize category, called Medium Metro Core, which includes small cities such as Scranton and Monroe, Wisconsin. Biden won some of them and sliced Trump's lead in others. While Trump comfortably won the suburbs of those midsize cities, he didn't expand his margin in those places by nearly as much as Biden did within the smaller cities themselves.
Yet even with these gains on both sides of the metro divide, Biden still has amassed only very narrow leads in four of the five battleground states he apparently took back from Trump, with Michigan, where he's leading more comfortably, being the exception. (The television networks have not yet called Arizona or Georgia, but Biden appears virtually certain to win both at this point.) Biden's slim lead in the decisive Rust Belt and Sun Belt states has reinforced for many Democratic strategists how narrow the party's path to an Electoral College victory has become, given the Republican hold on so many rural, preponderantly white interior states. Democrats' inability to oust any Republican senators in states that Trump carried or to avoid losses in Trump-leaning House districts sends a similar message about the tight squeeze the party faces in building congressional majorities as well.
The lack of congressional gains has generated some private Democratic grumbling at Biden's messaging strategy. Rather than presenting Trump as the culmination of Republican policies and values, Biden consistently portrayed him as an aberration; many strategists on both sides believe that made it easier for voters to oppose Trump but still back Republicans in House and Senate races. Democratic Senate candidates, for instance, won the suburbs around Atlanta and Charlotte by much smaller margins than Biden did. "I'm always hesitant to place global motivations to the votes of 150 million people," the GOP pollster Whit Ayres told me. "But if you were inclined to do so, you would say that voters were tired of the president, but did not want to give his opponent a blank check."
Yet any Democratic frustration at Biden is tempered by a growing recognition that his ability to win back even a sliver of blue-collar and nonurban voters across the Rust Belt states allowed the party to dodge disaster, given how Trump, again, turned out more of his base of nonurban and non-college-educated white voters than almost anyone in either party expected. After 2016, many Democrats blamed the party's losses in Pennsylvania, Michigan, and Wisconsin on Clinton's specific weaknesses, including her failure to campaign or advertise much in the latter two states.
But this year's close contests suggest that the party's challenges run much deeper in all three battlegrounds—and have many Democratic strategists privately concluding that any future Democratic nominee who isn't an older white male from a blue-collar background may face enormous obstacles holding those states down the road. The lesson of last week's result is that "as Democrats, I don't think we can count on Pennsylvania and Wisconsin, and Michigan is drifting away too," said one high-ranking party strategist, who spoke with me on the condition of anonymity to candidly discuss the outcome.
The prospect of further erosion in Rust Belt states that once anchored the Democrats' Electoral College map increases pressure on the party to improve its standing in the Sun Belt states that may be part of its future path to 270. That list includes Georgia and Arizona, where Biden leads; North Carolina, where he narrowly lost; and even Texas, where his huge urban and inner-suburban gains could mean greater Democratic competitiveness if the party can fix its unexpected problems with Latinos, especially in the Rio Grande Valley. Those states were a fallback plan, at most, for a Biden campaign that focused primarily on recapturing the Rust Belt. But by 2024, if Biden isn't running again, Democrats may view most of them as essential, not optional.
Republicans face their own riddles across both the Sun Belt and Rust Belt battlegrounds. It's highly uncertain whether they can replicate their small-town and rural margins if Trump isn't on the ballot—or reverse their suburban decline so long as he still defines the party. And especially in the Sun Belt states, the diverse, Democratic-leaning Millennials and Generation Z will continue to grow as a share of the electorate in the years ahead.
The balance of power between the two sides is "precarious only if you assume" that the evolution of the party coalitions "stops at this point," the veteran Democratic pollster Stanley B. Greenberg told me. "The question is what happens as the country becomes more Millennial and Gen Z, who are diverse and express ... a great hostility to the Republicans and their agenda." They'll change "not just the national electorate, and not just California and New York," he says, but also "Pennsylvania and Michigan and the other swing states."
Rather than resolving the escalating conflict between the parties, the 2020 results only underscored how far both remain from a decisive victory. Each side found plenty to mourn in a bruising standoff that I called the Antietam election, after the punishing Civil War battle that left both armies bloodied but neither clearly victorious. "It was Antietam," Simon Rosenberg, the founder and president of the Democratic messaging and advocacy group NDN, told me. "We had wins, but everyone took too many losses, and [those] were losses that hurt on both sides." Nursing those wounds, the parties now return to the battlefield for the approaching Biden presidency in the harsh light of an election that did as much to illuminate each side's weaknesses as its strengths.