Joe Biden's Likely Pick to Lead His Party
Tom Perez, the head of the Democratic National Committee, won't run for reelection. Jaime Harrison, who raised more than $100 million for a failed U.S. Senate bid, is positioned to replace him.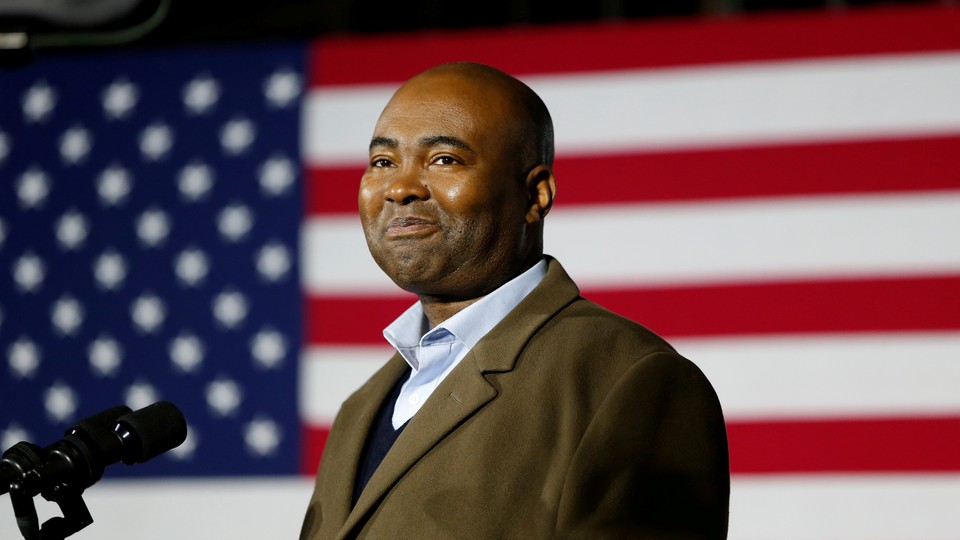 First, Joe Biden has to pick his Cabinet and his White House staff. But after that, there's only one name on leading Democrats' list for Democratic National Committee chair: Jaime Harrison, who lost a race for U.S. Senate in South Carolina last week.
If he's named as chair, Harrison will inherit an organization in significantly better shape than it was when Tom Perez took over in 2017. Under Perez, the DNC has paid off its debt, rebuilt its infrastructure, and boosted employee morale. No one, though, expects that keeping Democrats organized will be easy, especially without a common political enemy in Donald Trump. The next chair will help decide the party's messaging ahead of the 2022 midterms and play a big role in the fight over which states will hold the first presidential primaries in 2024.
Harrison became nationally known this year during his run against Senator Lindsey Graham, as he set fundraising records and became a cause for Democrats far beyond his state. Graham ultimately won by a much-wider-than-expected 10-point margin, boosted by South Carolina's partisan lean and his role in confirming Amy Coney Barrett to the Supreme Court. But the goodwill that Harrison built up and the coming vacancy at the top of the DNC—Perez confirmed to me yesterday that he won't be running for another term—has many Democrats thinking that Harrison is a perfect fit for the role. "The timing just seems right, frankly," said Trav Robertson, a friend of Harrison's who is now in Harrison's old role as South Carolina Democratic Party chair.
More than just timing is involved. Harrison has the support of James Clyburn, his mentor and former boss, who is the House Democratic whip and whose endorsement during the primary campaign helped power Biden to the nomination. Yesterday, Clyburn pointed out to me that he had supported Harrison when he ran for DNC chair in 2017, and said, "I think he's better prepared than he was when I supported him the first time."
Clyburn told me he hasn't mentioned the DNC-chair race to Biden, but "all of Biden's friends know what I feel about it." A Biden spokesperson declined to comment.
Clyburn's support, Nebraska Democratic Party Chair Jane Kleeb said, "means the train has left the station." Kleeb, who's from a very different part of the party—she's the political-committee chair of the Bernie Sanders–aligned group Our Revolution—told me she's happy to see that support go to Harrison. Like several others I spoke with, she pointed to Harrison's record as a state-party chair as giving her confidence in the kind of leader he would be. She's just hoping that as the party elects other officers, members will promote regional and ideological diversity. Kleeb, for example, told me she's planning to run for vice chair of the DNC herself.
Via text message, Harrison declined to comment, though earlier this week he told The Washington Post that he'd take a "good look" at running if asked.
Perez's term finishes in February. Technically, the DNC chair is elected by the committee's members. But when a Democrat is in the White House, the members tend to defer to the president's choice. Biden has never been the party animal that, say, Bill Clinton was, but he is much more of an institutionalist than Barack Obama, who built his own political structure outside the DNC and oversaw eight years of atrophy and dysfunction within it.
Despite Perez's improvements, some Democrats are eager for more changes at the DNC. Several members of the Congressional Black Caucus clashed with Perez, mostly because they remained frustrated that he'd pushed for reducing the role of superdelegates as part of the post-2016 reforms to the Democrats' presidential-primary rules. Harrison, who is Black, has close relationships with many members of the caucus. He has a network of connections and donors coming off his Senate run, which gives him wider cachet. And his work as South Carolina's state-party chair will appeal to other state-party chairs, who consistently grumble that they're being overlooked. For Harrison himself, the job makes sense: For all the interest and fundraising he generated nationally, the election results make clear that South Carolina isn't going to be a place for up-and-coming Democrats anytime soon.
The person with the most interest in how the DNC functions may be Vice President–elect Kamala Harris. Given all the speculation that Biden might not seek another term in 2024, she may be the politician whose future would be most obviously bound up in the long-term building and planning that the official party structure focuses on. But in the short term, the new DNC chair will be charged with supporting the Biden agenda.
The most obvious political fight looming for a new DNC chair is over the Iowa caucus. The combination of Iowa trending solidly Republican, the state party's failure to efficiently count votes in February, and the uncomfortable fact that the state that prides itself on picking presidents produced a distant fourth-place finish for the eventual Democratic nominee has top Democrats telling me they're going to make it their mission to boot Iowa from its prominent spot on the calendar. Harrison, as a former state-party chair from an early-primary state (traditionally, South Carolina is the fourth contest, and the first in the South), may provide some security for the people hoping to keep things as they are.
Also helping Harrison is potential opponents' readiness to back him. Ken Martin, the chair of both the Minnesota Democratic Party and the Association of State Democratic Committees (basically, all the state parties), was seen as a possible candidate for DNC chair. He told me yesterday that he had called Harrison to express his support.
"He's very trusted; people know that he understands the role of the party from the top all the way down, and he has the institutional memory to know where the land mines are," Martin said. "I think he'd be a fantastic chair."