A Rising Republican's Bet on a Losing President
Representative Elise Stefanik embraced Donald Trump in her rural New York district and has reaped the benefits in spite of his defeat.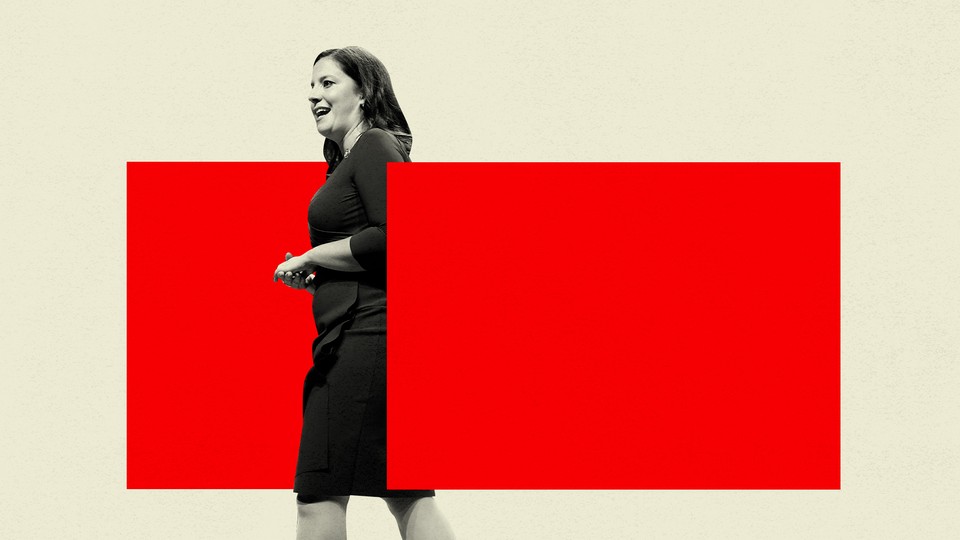 For the past three presidential elections, New York's Twenty-First Congressional District—a humongous swath of rural, mountainous territory known as the North Country that's closer to Canada than to the Big Apple—has voted along with the nation: Its constituents backed Barack Obama twice before flipping to Donald Trump in 2016.
"This district is really a bellwether district," its Republican representative, Elise Stefanik, told me matter of factly a few weeks before the election. Cruising to a fourth term in the House, she had no reason to believe this time would be different.
But as the country turned left this year, Stefanik's constituents, like their counterparts in many other rural areas, lurched further right. While a slim majority of Americans nationwide cast their ballots for Joe Biden, the overwhelming majority of voters in New York's Twenty-First—nearly 60 percent, at last count—went for Trump. And an even higher percentage in the North Country backed Stefanik, who by her third term in the House had locked down her constituency so tightly that the national Democratic Party barely contested her reelection this year.
Stefanik's sway over her district is no small feat: Nearly as big as Vermont and New Hampshire combined, the Twenty-First is one of the largest districts east of the Mississippi River. The district's southern edge is 200 miles north of liberal New York City, while its northern tip is just an hour's drive from Montreal. The Adirondack Mountains sit in the middle, and its only population centers—the small cities of Watertown, Plattsburgh, and Glens Falls—are spread hundreds of miles apart, like three points on a triangle. When Stefanik is home, she's really on the road—paying visits to Fort Drum, the Army base near Lake Ontario and the Canadian border, or to many of the touristy lake towns at the base of the Adirondacks.
In winning so definitively, Stefanik has become a kind of bellwether herself, not for the country as a whole but for the Republican Party, which like the New York representative has redoubled its support for an unpopular president and somehow bolstered its standing in Congress and state capitols even as it lost the White House.
A year ago, Stefanik became one of the last in a long line of elected Republicans to transform herself from an avatar of the old GOP establishment—Harvard-educated staffer in George W. Bush's White House, campaign aide to Paul Ryan—into a vocal Trump loyalist. In 2014, Stefanik, then just 30 years old, made waves as the youngest woman ever elected to the House (a record that 29-year-old Alexandria Ocasio-Cortez beat four years later). She kept her distance, politically and otherwise, from Trump for most of the first two years of his term. Stefanik had backed then–Ohio Governor John Kasich in the 2016 GOP primary, and in 2018, she voted against Trump's signature tax-cut bill, saying it would raise taxes for some of her constituents. For the first two years of Trump's presidency, Stefanik co-chaired the Tuesday Group, a coalition of Republican moderates in the House. And after the House GOP's drubbing in the midterm elections, she challenged party leaders over their failure to recruit women candidates.
But during last year's impeachment hearings, Stefanik took up the president's defense with unexpected gusto. As a member of the House Intelligence Committee, she assailed Chairman Adam Schiff's investigation and grilled his witnesses with Trumpian aggression. Praise from the president poured in, along with millions in campaign donations from his supporters. Seemingly overnight, a rising star in Paul Ryan's Republican Party had been reborn as a star in Donald Trump's.
Stefanik did not look back. By August 2020, she was a featured speaker at the Republican National Convention, extolling Trump as "the only candidate who will stand up for hardworking families" and slamming Biden's "far-left, socialist policies." "Our support for President Trump," Stefanik said, "is stronger than ever."
Trump's defeat has done little to dim Stefanik's luster. Both she and the president performed stronger in her district than they did before, and several of the women Stefanik helped recruit through her leadership-campaign committee defeated Democratic incumbents. The next Congress will feature the most Republican women in history, and Stefanik is getting a lot of the credit. The big question now is about her future, and whether she'll seek more power in Washington or set her sights on an even bigger constituency back home in New York.
"The sky is really the limit for where Elise ends up," Nick Langworthy, the state GOP chairman in New York, told me. "She's on everyone's shortlist for statewide office." Stefanik has emerged as a frequent critic of New York Governor Andrew Cuomo, and a Democrat told me that unofficial Stefanik for governor signs have popped up in her district. Cuomo, who is popular statewide but not in the more conservative North Country, is planning to seek a fourth term in 2022.
Stefanik insisted to me that she had "no five-year or 10-year plan," unlike many in politics. "I'm only 36 years old," she said. But she noted that because of the high turnover in the House in the past few years, she was steadily gaining seniority. "She has one attribute that very, very few other members have, and that's time," an ally of hers in the House, Representative Patrick McHenry of North Carolina, told me.
That Stefanik would benefit politically from her vigorous defense of Trump wasn't immediately clear. Some in her district were turned off by her move. "I never saw a Republican flip so far," Frances Kerr, the owner of a print shop in her district, told me. She called Stefanik an "opportunist"—a word that several of her critics used to describe her positioning toward the president.
"I was surprised," a former House GOP colleague who worked closely with Stefanik told me, speaking on the condition of anonymity in order to speak candidly. "Her embrace of Trump really did not jibe well with the narrative that she had built up over the years about herself." The lawmaker surmised that Stefanik was reacting to Trump's popularity in her district in 2016, as well as trying to ingratiate herself with fellow House Republicans with an eye toward moving up the leadership ranks. "I would always caution my colleagues: You shouldn't be looking at the last election," the former colleague said. "You ought to be looking at the next one."
But that argument "misreads" the situation, McHenry told me. "There's this challenge for those that are uncomfortable with the president, which is that the Republican Party will not revert back to the pre-Trump Republican Party," he said. "It is informed and changed by his imprint."
For better or worse, so is Stefanik. And as it turns out, she knew what she was doing.
When we spoke last month, she told me she believed that Trump was "in a stronger position than the national media makes it seem"—an assessment that was borne out across many areas of the country where the president outperformed the polls. As for her assessment of Trump, Stefanik said: "I measure people on the results they are able to deliver, and when it comes to the results, the president has delivered." She ticked off a list of examples, including (pre-pandemic) job creation; the revised trade agreement with Canada and Mexico; higher military spending, which helped Fort Drum; and more. "These are wins after wins after wins that have had a very positive impact on my voters," Stefanik told me. "So I reflect, I would say, the voters in my district."
This month's NY-21 election results proved her right, but in the weeks leading up to the vote, there was little doubt that the North Country was still Trump Country. Stefanik's campaign had pointed me to Poopie's, a luncheonette and local landmark in Glens Falls, a small city an hour north of Albany which is one of the relatively few Democratic parts of the district. There I found a mini-shrine to Trump by the entrance, complete with signed photos, campaign tchotchkes, and a mannequin head (topped with a Trump hat) whose passing resemblance to Hillary Clinton was apparent only in context. "The eyes light up," Jerry DiManno, the owner of Poopie's, added helpfully, as he sipped coffee from a cup protected with a Trump koozie. He showed me a stash of Trump-themed masks he kept under the counter, although none of his patrons at the time were wearing them (or any other face covering). As we spoke, a burly, middle-aged man came up to the counter and asked DiManno, "Hey Jerry, when is the media going to start covering Joe Biden's corruption?" DiManno told me that customers had given him most of the Trump gear. On another wall was a picture of Stefanik, whom DiManno spoke highly of. "She's a real down-to-earth girl," he said, recalling that when the congresswoman came in for a photo op a while back, she insisted on flipping eggs with him at the grill.
Of the many Trump supporters I spoke with in the Twenty-First District, nearly all of them had noticed—and approved of—Stefanik's more vocal support of the president over the past year or two. "She shoulda done it from the get-go," Sam Losaw, the owner of a diner in Hudson Falls, told me. Cynthia Ginsburgh, a local Republican Party volunteer in Saranac Lake, told me that Stefanik wasn't a big Trump backer "in the beginning." "But I'll tell you," Ginsburgh said, "she's come around."
If Stefanik's outward embrace of Trump was new in the past year, her slashing campaign style was not. Facing Tedra Cobb, a former health worker, Stefanik back in 2018 adopted Trump's penchant for nicknaming by calling her "Taxin' Tedra" in TV ads and campaign literature. She won that race by 14 points in a strong Democratic year, and even though political forecasters did not see this fall's rematch as competitive, Stefanik took no chances. Helped by the millions she raised during the impeachment hearings, she spent more than twice as much as she did in 2018 and pilloried Cobb in ads and during their televised debates. "She's tenacious," McHenry said.
McHenry told me he saw her starring role during the impeachment hearings less as an abrupt shift than an opportunity seized. Stefanik, he said, had focused more on policy during her early years in the House. She had eyed the Intelligence Committee from the moment she arrived, and largely stayed away—as many House Republicans tried to do—from the daily Trump controversies. "With impeachment, a lot of that changed out of necessity," McHenry said. Democrats made her a target, at least for a time, and Stefanik parlayed that fame, or infamy, into a larger public profile and a larger national donor base. "The fact that she was targeted by the left helped her help more candidates, so she turned that around pretty smartly in turning lemons into lemonade," McHenry said.
In 2018, Stefanik led the GOP's recruitment efforts, but only one of the 100 new women candidates the party fielded won her race for Congress. Stefanik argued after the election that Republicans needed to intervene more aggressively in primaries, particularly on behalf of women, to ensure they could better compete in general elections. That drew a brushback from Representative Tom Emmer of Minnesota, the chairman of the National Republican Congressional Committee, who called Stefanik's idea "a mistake."
"NEWSFLASH," Stefanik replied on Twitter, "I wasn't asking for permission."
Part of her motivation, she told me last month, was the fact that she was not recruited by the party to run in 2014 and had to defeat a better-known male candidate in her primary on her own. More than 90 percent of the candidates whom Stefanik's committee endorsed won their primaries this year. "This has been a resounding success," Stefanik said, a declaration of victory before the election had ended. "It started off as a tiff, but it was a tiff that I won."
The election proved Stefanik right once again. She bet on Trump, and though the president lost, her constituents rewarded her. And she bet, against some in her party, on Republican women, and when the returns came in, it was Republican women—Nancy Mace in South Carolina, Ashley Hinson in Iowa, Yvette Herrell in New Mexico, among them—who had the best night of all.
What makes Stefanik so formidable, and such a potential threat to Democrats in the future, is that she has managed to win the admiration of the Trump base while succeeding where he has failed, by bolstering the GOP's appeal to the constituency—women—that he has repelled. It's not the type of bellwether she described to me a few weeks ago, that of a district that has veered further right than the country. But if Stefanik's political formula pans out in the years ahead, it's a distinction she'll surely embrace.