The Failure That Could Haunt Democrats for a Decade
Joe Biden won the White House, but Republican power in the states isn't going anywhere.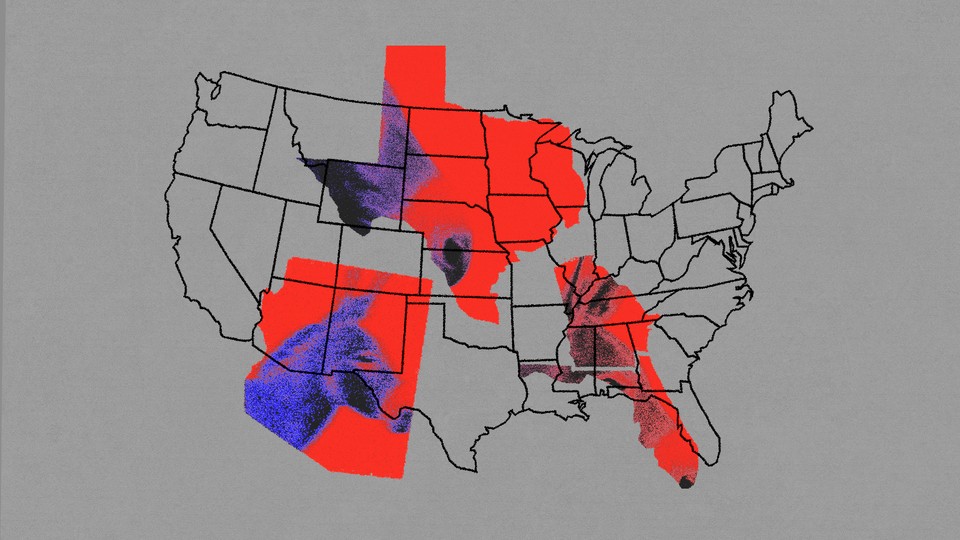 Updated at 10:30 a.m. ET on November 10.
Why did Pennsylvania take four days to count its votes and deliver the presidency to Joe Biden?
The pandemic is partly to blame, but the roots of the delay go back a full decade, to a Democratic electoral wipeout that gave Republicans power not only in Congress but in state capitols across the country. In Pennsylvania, Republicans in 2010 captured the governor's office and swept Democrats out of their majority in the state House to gain full control of state government.* And because the lawmakers elected in that year's red wave held the pens that redrew the state's legislative map following the decennial census, the GOP was able to lay out district lines to its advantage and lock in its power for election after election; Republicans maintained control of Pennsylvania's legislature even as Barack Obama claimed the commonwealth's electoral votes in 2012, and again when Democrat Tom Wolf won its governorship two years later. The state supreme court threw out Pennsylvania's GOP-drawn congressional map in 2018, but the state legislative lines survived, and so, that year, did the Republican majorities.
So when COVID-19 hit earlier this year and millions of Pennsylvania voters applied for mail-in ballots for the first time, a crucial decision fell into the laps of those Republican state legislators: Would they agree to change the law and allow election officials to begin processing the more than 2.6 million absentee ballots—some 40 percent of the total votes cast in Pennsylvania— ahead of time, instead of starting on the morning of November 3? They could have followed the example of Republican-led Florida, which permitted election officials to begin counting mailed-in ballots starting in September and delivered conclusive results within a few hours of the polls closing on Election Day.
But Pennsylvania Republicans said no. And as a consequence of their decision—and really, of the voters' decision a decade earlier—the nation had to wait four agonizing days to learn who its next president would be.
Compared with Republicans, it took a long time for Democrats to realize just how important down-ballot races can be—from the representatives and senators who write state laws to the district attorneys who decide which crimes to prosecute. It wasn't until after Donald Trump's stunning victory in 2016 that Democratic donors and activists, their party exiled from power in Washington, D.C., turned their attention to the states instead. A constellation of new groups emerged, among them former Attorney General Eric Holder's National Democratic Redistricting Committee, which came with the blessing and fundraising firepower of his ex-boss Barack Obama. Each started with the aim of flipping state legislative chambers in 2018 and 2020 and giving Democrats a much bigger say in the redistricting process that will begin next year.
---
Jessica Post isn't one of those Democrats who was new to the battle for state power. As a junior staffer at the Democratic Legislative Campaign Committee in 2010, she spent Election Night in Harrisburg, Pennsylvania, watching one state capitol after another fall to Republicans who had swamped Democrats in energy and spending on down-ballot races across the country. "I cried into my beer," she told me.
Post now runs the DLCC and helped the committee raise a record $50 million to spend on legislative races this year. But Election Night 2020 was another disappointment: Democrats whiffed in their bid to flip a single state legislative chamber and lost the majorities they gained in 2018 in New Hampshire. The biggest prize they lost was Texas, where the party needed nine seats to win the state House after making inroads two years ago; Democrats likely failed to gain a single seat.
"It turned out we hit a different electorate than everyone was expecting," Post told me in an interview last week. Democratic strategists initially pointed to two main factors behind the losses: the surge of turnout among Trump's base that public and private polling failed to capture, and the pandemic, which might have had a disproportionate impact on down-ballot Democratic campaigns.
Post said the DLCC saw evidence that the races were tightening in the final days and sent money to fortify incumbents in places such as Minnesota, where Democrats thought they had the best chance of flipping the state Senate and securing control of both the legislature and the governorship. But it was not until Post saw the long lines of Election Day voters in Republican areas that she realized the party's assumptions about turnout were woefully off. "It's not just Democrats who were turning out," Post thought. The supersize showing by Trump's base was particularly damaging in key state legislative races because the Democrats' path to majorities ran through districts that Republicans had gerrymandered to their advantage.
Democrats made substantial gains in the states from 2017 to 2019, harnessing the energy of the anti-Trump resistance to flip both chambers of the Virginia legislature, elect several Democratic governors, and cut the GOP's majority in the Texas state House by more than half. Yet last Tuesday night, they discovered to their great disappointment that with Trump back on the ballot, the fate of Democratic hopefuls was inextricably tied to the presidential race.
In states such as Texas, Florida, Iowa, and North Carolina, Trump's surprising strength in the 2020 race made it virtually impossible for down-ballot Democrats to oust Republican incumbents. "There's no way to flip chambers that Republicans have held for decades if we're losing by large margins at the top of the ticket," says Ben Wexler-Waite, a spokesperson for Forward Majority, a Democratic super PAC formed after the 2016 election that spent more than $30 million on state legislative races this year. The Democrats' underperformance, however, wasn't limited to states where Trump did well. They fell just short in Minnesota and narrowly lost their majorities in New Hampshire, states that former Vice President Joe Biden carried by seven points.
In no state was the outcome more disappointing for Democrats than Texas, which they had made a presidential battleground for the first time in decades only to see Biden lose by nearly six points. After picking up 12 seats in the state House in 2018, Democrats could not make a dent in the nine more they needed to capture the majority. "We'll do some soul-searching," a Texas Democratic strategist told me, speaking on the condition of anonymity to candidly assess the party's performance. "Republicans were definitely better organized than they were in 2018." The strategist said Democrats might have "overhyped" the party's chances, but the promotion was necessary to draw donor money to such an expensive state. The strategist also said that Biden's comments in the second presidential debate about transitioning "away from the oil industry" hurt Democrats in the Rio Grande Valley.
While the coronavirus pandemic did not stop voters from turning out in record numbers across the country, Democrats believe that it did hamper them in down-ballot races, where in-person campaigning is equally if not more important than TV ads. And just as at the presidential level, Democratic candidates were much more likely than Republicans to curtail their canvassing in the interest of public health and safety. "The candidate that knocks on more doors in a state legislative race is going to outperform the district," says Daniel Squadron, a former Democratic state senator from New York who in 2018 founded the Future Now Fund to help the party flip legislative chambers across the country. "We've never before had a scenario where one party did it and the other party didn't."
Republicans reveled in their success, openly boasting of their ability to control redistricting in many states and mocking Democratic donors who poured money into groups such as the National Democratic Redistricting Committee and the DLCC only to get little to show for it. "Absolutely embarrassing," tweeted Austin Chambers, the executive director of the Republican State Leadership Committee.
Democrats were left to scrounge for bright spots in a dark night, most notably their victory in flipping the Michigan Supreme Court, which could have an important role in legal fights related to redistricting. And they tried to take a longer view, pointing out their considerable gains in 2018 that they were, with a few exceptions, able to maintain this year. Post ticked off more than a dozen states where Democrats will have, if not full power, at least a foothold, whether it's a governor who can veto gerrymandered maps, or one or more chambers of the legislature. "We are in a way better position on January 1, 2021, heading into these redistricting sessions than we were in January 2011," Post said.
Yet that is little solace for many in the party who had far grander ambitions for 2020, and who must confront the reality that in large states such as Texas, Florida, Georgia, and Arizona, Democrats will have no voice at all. As they surveyed the outlook in state capitols across the country, both in the fight over policies and in the battle for long-term political power, Democrats found that they could sugarcoat only so much. "The ability of state legislatures to solve serious crises in people's lives is going to be more challenging," Squadron told me. "It's going to be harder."
One of those Democratic setbacks came in Pennsylvania, where the party had hoped to pick up at least one chamber of the legislature this year. It fell short again, and so when lawmakers go to draw the district maps for the next decade, and write the laws that will, for example, govern how votes are counted in the next election, Republicans will have the upper hand—just as they did this year.
---
* This article originally stated that Republicans flipped control of both chambers of the Pennsylvania state legislature in 2010. In fact, Republicans flipped only the state House that year and maintained the majority they previously had in the state Senate.