What Just Happened in Georgia?
The once reliably red southern state just flipped blue. Its transformation has been a long time coming.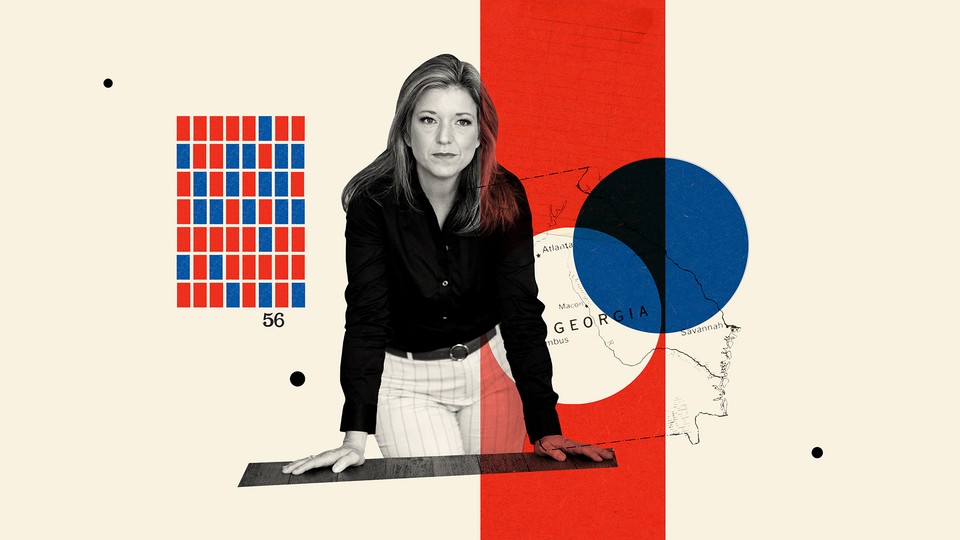 ATLANTA—Georgia wasn't supposed to turn blue. Not yet, and especially not in the suburbs of Atlanta, where Newt Gingrich arguably launched the modern conservative movement in the early 1990s and cemented the stereotype of these sprawling neighborhoods as rich, white, and die-hard Republican. This is where a generation of conservative political stars fostered their careers: former Health and Human Services Secretary Tom Price, longtime U.S. Senator Johnny Isakson, even Sean Hannity. Before Donald Trump ran for president in 2016, Cobb County hadn't supported a Democrat for president in 40 years.
But 2020 is a bad year for conventional political wisdom, and Georgia is the big prize of the election: Former Vice President Joe Biden is expected to win the state after the conclusion of a statewide recount, according to projections from CNN, NBC, and The New York Times. Two closely fought U.S. Senate seats will go to a runoff in January, possibly determining which party controls the chamber. And in the north Atlanta suburbs, Democrat Carolyn Bourdeaux flipped a U.S. congressional seat in Georgia's seventh district—one of the national party's few successful pick-ups anywhere in the country. Georgia is officially a swing state.
Above all, Republican pride was on the ballot in Georgia. Across the counties and towns in the northern part of metro Atlanta, Democrats successfully flipped or held formerly Republican seats at every level of government. Many of the Democratic winners were first-time candidates. A lot of them didn't fit the clichés of suburban southern voters. And almost all of them were women. These victories were made possible in large part because of Stacey Abrams, the longtime Georgia state representative who modeled the possible path to a majority for progressives with her narrowly unsuccessful 2018 gubernatorial bid. Her work showed the dividends of fighting for state and local seats even in presumably red areas.
But many women have been fighting to turn Georgia blue. One of them, Jen Jordan, has been tilling these cul-de-sacs ever since she flipped a Republican state-Senate seat in a 2017 special election. For years, she told me, her part of Georgia was "a political wasteland for Democrats." Recently, though, Democratic women have found a big reason to run. In the spring of 2019, the Georgia General Assembly considered H.B. 481, a ban on abortion once doctors can detect a fetal heartbeat, which can happen as early as six weeks after conception. Jordan, a petite blonde who speaks with the soft, rounded vowels of her home state, stood in all white before a Senate chamber filled with men and told the story of her 10 pregnancies and eight losses, including one after five months. She feared that even women who miscarry would face suspicion and prosecution under this law. It was a calculated trade: Jordan agreed to sacrifice her privacy and expose her pain in the hopes of persuading some of her colleagues to back off.
Jordan's bid to stop the bill did not work. But a clip of her speech went viral, and it had an unexpected afterlife. "For a lot of women in the state, Trump kind of pushed them to the edge," she said. "The heartbeat bill was the thing that made them jump."
I met Jordan on a late-October Sunday at a perfectly manicured, leafy park in the city of Sandy Springs, the kind of moneyed Atlanta suburb where every house fulfills a different architectural fantasy. A brick-turreted faux castle sits down the road from a blocky glass villa fit for Sweden. Kitty-corner neighbors adorn their front lawns with person-high fountains and palm trees, more a sign of wealth than natural habitat this far north. A dozen-plus women, almost exclusively white and middle-aged, gathered under a pavilion, preparing packets of literature on state and local races to distribute across the neighborhood. They chatted amiably about early turnout numbers and traded compliments on one another's little silver necklaces, made by a local artist as part of a fundraiser. I'm speaking one necklace read, inspired by Senator Kamala Harris's insistence on getting her time at the vice-presidential debate.
Jordan worked the space. She had that politician's knack for greeting each volunteer by name. "When you gave that speech—that happened to me," a longtime supporter told her. Jordan was still as the woman's voice wobbled, muffled by her mask. "We shouldn't have to bare our soul," the woman said. "We shouldn't have to talk about things to make other people understand how hard things are." Jordan thanked her and told her to channel her frustration into activism, and the two women exchanged an awkward hug, giving each other's faces a wide berth. "I just hate that that's what women feel," Jordan told me after the woman left.
This happens a lot, Jordan said: Women pull her aside for tearful confessions about abortions and losses, desperately grateful to have found a political leader who might understand what they've been through. It's difficult for Jordan to have to be ready to hear stories about traumatic pregnancies at any moment, when her own were so painful. But "you take it," she said. "I mean, you've got to."
Jordan's district tells a two-part story about Georgia's political transformation. The first is about rapid demographic change over a decade. Although the city of Atlanta has long been majority Black, most Atlantans live in the 6-million-person expanse of the city's metro area, which was largely developed as a result of white flight in the 1960s and '70s. A lot of what we call Atlanta is actually a series of suburbs.
In recent years, those suburbs have been quickly diversifying. Cobb County, including the section in Jordan's district, has grown by roughly 10 percent over the past 10 years, according to census data. Most of the growth has been driven by new Black residents. A little more than a decade ago, "when I came here, I felt like most people were pretty Republican," Michelle Au, a Chinese American anesthesiologist who won a state-Senate seat in Gwinnett County, told me. "But we would get senses of some other people who were secretly closet Democrats. You could tell from the kind of articles they had pinned to the wall next to their desk; they had a PBS tote bag. Those types of things."
After the 2016 election, it became clear that the counties north of the city of Atlanta—Cobb, Gwinnett, the upper part of Fulton—were no longer homogenous conservative strongholds. Hillary Clinton lost by more than 200,000 votes in Georgia, but she performed unexpectedly well in these suburban areas, earning national attention for this new political battleground. A 2017 congressional special-election race between the Democrat Jon Ossoff and the Republican Karen Handel set a record for the most expensive House race in history. (That record has since been surpassed.) The next year, Lucy McBath, a Black gun-control advocate, flipped the seat blue. Perhaps most important, Abrams's 2018 race created the 2020 map of potentially flippable seats for Democrats.
Jordan, who won her bid for reelection this year, has been encouraging women to run for these positions, which influence everything from abortion restrictions to district apportionment. "There's a real misapprehension of the profile of the woman in the suburbs," she told me. In her district, "most of the women have a college education, if not a professional degree. Even if they're not working, they're very active in their communities." Jordan is a successful attorney. Lisa Cupid, another lawyer, who won her election for Cobb County commission chair, told me that she never would have imagined a Black woman in that role when she moved to the county 20 years ago. Matielyn Jones, a former social-studies teacher who lost her state-Senate race in Gwinnett County, told me that it was important for the Democratic Party to reflect people like her, a Black woman of faith. And Rebecca Mitchell, a veterinarian and mother of four who won her race for what she called "the most flippable statehouse seat in Georgia," told me that the heartbeat bill motivated her to run. The day the legislation passed, Mitchell stood outside the state capitol holding a sign that read I know why they do 20-week ultrasounds.
Other parts of the northern-Atlanta suburbs are going through a different kind of transformation: Republican backlash. "What strikes me about it is the political change without any significant demographic change," Rusty Paul, the mayor of Sandy Springs, told me. His is a "fairly mature, developed community," he said. The only thing that's changed is "D.J.T." Paul, who chaired the Georgia GOP in the '90s, told me that "there's a war going on" over Trump in his affluent city.
This, too, is Jordan's district: the predominantly white enclave of Sandy Springs, whose white leaders vowed in the 1960s "to build up a city separate from Atlanta and your Negroes." For a long time, "those white voters were expected to act a certain way and vote Republican," Jordan told me. But heavily white areas are now among those shifting to support progressives. "That's what's been so surprising to Republicans," Jordan said. "They've always just relied on race as their proxy. But now they can't." The Trumpian brand of Republican politics does not play well in Atlanta, which prides itself on low taxes and business-friendly attitudes. "You can either fight to turn out all the angry white men in Georgia, or you can work to make yourself more attractive to a broader demographic," Paul said. "So far, we've been … trying to get all the angry white men in Georgia more angry so they'll show up and vote in larger numbers." The Georgia Republican Party has also attempted to limit voting among minority groups in the state: The House of Representatives is currently investigating Governor Brian Kemp's purge of more than 1.4 million people from the state's voter rolls while he was secretary of state.
The fact that Georgia was a battleground state in 2020 is not an aberration, but the inevitable conclusion of a four-year trajectory. This is the third cycle of huge Democratic turnout in the Georgia suburbs, and Paul believes this might be Georgia's new reality. "We're losing an entire generation of college-educated, smart, energetic, activist, young Americans," he said. When Paul, who is 68, was growing up in the South, the Democratic Party was a haven for segregationists such as George Wallace, the Alabama governor who famously proclaimed, "Segregation now … segregation forever!" Paul believed that the Republican Party stood against Wallace's message, and he was proud of that. Now he's not so sure. "I'm not homeless," he said, speaking of his party. "But I'm struggling to pay the rent."
Early voting in Georgia this year was record-setting. By the end of October, nearly 4 million people had cast a ballot, a 64 percent increase compared with the same point in 2016. Jordan told me that she cast an absentee ballot so she could guide her constituents through the process; like thousands of others in this area, her husband stood in line for several hours. I met a volunteer poll watcher, Whitney Troope, who told me that she saw a woman in labor stop to cast her ballot on the way to the hospital, parking in a handicap spot and skipping to the front of the queue. It was the woman's third baby, Troope said, so maybe she felt relaxed enough to risk it, but still: Contraction pains aren't the worst metaphor for what's happening here in the South.
Nearly every woman I spoke with in Georgia, from candidates to volunteers, told a similar story: Waking up on the morning of November 9, 2016, realizing that Trump had been elected president, they knew "that whatever we were doing in our regular lives wasn't enough," as Au, the new Gwinnett County state senator, put it. One of Au's first moves that morning was donating to Planned Parenthood. Another volunteer I met, Jessica Tuman, said she had been a permanent resident in the United States for years, but the day after Trump won, she resolved to become a citizen and get involved in political activism. Conventional wisdom holds that abortion motivates more voters on the right than on the left. But that may be changing. "I have two teenage daughters, and I'll take my last breath fighting to make sure politicians don't end up in their doctors' appointments," Shea Roberts, a lawyer who appears to have flipped a Republican state-House seat in Jordan's district by fewer than 400 votes, told me. This is the upside of the past four years, Jordan said: "As awful as it's been … that's what we needed to make us get into the game."
That Sunday in Sandy Springs, Jordan stood at a picnic table as volunteers bustled around her, studying a giant map of her district and the suburbs surrounding it. She could describe her area's transformation block by block—here's where the "über-wealthy" people live, here's where Democratic candidates never used to even try. Her eye wandered north, to the district above hers, which covers the solidly Republican suburbs east of Marietta—her next potential conquest.
"Trump has just seen this as one of his states. These are his people," she said. She's sick of watching Republican leaders "singing from the same songbook," going along with Trump as though he's a normal leader, pushing state-level legislation that's ever more extreme. It feels good to imagine a different world, one where being from the South doesn't have to mean you're from Trump country. What "an incredible way to close that circle after '16," she said, "to have this state, of all states, be one of the ones to say, 'We're done.'"