How 12 Asian Americans Are Voting in 1 Swing State
A new citizen. Small-business owners. A high-school student. In Pennsylvania, the country's fastest-growing electorate is diverse and divided.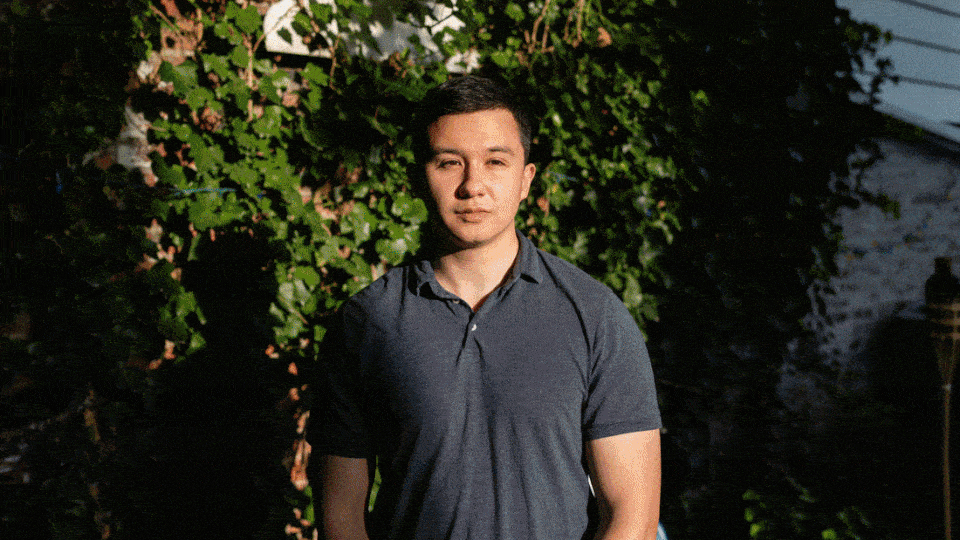 Asian Americans are the fastest-growing group of eligible voters in the United States, increasing from 4.6 million in 2000 to 11.1 million in 2020, according to the Pew Research Center. And in Pennsylvania, one of the states that's most likely to decide the presidential election, some 4 percent of the voting-age population is Asian American or Pacific Islander. Yet much mainstream political coverage ignores the importance of this crucial demographic.
Last month, we traveled across Pennsylvania, profiling 12 Asian American voters in the hopes of rectifying that problem. From a hospital manager to small-business owners, a first-time voter in high school to a former green-card holder and new citizen, a lifelong Republican to a newly declared Democrat, each of these voters lends insight into a complex and diverse community.
One of us (Eric Lee) is a second-generation Asian American who grew up in Brooklyn, New York. His inspiration for this project came from learning that his extended family didn't speak to one another after arguing about politics. Some of his family members were born in the United States, while others are naturalized citizens who were born in China, leading to differences in their beliefs. Nearly two-thirds of Asian American eligible voters are immigrants, the largest proportion of any racial or ethnic group. When Lee was growing up, his family didn't talk about politics much. But after the past four years of the Trump administration, events on Capitol Hill and at the White House are leading topics of discussion at the dinner table, during cousin FaceTimes, and in family text threads. Lee was curious: Do other Asian American families now talk politics more too, and if so, what issues are they debating?
The other one of us (Shuran Huang) has struggled with fitting into a society that's not hers. Huang has lived in Singapore, Italy, Ethiopia, Japan, and other countries, where she was one of the few Chinese nationals in most of these nations. Huang moved to the United States in 2014 and earned her master's degree in photojournalism at Syracuse University in 2018, where about 6 percent of the student population is Asian, almost mirroring the U.S. population. After living in the United States for six years, and watching the 2016 election unfold, Huang is still figuring out how to find a niche in a constantly evolving country.
We understand that Asian Americans are not a monolith, and that this is a limited snapshot of a diverse demographic group. That said, we both hope to raise the voices of Asian Americans in a process that has historically ignored them.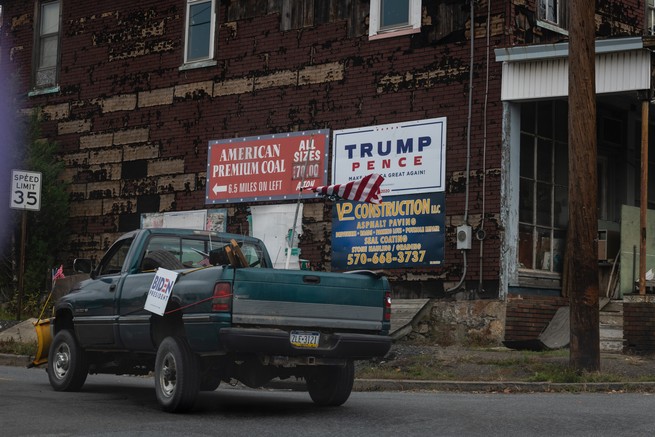 ---
Alain Xiong-Calmes, 24, Harrisburg, Pennsylvania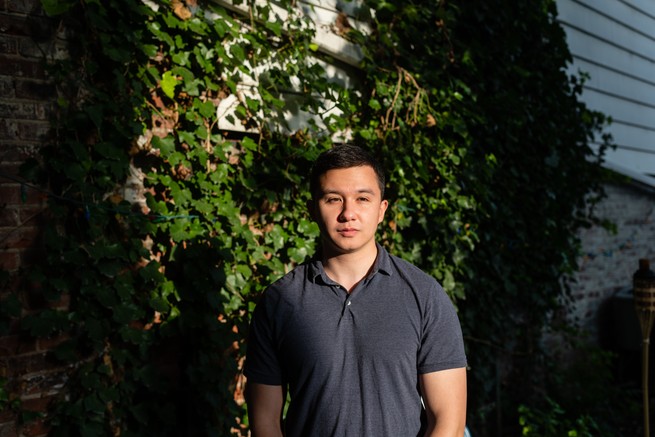 Xiong-Calmes is half-white and half-Chinese. His mother immigrated to the U.S. to seek a better education at the Juilliard School in New York. Xiong-Calmes lives with type 1 diabetes. "I personally think Donald Trump has been really destructive for health care for tons of Americans," he told us. "We should not let people die just because they're poor." He voted by mail for Joe Biden in early October.

---
Cindy Bo, 43, and David Hwang, 43, Garnet Valley, Pennsylvania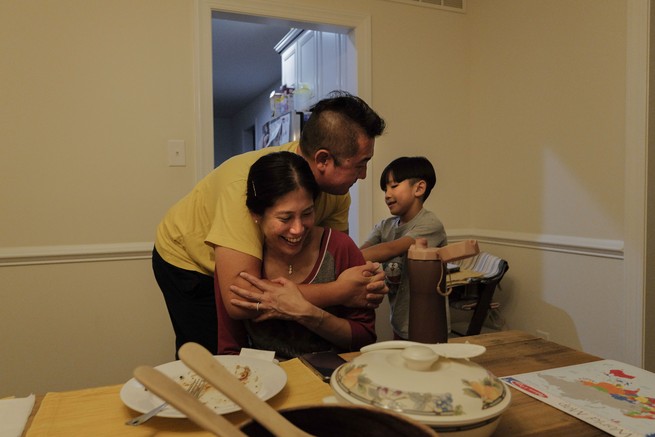 Bo's parents immigrated to the U.S. from China before she was born, and Hwang's mother came when he was 5 years old. Bo works as the operational vice president and chief strategy and business-development officer in Delaware Valley for the Nemours Children's Health System. Hwang is a stay-at-home dad of their two children, Lucas, 7, and Matthew, 21. Bo and Hwang are disappointed with Trump's handling of the pandemic, social-justice issues, and health care. They plan to vote for Biden. "When you think about the election this year, what has made it so different from other election years is that there is such a big contrast and divisiveness that I've not seen in this country," Bo told us.

---
Andrea Buchanan, 27, Philadelphia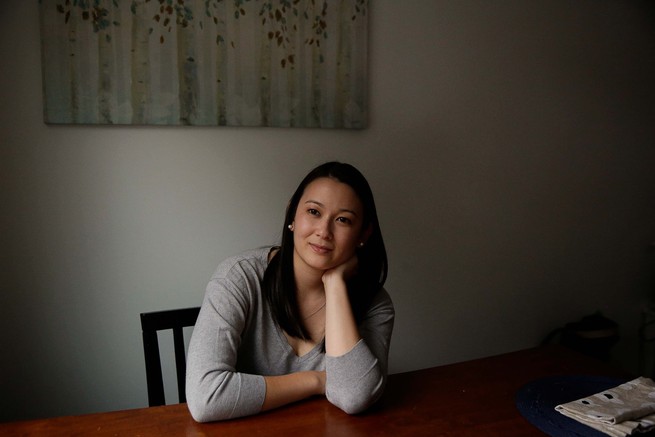 Buchanan grew up in Orange County, California, and moved east to attend Gettysburg College. Since graduating in 2015, she has been working in higher education. Valuing tax cuts and individual freedom has pushed Buchanan's family toward the Republican Party. But Buchanan moved toward the Democrats in college, voted for Hillary Clinton in 2016, and plans to vote for Biden, hoping to see improvements in health care, the environment, and criminal-justice reform. "I think it is slightly embarrassing to be represented by someone that is so not representative of the ideals and the values that I hold as a person," Buchanan told us.

---
Mark Ogino, 61, Berwyn, Pennsylvania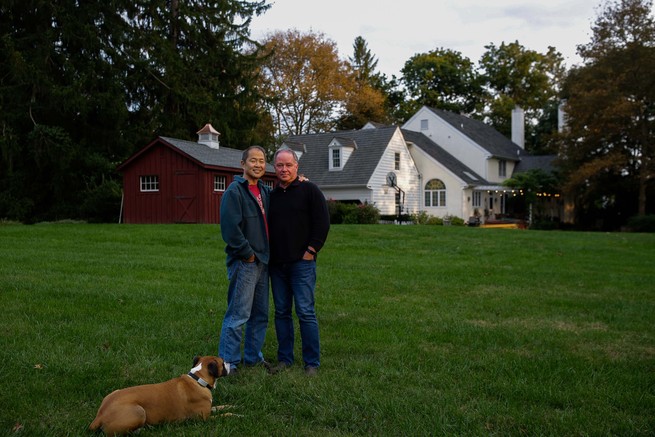 Ogino was born in Los Angeles to Japanese parents, but after moving to Alabama and Louisiana, they were the only Asian family in their community. "We would drive hours to go to an Asian store," Ogino told us. "The Asian culture really came from home only." Ogino was raised Republican, partly because his father, who was imprisoned in the '40s during Japanese internment, "hates paying taxes," Ogino said. But Ogino switched party affiliations during college. After medical school, he met his partner, Paul Czubryt, who is white, and they adopted two children from Cambodia. As a pediatrician, Ogino is pained by the Trump administration's family-separation policy and pandemic response. He plans to vote for Biden.

---
Lisa Lai, 黎莎, 65; Raymond Chan, 陳嘉烽, 71; Philadelphia (Translated from Cantonese)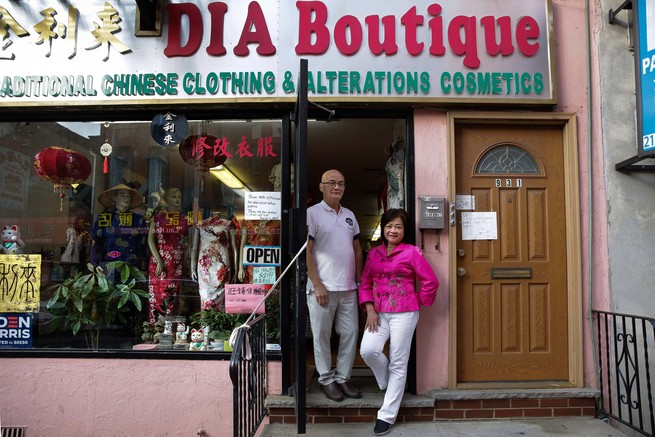 Lai was born in Guangzhou, China, and Chan was born in Vietnam to Chinese parents. They were married in 1989. The couple started a business in Philadelphia's Chinatown in 2001, altering clothes and selling cheongsams, but the pandemic dealt them a huge blow. "We only have 10 percent of our previous business left," Lai told us. Her concern for her business is part of why she's voting for Trump in her first U.S. election. "As a small-business owner, I like that President Trump deploys federal troops to suppress the protests and save my shop from being looted," Lai said. Chan feels differently: He voted for Hillary Clinton in his first U.S. election, four years ago, and plans to vote for Biden this year. "President Trump has been lying a lot, and we lost much respect from other countries," Chan said. He also supports Biden's plan to spend tens of billions of dollars to help people of color overcome economic inequities.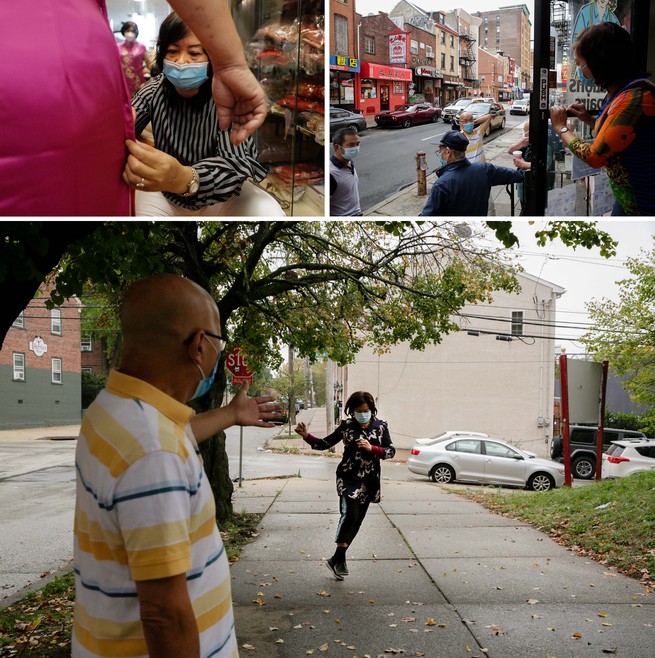 ---
Rosemarie Ferrer, 68, Orwigsburg, Pennsylvania
Born in the Philippines, Ferrer was a green-card holder for more than 30 years, until shortly after the 2016 election. Upset by Trump's actions and rhetoric, she decided to become a citizen so that she could vote him out in 2020. She's also been volunteering with the Schuylkill County Democrats. "Society needs me more than ever," she told us. Ferrer, a mother of three, is worried about how climate change will affect future generations. But fighting for alternative energy in her area is an uphill battle.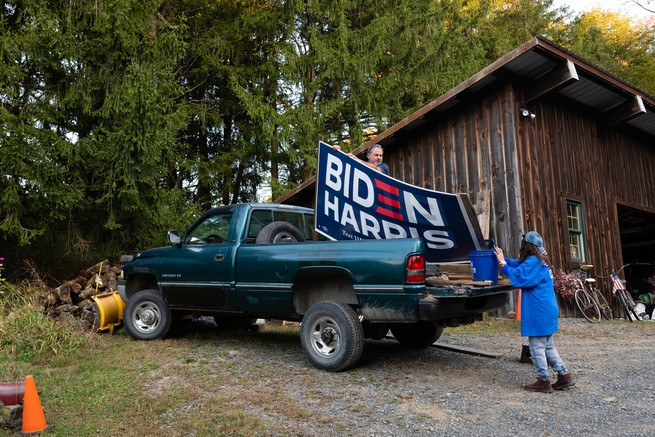 ---
Claire Kalucki, 46, Jim Thorpe, Pennsylvania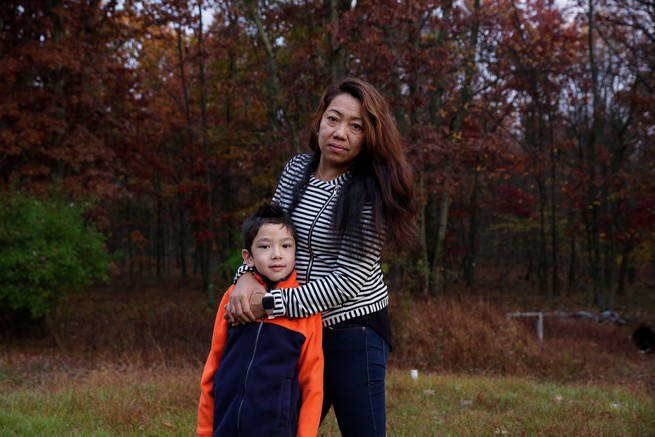 Kalucki left her home in the Philippines at age 26. All her life, she's worked as a caretaker and financially supported her parents and younger siblings. Kalucki earned her citizenship in 2016 and is voting for the first time this year, for Trump. She likes his approach to taxes, abortion, and immigration. "I think he needs to do better when it comes to people and race, and I wish there is no more racial discrimination," Kalucki told us, adding that she has experienced discrimination in the U.S. herself. "I heard some of my friends' children being bullied as Asian Americans." But she hopes that her 5-year-old son, Matthew, will "have resilience" in the face of discrimination during a second Trump administration.

---
Arthur Pang, 35, Pittsburgh, Pennsylvania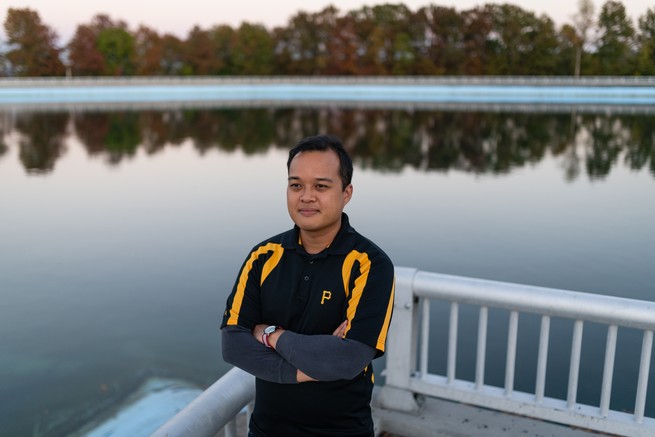 Pang, the son of Hong Kong immigrants, moved to Pittsburgh seven years ago. Before that, he served at the State Department and the U.S. embassy in Beijing during the administrations of George W. Bush and Barack Obama. Pang has been a registered Republican since 2003, and he's seen the party stray to a place he doesn't recognize. Change on its own doesn't bother him: Politics, he told us, should be "a constant enlightening, that we're constantly evolving, growing, and becoming better versions of ourselves." But Pang said he will be voting for Biden this year because Trump is "fundamentally un-American."

---
Hannah Colen, 21, Indiana, Pennsylvania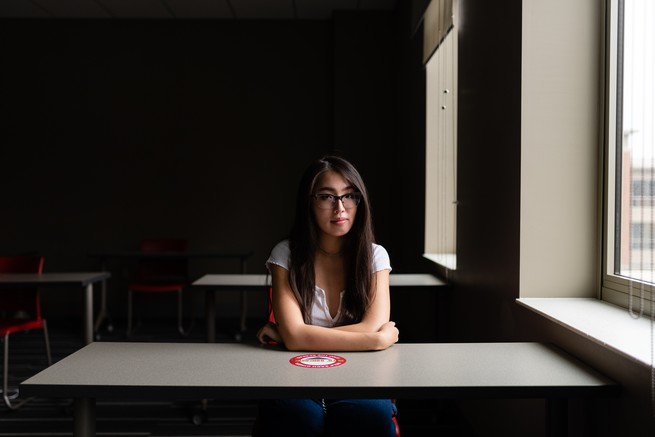 Colen grew up in small towns all her life, raised by immigrant South Korean parents. They settled in State College, in the heart of Pennsylvania, where Colen said the Korean American population is very small. "I've kind of struggled with it for the majority of my life, just the feeling of trying to be completely American," she said. "In the area I grew up, American meant 'white.'" Now Colen is in her last year of college at Indiana University of Pennsylvania. Most of her classes are online. As she balances a full course schedule and working part-time as a social-media assistant and photographer, Colen feels apathetic about voting. She plans to vote for Biden, but believes that the inequality in American institutions is too great to overcome.

---
Antara Cleetus, 18, Pittsburgh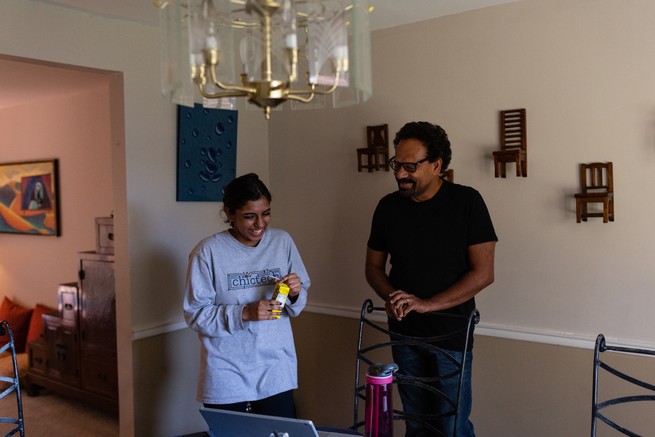 Cleetus turned 18 on October 11, just ahead of Pennsylvania's October 19 deadline to register to vote. She lives in a suburb of Pittsburgh called Upper Saint Clair, where a majority of people voted for Donald Trump in 2016. Cleetus was born in the United States; the rest of her family were born in India and moved to Hong Kong before coming to the U.S. She is planning to vote for Biden."It feels like a big responsibility," Cleetus said. "Even though I am young and I don't know a lot of things, [my peers and I] still have a voice. We have an experience, I mean, as a student of color in the Pittsburgh public-school system. We still can advocate and make change in ways that we see fit."