The Mastermind Behind Biden's No-Drama Approach to Trump
Only one top Biden adviser isn't joining him in the White House—but she'll still stay close.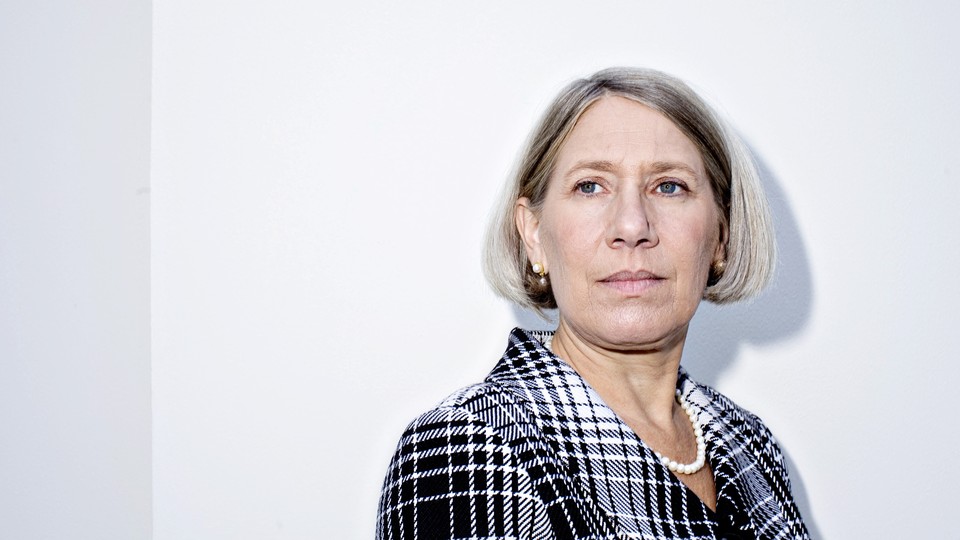 When Julián Castro wasn't given a speaking slot at the Democratic National Convention in August, he complained that Joe Biden's campaign wasn't showing proper respect to Latino voters. The real explanation for the snub is much simpler: The former housing secretary and presidential candidate had implied that Biden was senile in a primary debate and then didn't endorse him until June, though the primary race had been over since April, when Bernie Sanders dropped out.
Anita Dunn, a senior adviser to the Biden campaign from the start, declined to comment on what happened with Castro. (An aide to Castro insisted he offered to endorse in April, but the Biden campaign sat on that, and an offer for advice on Latino outreach.) But keeping track of who crosses Biden—staff, reporters, politicians—is part of what she does. She watches. She listens. She remembers. She is completely comfortable with giving a firm no.
"As [Biden] will be the first to say, he's the only Irishman who doesn't carry a grudge," Dunn told me. "I'm not Irish, but I will carry his grudges."
Nixing Castro from the convention is just one example of the relentless focus on the long run that defined Biden's campaign—and Dunn's role in it. Dunn "is not interested in winning a news cycle—she's interested in winning an election," Stephanie Cutter, her friend and an outside Biden-campaign adviser, told me. "And there's a big difference." Although Castro was out, the Democrats devoted large parts of their convention to appealing to Latinos in other ways—highlighting individuals talking about what climate change meant for them, or offering personal stories about immigration policy. That outreach didn't work perfectly. But Biden has brought this emphasis on on-the-ground expertise, rather than boldfaced names, to his early Cabinet picks, who are mostly longtime Washington insiders instead of nationally known political figures. Dunn is especially comfortable leading a team that privileges expertise over flash, having worked on six Democratic presidential campaigns over the past 40 years while remaining largely unknown to the general public. She'll guide the new administration too—and remain out of the spotlight while she does it.
Maybe Dunn deserves a bit more attention, though. She made history of her own with Biden's election, becoming the only person in modern presidential politics who has been in the inner circle of two winning candidates—first Barack Obama's and now Biden's. Most top operatives who have helped elect presidents retire from advising candidates and cash out, figuring there's not much point to playing anymore once they've won the Super Bowl. Dunn has done just fine for herself—she has her name (via an initial) on her firm, SKDK, and she can get booked on TV whenever she wants. But after guiding the campaign since February, she's so far the only senior member of the team to say she won't be working at the White House.
Aides with ties to Biden say Dunn's outside role may make her more influential. The president-elect has spent nearly 50 years dreaming about what he'd do if he ever got to the Oval Office, and will now face crises as daunting as any in American history. Dunn knows how to keep Biden and his team focused, and how to work areas of agreement and weak points to exploit. She'll find ways to needle Republicans, many of whom have spent the past few weeks demonstrating that they have no qualms about undermining Biden even before he's sworn in. On the outside, she'll also be free to wrangle politicians, companies, and other interested parties that Biden will need behind him if he's going to have any hope of the next four years being more than just a well-meaning mess.
Speaking with me from a post-campaign break in Woodstock, New York, Dunn summed up her philosophy as an adviser. She came of age in the time when aides were neither seen nor heard, she said, and she still values discretion above almost all else. (I had to talk her into speaking with me for this story.) She believes in candidates not making promises they can't keep, and that "the distrust of government and of institutions is not that hard to understand when you think about a political process that has overpromised people for years about what they could deliver." As the Democratic-primary candidates fought over Medicare for All, making detailed promises ahead of the legislative process, Dunn's advice was for Biden to steer clear. No candidate has ever done well getting into the weeds on health care, she told him, so stick to a solid position, while zeroing in on opponents' inconsistencies to show that their ideas won't work. Once she was in charge of the campaign, aides said her sensibility quickly filtered through the whole operation, with a level of decisiveness that, among other moves, led to Biden abruptly leaving New Hampshire a few hours before he placed an embarrassing fifth in the state's primary, and pulling all his staff from Super Tuesday states into Nevada and South Carolina to make sure he survived.
That's how Dunn will guide Biden's presidency through the fights ahead. She'll remember who did well by Biden. She'll remember who didn't. She'll keep her attention on Biden's long-term goals. She spent a lot of the campaign reminding everyone that most Americans are not on Twitter. (She says she does have a lurker account, though, which she uses to check for funny responses to big news events.) More than one Biden aide, asked to detail Dunn's style, delivered an impression of her favored approach to saying no: "Actually … we're not going to do that at all."
Dunn's comfort with offering a calm but firm no was always an odd fit with Biden and his inner circle, whose debates over big decisions often became emotional, drawn-out exchanges that verged on operatic. Dunn has known Biden since the 1980s, when she was the communications director for the Democratic Senatorial Campaign Committee, but her first real connection was to his then–chief of staff and best friend, Ted Kaufman, who remains his close adviser. Biden and Dunn didn't stay in touch until Obama put Biden on the ticket in 2008, when they reconnected. Already in that race, Dunn had developed a distinctive role as the Obama adviser who also wasn't part of the tight loyalist crew. David Plouffe, Obama's campaign manager in that first run, told me that they had begged her to come on board, and that he was impressed with how quickly she gained the team's trust. "How often in sports do you see someone who was perfectly suited for a team, they changed teams, and they struggled a little bit?" Plouffe told me. On campaigns, "that relationship with the principal is so important."
For people who aspire to work for Biden, making that sort of personal connection is essential. Although Dunn isn't a lifer with him, he's treated her almost like one ever since the first meeting he had with Obama's team in 2008. They were in a hotel suite in Denver, ahead of that year's Democratic convention, hammering out how he'd handle responses on any of the issues where he and Obama didn't fully agree. They were struggling over a small point that people present remember having something to do with economics, and Biden looked at her as the only familiar face in the room. "Anita knows me," he said. "She knows where I come from." Her relationship with Obama proved almost as essential, as the former president checked in throughout the 2020 campaign, making sure it was moving as he thought it should. Dunn is one of the only people in politics whom both Biden and Obama trust enough to listen—at least occasionally—when she tells them they are wrong.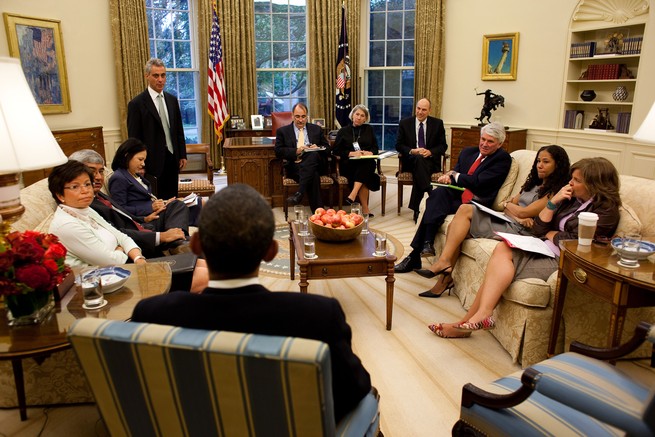 Now that there won't be the common enemies of Donald Trump or an election to keep Democrats unified, Dunn's relationships are going to be called on repeatedly.
"At places where things could break down, they didn't, and I compliment her for the manner and professionalism with which she handled it," says Faiz Shakir, Sanders's campaign manager, who remained the point person for the senator's work with the Biden campaign throughout the general election. Just take another showdown that happened over the convention, when Representative Alexandria Ocasio-Cortez had to be shoehorned into a speaking slot. Reluctant at first to include her, Dunn listened to Sanders's team about why they thought having her on-screen would help Biden's chances. They reached a compromise both groups could live with, and though Ocasio-Cortez made clear her disappointment with getting just 90 seconds to speak, the outrage that bubbled up online in response got no encouragement from Sanders.
Biden is Dunn's fifth presidential candidate, after Jimmy Carter in 1980, John Glenn in 1984, Bill Bradley in 2000, and Obama in 2008 and 2012. (She also was integral in planning the 2004 Tom Daschle presidential run that came close to happening.) In between, she's been involved in House, Senate, gubernatorial, and other races. Her life is wrapped up in her work—she first met her husband, Bob Bauer, when she was working for a House candidate in the '80s who needed help with a recount. In the years since, Bauer also became a top aide to Obama and served as his second White House counsel. He's now finishing his time as Biden's top lawyer by directing the response to Trump's election lawsuits.
Staying out of the White House will allow Dunn to work with other clients besides Biden, although she insists that he'll remain her priority. But outside work carries its own risks. She's taken heat over her contacts before—such as in 2017, when BuzzFeed News reported that she had informally advised Harvey Weinstein as the accusations against him mounted. (SKDK notes that Dunn turned down Weinstein when he tried to hire her, and that SKDK represented several Weinstein survivors and continues to work with the Time's Up Legal Defense Fund.) Dunn says that the experience was instructive in itself—for how to approach a campaign, and for what the years ahead might include. "It is always a good reminder to me of just how lazy the press corps can be, because I didn't work for [Weinstein]," she said. "He wasn't a client. We put that out very clearly. And also a reminder of how nasty our left wing of our party can be."
Dunn has other critics too. Her way of determining who is worth her time doesn't go over well with those who come up short—such as the staffers she sidelined after Biden put her in charge, following his losses in Iowa and New Hampshire. She tries to include everyone in the greater mission, she insisted. But talk to those not in the Dunn fan club, and you'll hear complaints about her willingness to shove aside people she views as not up to the job. Some in the campaign also point to Biden's extended struggles with his stump speech and in primary debates, arguing that those fell under her purview as the message expert, making her responsible for those early failures. Dunn admits to occasionally being overly protective of Biden in ways that don't serve him well, by giving him too much leeway for being tired or stressed at moments, for example. When she makes another mistake, which she will, she will think of a lesson she learned from her first White House experience, when she was an intern for Jimmy Carter's chief of staff, Hamilton Jordan. "If you're smart and you're good at what you do, most of the time you're going to make good decisions. If you make a bad decision, you fix it and you move on," she told me, summarizing. "But no decision is the worst decision."
Despite the griping over Biden's stump speech, not many people close to him complain about Dunn's role—and importantly, what Biden was saying throughout the campaign barely changed from his defeat in Iowa to his victory speech in Delaware. Along the way, many Democrats stressed over the campaign's decision to ignore most of Trump's daily diversions in favor of focusing on the coronavirus pandemic. Dunn's plan, and Biden's, ended with a win.
Dunn doesn't expect Biden's strategy to change much as president.
"Those of us who had worked in the White House, and Joe Biden, who had been vice president of the United States, had a much better understanding of why the Trump strategy that everyone was panicked about, the daily press conferences, would not work unless they actually did something" about the pandemic, Dunn said. "All those people who were saying, 'Oh my gosh, he's doing daily press briefings. He's all over. He's dominating,' were missing the bigger point, which is unless he actually does something to deal with what is a genuine catastrophe, then it doesn't matter how many press briefings he does."
Dunn may soon join the group of close aides who write books, she told me. Hers, she says, will be a little different, because she's determined not to fluff herself up by revealing what she's seen behind the scenes. "I've never been able to quite figure out what I was going to say, since I am a person who doesn't actually discuss confidentialities," she said. But now she has some thoughts about what led to Trump's rise. There might be some lessons, she said, about "how people who work for elected officials and candidates should think about their role in this process."
While reporting this story, I often thought back to one moment this year that encapsulates Dunn's approach to politics. The day her boss announced his running mate—a moment of triumph for any presidential campaign—Dunn cut straight through the crowd of reporters waiting to enter the high-school gym where Biden would introduce Kamala Harris. She said short but cheery hellos to the few people who recognized her, ignored everyone else, and sped backstage to witness the conclusion of a process she had personally overseen. She was one of the most powerful people in the room, but she didn't care who knew it.