A Cold War Between Red and Blue America
Nothing about the results so far suggests the election will break the country's long-term political stalemate.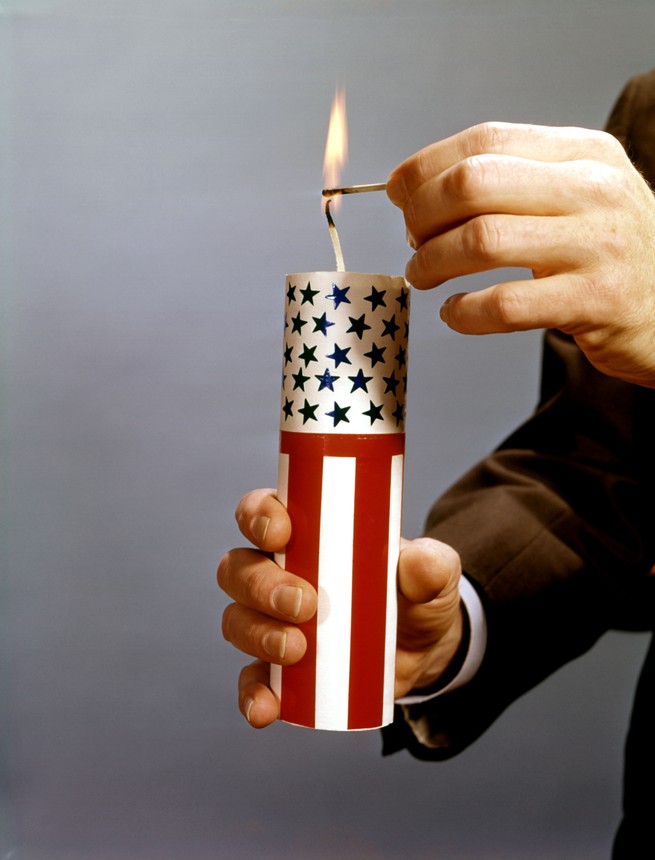 The clearest message of this week's complicated election results is that the trench is deepening between red and blue America.
Late vote counts in Michigan and Wisconsin put Joe Biden in position to oust Donald Trump so long as the Democrat holds his leads in Nevada and Arizona, which he appears likely but not guaranteed to do. Biden edged past Trump by amassing big margins around the large population centers of virtually every state—a showing that could push him well past 50 percent of the total popular vote and possibly put both Pennsylvania and Georgia in his column. With Biden's near-certain popular-vote victory, Democrats have now won the most votes in seven of the past eight presidential elections, something no party has ever done since the formation of the modern party system, in 1828.
Yet the election did not deliver the unequivocal repudiation of Trump that Democrats and his many Republican critics had hoped for. Even amid a pandemic whose death toll is approaching 250,000 Americans, record campaign spending by Biden, and unprecedented defections from prominent former Republican officials, Trump demonstrated that his grasp on the places and people drawn to his belligerent approach is almost unbreakable.
In all these ways, the election showed the two parties as the 2020s begin, confronting each other from across deep and well-defended fortifications. For the most part, the shifts in the political landscape that the election produced were only modest ones: single-digit gains for Trump among Black and Hispanic men, and a slight improvement for Biden among non-college-educated white voters (especially women) and seniors. While a significant shift in Sun Belt metros toward Democrats does point toward longer-term changes in that region, the balance of power in the states that appear likely to again decide the outcome shifted only minimally. In 2016, Trump won Wisconsin by just fewer than 23,000 votes; Biden now leads there by just fewer than 21,000. The shift in Pennsylvania, where Trump won last time by only about 44,000 votes, may be similarly slight.
In 2016, as I wrote at the time, Hillary Clinton fell between the Democratic Party's past and its future: Her coalition crumbled in the Rust Belt slightly faster than it coalesced in the Sun Belt, leaving her just short in the key states on both fronts. Biden may narrowly avoid that fate, maintaining just enough of the traditional Democratic coalition to claw back Wisconsin, Michigan, and Pennsylvania, while mobilizing enough of the new coalition to flip Arizona and maybe Georgia. But nothing about the results suggests that he has decisively broken America's national stalemate, an outcome symbolized by the likelihood (though not certainty) that Republicans will still control the Senate in January. As one Democratic operative close to the Biden campaign put it to me: "I feel like this win is more relieving than inspiring."
The disappointing results for Democrats in House and Senate races underscored the sense of a perpetual standoff—between a Democratic coalition comfortable with the way America is changing in the 21st century and a Republican coalition that revolves around the people and places least touched by those changes.
Democrats broke through to capture Senate seats in Colorado, where Biden won comfortably, and Arizona, where he holds a narrow advantage; they now control all eight Senate seats across the Southwest. But Trump's hold on working-class and nonurban voters helped other Republican senators fend off challenges from exorbitantly funded Democratic opponents.
Despite record fundraising, Democrats such as Jaime Harrison in South Carolina, Theresa Greenfield in Iowa, and Steve Bullock in Montana suffered decisive defeats in states that Trump carried easily; Cal Cunningham is trailing more narrowly in North Carolina, a state that's also bending narrowly toward Trump. Maine Republican Susan Collins may be the only Senate candidate in either party who won in a state that the other side carried at the presidential level.
House elections also produced a broad standoff. Republicans ousted about a half-dozen Democrats who held seats in rural, small-town, and blue-collar areas that stampeded toward the president this year, including first-term Democrats in New Mexico, upstate New York, and Staten Island. Final counts could add a few more Democratic victims to that list. And with the exception of losses around Atlanta and (possibly) Phoenix, Republicans defended multiple seats that Democrats had targeted in white-collar districts inside the major metros, including in Texas, Missouri, and Ohio. Yet Democrats mostly preserved the large number of suburban seats they captured in 2018. That leaves the core of Democrats' House majority largely intact, even if some of its members experienced contests closer than they had anticipated.
So powerful was the overlap between presidential and House outcomes that the national exit poll conducted by Edison Research found that voters who backed Biden supported Democratic House candidates by a margin of 95 percent to 3 percent, while those who supported Trump backed Republicans 94 percent to 5 percent.
Those extraordinary results, like the continuing high correlation between presidential and Senate outcomes, underscore the extent to which American elections are becoming a quasi-parliamentary system, with voters basing their choices less on their assessments of individuals than on their views of the two parties. The tightening relationship between attitudes toward the president and votes in congressional races also reinforces how the parties are partitioning America into two almost unassailable spheres of influence.
The Democratic House majority, though slightly diminished by the results, ran precisely through the same places where Biden performed best: largely metropolitan areas that are racially and religiously diverse and home to large numbers of college-educated workers, who are engaged in the information industries shaping the economy.
Biden flexed formidable muscle inside the metropolitan centers—not only the urban core, but also the inner suburbs—in virtually every state. The former vice president seems likely to substantially outpace Clinton's showing in large cities with significant Black populations, such as Philadelphia, Detroit, Cleveland, Milwaukee, and Atlanta. He far exceeded Clinton's margins in white-collar counties centered in Madison, Wisconsin; Columbus, Ohio; and Charlotte, Raleigh, and Durham in North Carolina. He appears likely to do the same in Montgomery and Delaware Counties outside Philadelphia. He cruised to a comfortable win in Colorado with help from an astounding margin of almost 400,000 votes in Denver and its three surrounding suburban counties—more than a 50 percent increase over Clinton's advantage there in 2016.
Importantly, this pattern extended to Sun Belt metropolitan areas that until recently had remained resolutely Republican. The most obvious example was Maricopa County, centered in Phoenix, which was the largest county Trump carried in 2016. No Democratic presidential nominee has won Maricopa since Harry Truman in 1948, but Biden has a solid lead there. Likewise, while Biden lost Texas, he substantially improved on Clinton's showing in the largest urban centers. He won the counties centered in Houston, Dallas, Austin, and San Antonio by a combined 900,000 votes (increasing Clinton's margin in the same places by nearly half); carried big suburban counties around Houston and Austin; and sliced Trump's 2016 advantage in Fort Worth and the two giant suburban counties outside Dallas. Biden's remaining chances in Georgia are based on his enormous advance beyond Clinton in the giant Atlanta suburbs of Cobb, Gwinnett, and DeKalb Counties. The biggest exception to this pattern of metro-area gains was a crushing one: Though Biden performed well in Orlando, Tampa, and Jacksonville, Florida, an exodus of Hispanic voters, especially Cuban Americans, led to a catastrophic underperformance for him in Miami-Dade County, which keyed his surprisingly decisive loss in the state.
Yet the Democrats' hopes that Biden might significantly dent Trump's hold on blue-collar white voters, particularly in the weathered midsize industrial communities across the Midwest, fizzled. At best, Biden secured modest gains; at worst, none at all. The maps in Pennsylvania, Wisconsin, and Michigan so far have largely replicated those from 2016, with a few splotches of blue in population centers submerged in a sea of red. Biden did win the county centered in Scranton, Pennsylvania, itself. But Trump still carried heavily white working-class counties such as Lorain and Mahoning in Ohio, Macomb in Michigan, Dubuque and Marshall in Iowa, and Racine, Kenosha, Brown, Outagamie, and Winnebago in Wisconsin. On Monday, Biden visited Beaver County, Pennsylvania, which Trump carried by almost 19 points against Clinton; Trump leads it today by about two to one in the latest count. On the same day, Biden's running mate, Kamala Harris, barnstormed through Luzerne County, Pennsylvania, where Trump also beat Clinton by almost 19 points; he leads there now by a little more. (Mail-in-ballot tallies might reduce, but won't eliminate, Trump's lead in those places.) Nor did Biden make any appreciable inroads in the heavily working-class white counties around Tampa and Orlando that Trump dominated in 2016.
Biden wasn't completely ineffective on this front: Exit polls in crucial Rust Belt battlegrounds showed him notching modest but pivotal gains in Clinton's showing among white voters without a college degree (though not improving much among those voters on a national basis). The polls also showed Biden beating Trump among college-educated white voters in the key states that the Democrat may end up winning, including Wisconsin, Michigan, and Arizona (although exit polls recorded an even split among those voters nationally, a disappointing result for Democrats if it's not revised). But Trump still carried a significant majority of working-class white voters in every seriously contested state, and the towering magnitude of his margin among them in the South represents a daunting hurdle for Democratic hopes in those states. And while the national exit poll showed Biden maintaining traditionally strong Democratic numbers among Black voters (87 percent to 12 percent) and Latinos (66 percent to 32 percent), subpar showings for Biden among the latter group in Texas's Rio Grande Valley and especially Florida's Miami-Dade County proved fatal for his efforts in those states. (Stronger performances with Latinos in Arizona and (to a lesser extent) Nevada were crucial to Biden's advantages there.)
Once upon a time, a popular-vote victory as decisive as Biden's projected win would likely have swept his party to broad congressional gains. Democrats' only modest advances in the Senate and modest retreat in the House testify to the durability of the divisions between a Democratic coalition rooted in the places immersed in the changes forging 21st-century America and a Republican coalition that dominates the places most apart from, and skeptical of, those changes. In America's domestic cold war, this election was more like Antietam, a brutally bloody stalemate that wounded both sides, than a Gettysburg or Vicksburg, which pointed to a decisive victory for one side over the other. The election did more to underscore the impermeability of the nation's divisions than to offer a path toward the reconciliation and unity that Biden has promised.