Why Kamala Harris Is Still Showing Up Tonight
The Biden campaign doesn't want to shift any focus away from President Trump's mismanagement of the pandemic.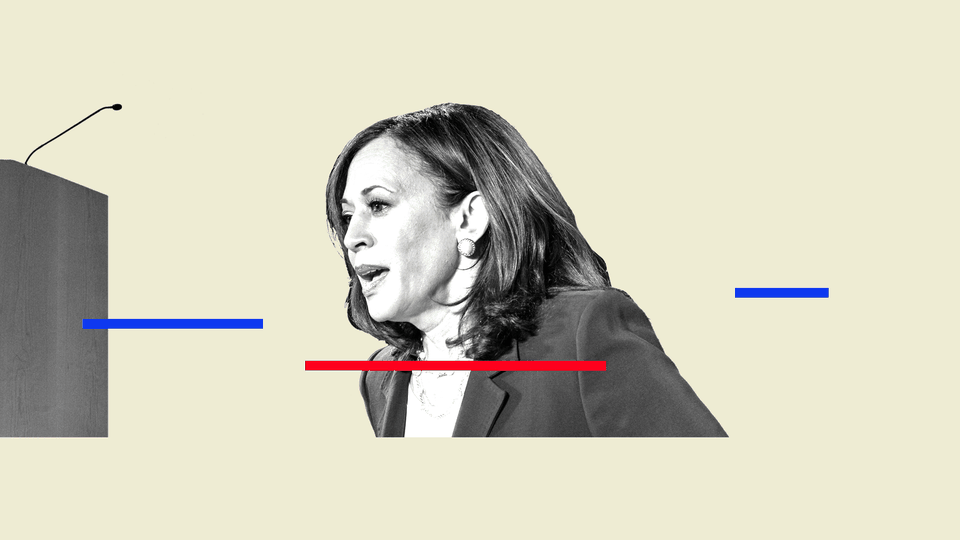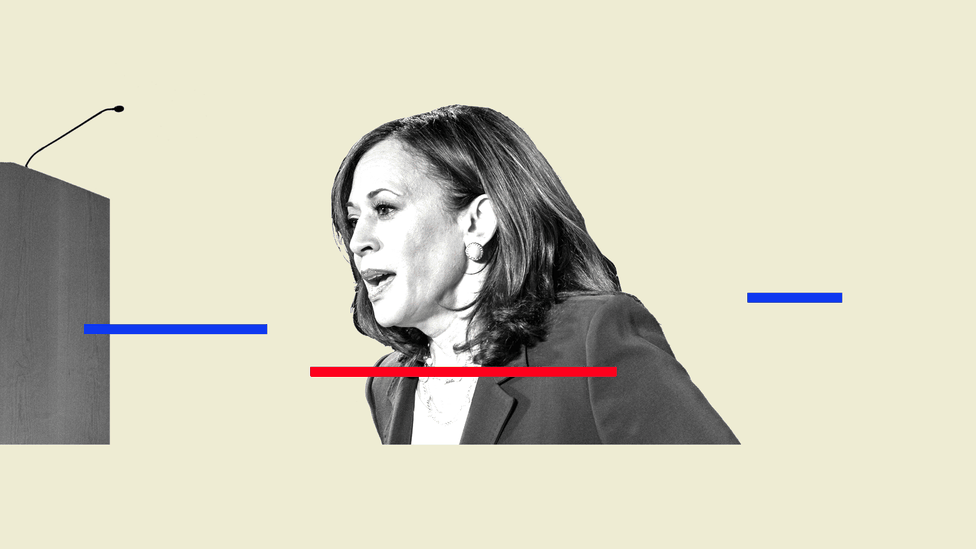 Watching Kamala Harris take the stage tonight for her debate with Mike Pence, many Democrats may be wondering the same thing: Why would she agree to appear in person, just a few feet away from the vice president, amid a coronavirus outbreak that has ravaged the White House and infected President Donald Trump?
The answer, above all, is that the Biden campaign does not want to shift the public's focus away from Trump's unsteady handling of the COVID-19 crisis—not even to a debate about whether to debate.
In that way, the campaign's decision for Harris to participate reflects the same messaging discipline that's led Joe Biden to brush off questions about, say, whether he supports packing the Supreme Court: He doesn't want to provide any opportunity for the GOP to talk about anything but Trump's performance.
Multiple sources inside the Biden campaign told me officials never seriously explored withdrawing from tonight's debate or demanding that the Commission on Presidential Debates stage a virtual contest instead. Nor is the campaign, at this point, pushing either of those options ahead of the second Trump-Biden face-off next week.
"Our point in this campaign is not about Donald Trump's personal health; it's about how he has handled the pandemic that's killed 200,000 people," said one Biden-campaign senior adviser, who, like others I talked with, spoke on the condition of anonymity to discuss the team's internal deliberations. "We're not going to let this become a debate on what's going to happen on the 15th."
Yet even with the Biden campaign's clear preference for in-person debating, there are no guarantees beyond tonight's session. Biden acknowledged yesterday that he will debate next week only if Trump is no longer contagious with the coronavirus. And in an interview last night, Frank J. Fahrenkopf, a co-chair of the debate commission, said the debate will happen as planned only if the Cleveland Clinic, the commission's health adviser, certifies that it's safe.
"What we're going to do is say to the Cleveland Clinic, 'Is it safe to do it?'" Fahrenkopf told me from Salt Lake City, the site of tonight's debate. "If they say 'yes,' we can do it. If they say 'no,' we have to make some other plans."
Even the surge of cases at the White House this week did not cause serious second thoughts within the Biden campaign about Harris participating tonight, officials said. "Everybody was operating under the idea that debates happen in person, debates should be happening," another top campaign official told me. "I think we were always, and have been, operating under the instruction that it would go forward pending the advice of health experts and the commission itself."
Pence threw a last-minute curveball into the plans when he balked at a key element of the commission's safety precautions. The commission and the Cleveland Clinic had originally intended to install plexiglass shields adjacent to both Pence and Harris, because a single divider between them would have interfered with the television shots, said Fahrenkopf, who served as the chair of the Republican National Committee during the 1980s. However, Pence's team pushed back on that idea earlier this week: Although they didn't object to Harris appearing beside a shield, they saw no need for such a barrier next to the vice president. But plans changed again at yesterday's walk-through: Pence's team agreed he would accept a shield if doing so would make Harris feel safer; when her campaign indicated that it would, Pence's team dropped its objection, Fahrenkopf told me. "It will be there," he said.
Both the commission and the Cleveland Clinic are facing substantial skepticism from Democrats after the first debate between Trump and Biden, last week. Many Democrats were frustrated and angry that the two institutions did not enforce their own safety rules, and allowed Trump's entourage to sit in the hall without masks. Frustration turned into serious worry when Trump announced he had tested positive for the virus two days after the debate. With the White House refusing to reveal when he received his last negative test, many observers have questioned whether he might have been contagious while onstage with Biden, even though Trump's team certified to the Cleveland Clinic that he had tested negative before the encounter. (One source familiar with the discussions said that, contrary to popular belief, the candidates were not required to be tested on-site; instead, they were mandated to tell the Cleveland Clinic that they had tested negative within 72 hours of the debate.)
Fahrenkopf acknowledged that the commission had mishandled the Trump retinue's flouting of mask rules. "Maybe we didn't do the job we should have," he told me. "I was astounded when they all took their masks off." At tonight's debate, "when I come out of the stage 15 minutes before [the start], we will serve notice that if you take the mask off, you will be removed," he said. However, there's a significant exception to that rule: "I can't do anything about the people inside the Secret Service" protection, Fahrenkopf said. (He deferred questions about changing the testing regime for the candidates to the Cleveland Clinic, which did not respond to a request for comment.)
Between the Trump team's disregard of safety rules at the first debate and the steadily rising caseload in the West Wing, Democrats in private conversations have raised two reasons Harris and Biden might refuse further in-person debates.
One is that since he contracted the disease, Trump has been so reckless—leaving Walter Reed to greet his supporters outside, removing his mask upon his return to the White House—that the Biden campaign cannot take the risk of assuming that the president will follow whatever safety protocols the Cleveland Clinic and the debate commission establish.
"Trump's unbelievable performance … where he endangered the people who take care of his family," suggests that he "cannot be trusted to do anything he agrees to do as it relates to physical safety," Matthew Bennett, the executive vice president for public affairs at the centrist Democratic group Third Way, told me a few hours after Trump returned to the White House. "I think it does raise a real question about whether it's safe to put our candidate and his team in physical proximity to them."
The other argument against in-person debates is that withdrawing could reinforce Biden's message about Trump's failure on the virus. Biden and Harris would be saying that Trump and Pence have been so irresponsible that the Democrats cannot even take the chance of appearing in the same room as them.
But neither of those arguments, so far, appears to have gained any traction inside the Biden team. The senior Biden adviser told me that the campaign shares Democrats' frustration with the commission's performance at the first debate. "The mask thing at Cleveland was a failure, an inexcusable failure," the adviser said. "We expressed that to the commission." But "no thought" was given to pulling out of tonight's debate, the adviser said, nor next week's if health experts deem it safe.
For the most part, leading Democratic strategists appear comfortable with those choices. "Biden's core theory, his core narrative, is a restoration," Bennett said. "And to violate the norm that's been established of three presidential and one vice-presidential debates cuts against this notion of restoration. He's not going to be the one to break tradition that radically."
The VP debate tonight is "Democrats' best chance to hold the Trump administration accountable for its failures," Aimee Allison, the founder and president of She the People, a group that works to engage women of color in politics, told me. "Since Trump's misbehavior during the first debate did not allow a discussion on the issues that most Americans are concerned about—the pandemic, the economic crisis, racism, and voting rights—this is one of the few opportunities to focus the country on the way forward."
Outside experts I spoke with largely agree that tonight's debate can be conducted safely—with one big caveat.
Leana Wen, an emergency physician and a former Baltimore health commissioner, told me that the actual debate should be a "low-risk setting," given the 12-foot distance that will be imposed between the two candidates, and the quality of ventilation at the facility. "Senator Harris … will be fine," Wen said. "I'm not worried about her."
But she is worried about the people around Pence, who she said should be in self-isolation after coming into contact with infected people at the White House. "All the people who will have to be traveling with Vice President Pence—these are people who don't have the options of social distancing. Secret Service agents, do they have the ability to stay at least 10 feet from him when indoors?"
Pence "is setting a terrible example" for the country by traveling so soon after exposure to infected people, added Wen, who is also a public-health professor at George Washington University. "I treat patients. How am I going to tell my patients to quarantine for 14 days if they say, 'Mike Pence didn't'?"
As for next week, Fahrenkopf told me the commission hasn't yet discussed shifting to a virtual debate. But he acknowledged that that could become necessary depending on the president's recovery. "It is too early to plan anything until we know the president's health," he told me. "That is going to determine what we are going to do."
Given the many uncertainties, Wen argued, the right question might not be whether Trump can debate next week, but whether he should. Beyond the possible risk of infection to Biden and others involved in the debate, "I cannot imagine a situation where President Trump should be traveling next week for his own health. He just left what sounds like a very high level of care," she said. "I would never advise a patient who was just severely or critically ill to be traveling anywhere except to receive additional lifesaving treatment."
Like Wen, Timothy Brewer, a professor of medicine and epidemiology at UCLA's schools of medicine and public health, thinks that Trump should not be infectious by the time of the October 15 debate. Studies from Taiwan and Korea have suggested that patients are unlikely to be infectious more than six to 11 days after they first develop symptoms.
But no test can guarantee that Trump is not infectious when he shows up to the debate. "If he is asymptomatic, and if he is [feeling] better, he is probably unlikely to be infectious, but there is no 100 percent way to prove that," Brewer, a specialist in infectious diseases, said. Nor can any air-filtration system for an indoor facility entirely eliminate the risk of airborne transmission of COVID-19. "It's probably not possible to reduce that risk to zero," Brewer said. "You can make it low, but not make it zero."
For all these reasons, both Wen and Brewer are surprised that neither the campaigns nor the commission has thought seriously about shifting the coming debates to remote sessions in which Biden and Trump appear from separate locations.
"The most important question," Wen said, "is: Why can't it be remote?" When I spoke with Brewer, he asked the same question almost word for word: "There are very few guarantees in life. The question is: Why not do it remote?"