What COVID-19 Families Hear When Trump Brags About His Strength
With each dismissive comment he makes about his own experience with the virus, the president minimizes the suffering of an ever-growing share of Americans.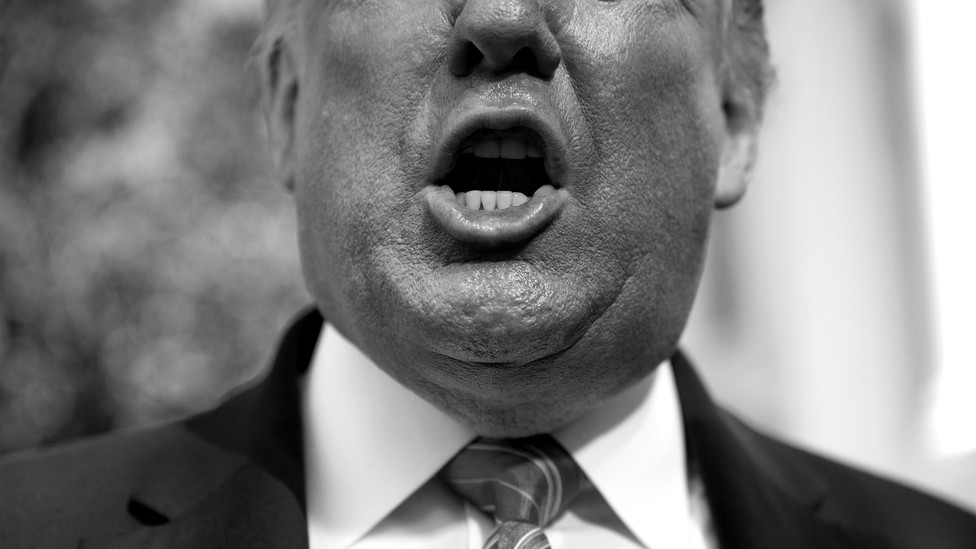 Losing a loved one to COVID-19 is devastating in much the same way losing someone to any illness is. There are stages of grief—periods of confusion, anger, and immense sadness. But for many families experiencing a coronavirus-related loss, another feeling is tangled up with all the others: a penetrating and persistent sense of regret.
For Sabila Khan, whose father contracted COVID-19 at a short-term rehabilitation center, that regret takes the form of impossible what-ifs and if-onlys. What if they'd brought him home during the first week of March? she often wonders. What if she could have been there in the emergency room to advocate for him, as he waited three days for an open bed? Her father died on April 14, alone at a hospital just a few blocks from her home in Jersey City, New Jersey. If only she could have held his hand. "When your parents grow old, you are under no illusion that they will live forever, but never in my wildest dreams did I think he was going to die the way he did," Khan told me. "This is going to haunt me for the rest of my life."
There are thousands of Americans like Khan, for whom the past few months have been nothing less than a nightmare. To many of them, Donald Trump's downplaying of his own COVID-19 diagnosis, and his rhetoric equating sickness with weakness, has been a profound insult. Before Trump's hospitalization, most Americans already disapproved of his handling of the pandemic. With each dismissive comment, he minimizes the suffering of an ever-growing share of Americans.
"This level of trauma that regular people are feeling is unprecedented," said Khan, who has created an online COVID-19 support group. "His actions and tweets were disrespectful to the memories of all the people who passed away—our loved ones who died terrified and alone."
Given Trump's months-long failure to take the coronavirus pandemic seriously, his experience being hospitalized this month could have been instructive; requiring supplemental oxygen can have a way of putting things in perspective. But after he was released, Trump offered no sober-minded reflections or warnings about the importance of social distancing. Instead, the families of COVID-19 victims watched as the still-infectious president stood on the Truman Balcony and triumphantly peeled off his face mask.
"Don't let it dominate you," he told the country in a video message later that evening. "Don't be afraid of it. You're gonna beat it." In a tweet the next morning, the president called the virus "far less lethal" than the flu for "most populations." "I feel so powerful," he bragged at a campaign rally in Florida this week. Trump allies have amplified the message. "Seventy-four years old and the virus didn't really slow him down," Tucker Carlson said one night on Fox News. "You might conclude the coronavirus isn't quite as scary as they're telling you it is."
Khan's father, Shafqat Khan, was 76 years old when he died—two years older than the president. Her first clear memory of her father is of them sitting side by side in front of the TV, watching a presidential debate. Originally from Pakistan, Shafqat was fascinated by American politics, and in 2000, shortly after Shafqat officially became an American citizen, he started a nonprofit called Pakistanis for America to encourage civic engagement in the Pakistani immigrant community. After the 9/11 terrorist attacks, he organized events with religious leaders in Jersey City to help the community heal. A decade ago, Shafqat was diagnosed with Parkinson's disease, and he was admitted to a rehabilitation center in March 2019, after his condition worsened. On March 11 of this year, just before the family thought he would be released, the center closed its doors to visitors; it was the last day any of his family members would see him in person.
A few weeks later, he was taken to the hospital with severe congestion. It was the height of the pandemic in the New York City area, and Shafqat waited three days for an available bed. After another week, Khan's mother got a phone call from the doctor: Shafqat had gone into cardiac arrest and could not be resuscitated. He was interred the following day. "The burial was live-streamed for us," Khan said.
In the days after her father's death, Khan was desperate to commiserate with others who'd gone through what she had. "COVID grief is so very unusual," she said. "It's overwhelming; it's trauma." After spending some time on Survivor Corps, an online community for COVID-19 survivors and family members of those who have died from the disease, Khan decided to start her own support group on Facebook. She gave it an easily searchable name, "COVID-19 Loss Support for Family and Friends," and quickly saw its ranks grow by the hundreds; as of today, the group has 2,700 members from across the world. To scroll down the group's page is to wade into a sea of despair: There are hundreds of photographs of dead fathers and sisters and wives, links to Change.org campaigns, and post after post describing shock at Trump's recent comments about the virus.
"Our families went through too much to just say it isn't so bad," one member wrote. "What he is doing makes a mockery of my brother's death and my family's devastating grief," another said. "It's too bad our loved ones didn't get the chance to take a ride, against all specialist recommendations, and wave to us," a third person wrote, referencing the president's joyride to greet supporters outside Walter Reed National Military Medical Center.
The number of American families joining this devastated club is only going to grow, no matter what Trump says. The virus has killed 215,000 Americans and infected millions more. Thousands of COVID-19 long-haulers are still experiencing debilitating symptoms of a disease they contracted months ago. Right now, the United States is averaging roughly 50,000 new coronavirus cases each day—more than double what the country saw in June. New Jersey, where Khan lives, last week reported its highest daily case number since May.
Khan, who works in book publishing, is a registered Democrat and, like her dad, has always been interested in politics. But nothing and no one has enraged or energized her the way Trump did with his comments last week. "It's so triggering" for COVID-19 families, she said. After Trump's triumphant return from the hospital, Khan called her best friend, who also lost her father to the virus this year. "We just cried about [it] together," Khan said. Starting the Facebook group was a way to help herself and others cope with loss, but lately it hasn't felt like enough, she said.
Over the past two weeks, she and other group members have begun working with the advocacy organization Covid Survivors for Change, which organized a National COVID-19 Remembrance Day and set up thousands of empty chairs on the Ellipse, the lawn south of the White House, in honor of the people killed by the virus. Khan also helped organize and draft an open letter to the president that refers to his recent comments about the virus as "a betrayal of [his] duty" to protect Americans. "President Trump, you may have accepted this as our reality, but we do not," the letter reads. "We reject the idea that there is nothing that can be done."
The letter has hundreds of signatures so far, though it is unlikely to register with the president. But Trump isn't really the person Khan most wants to reach. "If we speak loud enough and forcefully enough, people will hear the reality of what this virus is," she said. If her story can "reach one Trump supporter who will think twice about not masking up, then I will feel like my dad didn't die in vain."
Families like Khan's, in other words, are shouldering an extraordinary burden: compelled to retell their story, relive their trauma, and tell the truth to the American people, when the American president will not.