The 11,000 Votes That Haunt Michigan Democrats
Donald Trump barely won the state in 2016. Here's how Democrats plan to flip it back.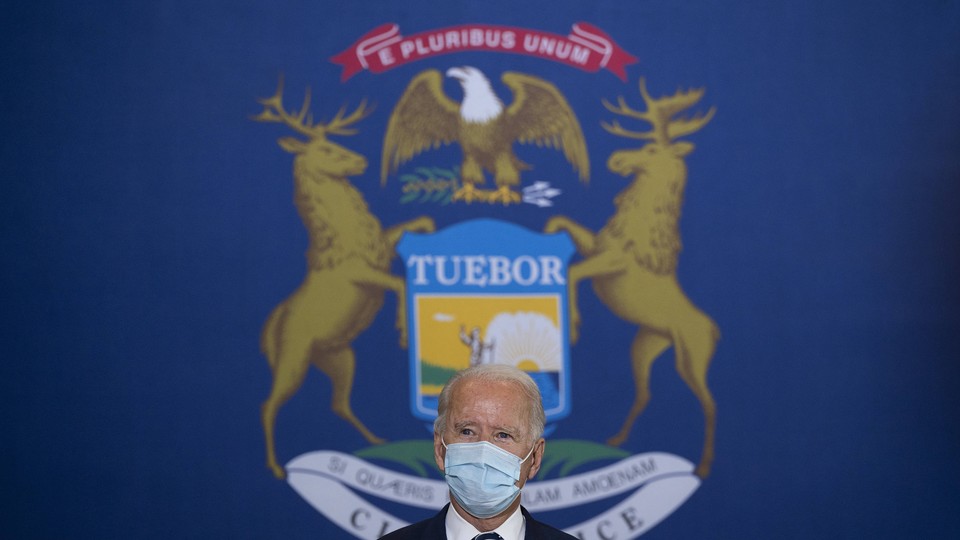 Updated at 11:30 a.m. ET on October 28, 2020.
In 2016, Donald Trump won Michigan by the narrowest margin of any state—10,704 votes.
"There are 11,000 more votes in Detroit," Garlin Gilchrist told himself that night. "There are 11,000 Black men who could vote to change that."
A few months later, Gilchrist, then just 35, entered the race for Detroit city clerk—the city's chief elections officer. His pitch: He could help engage more voters, and help make it easier for them to vote. As a young Black man, he felt he could understand why so many other Black men had sat out the presidential election—and why some thought their vote didn't matter. Black men had shown up twice for Barack Obama, and their life hadn't changed that much. Hillary Clinton wasn't even Black.
Gilchrist narrowly lost that city-clerk race, but the next year, he was elected lieutenant governor, after Gretchen Whitmer picked him as her running mate. His political mission has remained the same: getting those 11,000 votes—or more—and locking Michigan back down for his party, which, before Trump, had won the state in every presidential election since 1992. Gilchrist pushed for Democrats' outreach to Black Michiganders to focus on improving the quality of life in cities, expunging criminal records, and ending racial disparities in the spread and treatment of COVID-19—"policy anchors to the narrative we can build about why Black men should vote for Democrats," he told me.
Three weeks before Election Day in 2016, Detroit Mayor Mike Duggan had told Clinton's top campaign aides that he was worried about the turnout in Michigan. Calm down, they'd responded. They had their polling models, and they were confident that she was in strong shape.
"What if your model doesn't match the world?" Duggan remembers asking them.
The mistake the Clinton campaign made in Michigan, Duggan told me, was relying on too many people from outside the state to get out the vote. The party should have put him in charge of Detroit's operations, he said. (Snubbing Duggan was just one of many mistakes Clinton's campaign made in the state.)
In 2017, Duggan was handily reelected to a second term as mayor, and in 2018, the state party and other Democratic campaigns gave him the control he wanted. Today, he's one of Joe Biden's most loyal and enthusiastic supporters, and the campaign has put him in charge of the party's Detroit operations again. Duggan's top political aide and his son are running the effort, working everything from book-club meetings to family reunions.
For all the Democrats' focus on Detroit, the city represents only about 7 percent of the state's population, and for all Gilchrist's efforts with Black men, only one in four voters in Michigan is a person of color. What Duggan and Gilchrist are doing won't be enough, on its own, to deliver the state to Biden.
Yet according to public and private polls, Michigan appears to have moved away from Trump more quickly and definitively than any of the other states he won in 2016. A significant minority of Michiganders still strongly support him, including the many who have resisted Whitmer's COVID-19 regulations. It's gotten so extreme in the state that domestic terrorists plotted to kidnap her. But the change seems to reflect the diversity of the state: Trump's ebbing support in the suburbs and among farmers, women, and white blue-collar workers, plus the stronger rejection of him by college-educated and nonwhite voters, have all combined to grind down his edge.
If Biden wins Michigan, the story of how it happened won't just be about turnout in Detroit. The 2018 midterms resulted in a blue tsunami off the Great Lakes: Democrats in Michigan were elected governor, lieutenant governor, senator, attorney general, and secretary of state, and flipped two House seats. With the exception of Gilchrist, they were all women. Engaging female voters and propelling women as first-time candidates have had lasting effects. Amy Chapman, a Democratic strategist and former Obama state-campaign director, calls 2018 "the awakening in between"; she told me that the grassroots energy "was reflected in the kind of candidate that got elected, and emboldened people to look toward '20 in a new way."
Getting Democrats elected took more than bucking up spirits. Whitmer, as the new governor, was a check against any attempts to scale back voting accessibility. Michigan's secretary of state, Jocelyn Benson, has made national headlines for automatically mailing absentee applications ballots to all the state's voters during the pandemic, rather than limiting those votes, as a Republican secretary of state might have.* Dana Nessel, the attorney general, has similarly used her office to protect voting. Their efforts have been boosted by a 2018 state referendum that facilitated absentee voting long before anyone was thinking about pandemic restrictions. Even in states with full Democratic control, such as New York, rushing to expand absentee rules has proved difficult. Michigan had a two-year head start, though fights have continued over issues, such as extending the postmark deadline for absentee votes. (In the latest twist, a court has ruled that ballots received after Election Day can't be counted.)
The 2020 campaign began almost as soon as the 2018 campaign ended, funded first by $500,000 from Senator Debbie Stabenow and then matched by another $500,000 from Whitmer. Stabenow's 2018 campaign had been battered by the significant investment in online outreach and digital ads made by her Republican opponent, John James. As James geared up to run again, this time against the politically weaker and less known Gary Peters, state Democrats studied his investments to avoid getting lapped again in 2020.
So Democratic organizers were knocking on doors all over the state for more than a year before the coronavirus hit—not just collecting information or puffing up Democrats for being Democrats, but trying to connect with them over national issues, such as health care, as well as community issues. "There's no real magic here," Lavora Barnes, who took over as the Michigan Democratic Party's chair after the midterms, told me. "It's getting back to that basic premise that voters want to have a conversation." Because it had collected so much data already, the state party—which currently employs about 300 staffers (including an in-house legal team), four times as many as it did in 2016—knew how to reach voters even after the world shut down. "Now we can pick up the phone and have a conversation with someone who may have met someone on the doors in 2017, 2018, 2019," Barnes said. "We've got you on the phone; we've got you on text message; we've got you on a virtual phone conversation."
The events of 2020, Stabenow argues, have only strengthened the 2018 coalition of pastors, labor heads, teachers, civil-rights leaders, and other local forces. "We can thank Donald Trump for that," she told me. "People are horrified about the pandemic, about the number of lives lost, about how our complete way of life has changed." The infection rate in Michigan, one of the early coronavirus hot spots, has started to rise again. And although Trump tried to capitalize on racial divisions across the country after George Floyd's killing, Stabenow said she saw a recoil effect all over her state. "Half the folks walking in Black Lives Matter marches were from the suburbs," she said. "White suburbs. People have gotten engaged in a different way."
Biden and his team have stayed engaged, as Trump's campaign has continued to visit and otherwise actively campaign in the state. Biden has visited several times, and may be back. In the past week alone, the Biden campaign has sent Jill Biden; Kamala Harris's husband, Doug Emhoff; Pete Buttigieg; and the pop star Lizzo all over the state, and Harris and Emhoff were back there today. (Trump and Vice President Mike Pence were also in Michigan this past week.) Democrats' TV spending has remained high, and issue-specific, such as the campaign ad that started running earlier this month, just in the Traverse City market, highlighting the effect of climate change on fruit farmers. Clinton's Michigan ads in 2016 mostly focused on calling Trump terrible, without a clear positive message about her or the Democratic Party.
Despite these efforts, Democrats know that much will likely hinge on the Black vote. So in late September, when Harris came to Michigan for her first in-person trip since joining the ticket, she started the day in Flint, another largely Black city that, like Detroit, saw lower turnout in 2016 than it had four years before. Sticking to the campaign's strategy of speaking directly to local issues, she took a walking tour of Black-owned small businesses with Stabenow and the Flint native and former WNBA player Deanna Nolan, visiting a barbershop, then a bookstore, then a clothing store. At a market a few blocks away, she laughed with farmers as she bought honeycrisp apples, corn, and jalapeños, talking up Biden's economic-recovery plan to each person she met.
In front of another barbershop that afternoon, in Detroit, Harris laid into the Trump administration for trying to end the Affordable Care Act and health-insurance protections for preexisting conditions. She talked about how "poverty is trauma-inducing," and called the push for a $15 hourly minimum wage a "floor" that didn't do anything to build Black equity. "We have an opportunity to declare and demonstrate the power to shape the future," she said, urging listeners not to be cowed into giving up and not voting. "Let us not let them take our power."
With less than two weeks to go until Election Day, more than 1.6 million Michiganders have voted, about a third of the expected vote total (which assumes a higher turnout than in 2016). Democrats like those numbers, but they also worry that they don't actually represent additional supporters—they may just be eating into the votes that in past years came on Election Day.
Even if the Democrats' Michigan strategy comes together, flipping just this one state won't get Biden to 270 electoral votes. But the Biden campaign knows that Michigan is central to its chances. "I'm traveling around the country, but I keep coming back to Detroit," Harris said today at a polling place there. "You know, in 2016, right, we remember what happened? When we got hit by this natural disaster who's now in the White House, right? In 2016, they won by just on an average two votes per precinct … So let's make sure that doesn't happen again, shall we? And that means: Let's make sure everybody votes."
---
* This article previously misstated that absentee ballots were sent to all Michigan voters. In fact, absentee ballot applications were sent to all Michigan voters.