The Catholic Temptation
Former Vice President Joe Biden is using his Scranton bona fides to win over a key voting bloc.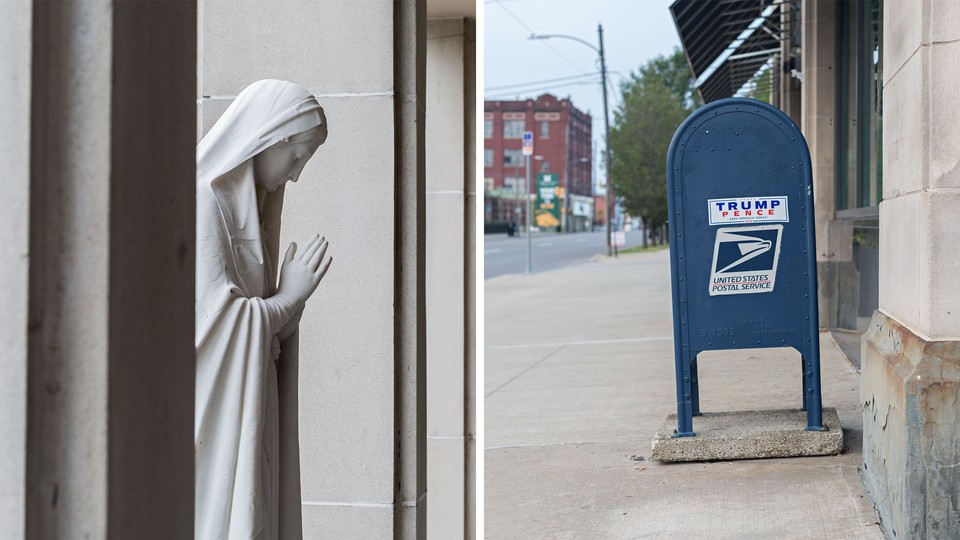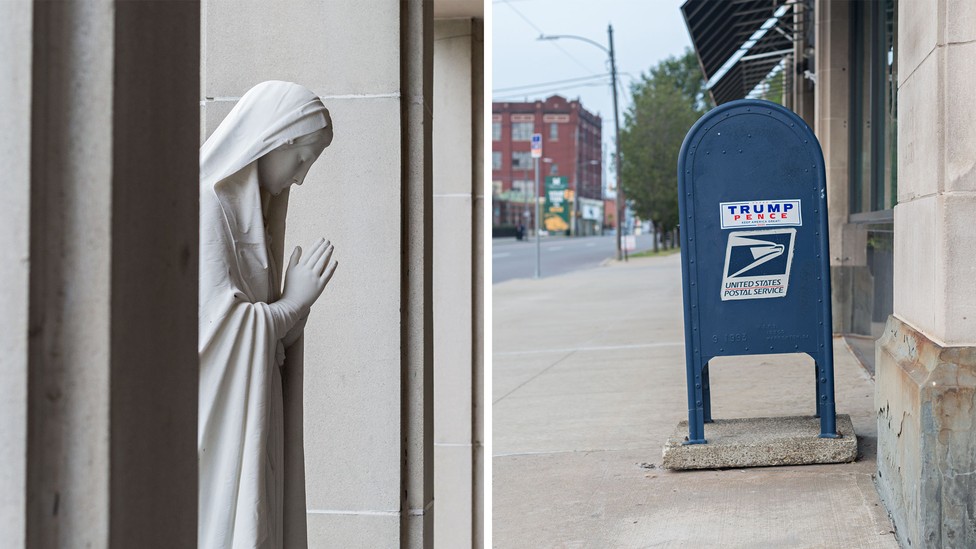 Step inside the world of a Biden campaign ad, and you'll find a young Joey going up to bat in his front yard here in Scranton, Pennsylvania, decked out in his baseball uniform while a baby stands in a crib nearby. Women in '50s-era hats and colorful skirt suits walk up the sidewalk to church. Biden's dad calls him "champ" and dispenses attaboy wisdom: "When you get knocked down, get up."
Selling America on this Irish Catholic Lake Wobegon—a place where family comes first, everyone's middle class, and all of the kids learn the same basic values from the wise nuns around the corner—is how Biden hopes to win the 2020 election.Toss-up states such as Wisconsin and Pennsylvania are roughly one-quarter Catholic, and many of these Catholics are white voters who abandoned their longtime affiliation with the Democratic Party to support Donald Trump in 2016. Biden's campaign sees his religious identity as a huge advantage in his bid to win those voters back: Trump and his associates "look down their nose on people like Irish Catholics, like me, [who] grew up in Scranton," Biden said during the first presidential debate.
During Joe's early Scranton years, the Biden family actually did live around the block from the sisters of the Immaculate Heart of Mary, who instructed him in reading and math and the catechism. The IHM sisters were the town's educators: Nearly every kid like Biden had an IHM sister as a teacher or principal. The sisters emphasized that "you have an obligation to the world around you, even beyond your family," Bob Casey, a Scranton native and former IHM pupil who is now Pennsylvania's senior senator, told me. Biden picked up the loose set of feel-good values he loves to talk about on the campaign trail—loyalty, patriotism, friendship—in Scranton's mid-century ambient Catholic culture: "My idea of self, of family, of community, of the wider world comes straight from my religion," he writes in his 2007 memoir, Promises to Keep.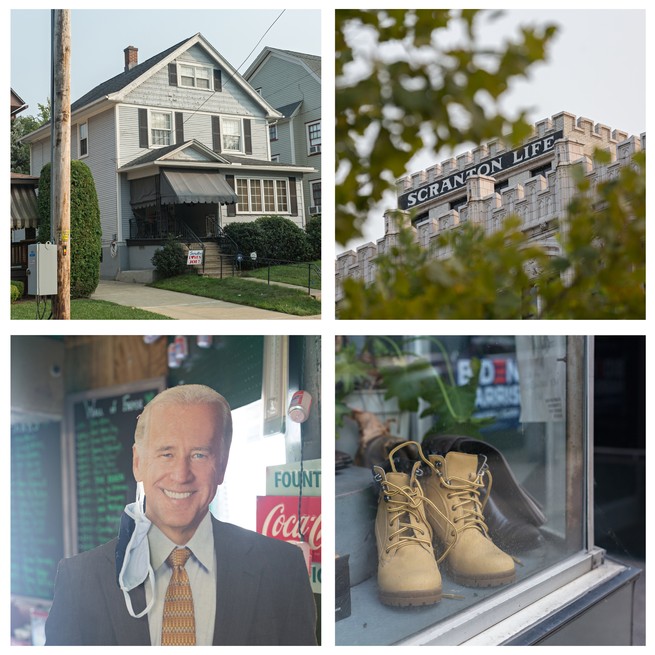 Catholics are no longer the solidly Democratic voters they were in the days of John F. Kennedy. They reflect the divisions of the nation, split roughly equally between the parties and prioritizing issues such as abortion and poverty more or less depending on their partisan affiliation. They are the ultimate swing constituency: In three-quarters of U.S. presidential elections over the past 50 years, a majority of them have sided with the winning presidential nominee—including Donald Trump. Four years ago, Trump defeated Hillary Clinton in almost every county in northeastern Pennsylvania. She barely held Lackawanna, where Scranton is located, but lost Luzerne, the once deep-blue county just a few miles to the south, by more than 26,000 votes. Fifty-six percent of white Catholics across America supported Trump in 2016, according to data from the American National Election Studies. This year, the outcome of the entire election could hinge on Pennsylvania, and this group alone could make the difference.
Biden's bet is that he knows these voters, and that their hearts are broken. But the Scranton of his childhood, the one he's pitching to America, is an illusion.These days, the cathedral-size churches that dot the Wyoming Valley around Scranton are a lot emptier than they used to be. The white-ethnic Catholicism of Biden's childhood still has a presence—the Saint Patrick's Day Parade and La Festa Italiana, the Italian heritage festival, both open with a Mass. But the growing neighborhoods are Nepalese, and the parishes founded by the Irish now hold Spanish-language Mass. In Hazleton, less than an hour southwest of Scranton in Luzerne County, the Latino population has gone from one-third to well more than half of the city's population over the past 10 years. These voters, with whom Biden sometimes struggles to connect, will determine what happens in Pennsylvania this election year just as much as the white working-class Catholics of Biden's ads.
People here joke that Scranton is 20 years behind America, that coming here is like taking a step back in time. Everyone has their favorite Italian restaurant for celebrations after Mass and baptisms; red-brick Catholic colleges still dominate the landscape downtown. But like the rest of America, it's a city where people feel disillusioned by their Church, and by their government. Biden's campaign is a plea to return to a different time in America, when things weren't so fractured. And he is leaning on his faith to make the pitch.
"People see his faith as part of who he is," Casey said. "It's very difficult, I think, to manufacture that. Some politicians try, and they always fail." Biden's Catholicism, Casey said, is a window, so that "people can better understand who he is." For others, it's a source of doubt: Does Biden share their faith, or is he willing to bend it to the political needs of his party?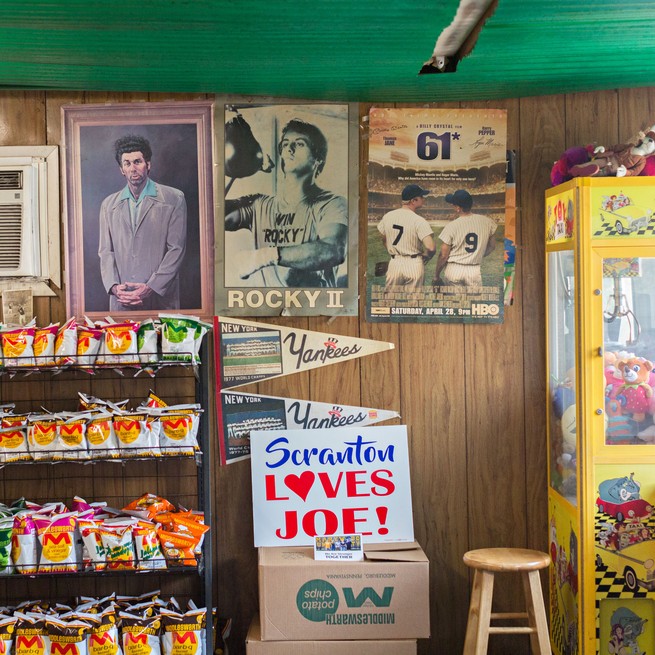 On a recent afternoon, I walked through Biden's old neighborhood and up the long hill to the IHM Center in north Scranton. Students had just returned to campus at nearby Marywood University, the school the sisters oversee, amid the lingering summer heat. In the friendship garden behind their building, four sisters sporting sensible pixie cuts gathered around a spread of individually wrapped saltines and Ritz Crackers, a COVID-appropriate expression of their trademark hospitality. These women have had a front-row seat to the intra-Catholic division that may determine the 2020 election.
This fall, the IHM sisters erected a giant Black Lives Matter sign near the entrance to Marywood, using the M from the school's logo. Alumni and community members started complaining, and one concerned citizen even wrote a letter to the school's president, who is also a nun, to inform her that someone had hijacked the space. The sisters get "a lot of flak" for the sign and other efforts to reach out to Black people in Scranton, Margaret Gannon, an 87-year-old sister who wore a matching pink mask and sweater, told me. To the sisters, there's no question that their rightful place is standing with the Black Lives Matter movement. For too long, they said, white Catholics yearned for assimilation and shied away from pushing for racial justice. Today's IHM sisters are determined not to excuse bigotry just to appear polite. "Fighting against respectability" is "No. 1" for the sisters, Gannon said.
Donna Korba, an IHM sister in Scranton, spent the weeks leading up to the 2016 election snatching flyers off of people's windshields in church parking lots after Mass. Propaganda, she calls it. "'You vote for her and you're going to hell; you vote for President Trump and you will go to heaven'—my mother got that," she told me. "When you're 88 years old and you're not quite sure what to do, who to vote for, and you get that on your car—well, I think that's going to influence you."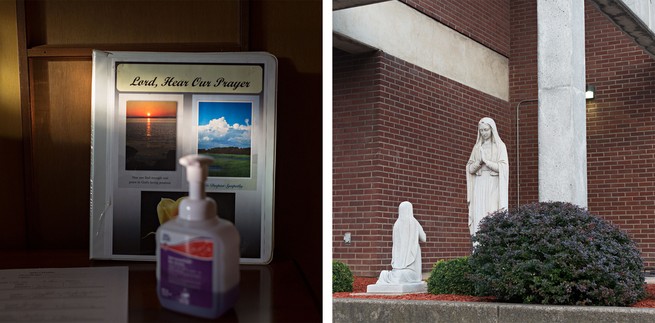 The Trump campaign and its conservative allies have continued in the same spirit in this year's election. The conservative advocacy group CatholicVote pledged nearly $10 million to campaigning against Biden in Catholic-heavy swing states, including $350,000 on ads in Michigan and Pennsylvania describing how Biden "would force American Catholics to pay for abortions, sacrificing his Catholic values to kneel before the leftist mob." The clip features Sister Dede Byrne, a Catholic nun, who claimed at the Republican National Convention that Biden-Harris is "the most anti-life presidential ticket ever" because the two politicians support "the horrors of late-term abortion and infanticide." (Biden's campaign has stated that he supports the legal framework laid out in the Supreme Court decisions Roe v. Wade and Planned Parenthood v. Casey, which permit restrictions on abortion after fetuses reach the point of viability outside of the womb. There is no evidence that either Harris or Biden supports infanticide.)
The IHM sisters I met in Scranton bristled at the notion that good Catholics can't vote for a man like Biden, even though he has become more supportive of abortion rights over his years in politics. "There are some people who have been knocking at that door of the house to try to turn Roe v. Wade around, for how many years—30, 40 years?" Korba said. "And then there are people like Joe Biden, who says, You know what, in my heart, I'm certainly not for abortions, but let's take a look, and there's a window that's a little bit cracked." Women living below the poverty level accounted for nearly half of all abortions in the United States in 2014, and six in 10 abortions are sought by women with children. "If we offer support to women who find themselves in that situation, maybe they never have to choose an abortion," Korba said. To her, the term pro-life is not just about protecting unborn babies in the womb. "What about those people who are living on the verge of poverty? What about people of color?" Korba said. "God doesn't love anybody less, or more."
The IHM nuns are no pollsters, but even they know that abortion is a problem for Biden in 2020. Catholic Democrats are slightly less likely than other Democrats in the U.S. to say that abortion should be legal in all or most cases—77 to 82 percent, according to a Pew Research Center survey. "If you really don't know your faith, it's easy to be judgmental, to be a one-issue person," Korba said. Some priests continue to preach this message, she added—"and that is a real crisis." A quarter of Americans vote based on abortion alone, according to Gallup, including nearly one-third of the Americans who identify as "pro-life." When they look at Biden, they see a candidate who has transformed: In the summer of 2019, under pressure from Democratic activists, Biden backed off of his long-standing support for the Hyde Amendment, which prohibits the use of federal funds to pay for most abortions.
There is nothing the Biden campaign can do to convince single-issue voters who oppose abortion that the Democratic Party lines up with their views. Abortion is a central issue in Catholic advocacy and culture: When Biden campaigned for president in 2008, the bishop in Scranton, Joseph Martino, vowed to deny the candidate Communion because he was too supportive of abortion rights.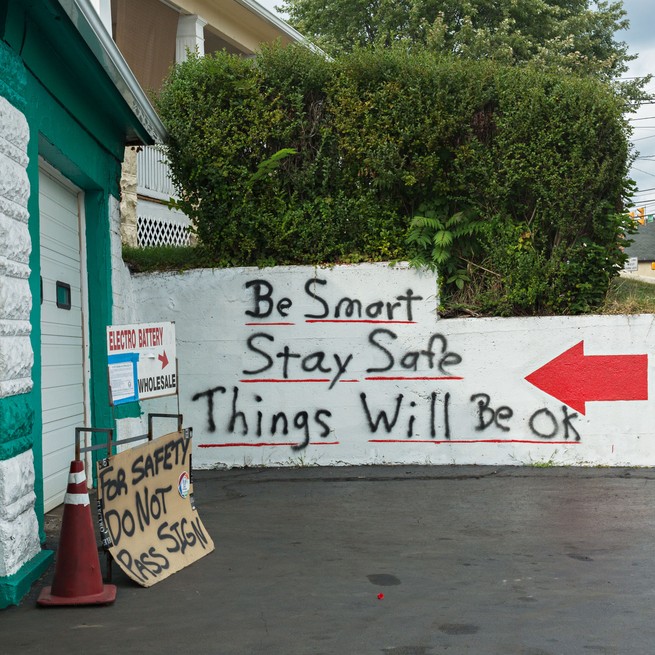 But Biden's campaign can try to convince Catholic voters that abortion isn't the only important issue in the 2020 election. Americans have watched as Trump downplayed the COVID-19 crisis, denied the importance of wearing masks to protect the elderly and the immunocompromised, and pushed for a quick reopening as minority communities suffered. Biden and his backers wish for the vice president to be associated with a faith that has prepared him to grieve with the families of COVID-19 victims; that drives him to expand access to Medicaid; and that prompts him to reach for his rosary in times of crisis, as he did in the Situation Room during the hours before Osama bin Laden was killed in a 2011 raid. "The Catholic faith is not just a noun. It is a verb," Virginia McGregor, an old-time Scrantonian who serves as the vice fundraising chair for the DNC, told me. "You are known in your faith by how you live your life." Biden's campaign is an argument that being pro-life, and being faithful, is about more than just Roe v. Wade.
Scranton seems like it's on board. Biden's old block on North Washington Street is set-ready. Most yards are dotted with swirly-fonted signs declaring, Scranton Loves Joe! Hank's Hoagies, a perennial Biden favorite a few streets away, greets customers with a life-size cutout of the former vice president, now with a blue face mask dangling off his right ear. Cameramen regularly mob the neighborhood's streets to film Biden's childhood home, the IHM sisters told me. The current residents of the modest two-story house used twist ties to hang an 8.5-by-11-inch page in a plastic sleeve on the metal rail outside their house: YES, this is the boyhood home of the next President, Joe Biden, it reads. Be sure to Vote for Joe!
The IHM sisters seem thrilled to see one of their own up for president. They joked that they have a bit of intramural rivalry with the Sisters of Saint Joseph, who taught Biden in his later childhood in Delaware, about who can truly claim him. But the gravity of the country's situation weighs on them. "We need to use our conscience, and cipher through the propaganda that's coming out, and really to pray about who would be the best choice," Korba said. Scranton is a Catholic town, but nostalgia alone is not a path to a sustainable Democratic majority. A statue of Mary still watches over the streets near Biden's childhood home. But her face is obscured by a mask.