Don't Count Out the Latina Vote
If enough of these women cast a ballot in North Carolina, they could help elect the first-ever Latino legislator to the state assembly, flip a Senate seat, and deny Trump a second term.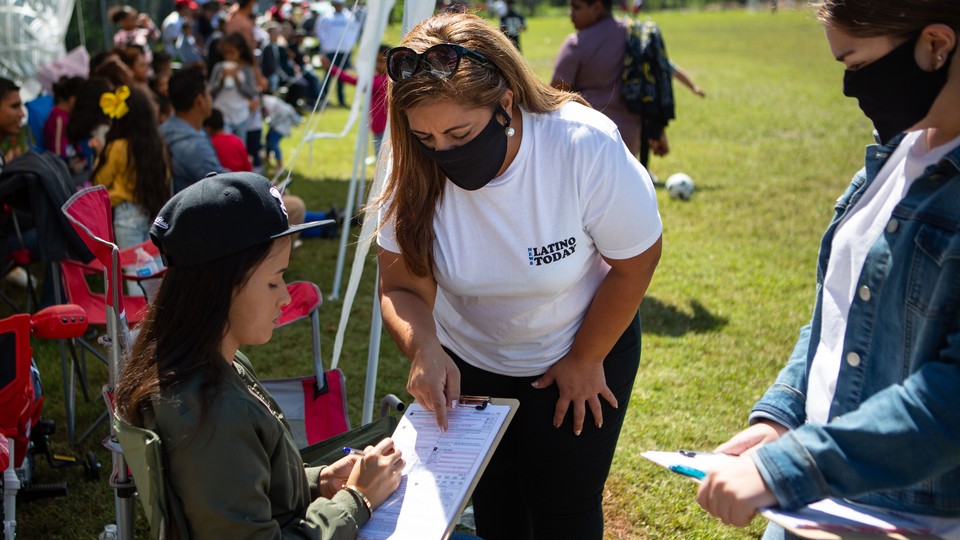 This year, scores of young Latinos will be eligible to vote for the first time in North Carolina. They've joined the ranks of more than 300,000 others in the state, who have historically been neglected by the major parties and get-out-the-vote efforts.
But activists see a change coming, and they're counting on women to make it happen. Arianna Genis and Cris Batista are two organizers with Mijente, a national progressive-activist network, who moved to North Carolina in the past year to help fill the outreach gap. Their 30-person team, which is overwhelmingly Latina, is one strand in a web of Latina organizers who have spent years trying to empower mothers, aunts, daughters, and cousins around the country to see themselves as influential political actors—who not only vote themselves, but compel their communities to turn out too. Latinas could very well become a dominant force in American elections to come, but they have to be convinced of their own power first.
Voting "follows culturally how we keep each other safe," Batista told me. "We, in our families, lift each other up," and can do the same "in an intergenerational way by voting. Saying, 'I am voting with my family, my undocumented family, and my undocumented siblings in mind.'"
Activists have a lot of room to work with. Latinos in general turn out at lower rates than white, Black, or Asian American voters, and the country's more than 14 million Latina voters turn out at significantly lower rates than other women. North Carolina offers a case study of how nonpartisan groups are trying to mobilize these Democratic-leaning women. If enough of them cast a ballot in North Carolina, they could help elect the first-ever Latino legislator to the state assembly, flip a United States Senate seat, and deny President Donald Trump a second term.
"If campaigns and institutions are not doing enough and are not taking aggressive measures to reach this specific community, it's a lost opportunity," Sindy Benavides, the CEO of the League of United Latin American Citizens, a national Latino civil-rights group, told me. "Latinas can be the secret weapon to get to 270 [electoral votes] and to get candidates over the line."
Latino electoral participation can hinge on two crucial factors: whether a potential voter comes from a family with a tradition of voting, and whether they've heard from a candidate, party, or political organization before Election Day. For most Latinos, especially in North Carolina, neither factor applies. Their political preferences also vary according to gender. Compared with their male peers, Latinas have consistently held more negative views of Trump and have shown stronger support for Joe Biden. For many of the activists I spoke with, this suggests that Latinas are a key demographic group that could end up determining how successful Democrats are up and down the ballot in November. But a combination of social and familial dynamics could continue to limit how many Latinas vote.
Many of these women juggle multiple roles in their households, balancing child care and demanding jobs—many of them low wage—that limit their ability to easily cast a ballot on Election Day. Another barrier: Latinas can feel less confident in their own political knowledge and the power of their vote than Latino men, according to research by Stephanie Valencia, who leads the Latino research firm Equis Labs. So although their anti-Trump feelings are stronger, that doesn't necessarily mean they're more motivated than men to cast a ballot.
Organizers in North Carolina told me they've seen how these sentiments play out on the ground in a state that lacks a long history of Latino activism. When Genis and Batista first started contacting Latinos in the Charlotte and the Raleigh-Durham areas, their conversations wouldn't start with candidates or policies. First, the people they spoke with needed to be convinced that they even mattered.
"Folks are not accustomed to anyone coming and knocking at their door or giving them a call or having a conversation with them about why their vote is important," Genis said. "We have to start off by making clear that their voice is important. And what that reflects is severe lack of engagement."
But they and other activists are hoping to harness the special role Latinas play in their families to amplify messages about the importance of political participation. Latinas in their 30s and 40s often serve as the main decision makers in their homes: They comprise a smaller share of the workforce than Latino men, which means they're typically the ones who run their households. They decide where their kids will go to school, what bills will be paid, and what groceries will be purchased. They take their families to church, attend parent-teacher conferences, and build social networks spanning different generations. Activists see them as the perfect influencers to reach young Latinos who are newly eligible to vote and older relatives who might not be tuned in to politics.
"There's a lot of women out there that are ready to vote, that were doubting if their vote will make a difference," Sheila Arias, a Durham-based activist with the voter-advocacy group MamásConPoder, told me. Now, "younger generations are definitely doing a lot of talking and motivating older family members who have the right to vote. And I see a lot of women motivating younger women, talking to their kids if they aren't eligible to vote about the importance of voting."
In North Carolina, introducing young Latinos to politics is especially important for organizers. The community's growth is driven by children born to current residents, most of whom are of Mexican or Central American descent. Although about two-thirds of the state's 1 million Latinos are ineligible to vote, roughly half of them, all U.S.-born kids, will be eligible in the coming years after they turn 18. (The other ineligible voters are not citizens.)
Mijente has recruited local women in North Carolina as organizers who can push people in their networks to register, learn about policy issues, and spread pro-voting messages within their own circles of Latinas.
Speaking with me over Zoom, two local Mijente organizers, Reyna Gutierrez and Vanessa Reyes, called this election year the most important of their lives, and told me they are tired of experiencing inequality of opportunity and discrimination. Beyond the president's racist comments about immigrants, the Republican Senator Thom Tillis, who is slightly trailing challenger Cal Cunningham in his reelection this year, has suggested that Latinos are partially responsible for their own COVID-19 infections, and aren't "traditional" North Carolinians.
Gutierrez told me that when she knocks on someone's door in her Durham neighborhood, she starts her conversations with a string of questions: "Are you happy with the way the country is being run right now?" "Are you happy with the racism you've encountered?" "Do you feel safe with the way the pandemic's been handled?" The answers are invariably "no."
"That's when I say, 'What if I told you there might be candidates running who share your thinking?'" she said.
Gutierrez, in her early 40s, is part of Mijente's "señora flank," a cohort of mothers, aunts, and older women, while Reyes, who is 19 years old and undocumented, works with other young organizers to make a progressive pitch about how voters can push for structural change. Each group represents a share of the Latina vote that has the potential to turn out in substantial numbers this year: Young Latinas like Reyes tend to be more fervently anti-Trump, while women 30 to 49 years old, like Gutierrez, tend to vote more regularly.
At the local level, these women could play a key role in electing the first Latino candidate to North Carolina's state House. Irene Godínez, a Durham native who founded the political organization Poder NC Action, told me that she launched her group, in part, to support the candidacy of Ricky Hurtado, an alum of the University of North Carolina at Chapel Hill and Princeton University who is running in the state's 63rd district against an incumbent who won reelection by only about 300 votes in 2016.
But volunteers with her group are also trying to boost Latina turnout generally in the state. Godínez is counting on Latinas to push Hurtado over the edge in Alamance County, and to assert themselves in other rural areas where the Latino vote has typically been overlooked. Poder NC Action's most recent mail campaign targeting Latinas went out to nearly 147,000 people.
"We, Latinas, are so much more progressive than what people would assume," Godínez said. Because her group has limited resources, "I would rather us invest in people that I know and recognize and see. And it's us, Latinas."
Similar Latina-mobilization efforts are happening in Arizona, Florida, Georgia, and Texas, where Mijente, the Latino Victory Project, Poder Latinx, and MamásConPoder are working to organize mothers and daughters. Other groups have launched TV ads and radio spots in English and Spanish specifically tailored to Latinas, or are expanding vote-by-mail or registration-education resources to reach them, such as LULAC's One Million Latinas Strong campaign.
By building a new political culture among these women, organizers want to expand Latina influence not only in their home states, but within the broader Democratic Party—following the model of Black women, the party's backbone. Almost every activist I spoke with acknowledged that there are limits to electoral organizing, but they feel this year presents a singular opportunity. "This isn't the first step—people have taken hundreds and hundreds of steps before us. But this is our first step in what's going to come," Reyes said. "If we don't take this step, right now in this presidency, it's going to be a harder of a walk for the ones who have to take them in the future."