How Trump Changed a Young Judge's Life
Before the president promoted Justin Walker to a federal appeals court, Walker had been a district-court judge for less than a year.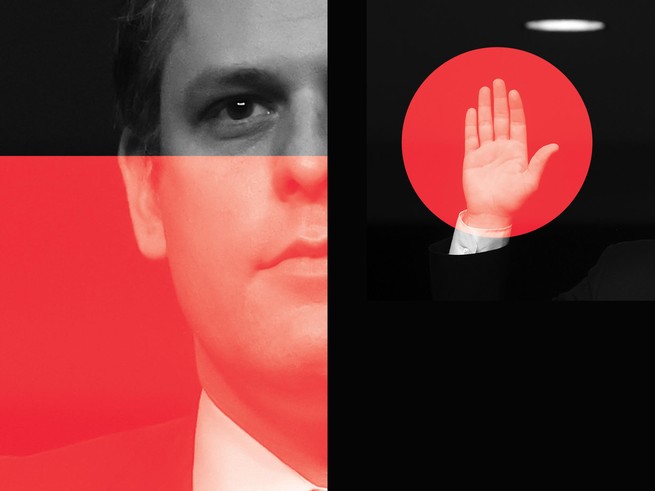 When Donald Trump took the oath of office on a gray January morning in 2017, he laid out his vision for the United States under his leadership. "We stand at the birth of a new millennium, ready to unlock the mysteries of space, to free the Earth from the miseries of disease," he said. "A new national pride will stir our souls, lift our sights, and heal our divisions." Nearly four years later, the divide in how we view the consequences of his first term remains large. But the nation is undeniably changed. From family separation, to nation-wide protests and economic volatility, to a pandemic that has killed hundreds of thousands of Americans, Trump will leave behind a legacy—whether he's reelected or not. We are telling the stories of seven individuals living with the consequences of Trump's first term. You can read the rest of the stories here.
---
There are two versions of how Justin Walker rose to become, at 38, one of the youngest federal appeals judges in the nation.
One is the version he likes to tell. In that story, a young boy from Louisville, raised by a single mother, developed a precocious interest in politics and caught the attention of Senator Mitch McConnell of Kentucky. In his teens, Walker reached out to McConnell to interview him about the 1994 Republican takeover of Congress. The senator was blown away by the paper Walker wrote. "I thought to myself, This kid is something special," McConnell later told The New York Times.
The other story is far less known: Walker's step-grandfather, a prominent Louisville businessman, arranged for McConnell's meeting with his teenage grandson, who attended an elite private high school. His maternal grandfather had made millions as a real-estate developer and rose to become Kentucky's transportation secretary.
Either way, the McConnell connection proved valuable. Walker became his intern in college and, after graduating, worked on George W. Bush's reelection campaign. Before heading to Harvard Law School, he wrote speeches for Defense Secretary Donald Rumsfeld, and after obtaining his law degree, he did back-to-back legal clerkships for two federal judges: Brett Kavanaugh, then on the federal appeals court in Washington, D.C., and Justice Anthony Kennedy, on the Supreme Court. Then he settled at the law school at the University of Louisville, where he was a tenure-track legal-writing professor.
By any measure, this would be the start of a promising legal career. But Trump, using his authority as president, launched Walker into a lifetime appointment to one of the nation's highest courts.
The remaking of the federal judiciary will be one of President Trump's major legacies. With the help of McConnell, he has seated more appeals-court judges than any other president since Jimmy Carter. While Carter made the judiciary more diverse than it had ever been, Trump has focused on selecting young conservative firebrands committed to Republican orthodoxy for lifelong positions. Like other judges who have been appointed to the federal bench in the past four years, Walker is significantly younger than the judges elevated by Barack Obama and George W. Bush. He is also less experienced. Judges traditionally spend many years in district courts, as government lawyers, or in private practice before ascending to the appeals circuit—the last stop for cases before the Supreme Court. Before Trump promoted him to the appeals court, Walker had served as a district-court judge for less than a year.
---
The swearing-in ceremonies for federal judges are usually formal, understated affairs. They rarely make headlines, let alone create controversy. Justin Walker's swearing-in to his first federal judgeship, in the western district of Kentucky, was different.
McConnell was at the ceremony in Louisville, as was his wife, Transportation Secretary Elaine Chao. Don McGahn, Trump's first White House counsel, was also in the room. And of course, so was Justice Kavanaugh, whom Walker considers a friend. Walker was one of Kavanaugh's staunchest public supporters when Trump chose him to replace the retiring Justice Kennedy: He gave 119 media interviews in support of Kavanaugh's nomination to the Supreme Court in 2018, some of them after Christine Blasey Ford accused the judge of sexual assault. The justice was there to administer Walker's oath of office. "What can I say," Walker said during his thank-you remarks for Kavanaugh, "that I haven't already said on Fox News?"
Walker likened Kavanaugh to Saint Paul, and his bruising confirmation battle to the apostle's own trials and tribulations. "In Brett Kavanaugh's America, we will not surrender while you wage war on our work, or our cause, or our hope, or our dream," he said. While acknowledging Justice Kennedy, who couldn't be there, Walker took a veiled jab at the Affordable Care Act, which is still the subject of legal challenges.
Near the end of his speech, the judge aimed his blows at those who had opposed his nomination—chief among them the American Bar Association, which gave him a rating of "not qualified" on the basis of his inexperience. (Later, when he was nominated to the District of Columbia Circuit, the association upgraded its rating.)
"Thank you for serving as an enduring reminder that although my legal principles are prevalent, they have not yet prevailed, and although we are winning, we have not won," Walker told the crowd. "And that although we celebrate today, we cannot take for granted tomorrow, or we will lose our courts and our country to critics who call us terrifying and who describe us as deplorable."
The partisan tone shocked some in the audience. One former student of Walker's, who had long admired him, was upset to the point of tears. She has been granted anonymity because she is a recent law-school graduate and is concerned about professional repercussions. "I couldn't believe what I was hearing," she told me. "I was appalled." She wasn't the only one. "I didn't know that person," said another colleague, a law professor, who had held Walker in high regard for years. (This person was also granted anonymity because they feared career consequences.) "Either he really believes all this stuff, or he was saying stuff to get ahead."
Ahead he got. Weeks after the ceremony, Trump nominated Walker to an even more powerful position: the United States Court of Appeals for the District of Columbia Circuit.
In September, Walker became the youngest member of that court since the 1980s.
---
In the short time he served on the district court in Kentucky, Walker, who declined to comment for this story, issued highly polarizing opinions. He ruled against COVID-19 restrictions on religious services, using sermonizing, sectarian language; when considering a Louisville ordinance providing for public accommodation for LGBTQ people, he went where the Supreme Court hasn't gone and said that a Christian wedding photographer's work likely amounts to "speech" protected by the First Amendment.
"His first few opinions … make it clear that he's auditioning for a Supreme Court seat," a law professor at Louisville, who said he was once a "defender of Justin" and who was granted anonymity because he feared professional consequences, told me in an email. On the D.C. Circuit, where Walker can expect to weigh in on controversies surrounding presidential power, the federal bureaucracy, and the constitutionality of statutes, he'll get a long, high-profile audition.