Life in the Shadow of 'Clean Coal'
Barbara Szalai wasn't worried about moving upriver from a coal plant. Then sticky black dust started coating her home, and the headaches and allergies began.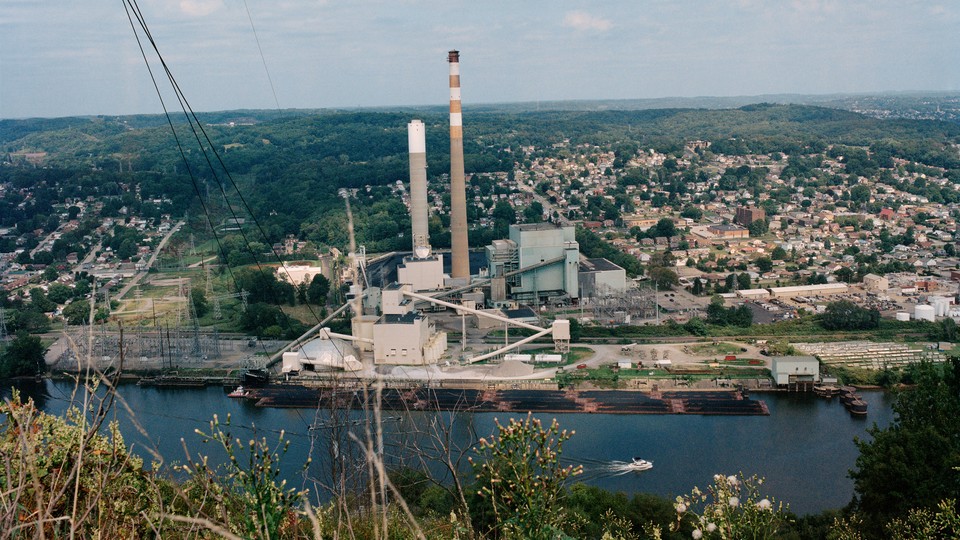 When Donald Trump took the oath of office on a gray January morning in 2017, he laid out his vision for the United States under his leadership. "We stand at the birth of a new millennium, ready to unlock the mysteries of space, to free the Earth from the miseries of disease," he said. "A new national pride will stir our souls, lift our sights, and heal our divisions." Nearly four years later, the divide in how we view the consequences of his first term remains large. But the nation is undeniably changed. From family separation, to nation-wide protests and economic volatility, to a pandemic that has killed hundreds of thousands of Americans, Trump will leave behind a legacy—whether he's reelected or not. We are telling the stories of seven individuals living with the consequences of Trump's first term. You can read the rest of the stories here.
---
In the late 1980s, Barbara Szalai moved to Springdale, Pennsylvania, a little borough along the Allegheny River, northeast of Pittsburgh. She was in her 50s, newly divorced, and looking for a place to live. Springdale made sense: She had been born in the region, and though she had moved away as a child, many of her family and friends still lived in the area. She wasn't too concerned about living just upriver from the Cheswick Generating Station, its smokestacks periodically belching puffs of white steam into the air. But once she moved in, the plant began to loom large in her life. Sticky black dust blanketed her home and patio furniture. She repeatedly hosed down the exterior of her home and wiped down the furniture, but it wasn't enough. "Wherever the rain doesn't hit the surface of the house, there's black soot," she said. "It looks like ants."
Since the early 1970s, the Cheswick coal-fired plant has provided power for homes in the region. When it first opened, it was considered state-of-the-art tech: It was among the first generating stations in the nation to install scrubbers that purport to reduce emissions. But it still pumped massive amounts of pollution into the air and surrounding waterways, at a high cost to the more than 30,000 people living within three miles of the plant. Allegheny County, where the plant is located, ranks in the top 2 percent of all counties in the United States for cancer risks from air pollution and has consistently received an F grade from the American Lung Association for both high-ozone days and particle pollution.
At 2.5 microns in diameter or smaller, coal soot can lodge deep in the lungs when inhaled. Studies have linked it to heart and lung disease, respiratory illnesses, premature births, and premature deaths. But the particles are invisible, and their effects on any one individual are difficult to prove. Szalai, a retired dialysis technician and home health-care worker, gets frequent headaches and has allergies. It's hard to say for certain whether they're connected to the plant, but Szalai suspects they might be, and she says she has seen countless examples of friends and neighbors suffering from cancer and breathing issues. "It's not a healthy place to live in," she said. Over the years, she noted, the plant has tried to clean up its pollution with new scrubbers and the addition of a second smokestack. But "coal is coal," she said. "You can only make it so much cleaner."
A 2019 draft report on coal-soot emissions by scientists at the Environmental Protection Agency indicated that tightening regulations even slightly could save thousands of lives. In a preliminary study from April, researchers at Harvard University found that those living in areas with long-term exposure to the fine particulate matter were more likely to die from COVID-19 than those who lived in less polluted areas. One week after the preliminary findings of the Harvard study came out, the Trump administration announced its decision to not tighten regulations on industrial soot emissions.
The Trump administration has reversed or rolled back more than 100 environmental policies governing air and water pollution, toxic waste, drilling, and more. This isn't the first time its actions have affected the environment in Allegheny County. The Obama administration tried to compel coal-fired power plants to clean up their emissions with the Clean Power Plan. But the Trump administration terminated the Obama plan before it took effect, part of an effort to prop up a declining coal industry. "We've got the cleanest country in the planet right now," Trump said in 2018 after he announced plans to dismantle the Clean Power Plan. "But I'm getting rid of some of these ridiculous rules and regulations, which are killing our companies … and our jobs." Despite his efforts, coal-industry jobs have declined under his administration, as power companies move to cheaper, cleaner-burning natural gas.
The administration's refusal to listen to scientists is a "very, very concerning" trend with "detrimental consequences to public health," said Francesca Dominici, a Harvard University biostatistician who led the study linking the coronavirus and air pollution. In a separate study released in July, Dominici and her team found that the EPA could go much further in elevating its air-quality standards in order to protect public health. Her team concluded that even a small tightening of regulations could save more than 143,000 lives over a decade.
Szalai is frustrated that the administration could have improved her air quality but chose not to. "Until Trump is no longer our president, environmental issues are not going to be addressed," she said. "His agenda is jobs at any cost. He doesn't care about the environment."
She's 84 now, and it feels too late for her to leave. But, after decades of living near the plant, she has regrets. "If I had my way, I would have left," she said.