Here Comes Obama
The arena politician won't be appearing in an arena anytime soon. He has other plans.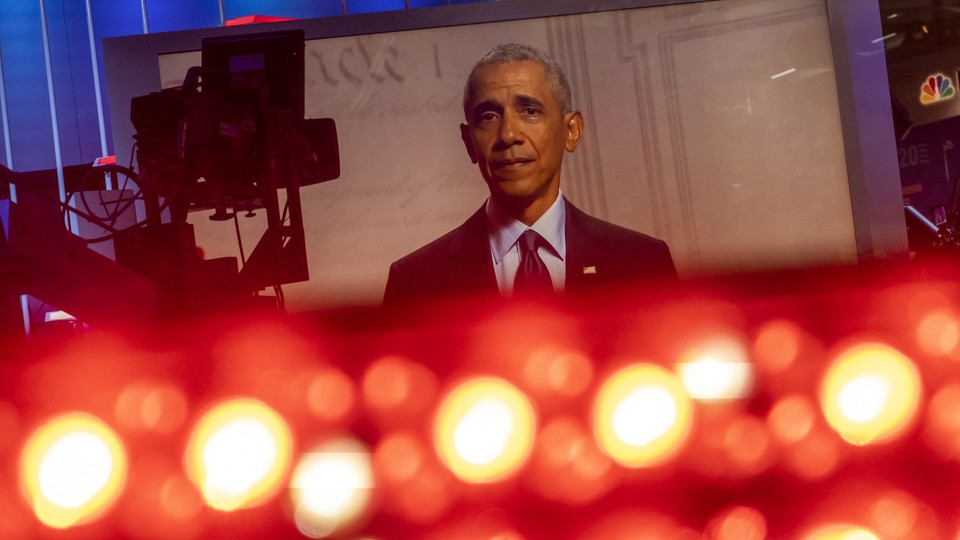 Ashton Kutcher was at a tech conference in Salt Lake City in March last year to promote Community, a new mass-texting app he'd just invested in. The trip worked out better than Kutcher had hoped: Barack Obama was standing backstage, waiting to make a paid appearance. The former sitcom star made his way over, and Obama's Secret Service detail let him through. Kutcher made his pitch.
In response, Obama said what he often does when presented with an idea like Kutcher's: He promised to look into it, and that his staff would follow up. Maybe, they said. Relying on texting to get people to hear from Obama didn't seem like such an enticing idea in 2019.
That conversation changed once the coronavirus pandemic hit. When he couldn't be in a room with voters and they couldn't be in a room with him, being able to reach tens of thousands of people at once suddenly seemed more important. Obama's aides registered a new Chicago-area phone number to use, announced that he had joined Community, and watched followers stream in at a rate of 1,000 per minute. Within a few days, more than 350,000 people had signed up for texts and a voicemail. Relying on texting all but guarantees that users won't scroll past what he said, as they might with a Facebook post or tweet—and ensures that they won't encounter the often-toxic comments that tend to accompany politics chatter on social media. Plus, to join, people registered with names, phone numbers, and email addresses. Obama can keep after them to vote—and hang on to their data after the election, too.
Obama is alarmed about Trump's presidency, and about the threats Trump has been making about not transferring power if he loses. Obama is determined to end both. But getting involved has been tricky.
Obama is an arena politician, strongest in front of a crowd cheering for him, but he won't be anywhere near an arena between now and November 3. So far, the closest that Obama has come to traveling to a swing state is spending much of the summer in Martha's Vineyard. But that's about to change. For the last two weeks of the campaign, Obama will hit the trail, potentially adding joint appearances with Joe Biden and Kamala Harris. He'll be attending "drive-in" rallies, which have become a Biden campaign pandemic favorite, letting voters see him from within the bubble of their own cars. Obama's focus will be on states with early voting, hoping to get those cars to drive right to the polls, and promoting Democrats' recent shift to emphasizing showing up in person early—rather than relying on the mail—to bank as many votes as possible before Election Day.
"He's doing enough for our campaign," Biden told reporters on Tuesday, letting the plans slip, after weeks of his aides trying to figure out what campaigning requests they'd make of Obama. "He'll be out on the trail."
Still, many Democrats are seeing less of their most popular leader than they were four years ago. Obama's Democratic National Convention speech in August was a dark, panicked indictment of Donald Trump's presidency, but he hasn't been on national television or in public much since. He likes to pick his moments—to maximize his impact when he does speak, and to avoid triggering the president into a distracting tweetstorm and potentially overshadowing his Democratic successors. He's sticking to that strategy. And he had personal commitments: He needed to polish the first volume of his memoir, due out two weeks after the election, and was enjoying an extended vacation that stretched into September.
Obama's schedule is also a reflection of how hard it is to reach voters while also modeling safe behavior. Obama wants to adhere to the Biden campaign's policy that no one at their events should risk getting sick. The former president has been shocked by Trump's reckless approach to health precautions, and is determined not to get sick himself.
Sure, Obama's not popping up on Meet the Press. But he's still being seen by the millions of voters who tend to respond most strongly to him. His endorsement video for Biden generated 26 million views and raised $2.5 million. He popped up on Twitch, the video-game-streaming platform, ahead of Biden's convention speech, and at the end of September, he recorded a video for the Black-owned media company the Shade Room, which reaches 25 million "roommates," to push early voting. His voter-registration message on Snapchat generated 57 million impressions in two weeks and has prompted more than 20,000 new registrations so far, continually popping up on phones. An early-vote message on ATTN received 12 million views, and almost another 20,000 new registrations directly through VoteSaveAmerica.com. The socially distant conversation Obama recorded with Biden from Obama's office in Washington is among the most viewed elements for the whole campaign. In the first three days alone, 25 million people watched it. And more than 40,000 people have signed up for Biden's campaign by clicking through from that video.
"Everyone's been wondering how you campaign in a pandemic, and we're trying to show them how," says Eric Schultz, a senior adviser to the former president.
Obama will spend much of the next few weeks texting, tweeting, and recording web videos. He's agreed to a few interviews with podcast hosts he can count on to let him say what he wants: One with his former campaign manager David Plouffe, and another on Pod Save America, whose hosts met while working for him. "A very important question after the election, even if it goes well with Joe Biden, is whether you start seeing the Republican Party restore some sense of 'Here are norms that we can't breach,' because [Trump's] breached all of them, and they have not said to him, 'This is too far,'" Obama told the Pod Save America hosts yesterday.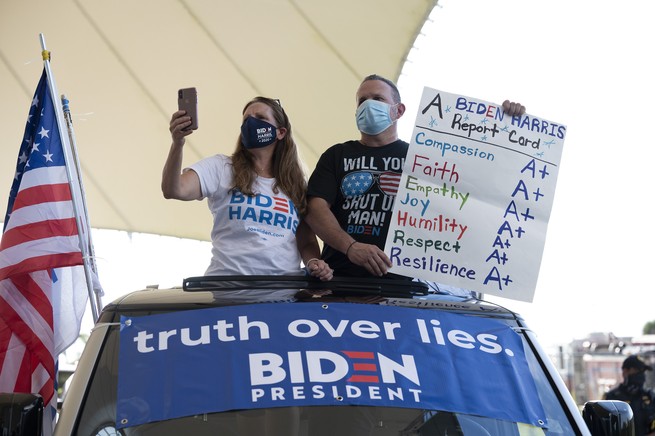 Obama has raised more money for the Biden campaign via text and emails with his name on them than anyone other than Biden and Harris themselves; a text of his from late September is one of the top 10 of all time for money raised. Sitting at his table at home, he has appeared at several fundraisers for the Biden campaign, for House Democrats, and for All on the Line, the redistricting group that he helped found and that merged with his Organizing for Action group two years ago.
Over the summer, Obama advised LeBron James as the NBA star was figuring out how to get more involved in politics. Obama has stayed involved with James's group, More Than a Vote—a surprise appearance in the virtual fan section for Game 1 of the NBA Finals, alongside past Lakers stars and poll workers, led to a tripling of the number of volunteers who signed up as poll workers. "He's a figure of cultural significance now, not just political significance," says Addisu Demissie, the group's executive director, explaining why he thinks Obama was able to help in a way that other politicians couldn't.
This is the first election cycle in 20 years that Obama hasn't been out on the trail. As much as he enjoys not having to interrupt his schedule, he misses the crowds cheering for him. He misses whipping people up in person, especially against Trump, whom he despises so deeply. But he did draw 120,826 viewers to the grassroots fundraiser he appeared at in June for Biden, raising $11 million in small donations—way more people, and probably more money, than he could have raised at a single live event.
Obama has also continued to make endorsements, including many for down-ballot races—and after years of Democrats distancing themselves from him when he was in the White House, the number of swing-district candidates now chasing his public support has gratified him. He's thrown his weight around a little, endorsing Reverend Raphael Warnock in one of this year's Georgia Senate elections. That earned Obama a brushback from another Democratic candidate, Matt Lieberman, who tweeted at Warnock, "Congrats on endorsement from 44 who has endorsed every DC-approved Senate candidate."
Meanwhile, Obama's apoplexy at the Republicans continues to seep out. Speaking last week at a fundraiser for All on the Line, he started by referencing a series of tweets by Senator Mike Lee of Utah. In one, the conservative Republican wrote that "we're not a democracy." In another, he said the United States should avoid "rank democracy."
"He rationalized it—'Technically we're a republic and this and that and the other," Obama said. "What he was indicating is a spirit we have been seeing in one of our major political parties, and it's not new, it's one that's been with us since our founding—that essentially says democracy is for some people, not for everybody."
"There is goodness and decency and common sense in the American people that is not currently represented in our government," Obama added later, trying to take a swipe at Trump and the Republicans while keeping up his optimism.
Or the scared-straight version for Democrats: "If you don't translate the righteous anger and frustration that we saw over the summer into the ballot box," he said, "you can keep on protesting, but nothing's going to change."