The November Surprise
What if everyone showed up to vote this year?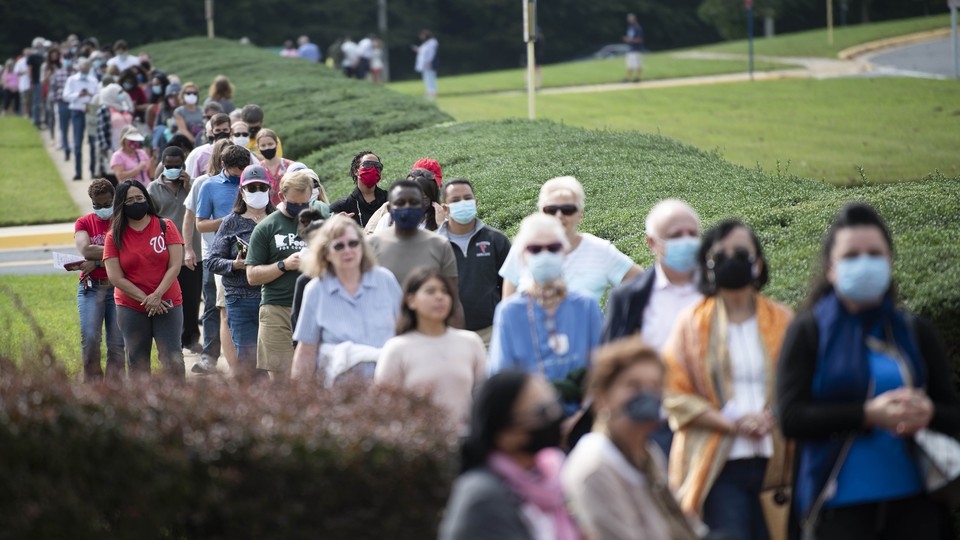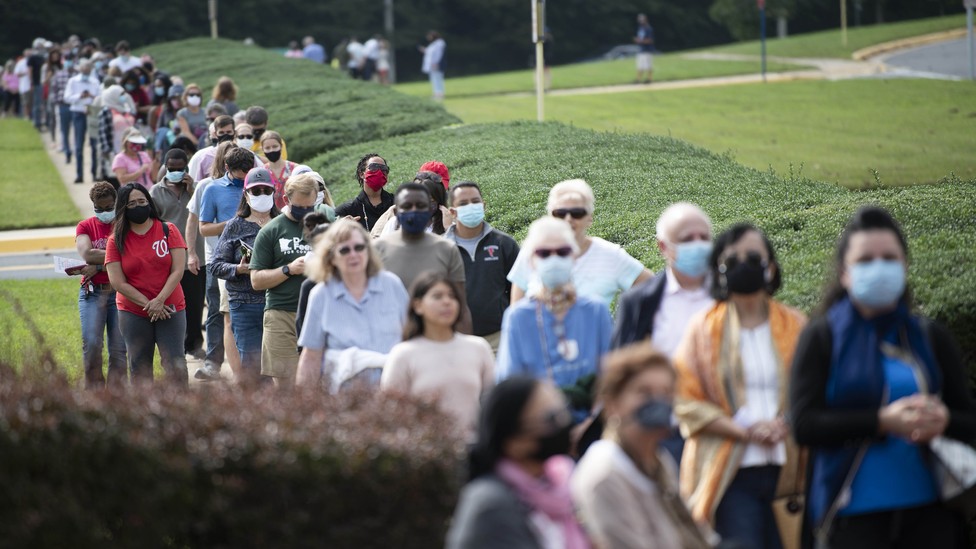 The combination of a deadly pandemic, a shaky election infrastructure, and a president—sickened by the coronavirus himself—sowing doubt about the integrity of the vote has led to fears of a plunge in turnout and widespread disenfranchisement. But what if those worries are overblown? There's a chance the nation will wake up November 4 to at least one hopeful sign about the health of its democracy: a record number of citizens turning out to cast ballots.
There are ample reasons to think turnout might surge. Polling data and early-voting levels, along with turnout and registration numbers during the Trump era, all point to a surge at the polls unseen in decades, election experts say. "The intensity of the electorate is without recent precedent," Tom Bonier, the CEO of TargetSmart, a Democratic political-data firm, told me. Moreover, the tens of millions of votes likely to be cast earlier than ever before could alleviate long lines at many polling places on Election Day and help the two parties focus their resources on turning out the hardest-to-reach voters. The pandemic that has threatened the election also prompted many states to adopt the most aggressive expansion of voting options in decades. And early attention to problems such as a shortage of poll watchers and tight ballot deadlines could help ensure that more votes are cast and counted.
The biggest argument in favor of a record-shattering voter surge is that it's happened already. In 2014, turnout during the midterm congressional elections plunged to its lowest level in more than 70 years, according to Michael McDonald, a political scientist at the University of Florida. Four years later, with Donald Trump in the White House, midterm turnout soared to its highest in more than a century. There were no significant overhauls in voting laws in the intervening years. "The only big factor that changed in our politics between 2014 and 2018 is Donald Trump," McDonald said. Now Trump himself is on the ballot, and changes that have made voting easier could juice turnout even more.
Because of Trump's impact on the electorate, political number crunchers were predicting a record turnout in 2020 before the year even began, as my colleague Ronald Brownstein reported last year. Forecasts suggested that more than 150 million Americans would vote this fall—a level that would dwarf the 139 million who cast ballots in 2016 and represent the highest voter-turnout percentage in more than a century. The onset of the pandemic this spring threw those predictions into doubt, forcing states to postpone primaries and causing a turnout plunge in a few states, such as Illinois and Ohio, that did hold elections in March and April.
But many states responded by adopting expansions to early and mail-in voting that election reformers have been pushing for years, often without success. And several states that held primary and runoff elections over the summer, including Massachusetts and the 2020 battlegrounds of Georgia, Texas, and Florida, broke turnout records. The Georgia election was particularly encouraging from a turnout perspective because voting soared and easily eclipsed the 2016 level despite widespread reports of long lines and malfunctioning voting machines, which could have suppressed the vote. "There were significant issues, don't get me wrong," Bonier said, "but what we saw on the Democratic side was higher turnout in terms of the number of people voting than we've ever seen in the state."
The early-voting totals so far in the general election have only bolstered the case for a record turnout. Although early voting is not a reliable predictor of election outcomes, the sheer number of votes that have been cast by mail or in person more than a month before Election Day has astonished voting experts. More than 4.7 million Americans have already voted early or mailed back their ballots, and turnout in some states, including Wisconsin and Virginia, has exceeded 15 percent of the total votes cast in 2016. In Wisconsin's Dane County, nearly one-third of the 2016 vote is already in, with four weeks still to go. Many of these people are surely regular voters simply taking advantage of an opportunity to vote early or by mail that they didn't have before. But in states like North Carolina, nearly one-quarter of the votes cast so far come from people who did not vote in the state four years ago, according to an early-voting database that McDonald publishes using publicly-available records. The "sky-high interest" and early-voting levels have even prompted one major, bipartisan polling team to change how it models the electorate to reflect the likelihood of higher turnout. Democratic voters have been dramatically outpacing Republicans so far, a reflection of the partisan divide that has accompanied Trump's attacks on voting by mail.
Republicans say their voters will turn out en masse on Election Day as usual, but Democratic organizers expect that their party's ability to bank millions of votes in September and October will allow them to focus more resources on increasing turnout in November among those who tend to vote less regularly, including younger voters of color.
The turnout gains in 2018 were broad, encompassing not only a surge among Democrats that delivered them the House majority but also a surge among Trump's base in red states that helped the GOP simultaneously expand its advantage in the Senate. A similar dynamic could play out this year, increasing the uncertainty about the outcome. Before 2016, McDonald said, Democrats were more likely to benefit from higher overall turnout because their base included constituencies that were historically least likely to vote: young people, voters of color, and lower-income white voters. But working-class white voters have shifted to the right, and though polls show Biden leading in states like Wisconsin, Michigan, and Pennsylvania that Hillary Clinton lost in 2016, it is Trump who could benefit most if turnout increases across the board in the Midwest and the Rust Belt.
Polls that ask respondents about their interest in the election—often a predictor of turnout—show that Republicans are matching Democrats in intensity, but the stark divide between when and how the parties' supporters plan to vote is creating uncertainty about turnout, and the outcome. "I am really curious to see what is the real Republican enthusiasm at the end of the day," Alex Morgan, the executive director of the Progressive Turnout Project, told me. "Is this a Joe Biden landslide, or is this a squeaker because they showed up too?"
Morgan's group, one of the largest non-campaign organizations in the Democratic get-out-the-vote machine, leased 70 offices in 20 states in preparation for the election, but it has entirely foregone door-to-door canvassing and shifted to phone and digital campaigning. The Trump campaign has not given up door-knocking, transforming the 2020 campaign into a massive study on the relative efficacy of in-person versus virtual canvassing.
One possible effect of the Trump campaign's commitment to in-person canvassing during the pandemic is that Republicans have outpaced Democrats in registering new voters in several important battlegrounds over the past few months. After Morgan and I spoke, the Biden campaign announced in a late about-face that after suspending its in-person ground operations for months, it would dispatch hundreds of trained staff and volunteers to knock on doors in key swing states in an effort to engage voters it could not reach through its phone and texting efforts. For now, the Progressive Turnout Project is sticking with its plan of exclusively virtual canvassing.
For Democrats, the turnout concern is most acute for the parts of the party's base that often vote in lower numbers. Latinos—a crucial component of the Democratic coalition in states like Nevada, Arizona, Texas, and Florida— have been particularly hard-hit by the coronavirus pandemic, and activists say the Democratic Party has yet to learn how to effectively connect with and engage potential voters. Antonio Arellano runs a Texas-based organization called the Jolt Initiative, which is trying to turn out Latinos in the state by visiting 80,000 homes and reaching half a million more potential voters digitally before the election. "I am ringing the alarm," he told me in a phone interview last week. He said there was tremendous momentum among Latinos in the state but that, as in past years, a lack of resources devoted to turning them out risked leaving an untold number of votes on the table. "This unprecedented momentum needs to be met with an unprecedented investment, and we haven't seen it," Arellano said. "If you think that Google-translating your campaign website and one commercial on a Spanish-speaking news [channel] is your quote-unquote Latino outreach, you're on your way to a massive loss." Groups like the Texas Organizing Project, which is trying to mobilize 1.6 million Black and Latino voters this fall, have significantly expanded their operations in recent years and played a big role in helping Democrats gain state legislative seats and nearly oust Senator Ted Cruz in 2018. Whether they can reach enough potential voters amid a pandemic to turn Texas blue remains a big question, TOP's executive director, Michelle Tremillo, told me.
The pandemic has made voting easier in many states through the expansion of mail-in and early balloting, but it has not stopped the long-standing voter-suppression efforts that disproportionately affect Black and Latino voters. In Texas, Republicans have refused to expand mail-in voting except for people age 65 and older, who tend to be more conservative. And last week, Governor Greg Abbott issued a proclamation barring counties from having more than one ballot drop box, a change that will disadvantage counties with the largest, and most diverse, populations. Yet efforts to limit voting by Black people often have the opposite effect, noted Rashad Robinson, the spokesperson for the Color of Change PAC, another progressive group that pulled its canvassers off the streets earlier this year and is instead trying to reach more than 4 million Black voters remotely. "Recent history shows that attempts to suppress Black people's votes have been met with higher levels of voting and enthusiasm," Robinson said
With less than a month to go, the electorate's intense interest in voting appears close to a sure thing, but the system's ability to handle the coming surge is not. Doomsday scenarios abound. Will rising COVID-19 cases across the country scare voters who waited to cast their ballot, or cause last-minute disruptions in mail service or in-person voting? Will Trump's campaign against mail-in ballots and the possibility that his supporters might intimidate voters at the polls succeed in depressing turnout? Will errors by election administrators and confusion among people voting by mail for the first time lead to a flood of rejected ballots? "One of the big wild cards will be how many people [who] set out to vote actually go through the process of voting but their votes are not counted. That number will not be zero," Bonier told me. "Do we have the pipeline that can handle the volume? That's been a challenge in this country, and it will continue to be a challenge."
The experts I spoke with were cautiously optimistic that the worst fears would not come to pass and that the enthusiasm reflected in polling and early-voting data would surpass the impact of the forces working against a strong turnout this year. A big reason, they said, is the preparations that states made over the summer and the earlier-than-ever start to voting: Election officials and voters alike are able to anticipate and troubleshoot many problems now, rather than in the days immediately before or after November 3. "In the end," Bonier told me, with perhaps a touch of wishful thinking, "we get these things right, generally."