Why Can't He Just Say It?
President Donald Trump refused to clearly condemn white supremacy at last night's debate. This was no accident.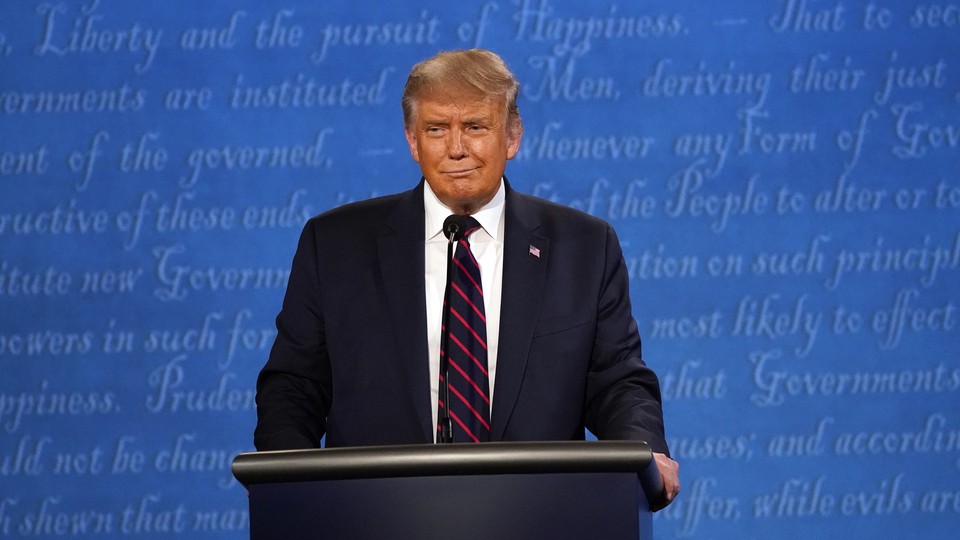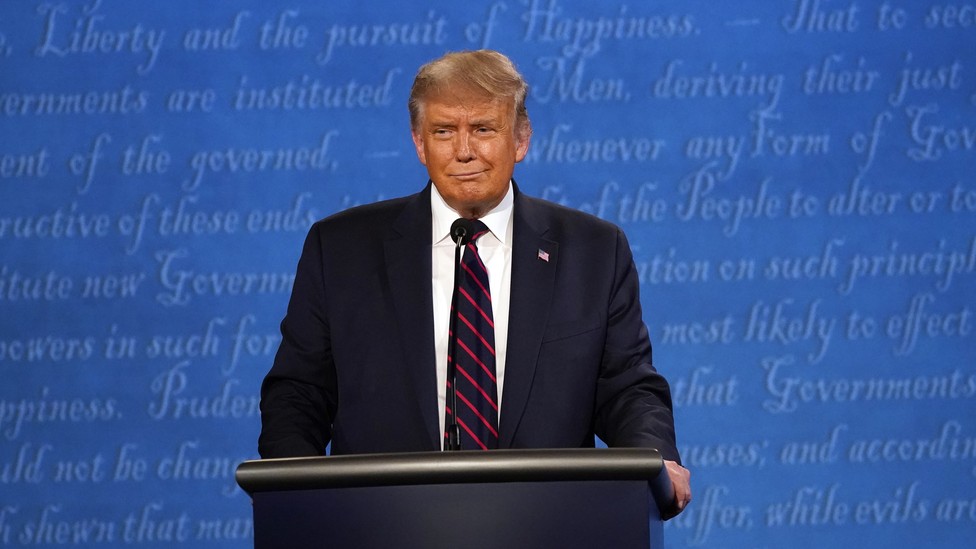 The question Chris Wallace posed to President Donald Trump was direct.
"Are you willing, tonight, to condemn white supremacists and militia groups and to say they need to stand down?"
The president shrugged his left shoulder. "Sure, I'm willing to do that. But I would say almost everything I see is from the left wing, not from the right wing." Trump continued to say words, and to say nothing. "I'm willing to do anything. I want to see peace."
Wallace pressed the question. "Well, then, do it, sir." Former Vice President Joe Biden jumped in. "Say it. Do it. Say it."
For what seemed like the first time during last night's debate, Trump paused.
"What do you want to call them?" Trump gestured at Wallace. "Give me a name, give me a name." White supremacists, Wallace answered. "The Proud Boys," Biden added, referring to the far-right group of self-described "Western chauvinists" who often engage in armed violence at protests.
"Proud Boys, stand back, and stand by," Trump said.
America has seen this before. It happened when Trump said there were "some very fine people on both sides" of the white-supremacist march in Charlottesville, Virginia. It happened when he pretended not to know who David Duke is, and that the former Ku Klux Klan grand wizard had endorsed his presidential bid. In moments of direct confrontation, Trump refuses to state clearly that he condemns white supremacy. White nationalists notice, and remember.
Last month, Kellyanne Conway, who recently left her senior position at the White House, told Fox & Friends that Trump benefits when America is turbulent. "The more chaos and anarchy and vandalism and violence reigns, the better it is for the very clear choice on who's best on public safety and law and order," she said. While Trump, Conway, and the rest of Trumpworld blame left-wing activists for the recent unrest, they seem to relish images of a violent America.
The Republican National Committee gave prime-time convention slots to Patricia and Mark McCloskey, the St. Louis couple who have each been charged with a felony for pointing guns at Black Lives Matter protesters who marched past their house. Trump defended Kyle Rittenhouse, who has been charged with homicide for allegedly shooting and killing two people during a protest in Kenosha, Wisconsin, saying the 17-year-old may have acted in self-defense. One particularly vivid Trump campaign ad shows hooded protesters carrying Black Lives Matter signs before cutting to Biden kneeling with Black parishioners of an African Methodist Episcopal church in Delaware. "You won't be safe in Joe Biden's America," Vice President Mike Pence warns in a voice-over.
If Trump wants chaos, he may be in luck. On the social-media platform Telegram last night, the Proud Boys posted a Photoshopped version of their logo surrounded by the words stand back and stand by. The group's leader, Enrique Tarrio, denied that the group supports white supremacy in a post on another platform, called Parler, but said he was "extremely PROUD of my Presidents performance tonight."
After the debate, the Trump campaign's Twitter account posted a thread pointing out that Trump said "Sure" when asked whether he would condemn white supremacy. And at several points during his presidency, Trump has explicitly condemned racism. "In one voice, our nation must condemn racism, bigotry, and white supremacy. These sinister ideologies must be defeated," Trump said in a speech at the White House after the deadly 2019 shooting at a Walmart in El Paso, Texas. Trump's most vocal supporters, including a number of his evangelical advisers, claim that the media have pushed a false narrative that the president is racist.
And yet more often, in unscripted moments, Trump equivocates. Perhaps the question comes down to loyalty. Wallace "was asking the president to do something he knows the president doesn't like to do," former Senator Rick Santorum of Pennsylvania said on CNN last night, "which is [to] say something bad about people who support him."
Ellen Cushing contributed reporting.