Trump Takes Away a Lifeline for Swing-State Senators
By moving forward with the Supreme Court confirmation, the president is giving lawmakers little space to carve out an independent identity that could help them win reelection.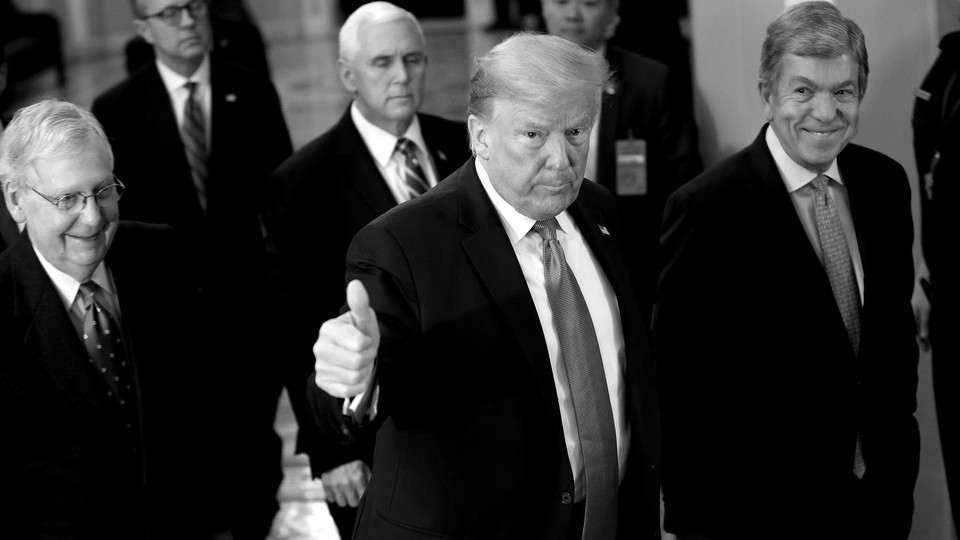 President Donald Trump demands loyalty, but isn't so quick to return it. Republican members of Congress have passed his bills, rationalized his behavior, kept him in power. Now, with a new Supreme Court vacancy, some of the GOP senators who risked the most in tethering themselves to Trump sorely need his help keeping them in power. He isn't guaranteed to deliver.
Trump tweeted today that he'll announce his nominee at the White House on Saturday, and he's said that he wants a vote to take place before the November 3 election. That could spell trouble for swing-state Republican senators in tough reelection fights, such as Susan Collins of Maine and Cory Gardner of Colorado. They have one obvious lifeline: Voters could split their tickets, backing Joe Biden for president and supporting Republicans down-ballot. But Trump is making that prospect a lot less likely. A fierce confirmation fight over the conservative replacement for Ruth Bader Ginsburg may only reinforce purely partisan voting patterns.
Trump gives senators little space to carve out the sort of independent identity that might make ticket-splitting more realistic. As I've written before, his intolerance for apostates has been a pattern throughout his presidency; he won't brook criticism from inside the party or out, even as handling of the pandemic and civil unrest has made his administration's performance tougher to defend. Pushing a nominee through before Election Day poses perhaps the starkest test yet of Trump's insistence on fidelity. He's asking that senators cast one of the most polarizing votes imaginable, amid one of the most fraught races in modern history, on a timeline driven by a political clock.
A preferable scenario for embattled swing-state senators would be for Trump to put off a confirmation vote and let the election winner pick the nominee. Or, alternatively, he could wait until the election passes and announce a nominee during the lame-duck period, sparing senators the need to vote before November 3.
Either approach could placate moderates and independents recoiling at the rush to fill the vacancy, as well as suburban-women voters stricken by Ginsburg's death. "I need suburban women to be ticket splitters, and I can't lose them as ticket splitters," Sarah Chamberlain, the CEO of the Republican Main Street Partnership, a moderate-Republican advocacy group, told me. "If we don't handle this correctly as a party, we're going to have a problem."
Collins was trailing her Democratic opponent, Sara Gideon, by five points in a poll released this week. Gardner has the misfortune of running in a state dominated by independent voters who largely favor his Democratic rival, former Colorado Governor John Hickenlooper. Making things worse for the senators, Trump is struggling in both states, meaning his vaunted base likely isn't enough to grind out victory for other GOP candidates. He's trailing Biden by nearly seven points in Colorado and 14 in Maine.
A vote on a Supreme Court nominee "makes it that much harder for Collins and Gardner, because [they were] trying to run independently of Trump as much as they could," Jessica Taylor, the Senate-and-governors editor at "The Cook Political Report," told me.
Gardner aired a 30-second TV spot in the spring that made no mention of the president. Collins has long struck an awkward balance in which she sounds disapproving of Trump, but doesn't actually throw up obstacles to what he's trying to achieve. Like Gardner, Collins voted to acquit the president during his impeachment trial earlier this year, even as she complained about his behavior; she memorably said that she believed Trump had absorbed "a pretty big lesson" from the ordeal.
When it comes to both senators' reelections, the Supreme Court vote "brings it all back to Trump," Taylor said.
Collins and Gardner have staked out different positions when it comes to picking Ginsburg's successor. Gardner put out a statement yesterday indicating that he'd vote to confirm a Trump nominee who meets certain standards. Collins, though, took issue with the president, saying that the candidate who wins the presidential election should be the one to choose.
Trump's focus isn't on the Senate's fate so much as his own. A quick Court appointment works to his advantage, diverting attention from his handling of the coronavirus pandemic and potentially giving his core supporters extra incentive to vote. Evangelical voters in particular are "now going to turn out, because they know what's at stake," Bryan Lanza, a former Trump-campaign adviser, told me, referring to immigration, taxes, and the environment, among other issues. "This is their one window. They're not going to let it go by."
A speedy confirmation would also bulk up the Court's conservative majority ahead of what could be a slew of litigation arising from the election. Disputes over recounts and mail-in ballots may well wind up before the Court. In the 2000 presidential race, the Supreme Court voted 5–4 to stop a recount in Florida and thereby handed George W. Bush the presidency. Should Trump confirm another justice by November 3, he'd enter the murky postelection period in a formidable position: Six of the nine justices will have been appointed either by him or other Republican presidents. "An ideological shift on the Court could have a pretty profound impact on the outcome," Rosa Brooks, a Georgetown University law professor, told me.
Whatever happens to Collins and Gardner, their fates illustrate the unenviable position Republican lawmakers are in. Both supported the president in crucial moments, including past Supreme Court nomination fights and, most recently, the Senate's impeachment vote. Two weeks after the trial, Trump flew to Colorado for a rally, stood with Gardner, and called for his reelection. The senator, Trump said, "has been with us 100 percent."
The gratitude isn't forever. The last vote cast is not the one that matters; it's the next vote that risks Trump's wrath. After Collins called on the election winner to choose the nominee, Trump appeared on Fox News and delivered a rebuke. "People are not going to take it," he said.