Poisoned by 9/11, Killed by the Coronavirus
Joe Biden and Donald Trump campaign on a strangely normal 9/11, as the pandemic comes for survivors, too.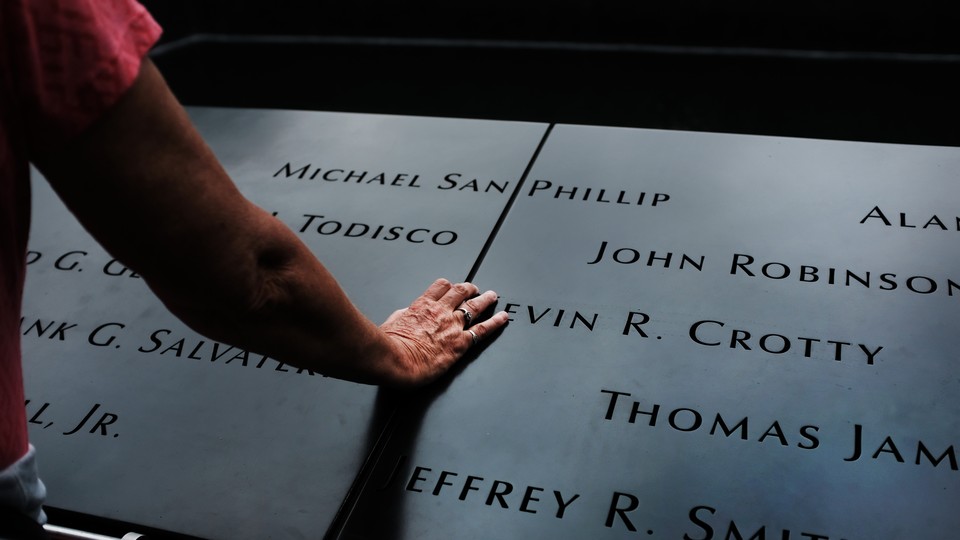 For 17 years, Victoria Burton and Mike Hankins spent September 11 the same way: just the two of them, at home, with no set schedule. Maybe they'd watch the reading of the names of the dead for a bit. Occasionally, flipping through the channels, they'd linger on a program that was replaying news coverage from the attacks. But mostly they'd just be with each other.
The anniversary was always a weird day to process. He'd been a fire marshal and she'd been a crime-scene detective. They'd seen awful things working on the pile, identifying body parts, sometimes just by a gory shred still attached to a piece of equipment. But the wreckage was also where they met. They soon started dating, and felt as if they'd found their soulmate.
If not for the attacks, they probably wouldn't have ended up together. If not for the attacks, Hankins wouldn't have breathed in the toxins at Ground Zero linked to the gastroesophageal reflux disease that eventually led to daily medication, sleep apnea, and trouble breathing.
If not for the attacks, his body might have had the strength to fight off the coronavirus. His test came back positive on March 14. He was in a medically induced coma within a week. Burton got one last day in the hospital with her husband before he was quarantined, before all the new procedures suddenly came down in those early days. March 11, six months ago today, was the last time they saw each other.
Burton somehow never got sick—not from working amid the same burning debris as Hankins in 2001, and not from the virus that took him earlier this year. When I spoke with her yesterday, she was at home watching TV, waiting for Donald Trump to give a press conference about Bob Woodward's February 7 recording of the president saying he'd downplayed the COVID-19 crisis—admitting he hadn't told the country how serious the threat was or all the ways it could be transmitted. (Trump insisted that if what he had said was so bad, then Woodward should have released the tape in February.)
Have you thought about if your husband might still be alive if we had known more? "I think so," Burton said quickly. "We could have been united as a country if we had gotten the message from above, and followed the science. I don't think Trump is interested in fighting the virus. That wasn't at the top of his list, which means the American people weren't at the top of his list."
Nor was Burton impressed by the behavior of Joe Biden, as he planned campaign stops in New York and Shanksville, Pennsylvania, where Americans crashed the plane they were on to keep it from being used as yet another missile. The stops felt, to her, too political. "9/11 is a sacred time for our country," she said. "You have these two men, 'I want your vote, I want your vote.' They're sitting there crafting their speeches—who's going to have the most impact on this day?"
It's a marker of the pandemic's immense impact that September 11 is the closest to a normal presidential-campaign day so far this year. Biden and Trump are both on the trail, and neither of them is focused on the killer virus, at least for the moment. Both were in a swing state on the same day, with Trump in Shanksville in the morning and Biden there in the afternoon. (Biden also stopped in New York this morning to visit the memorial there.) Both men are in their 70s, and campaigning to win an election in which the babies born in September 2001 will cast their first votes for president—many of them while taking their college classes over Zoom. Most Americans under 25 don't remember the attacks at all. And many Americans have had their life reshaped at least as much by the pandemic as by 9/11.
Still, John Feal, one of the leading advocates for legislation to aid 9/11 survivors and their families, wishes that neither candidate had made a trip out of the anniversary, he told me. He was a demolition supervisor at Ground Zero and lost half his left foot when 8,000 pounds of steel fell on it. He spent 11 weeks in the hospital then—and went back in March with COVID-19. A week before he got sick, Feal put a video on Facebook warning his fellow survivors to remember that they were compromised, to listen to the doctors. Within a few days, his fever hit 102.9; he was delirious. "I couldn't breathe. Every time I coughed, my eyeballs would come out of my head. My skin hurt, my joints hurt, the hair on my body hurt," he said. His chest was black and blue from how much he was banging on it to be able to breathe.
He doesn't like Trump. But he also didn't want to see Biden making a big display of the day.
"One day off the campaign trail is not going to make or break the campaign," Feal told me. Maybe Trump could have spoken from the Oval Office, and Biden from one of the spots he's been using in Delaware the past few months to make it seem like he's out and about without risking any real travel. "They should be sending out a message from wherever they are to the American people: Let's bring back September 12. Let's bring back that empathy and that sympathy," he said.
On his way to New York in the morning, Biden told the reporters traveling with him, "I'm not going to talk about anything other than 9/11. We took all our advertising down. It's a solemn day. That's how we're going to keep it." Reporters on Air Force One were brought into a conference room to watch Trump observe a moment of silence en route to Pennsylvania. Later, in Shanksville, Trump talked about a unity that he never tries to achieve himself. "To every 9/11 family all across this nation: The first lady and I come to this hallowed ground deeply aware that we cannot fill the void in your heart or erase the terrible sorrow of this day," he said. "We promise you the unwavering love, support, and devotion of ALL AMERICANS." (The White House added the all-caps emphasis when it sent the text to reporters.)
To Burton and Feal, the campaigning still felt a little too cute, a little too cynical. That was only accentuated when just going to Shanksville became an act of one-upmanship—asked last week about possibly making a joint appearance with Trump there , Biden said, "I didn't know he was going until after I announced I was going." He added that he would be fine sharing a stage. "He is still the president of the United States."
Feal doesn't buy it. "It's a day for reflection and remembrance, not a day to give Joe Biden or Donald Trump a bump in the polls," he told me. A service project would make more sense than a photo op, he said. "They should be on a soup line instead of in Pennsylvania."
Michael Barasch, one of the main lawyers for those still filing claims to the September 11th Victim Compensation Fund, told me that more than 100 of his clients have died of COVID-19. (A separate count found that at least 42 9/11 survivors have died of the disease.) He's heard about almost all of the deaths after the funeral, from family members wondering if dying in the pandemic will make it harder for them to argue that the deceased developed conditions because of the attacks, despite the fact that those conditions made them more susceptible to dying in the pandemic in the first place.
The parallels, Barasch said, make him angry.
"We were not prepared in 2001 when the World Trade Center and the Pentagon and Shanksville were attacked; we did not have a sufficient amount of respiratory protection for first responders," Barasch said. "Now, fast-forward 19 years—eight years of Bush, eight years of Obama, and three and a half years of the Trump administration—what don't we have enough of? Respiratory protection."
"The government lied to the 9/11 community about the air being safe, and now the government [has] lied to everyone about the pandemic," Barasch added.
As for Burton, she's been mostly at home, like the rest of us, these past six months—just home alone.
Today, she went out. For the first time on September 11, she wanted to be at Ground Zero. With the pandemic, without her husband, her thoughts took her there. She'd never considered going before.
"I don't know why," she said. "I feel like I should be there."