What Republican Senators Say in Private
With a Supreme Court vacancy after Ruth Bader Ginsburg's death, Republican senators must again choose between country and party.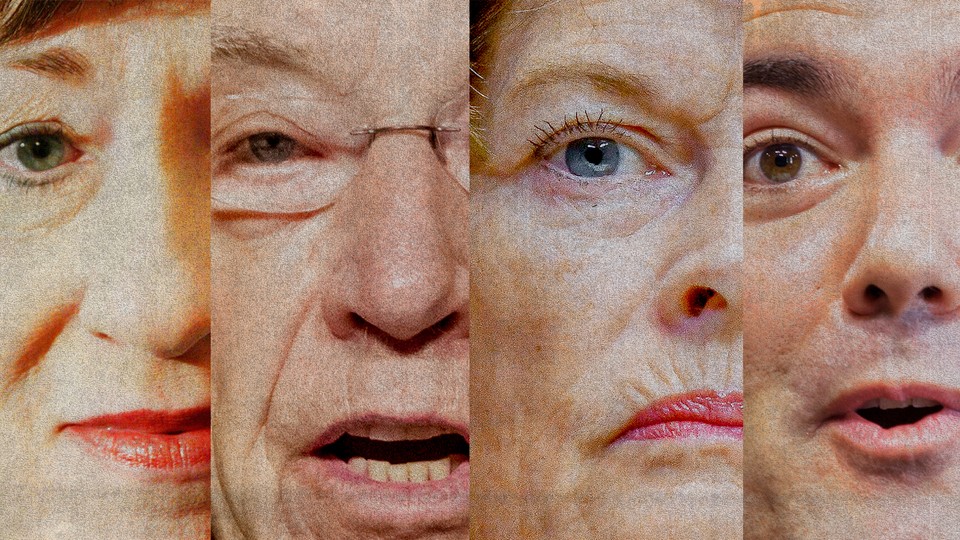 Updated on September 19, 2020, at 6:08 p.m. ET.
Nearly every reporter in Washington has experienced it: A Republican member of Congress says "off the record," shifts into a quieter voice, and expresses how much he or she doesn't like President Donald Trump. Soon after, you watch this same elected official speak up in favor of the president—or, more often, avoid saying anything meaningful at all. Sometimes about the same issue that they were complaining about to you in private. Sometimes within the same day. Sometimes within the same hour.
The battle to fill the Supreme Court vacancy created by Ruth Bader Ginsburg's death is a pivotal moment for these whispering Republicans in the Senate.
The prospect of a conservative-heavy Court persuaded many Trump-wary conservatives to support him in 2016. This election, Ginsburg's death will likely energize Biden-wary Democrats—millions of dollars have been raised online since news of her death broke last night—but Trump will also hope for an enthusiasm boost. He'll aim to shift the conversation away from his mismanagement of the coronavirus pandemic toward an ideological battle for the future of abortion rights and other contentious issues in American culture.
The secretly apostate Republican senators have two choices: They can support a president they think is a threat to American democracy while also violating Senate Majority Leader Mitch McConnell's invented 2016 rule about not confirming justices in an election year, or they can oppose Trump, enraging both him and their progressively cultish base while giving up what might be their last chance to secure a conservative majority for a generation.
For McConnell, this is principle versus power, and the golden rule is "Whoever has the gold makes the rules." And it's happening as the next generation of ambitious Republicans looks to a future in which Trumpism remains a dominant force within the party no matter what happens in November.
Don't expect many Republicans—even those who want to stick it to Trump—to be direct with their commitments. "If they try to shove something through, I think you're going to see some of these Republicans who hate Trump fall on the horrible sword of 'This country is dangerously divided right now; the hypocrisy is horrible; if we do something like this, it will tear the country apart,'" says Joe Walsh, the former Republican representative from Illinois, who briefly ran a primary campaign against Trump that went nowhere earlier this year. Based on conversations he's had, Walsh estimates that, of the current Republican senators, "if you put a gun to their head privately, I would say more than 40 of the 53 would like to see him lose."
Walsh insists that Republicans didn't want this vacancy—not now. "This is political death for the Republicans," he told me.
This is not the time for Republicans to insist that they haven't "seen the latest tweet." This is where they either will or will not give Trump the boost that he needs weeks before the election. Now, more than ever, they are either with him or against him. "This," Senator Amy Klobuchar of Minnesota, a Democrat, said on CNN last night, "is my colleagues' moment of reckoning."
Just hours before Ginsburg's death, Republican Senator Lisa Murkowski of Alaska said, "I would not vote to confirm a Supreme Court nominee. We are 50-some days away from an election." (We're actually 45 days out.) That left the decision in the hands of just three Republican senators.
Susan Collins, the senator from Maine who is famous for prevaricating statements about Trump but who voted for both of his Supreme Court picks, wouldn't even say last week whether she will be voting for Trump this fall. She had to more explicitly back away from Trump today, announcing that she doesn't think there should be a nominee before the election. Senator Cory Gardner of Colorado is facing a tough reelection race, but given the composition of his state, he will almost certainly need voters who will be going with Biden. Senator Martha McSally of Arizona, in a similar position in the polls, already said yesterday that she wants to push ahead with a confirmation.
Senator Joni Ernst, in a tight reelection race in Iowa, said in July that she would support a nomination process if an opening occurred. But that puts her at odds with her fellow Iowa senator, Chuck Grassley, who said in August that he couldn't support a confirmation in an election year if he was going to be consistent with the position he took in 2016. He stood then with McConnell's adamant refusal to give Merrick Garland a hearing after Antonin Scalia's sudden death in 2016, though Garland was nominated nine months before Election Day. Of course, the question becomes whether Grassley will hold to his position now that the question is no longer theoretical.
The bind is even more acute for Senator Lindsey Graham of South Carolina, who said in 2016, "I want you to use my words against me. If there's a Republican president in 2016 and a vacancy occurs in the last year of the first term, you can say Lindsey Graham said, 'Let's let the next president, whoever it might be, make that nomination.'" In case this wasn't clear, he reiterated the point in an interview with The Atlantic in 2018: "If an opening comes in the last year of President Trump's term and the primary process is started, we'll wait for the next election." But now Graham is up against newcomer Jaime Harrison, with polls surprisingly tight and his opponent outraising him by millions of dollars. Graham is also the chairman of the Judiciary Committee and the senator who has shape-shifted the most, from Trump critic to Trump golf buddy and ally in the Senate. In a tweet this morning, he said he understood Trump's argument that the GOP has "an obligation" to fill the seat "without delay."
Late yesterday, I asked a former Republican House member what an anti-Trump Republican senator would do when facing a choice that sounds more out of a novel than anything Goethe might have come up with if he'd ever wandered around Capitol Hill.
"The Republican senator," said the person, who requested anonymity to speak directly about old colleagues, "will do what they must in the name of self-preservation."
"Guess what?" the former House member said of Graham. "He's going to do it. You know he is. He's up for reelection in South Carolina. He needs his base. He'll flip on this."
McConnell, in his Rube Goldberg–machine statement explaining why Trump's nominee will get a vote on the floor of the Senate but Obama's didn't, left the door open to having a vote in a potential lame-duck session after the election.
Maybe it'll all come down to Senator Mitt Romney, who is publicly offended by pretty much everything Trump stands for but whose spokesperson shot down rumors last night that he would oppose a confirmation before the election. Or maybe, if Mark Kelly wins his Senate race in Arizona, it will all hinge on a legal dispute over whether he would get to immediately be sworn into the seat because his opponent was appointed to it. Or maybe by then we'll be in a country where the November 3 votes are taking weeks to count, rioters and militias are out on the streets, and, as in 2000, the election will head to the Supreme Court, which now is without a tiebreaker vote.
In 2016, from the minute he learned of Scalia's death, Obama knew that Republicans would try to prevent him from appointing a justice and flipping the balance to a 5–4 liberal majority. He nominated Garland anyway and threw himself into the fight, daring the GOP senators to oppose a middle-of-the-road, accomplished judge whom so many had voted for in his confirmation to a lower court. Working the phones for a few senators he dreamed might buck McConnell, he pleaded with them: Don't do this.
I remember speaking with one of the Republican senators struggling with breaking the process then. The senator, though torn, ultimately did not say anything publicly, and didn't invite Garland in for a meeting.
Last night, Obama closed his statement mourning Ginsburg with, "As votes are already being cast in this election, Republican senators are now called to apply that standard." Don't hold a confirmation hearing, he said. Always an institutionalist with his eye toward history, Obama was admitting that the process breakers had won.
Now the question is, what else will Trump, the ultimate process breaker, win?