The Silent Suffering of Cafeteria Workers
As schools navigate reopening for the fall, most coverage has focused on the safety of students and teachers. But another group on campus is also at risk.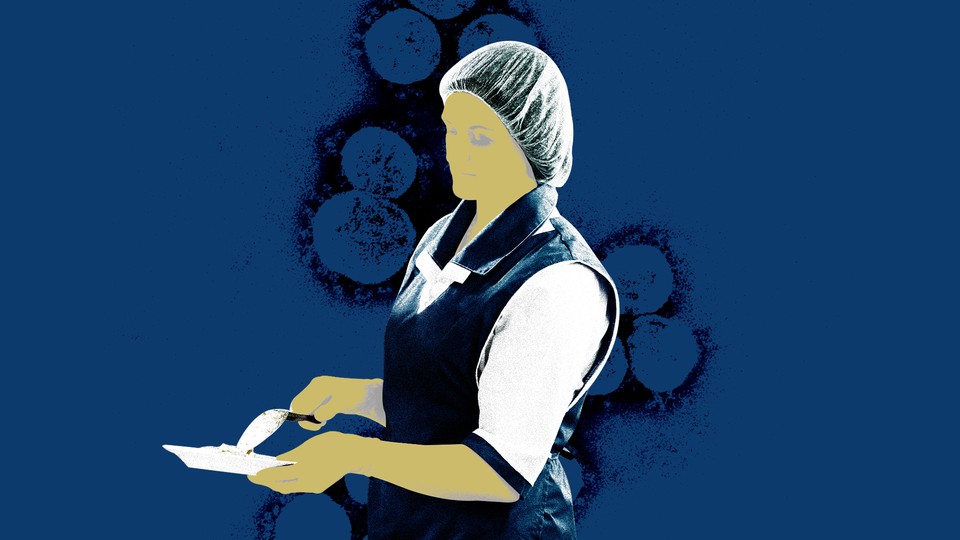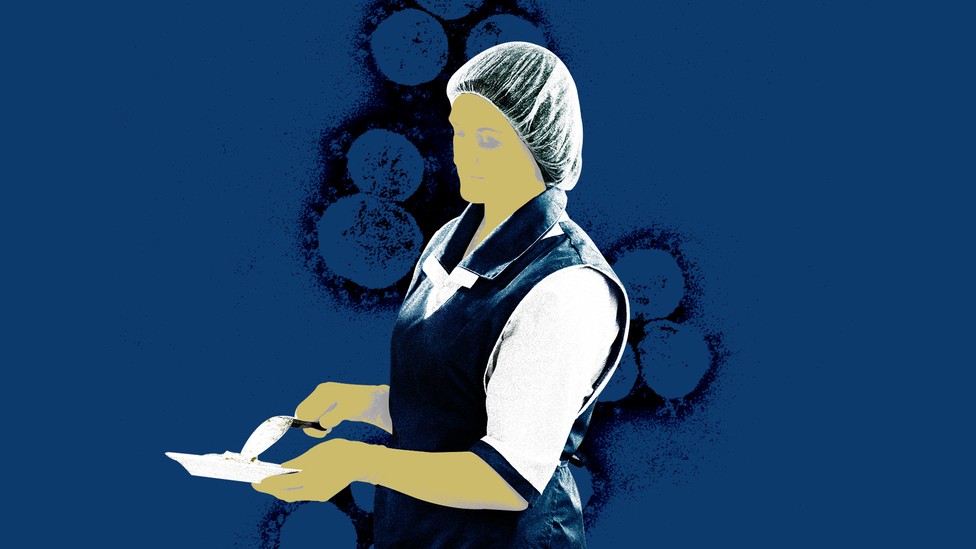 Shannon Spear's family had just finished dinner when the phone rang. It was a Friday night in March, and Spear's school district was calling to announce that her daughter's high school was moving to remote learning.  This was no surprise: Like other parents whose children attend the Contoocook Valley schools in New Hampshire, Spear had received dozens of emails from the district preparing families for the change. Earlier that day, teachers had even reminded Spear's daughter to make sure that her school-issued Chromebook and charger were in her backpack before the final bell rang.
Spear didn't notice when her phone vibrated a second time, alerting her to a call from her boss at Fresh Picks Cafe, which serves school cafeterias in Contoocook Valley. Her daughter was going to stay home for the rest of the school year. But, like other cafeteria workers across the country, Spear still had to show up to work the next week.
Spear spent the next couple of months working at the same school that the district had deemed too dangerous for her daughter to attend. She helped bag hundreds of lunches a day, bringing them to color-coded school buses that would make the trek to the nine rural towns her district covered. As unemployment rates rose, so did the number of families signing up to receive free meals. On the first day of remote learning, Spear helped make just under 400 lunches; by the end of the month, she and her colleagues were making nearly 900 each day.
At her job, Spear had to wear a mask and change her gloves every half hour, but toward the end of the school year, her supervisors stopped checking. Another woman in the cafeteria stopped showing up, because she was immunocompromised. Food-service workers in other cafeterias around the country tested positive for the coronavirus, but as far as she's aware, no one at her job did. Then, in July, her employer laid off Spear and three other workers.
Spear's situation isn't unique. This spring and summer, thousands of K–12 cafeteria workers across the country continued working at schools that were closed to students, making sure that the millions of children who rely on free or reduced-price school meals were still getting fed. As schools navigate whether or not to reopen for in-person classes in the fall, and as COVID-19 continues to spread, schools are encountering outbreaks literally the same day that they open. There's a fair bit of evidence that cafeteria workers, as adults, are more at risk from the pandemic than the children they serve. Yet their safety has gone largely unmentioned. And considering the poor working conditions, low wages, and lack of benefits that have characterized their job for years, cafeteria workers stand to take one of the biggest hits if more schools have outbreaks.
For as long as federal funding for school lunch programs has existed, the labor that makes those meals possible has been low-paid and underappreciated. "A lot of teachers were forming unions in the 1960s and '70s, but there was a reluctance for cafeteria workers to do the same," Jennifer Gaddis, a professor at the University of Wisconsin at Madison and author of The Labor of Lunch: Why We Need Real Food and Real Jobs in American Public Schools, told me. "There was this idea that you're taking money away from free-lunch programs for kids. But historically, there's never been a lot of national or state-level support within school nutrition, until recently." Cafeteria workers often work in short-hour positions, following a heat-and-serve model with prepackaged meals, instead of working full time, meaning that they don't qualify for benefits such as health insurance. "You're getting a lot of part-time workers, because you only need people during those peak hours of lunch service,' Gaddis said. "So cafeteria workers are hustling—they have other jobs, they work elsewhere. Sometimes school cafeteria staff don't always feel as if they are respected members of the school community; they're completely ignored."
Many workers in other service jobs are unionized. But the food-service industry overall is one of the least union-represented labor forces in the country. In the past, some of the private firms that dominate the industry have misclassified employees as contractors in order to pay them less. This happens even in the mess halls of power: In 2016, Capitol Hill cafeteria workers received $1 million in back pay after the Department of Labor found that they'd been denied the minimum hourly wage and overtime. No federal mandates govern paid leave or sick days, although certain cities and states have their own laws. According to Gaddis, many cafeteria workers, like other essential workers, are the primary breadwinners for their family, meaning that the pressure to go to work, even when sick, could help spread the virus if an employee is infected. And some cafeteria kitchens are too cramped for workers to be six feet away from one another.  "There's great personal risk to themselves, and others, because of the service they're doing as essential workers," Christine C. Caruso, a director of the undergraduate program in public health at the University of Saint Joseph, in Connecticut, told me.
Race and gender also affect how cafeteria workers are treated. Most cafeteria workers are women, and "racial demographics mirror the communities themselves, because they're not traveling very far, and maybe working three to four hours a day," Caruso said. But many elite colleges and universities remain predominantly white—which means the local people who work in their cafeterias often look very different from the people they're serving.
Some 75,000 cafeteria workers—mostly people who work at stadiums or on college campuses—belong to Unite Here, a national labor union. But because colleges, unlike K–12 public schools, don't have an obligation to feed poor students, they were quicker to downsize their labor forces after the pandemic hit. More than 95 percent of the cafeteria workers Unite Here represents have lost their jobs since March, according to Brooks Bitterman, a researcher with the union.
Hollis Coates, 63, is one of those suddenly unemployed workers. She had been a cashier at Howard University, in Washington, D.C., on and off for decades, and had worked there regularly since 2011. She's also the primary breadwinner for her family, supporting her daughter, who works part-time and attends school, and the five grandchildren who live with her. When Howard went remote last March, Sodexo, which employs the 179 workers in that cafeteria, laid off almost all of them, according to Unite Here. (Sodexo declined to comment on personnel matters.) Coates spent all summer waiting to hear if she would be able to come back in the fall, she told me. But although some of her friends have been rehired, Coates hasn't been, and she hasn't been told when she might be. "It's like we don't matter," she said. "I think they think we are beneath them. Like we're the lowest of the low." Even though she was laid off, Coates is still receiving medical coverage—but that expires at the end of this month.
In New Hampshire, Spear was lucky enough to receive another call from her food-service director, who let her know that she'll have her job back when school starts. Her boss isn't sure what serving food will look like when the district reopens tomorrow, but Spear has been told that all students will have to wear masks. "We're some of the few people within the school that are going to see every single kid," Spear says. "How many are going to come through that lunch line and won't have their mask on? I could see an outbreak happening here. I think it's likely."