The Election's Biggest Threat Is No Longer the Postal Service
Reports of a vote-by-mail apocalypse are greatly exaggerated.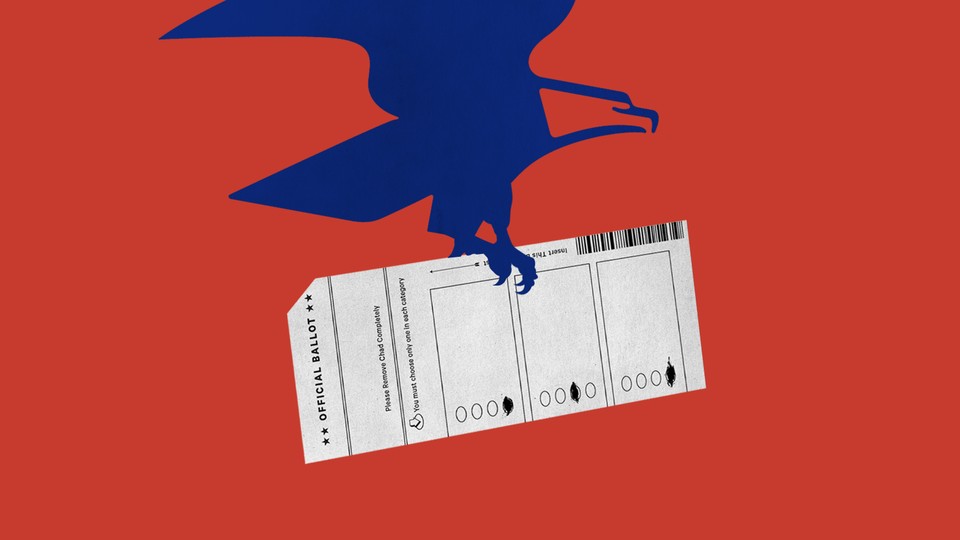 President Donald Trump stood on a North Carolina tarmac earlier this month, Air Force One idling behind him, and urged his supporters to commit a crime. He said they should cast the ballots they received in the mail—just as he has done many times in the past—and then they should go to their polling place on Election Day and test the system by trying to vote again. "Let them send it in, and let them go vote," Trump said. "If their system's as good as they say it is, then obviously they won't be able to vote."
Officials in North Carolina were aghast. The executive director of the state's board of elections, Karen Brinson Bell, issued a statement the next day explicitly warning North Carolinians not to follow the president's advice. "It is illegal to vote twice in an election," she said. "Attempting to vote twice in an election or soliciting someone to do so also is a violation of North Carolina law."
Neither the location nor the timing of Trump's remarks appeared to be a coincidence. North Carolina—the first state in the nation to mail out absentee ballots on a large scale—is where the general election unofficially begins. A few days after the president appeared there, counties across the state started sending more than 700,000 ballots that voters initially requested by mail. That volume is more than 15 times the number of requests from the same time four years ago and represents about 15 percent of the total votes cast in North Carolina in 2016—a reflection of the record interest in voting by mail during the COVID-19 pandemic.
This first mass mailing is providing the United States Postal Service with something of a test run, and despite the president's mischief, North Carolina has recorded few election hiccups in the early going.
"It seems like things have been rolling out fairly well," J. Michael Bitzer, a political scientist at North Carolina's Catawba College who closely tracks the state's elections, told me. More than 80,000 mail ballots have already been returned and accepted in North Carolina, and thousands pour into election offices every day.
Gerry Cohen, a member of the Wake County elections board, told me he received his ballot the day after the county started mailing them. "I was actually surprised," he said. "That was much better service than I expected from the last couple of years from the U.S. Postal Service."
That's a rare endorsement for one of the nation's most beleaguered agencies at the moment. The 2020 election faces a cluster of overlapping challenges that could complicate voting over the next two months—among them a deadly pandemic, litigation that's delaying the mailing of ballots, and a president who is spreading disinformation about voting. The Postal Service, besieged by complaints about its new leader and changes to its operations, had been at the top of the list of concerns just a few weeks ago. Now, however, the mail might be the least of the election's troubles.
Leaders of two major postal unions are considerably more confident about USPS's ability—and commitment—to help carry out the election than they were a month ago, when changes to mail delivery slowed service and prompted Democrats to accuse the newly installed postmaster general, Louis DeJoy, of plotting to sabotage the vote at the behest of President Trump. Following a bipartisan outcry, DeJoy suspended many of the changes he had implemented or planned until after the election. More important, union officials told me, he reaffirmed the Postal Service's long-standing policy of prioritizing and expediting election mail, and he brought union leaders onto a task force charged with ensuring the smooth running of an election that will feature a record flood of mail ballots. In essence, union officials said, the uproar worked to kick USPS into gear—at least until November.
"We will be fine," Jim Sauber, the chief of staff of the National Association of Letter Carriers and a member of the expanded Postal Service election task force, told me in an interview. "At the moment, I'm feeling pretty good." Over the summer, a flurry of reports from letter carriers and postal workers first alerted the public to unannounced changes in operations that had caused mail to pile up and trucks to go out nearly empty in some areas. There's been "a dramatic drop" in those reports from the field, Sauber said, in the weeks since DeJoy announced a pullback on the overhaul he ordered shortly after taking office in June.
Of particular importance was DeJoy's commitment to treat all ballots as first-class mail even if they're purchased at less-expensive bulk rates, along with his vow to beef up staffing around election time to meet the expected surge of ballots, as the Postal Service has done in years past.
"I'm optimistic that the Postal Service is up to the task," Mark Dimondstein, the president of the American Postal Workers Union, told me. "There's more commitments and there's more cooperation, and those are both very important things for making sure this works well."
From the beginning, the Postal Service has insisted that it has both the capacity and the funding to handle a surge in mail ballots. The doubts have instead centered around DeJoy, a GOP donor who won the postmaster general's job only after Trump was able to fill open seats on the USPS board of governors, which appointed DeJoy. In appearances before Congress last month, he defended the operational changes he ordered in the name of efficiency, even as he promised the Postal Service's full support in facilitating mail-in voting. The postal unions remained concerned about the long-term impact of those changes, and in interviews over the past several days, I could detect a hint of frustration that the narrow, but understandable, focus on the election was obscuring their deeper worry about the direction of the USPS under DeJoy's leadership. The APWU, for example, believes the Trump administration is on a mission to degrade public support for the Postal Service so it can put the agency up for sale. The public outcry over DeJoy's overhaul has made that harder, but once the election is over, union leaders wonder, will people simply move on?
"We're pleased there's been some pullback on these policies between now and the election," Dimondstein told me, "but the post office is not just about mail ballots, as important as they are. And it's not just about now until November, as important as that is."
I asked Dimondstein whether he trusted DeJoy. "Well, that's kind of a loaded question," he replied with a nervous laugh. "I've always said, and I'm going to continue to say, we have deep concerns about how he got there and what he represents and, obviously, what he's doing," Dimondstein told me. "He has said a lot of the right things, but how we judge him as postmaster general is by his deeds." He recalled the wise words of an old friend who once told him, "Watch the feet."
Not everything has gone smoothly for the Postal Service so far. Colorado is suing the agency over a postcard it sent to more than 160 million American voters encouraging them to request ballots from their state at least 15 days before the election. Because Colorado is one of several states that votes entirely by mail, it sends every registered voter a ballot automatically—they don't need to request one. Its secretary of state, Jena Griswold, said the USPS mailer would cause confusion among Colorado voters, "undermine confidence in the election" and suppress votes. She said that when she urged the Postal Service not to send the postcard to voters in Colorado, it refused.
A federal judge initially ruled in Colorado's favor and issued an injunction against the Postal Service, although most of the postcards had already gone out. A person familiar with USPS operations told me the postcard mistake was a case of "complete incompetence." Yet the incident appears to be an example of well-intentioned imprecision rather than malicious chicanery; like election officials and campaigns in both parties, the Postal Service is trying to encourage voters to plan ahead, particularly if they are voting by mail for the first time. "Our mailer was intended to be general, all-purpose guidance on the use of the mail, and not guidance on state rules," USPS spokesperson Martha Johnson told me.
Many states will begin mailing out ballots to millions more voters over the next week, including in the battlegrounds of Wisconsin, Minnesota, Michigan, and Georgia. The biggest worries, however, are about delays and snafus that have little to do with the mail itself. In Pennsylvania, counties could not begin sending out ballots as early as state law allowed because the state supreme court had yet to rule on a lawsuit over whether the Green Party's presidential ticket will appear on the ballot. The court issued its ruling against the Green Party on Thursday, clearing the way for ballots to go out. ("We really don't consider ourselves to be behind at this point," Wanda Murren, a spokesperson for the Pennsylvania Department of State, told me before the ruling. "This is not big alarm bells going off.") In Ohio, officials are still fighting over how many drop boxes will be deployed to make it easier for voters to submit their completed ballots. Wisconsin narrowly avoided a delay in the mailing of more than 1 million ballots after its supreme court ruled against adding the Green Party to the ballot, which would have forced counties to reprint ballots—a process that would have taken multiple weeks.
Another cause for concern is the millions of voters who will be participating by mail for the first time. In a few counties in North Carolina, as many as 10 percent of ballots have been rejected so far, in most cases because the voter did not have the signature of a witness as required by law. The rate of rejected ballots is higher for Black voters, which Bitzer and Cohen each said might be explained by the fact that Black voters are less likely to have voted by mail before. Election officials will follow up with voters whose ballots are rejected to help them correct the ballots so they can be counted, which is one reason why officials have been encouraging voters to return their ballots as early as possible.
Voters can return their ballots by mail or in person, and lines have already been forming at election offices in the state more than seven weeks ahead of Election Day.
(North Carolina does not allow drop boxes; two years ago, Republican operatives were caught illegally collecting absentee ballots in a voter-fraud scheme that led to the invalidation of a congressional election.) Gerry Cohen's wife didn't get her ballot for several days, a delay he attributed to the county sending out the initial ballots in waves, as opposed to all at once. Cohen mailed his ballot back and dropped off his wife's in person. North Carolina has a ballot-tracking service that voters can sign up for, and at 6 a.m. the day after Cohen returned his wife's completed ballot, she received both a recorded phone call and an email informing her that it had been accepted. "We could have chosen a text, too," Cohen told me, "but we figured two forms were enough."
When I asked Cohen what worried him most about the election, his reply wasn't the post office. Instead, he pointed toward the president: "Misinformation and disinformation," he told me.
A few days after we spoke, Trump seized on a local news report that officials in one North Carolina county had accidentally mailed parts of two ballots to a few hundred voters. "RIGGED ELECTION in waiting!" the president tweeted. The director of the Mecklenburg County board of elections called the snafu "more of an embarrassment than an issue" and noted that the state system would prevent someone from actually casting multiple ballots.
None of those issues fall under the purview of the Postal Service, which has scrambled in recent weeks to offer reassurance about its own role in the election. For now, DeJoy appears to have succeeded at least in quelling fears that his changes that slowed down the mail were implemented with the election in mind, as some Democrats charged. "I don't have any real concerns that there's a cabal out to undermine the election," Sauber told me. He pointed to a simpler explanation, in which an inexperienced new boss came in and ordered an overhaul before he really understood the operation he was running. "He's a logistics expert," Sauber explained. "He thinks this is his sweet spot, his knowledge area, and he wanted to make a big splash and set the tone. What happened is a lot of managers ran wild trying to impress the new boss."
Sauber told me he was more worried about the resurgence of the pandemic this fall, which could impact service if an outbreak forced postal workers or letter carriers off the job in a crucial region in the weeks before the election. "That's a more likely danger than any kind of political sabotage," he said.
In Iowa, a retail clerk from Waterloo named Kimberly Karol was one of the postal workers who sounded the alarm about mail piling up and the removal of sorting equipment over the summer. Karol, the president of the Iowa affiliate of the postal workers union, told me that not much had improved in the weeks since—with one notable exception. "As far as the election goes, I think it'll go smoothly," she told me. Karol said managers had begun to use overtime again to compensate for chronic staffing shortages, and she described how postal managers would coordinate with election officials to make sure ballots were the first mail delivered in the morning. "It's going to be the election mail that's going to be the highest priority. So I don't see any issue with election mail," Karol said. "My concern is for mail in general after that point."