The Progressive Activist Begging the Left to Stop Owning Itself
Sean McElwee has a simple message for his compatriots: Rigid doctrinarianism doesn't win elections.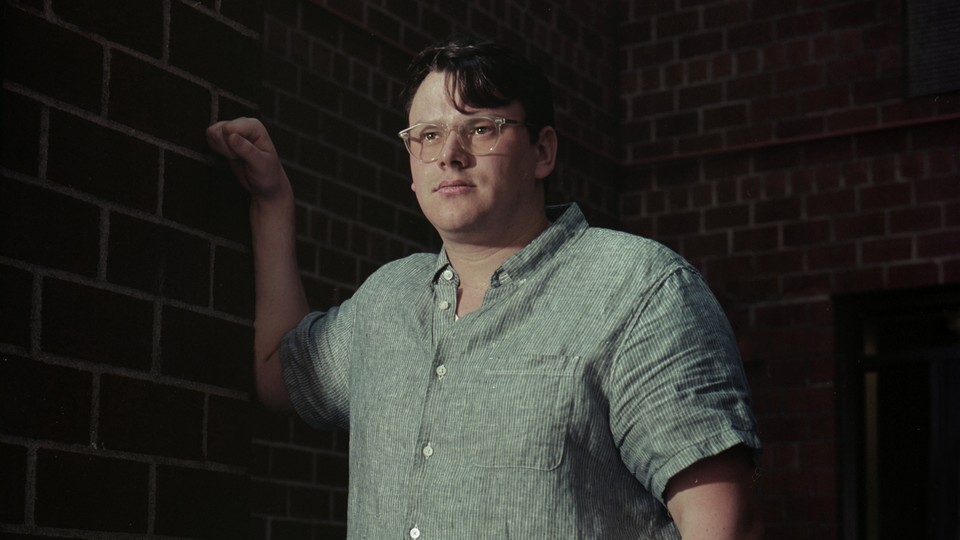 Updated at 3:45 p.m. ET on September 16, 2020.
when word got out in early March that Joe Biden's campaign had invited the progressive pollster Sean McElwee to a meeting on climate policy, some on the far left were outraged. Sure, Bernie Sanders's presidential prospects weren't looking great, but the senator had not yet suspended his campaign. So why, McElwee's critics demanded to know, would he agree to advise the former vice president? Hundreds of leftists spent more than a month dragging him on Twitter, flooding his mentions with insults: One user with a Homer Simpson avatar accused him of being a sellout. Another, who went by the handle "party rocking LLC," called him a "rat." One night at a bar in New York City, a stranger confronted McElwee about it: "Man," the person said, "I thought you were a leftist."
By most definitions, McElwee is a leftist. The 27-year-old had launched his firm, Data for Progress, explicitly to advance progressive causes, and his client list includes Alexandria Ocasio-Cortez and the Sunrise Movement, perhaps the country's most prominent climate-activist organization. He came onto the progressive scene in early 2018, when he helped popularize the slogan "Abolish ICE," and became a reliable fount of cocky, expletive-laden quotes for reporters covering the left. He once half-jokingly threatened to cancel me at a party.
But over the past year or so, McElwee seems to have reassessed his position in the left-wing firmament. He no longer talks about eliminating Immigration and Customs Enforcement. Instead, he's become an evangelist of political persuasion and coalition-building. He's become much more openly critical of his progressive compatriots. And most shocking to some of those compatriots, he's advised the Biden campaign.
"I've come to the realization that the Democratic Party is actually ripe for a transformation into a progressive vehicle," McElwee told me. Progressives should be working to build power and influence within the party, district by district and voter by voter—not to overthrow it. "We have lost this muscle of persuasion," he said.
This conflict over progressive purity is the newest iteration of the one leftists waged during the Democratic primary—a fight that started between the Sanders and Elizabeth Warren wings of the left and lives on in progressive-activist circles and on Twitter. As progressives attempt to chart their path forward, how they resolve these tensions will determine whether and how they will be able to exert influence in a possible Biden administration. Who will hold actual power, and who will be on the outside looking in?
McElwee's critics see him as a hypocrite, a grifter, a "professional progressive" who has abandoned the left—in its moment of weakness, no less—to cozy up with centrists. To them, his approach smacks of incrementalism—the scourge of compromise for compromise's sake, and the opposite of the swift, systemic change that they believe is so urgent. Why work to persuade existing voters, they ask, when you can employ bold, ambitious ideas to awaken a legion of brand-new ones? Why attempt to reform the Democratic Party when you can conquer it?
"It is notable that [McElwee didn't] really start talking like this until after the [primary]," says Matt Bruenig, who once worked with McElwee at the liberal think tank Demos and now runs the People's Policy Project, a small left-wing policy institute. McElwee could be positioning himself to maintain his influence and his donor base, Bruenig speculated. Data for Progress does good work, he told me, but "just because you do some polling doesn't mean you know how to win elections."
In their March meeting, McElwee and a colleague attempted to persuade the Biden team to endorse a kind of quasi–Green New Deal. Their hope: If the presumptive Democratic nominee took a stronger stance on climate change in particular, he could get more young people and progressives excited about his campaign. They urged the campaign to endorse a commitment to reaching net-zero emissions by mid-century, and to invest in low-income communities that are disproportionately affected by pollution. The Biden team was worried that moving left on climate would be all risk and no reward. But McElwee assured them that it would be both popular and good policy. They didn't extract much in the way of immediate commitments, McElwee told me after the meeting. But he had—he has—a longer-term plan.
McElwee is tall—6 foot 2—with pale skin and the wardrobe of your typical hipster Millennial, including trendy glasses and snapback hats. Over the past six months, he's sent me dozens of texts and emails airily predicting the outcomes of primary races, touting the accuracy of his polling, and dropping f-bombs and movie references like a good-natured, if somewhat self-satisfied, frat bro. "Weak tea," he texted me simply, when I asked him to respond to some criticism. "Yeah, I'm good at politics," he replied when I mentioned his accurate prediction in 2018 that Representative Eliot Engel of New York would be unseated in 2020. With this tendency toward smug irreverence, McElwee might seem like a good fit for the so-called Dirtbag Left, the contingent of pundits who have attracted fans by advocating for left-wing ideas using dark humor and dank memes. But that's never really been his crowd.
McElwee has the zeal of a convert because he is one. After college, he started his career as an intern at the libertarian Reason Foundation and the Fox Business Network, but quickly became disillusioned with conservative politics. In 2014, he took a data-analyst job at Demos, and four years later, started Data for Progress as a side project, drawing on publicly available data to evaluate and explain the popularity of progressive policies. His firm partnered with YouGov to do polling on reparations, universal basic income, the Green New Deal, abolishing ICE—the gamut. They also tested progressive arguments for and Republican arguments against the policies, to show more nuanced results.
"The Venn diagram of people with a pretty radical analysis [of politics] who are devoted to operational electoral politics is pretty small," Chris Hayes, the progressive commentator and MSNBC host, told me. McElwee "is in that space."
Today, Data for Progress is a fully fledged company with 10 employees—it's part polling firm (it does its own surveys now), part think tank, and part activist group. Its clients fall along a spectrum of progressive thought, from Sanders and Warren to the Sierra Club. In July, Senate Minority Leader Chuck Schumer blogged on the firm's website in support of extending the $600 unemployment expansion.
McElwee describes his first year running the operation, in 2018, as "the first stage of Sean." He became Twitter-famous in progressive circles, amassing many thousands of followers, in part, by encouraging leftists to challenge the Democratic establishment. Ocasio-Cortez adopted his #AbolishICE mantra in the lead-up to the midterm elections. Politico Magazine ranked him on its 2018 list of the 50 most influential thinkers in politics. That year, he was quoted as envisioning a socialist politics that "strives for a radical flattening of the global income distribution."
The second stage of Sean seems to have begun about a year ago. McElwee started talking much less about moonshot progressive goals and much more about tailoring the progressive message to mainstream Democratic voters. He eased up on the snark, too—nowadays, his Twitter profile is an infinite scroll of Data for Progress reports (a change that hasn't escaped his detractors). Today, he characterizes his own push for the abolition of ICE as an attempt to shift the Overton window, though that wasn't at all clear at the time. "It's time to rein in the greatest threat we face: an unaccountable strike force executing a campaign of ethnic cleansing," he wrote in an 2018 op-ed for The Nation, right as public anger over the caging of immigrants in border detention centers had begun to swell. (In recent days, McElwee has retweeted others' calls to abolish ICE following reports of forced hysterectomies inside a Georgia facility, but he hasn't made such calls himself.)
Now, McElwee said, he's focused on the nitty-gritty work of politics, while trying to reassure leftists that Biden and his team are, in fact, very receptive to progressive ideas. "It's easy for people who sit in their apartments in Brooklyn who post 20 times a day to believe that everyone who does the work is a sellout," McElwee told me recently. "I am doing more and more politics."
Heather McGhee, McElwee's former boss and the former president at Demos, told me that Sean has been "influenced by a vision that says We want the left to take over the Democratic Party—which is different than We want the left to replace it or burn it down."
McElwee is still adamant that movements should be idealistic. But he has a blueprint for progressive up-and-comers that focuses only on what's achievable. In short: Left-wing candidates—especially those in tough districts—should run on popular ideas.
In February, Data for Progress distributed a survey to 78,000 Americans of all political persuasions, laying out a series of arguments for and against a set of 50 progressive policies and asking them to rank their support for each. The agenda items that were supported by more than half of respondents included clean water, paid family leave, generic drug licensing, and free two-year college. (Abolishing ICE, meanwhile, ranked among the 10 least popular ideas.)
That polling offers clear lessons, McElwee argues: Instead of a carbon tax, candidates should talk about investing in 100 percent clean energy, an idea that 51 percent of respondents favored. They would do well to campaign heavily on paid family leave, which received 60 percent support. And instead of championing Medicare for All (40 percent support), leftist candidates who need to win over Republicans and moderates should push to expand Medicaid and "motherfuck the pharmaceutical industry." (Translation: Revoke patent rights on the most expensive drugs and approve government manufacturing of generics). According to the survey, all of these health-care ideas are supported by more than 52 percent of Americans.
Past precedent, though, shows that campaigning on these themes isn't exactly a surefire formula. Hillary Clinton ran on paid family leave and clean energy and still lost. But McElwee waves away that example, arguing that her experience wasn't representative: She was an unpopular candidate with unique political baggage. Even wildly popular policies become less appealing when they're tied to politicians voters don't trust.
Nor is McElwee especially concerned that his method—of encouraging Democrats who support, say, single-payer health care to talk up other reforms in order to get elected—could seem disingenuous. Emphasizing feasible and politically popular ideas is what politics is all about, McElwee argues: You have to build trust to set the stage for Medicare for All, which McElwee said he fully supports, and future ambitious agenda items. "You need to change the way that [voters] understand Democrats by using more popular policies," he said. "There are lots of popular ideas that you can pass into law, and people can be like, Oh shit, Democrats said they were gonna do that thing, and they fuckin' did it!"
McElwee is not the only one in progressive circles making this argument—he's just one of the loudest. In 2016, two years before McElwee even started Data for Progress, the Progressive Change Institute completed its own survey of progressive policy ideas and came away with a similar conclusion. "If voters have limited time and attention to focus on elections, why would you focus their attention on the less popular ideas when they could be focused on the most popular ideas?" Adam Green, a co-founder of the group, told me.
McGhee, the former Demos president, framed progressives' decision-making as a matter of priorities. "You have to be committed to winning real gains for the people at every step of the way as you build power," she said. Progressives "stopped fighting on Medicaid expansion in predominantly Black states, and people are dying because we only want to talk about Medicare for All." (Many on the left would dispute this, and argue that pushing for Medicare for All and for expanding Medicaid aren't mutually exclusive.)
The battle between the idealistic, doctrinarian wing of the progressive movement and the more electorally minded one may still be raging, but recent elections have supported McElwee's theory of the case. In 2018, for example, a number of lefty lawmakers won elected office by campaigning on popular policies and uniting broad coalitions of support. They're not the leaders most Americans associate with the progressive movement, such as Ocasio-Cortez, Ilhan Omar, and Rashida Tlaib. They're people like Representatives Mike Levin and Katie Porter of California, and Lauren Underwood and Sean Casten of Illinois—four freshman legislators who successfully flipped House seats from red to blue that year.
None of these candidates branded themselves as ultra-left, and only Porter campaigned explicitly on an immediate push for Medicare for All. When they spoke about left-wing ideas, they did so in a way that appealed to the voters of their respective districts, "not the way that makes people on Twitter feel good," said McElwee, who calls these lawmakers "normie progressives." The most radical leftists running in red districts didn't fare nearly as well: Randy "IronStache" Bryce, the progressive favorite to replace former House Speaker Paul Ryan, lost by double digits in 2018. So did Abdul El-Sayed, the Medicare for All champion who lost the Michigan gubernatorial primary to the more moderate Gretchen Whitmer.
In mourning those losses, the far left failed to celebrate the wins of people such as Levin and Underwood, McElwee said. Indeed, many leftists don't seem to appreciate just how progressive congressional Democrats have really become: Party ideology has veered leftward in the past decade, and Democrats now harbor much more liberal views on issues such as health care, immigration, and race. Nearly all Democratic House members support abortion rights, stricter gun-control legislation, and an ambitious response to climate change. Ten years ago, progressives tried and failed to include a public option for health insurance in the Affordable Care Act; now most House Democrats support some form of government-funded health care. Yet during the 2020 primary, leftists excoriated multiple Democratic candidates for endorsing a public option instead of Medicare for All. "Every time we have a victory, there's some people who claim that that victory isn't an actual victory," McElwee said.
The New York primary this summer was one example of this shortsightedness. When I talked with McElwee in the days leading up to the June election, he was almost frantic with excitement. Data for Progress's polling showed three congressional candidates—Jamaal Bowman, Mondaire Jones, and Ritchie Torres—ahead in their respective primary races, and McElwee was anxious to be proven right.
The Torres race, in New York's 15th district, was the one McElwee was most enthusiastic about, arguing that it would demonstrate the effectiveness of a "normie progressive" approach to politics. Torres, a gay, Afro-Latino member of the New York City Council, had local establishment support and had been endorsed by the Congressional Hispanic Caucus and the Congressional Progressive Caucus. He called himself an "independent progressive" and focused his campaign on housing. Leftist activists and lawmakers didn't care much for him; Sanders and Ocasio-Cortez had endorsed Torres's opponent, Samelys López, a member of the Democratic Socialists of America who advocated for establishing Medicare for All, abolishing ICE, and canceling student debt.
When I called McElwee the morning after, he was in expectedly high spirits: Bowman and Jones looked poised to win their primaries—both ultimately did—and Torres was on track to defeat López by double digits. After a long ballot count, López earned just 14 percent of the vote. "This is a point for the normie-progressive theory of change," McElwee told me.
A more recent example helps illustrate what's at stake when progressives fail to coalesce behind a single candidate. In the early-September Democratic primary to replace Representative Joe Kennedy in Massachusetts, McElwee and Data for Progress backed the progressive candidate Jesse Mermell, a former aide to Governor Deval Patrick, while other leftists supported Ihssane Leckey, a Democratic Socialist McElwee dismissed as a "poster"—someone who is deeply immersed in the politics of Twitter. Of the two, polls showed that Mermell was much better positioned to win, but Leckey didn't drop out, and leftists continued to campaign hard for her. On September 1, Mermell lost the primary by just 1 percent to Jake Auchincloss, a former Republican political organizer. "This is exactly why we need to take this seriously," McElwee told me. The far left "spent the whole campaign bashing Mermell …" he trailed off. "God, I'm gonna be pissed about that forever." With each loss, though, McElwee hopes that leftists will come closer to understanding the error of their ways—that building coalitions and persuading voters is the only way to win. "Listen to Sean," he said. "This is the lesson."
This sort of cockiness is one reason that McElwee so rankles his left-wing critics. But mostly, his critics have a very different idea of what building coalitions and persuading voters should look like. Progressives should keep their focus on making gains among working-class voters instead of softening their message to appeal to moderates and wealthy suburbanites, says Bhaskar Sunkara, the founding editor and publisher of Jacobin, a New York–based socialist magazine. It doesn't matter that Sanders tried and failed with that approach—twice. This "is the route to social democratic change in America," he told me.
"'The left' has come to mean big, clear-cut ideas like Medicare for All and free public college for all," echoed Matt Karp, a history professor at Princeton and a Jacobin contributor, in a recent interview. "It doesn't seem like progressives should be in the business of shrinking those expectations as they're starting to grow." In an article last month, Karp wrote that a progressive movement following McElwee's vision would be defined by social-media activism and a friendly relationship with so-called corporate Democrats. "Imagine Sean McElwee giving a keynote address at the Walmart Center for Racial Equity—forever," Karp wrote.
But Biden, not Sanders, is the new leader of the Democratic Party, and even in the best-case scenario for progressives, they'll have to advance their agenda under a Biden administration. This is what McElwee said he recognized back in March, when he ignored his critics and agreed to the meeting with the Biden campaign. Biden's team had incentive to listen, McElwee thought, given how much the former vice president needs young people and former Sanders supporters to vote for him in November.
In fact, given his good standing among moderates and his relationship with parts of the labor movement, a President Biden might be able to implement progressive policies in a way that doesn't alienate centrists or make himself especially vulnerable to Republican attacks. He may actually be uniquely suited for passing progressive policies. During the Democratic National Convention in mid-August, Sanders trumpeted a list of progressive priorities that Biden's campaign has committed to advancing, including a $15 an hour minimum wage and paid family leave. "Biden really could be a crypto-progressive president," Julian Noisecat, the vice president of policy and strategy at Data for Progress, told me. (The Trump campaign has suggested something similar, warning repeatedly during the Republican National Convention that Biden would be a "Trojan horse" for radical-left ideas.)
Late one evening in mid-July, I got a text from McElwee: Had I seen the Bloomberg scoop? Biden was about to announce a package of climate proposals advocated by some of the most progressive climate groups. The next day, I watched as Biden, standing on a flag-decorated stage in Wilmington, Delaware, peeled back his face mask and unveiled a new plan that would invest $2 trillion over four years to achieve 100 percent clean energy by 2035. The proposal would also guarantee that 40 percent of all clean-energy funding goes to marginalized communities. Although the package does not exactly match the vision of the Green New Deal championed by Ocasio-Cortez, it is, as New York magazine's Eric Levitz wrote, "remarkably close to the narrower version of the Green New Deal outlined by the progressive think tank Data for Progress." McElwee had gotten what he wanted.