The Fox News Powder Keg
On November 3, the network's framing of the election narrative may help alleviate nationwide chaos—or sow it.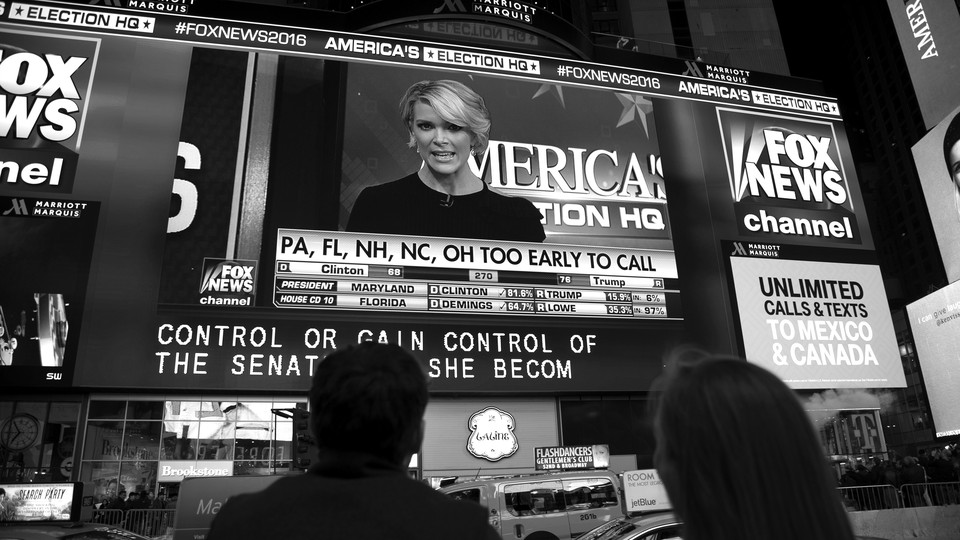 Updated at 7:30 p.m. ET on September 29, 2020
Was it really happening? Even Fox News couldn't decide. Just after 8:30 p.m. on November 8, 2016, Fox's Chris Wallace tried to articulate what the world was seeing. "We're all … at least, I'm coming to the conclusion tonight—conclusion's the wrong word—open to the possibility …" Wallace began: "Donald Trump could be the next president of the United States." Megyn Kelly erupted in laughter beside him. It was an alien sentence, a string of words that didn't belong together. Wallace laughed too. "I said it's just a possibility!"
Most people use the word chaos to describe the night of Trump's election. But every major network—including Fox News—was extremely cautious before declaring him the winner. It wasn't until 2:40 a.m. Wednesday morning when Fox anchor Bret Baier squared to the camera for his sweep-of-history monologue. Pennsylvania, a blue state in every presidential contest since 1992, had flipped red. Fox cut to a sea of bobbing MAGA hats inside the Midtown Manhattan Hilton, just up the street from the studio. Shock snuck through Baier's delivery: "What started off as unlikely, impossible, is now … reality."
This year, with an expected surge of mail-in ballots due to the pandemic, we may not know anything definitive for days. As my colleague Barton Gellman wrote, there is a blueprint for Trump to never concede should any shred of doubt remain about the outcome. Television executives have no "gentleman's agreement" about how to handle this scenario. And at no network is the absence of a playbook more consequential than at Fox News. It doesn't matter how CNN and MSNBC play this election: Fox will control the narrative.
Fox News's influence over American politics remains unmatched. (People don't write best-selling books about the inner workings of PBS.) Its nightly audience is one and a half times that of MSNBC and nearly twice that of CNN. After four years of "fake news" slurs by the president and others, Fox enjoys a unique space: In the eyes of millions of Americans, and particularly Trump voters, if you see it on Fox News, it has to be true. On November 3, the network's framing of the story may help alleviate nationwide chaos—or sow it.
In lieu of its usual prime-time block of Tucker Carlson, Sean Hannity, and Laura Ingraham, Fox turns to its nonpartisan anchors on election nights to project objectivity. Baier and Wallace will be back behind the desk this year, and Martha MacCallum will be in Kelly's seat. There is no reason to believe that one of these hosts will go rogue and preemptively yell "TRUMP WINS!" at 9 o'clock. But it is crucial that they level with their audience about what is really happening with the numbers. Wallace has challenged Trump at various stages of his presidency, and will be the one to watch, tonally, as state projections trickle in. In July, Wallace asked the president whether he would accept the results of the election. "Look, you—I have to see. No, I'm not going to just say yes. I'm not going to say no," Trump replied. Speaking with reporters at the White House Wednesday night, Trump refused to commit to a peaceful transfer of power.
Florida, Michigan, Wisconsin, North Carolina, and other swing states could be too close to call before midnight. Pennsylvania's results may not be available for days. The Pennsylvania Supreme Court has ruled that mail-in votes will be accepted through 5 p.m. on November 6, three days after polls close. Mail-in voting appears to be the biggest variable this year, and when the Fox anchors periodically pass the mic to conservative commentators, viewers are likely to be pummeled with anti-vote-by-mail propaganda.
On Thursday, Carlson seized the alleged voter-fraud narrative. "If all the votes are counted in one night, no one will have time to issue rulings that throw out ballots they don't like. That's why judges in Pennsylvania and Michigan want poll workers to count votes for WEEKS after election day," Carlson said on his show. "It'll be a disaster, we know that for certain." Later that night, Trump tweeted, "Democrats are Rigging our 2020 election!" alongside a clip from Carlson's broadcast.
According to a recent Pew Research Center survey, 61 percent of Republicans who only consume talk radio and/or Fox News say mail-in-ballot fraud "is a major problem." (Trump voted by mail last month.) Baier, Wallace, and MacCallum might play it straight, but other voices on Fox are not held to the same standards. As the hours tick by, Fox guests will be free to interpret whatever election data happen to be available, then frame the information as favorable to Trump. Millions of Americans will hear these arguments, as will the president. The Trump campaign may also influence talking points that make it directly to air. This has happened before, on Election Night, on Fox News.
On November 6, 2012, the Fox contributor Karl Rove, a former senior adviser to President George W. Bush, refused to believe that Barack Obama had actually won Ohio. Around 11:40 p.m., nothing could change Rove's mind. At one point, Megyn Kelly theatrically left the set and walked with a cameraperson backstage to the network's "decision desk" to show Rove—and the audience—how the sausage is made: a roomful of guys in rumpled suits crunching numbers on desktop computers. Rove wasn't sold. He spoke of the votes yet to come in from Hamilton County, Delaware County, and other corners of Ohio. Just before midnight, the Fox chyron below Rove read: Barack Obama re-elected president. Rove still wasn't convinced.
"I'm just raising the question of our responsibility to call these things when it appears to ordinary Americans that we are not leading the pack for the sake of leading the pack," Rove said.
Eight years later, the demand at the core of Rove's "meltdown"—patience—suddenly feels prescient. I called Rove last week and asked him about that night: What did it feel like to have everyone laughing him off?
"That's not what they were saying off camera," Rove told me, snickering. "People were saying, 'You're right.'" He grew heated as we talked. "With all due respect to Megyn Kelly, she had no idea whether to call Ohio or not. If you showed her the voting patterns for Lucas County, she'd say, 'What are those?'" (Fox News declined to make its talent available for this story. Kelly, who is no longer with the network, also declined to speak.)
Obama won Ohio by more than 100,000 votes, and Rove's on-air arguments were never vindicated. Rove told me that the Fox decision desk "had more information" than he did that night. His intel was inherently biased, coming directly from sources within the Romney campaign. What will Rove's 2020 equivalent say on behalf of the Trump campaign? And what if this person simply refuses to back down?
"Networks run hot and cold," Rove said. "I was on the opposite side of this in 2004. We were up by, I think it was 114,000 votes in Ohio. No network would call Ohio until, like, 2:30 or 3 o'clock in the morning. I found it excruciating, but on the other hand, it was responsible."
I've spent the past week rewatching old Fox News election broadcasts. Rove's 2012 tirade made for compelling TV, but embedded within his argument was a reasonable point: "All I'm saying is we have one instance where something was prematurely called."
In 1998, Fox chairman Roger Ailes hired George W. Bush's cousin, John Prescott Ellis, to lead the Fox News decision desk.* The network famously called the 2000 race for Bush just after 2 a.m. with incomplete data. Other networks soon followed suit. Vice President Al Gore conceded, then recanted his concession, leading to a weeks-long fight that ended with a Supreme Court ruling in Bush's favor. Should a similar chain of events occur this year, they will almost certainly benefit the president.
Trump knows this. Speaking Wednesday at the White House, Trump said: "I think this will end up in the Supreme Court, and I think it's very important that we have nine justices, and I think the system's going to go very quickly." GOP senators have already taken to saying they will accept the result determined "by the courts."
I asked the Biden campaign how it plans to respond if various networks are out of sync in calling the race in November. "We expect all news organizations who make determinations about election results to act responsibly based on data and their duty to tell the American people the truth, as they all have during past presidential elections," T.J. Ducklo, Joe Biden's national press secretary, said. I posed the same question to the Trump campaign, which offered no response.
In a statement, Fox News said: "The integrity of our Decision Desk is rock solid. We have full confidence in each of the consummate professionals who run it and who are in charge of our Voter Analysis System, which made its stellar debut in the 2018 mid-term elections. We will call this presidential election carefully and accurately, relying on data and numbers."
What, I asked Rove, is the responsibility of a channel such as Fox News on an election night?
"Not to make a premature call," he said flatly.
---
* This story has been updated to reflect that George W. Bush's cousin, John Prescott Ellis, began working for the Fox News decision desk in 1998, not 2000.