Democrats' SCOTUS Message Could Really Work in Swing States
The party may have an easier time taking back the Senate if it focuses voters' attention on the Court's impact on health care.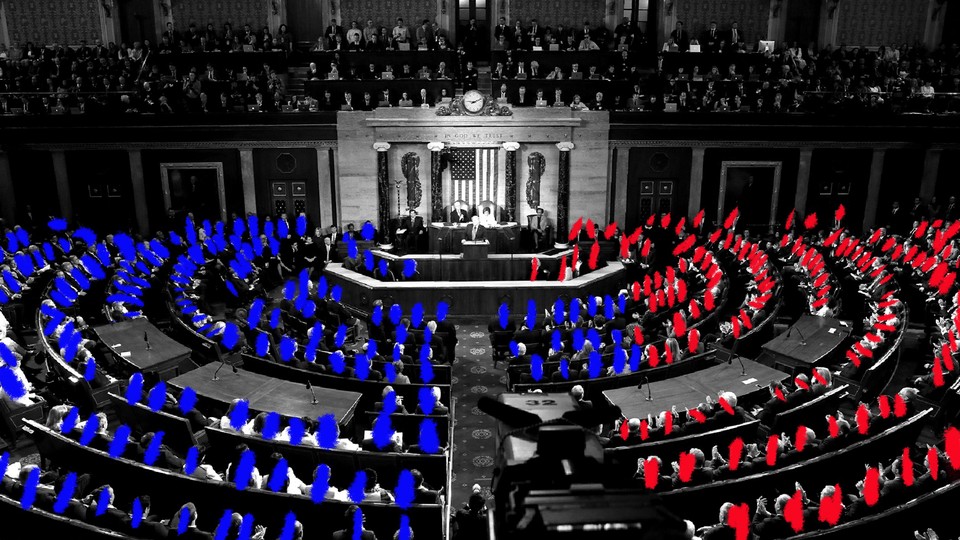 The struggle over Ruth Bader Ginsburg's replacement on the Supreme Court could help propel Democrats to the brink of a Senate majority in November's election. But whether it lifts them over that threshold could turn on the terms of the confirmation fight. Given the nature of the states that will decide Senate control, the Democrats' path to a majority may be much easier if they can keep the debate centered on economic issues—particularly the survival of the Affordable Care Act—rather than social issues, especially abortion.
The reason: The confirmation fight is likely to further weaken the position of endangered Republican senators in Colorado, Maine, and Arizona—states where polls show that a solid majority of voters support legal abortion. But even if Democrats flip all three, they will still likely need to win one more seat to take the majority. And in the next tier of states where they could possibly flip a seat, the politics of abortion will make that more difficult.
What the confirmation fight could do is "give the Democrats a path to picking up two or even three Senate seats but make it harder in those other four or five states," says Matt Mackowiak, an Austin-based GOP strategist.
In the latter group—which includes North Carolina, Iowa, and Montana—voters are much more closely divided on abortion and, in some cases, lean toward the GOP. A confirmation fight focused on abortion is also likely to further diminish Democratic Senator Doug Jones's already modest reelection chances in Alabama, a state with a clear anti-abortion majority.
By contrast, the prospect that another Trump Supreme Court nominee could vote to overturn the ACA and its popular protections for those with preexisting conditions may create a broader set of opportunities for Democrats. Support for those protections is more consistent across party and regional lines than attitudes about abortion. And Democrats, as in 2018, have already invested heavily in ads reminding voters that all of the GOP incumbents (except Maine's Susan Collins) moved to eliminate those provisions when they voted to repeal the ACA in 2017.
"The president is in such a rush [to fill the seat], because he's in a hurry to overturn the Affordable Care Act," House Speaker Nancy Pelosi told The Atlantic's editor in chief, Jeffrey Goldberg, referring to a Supreme Court hearing scheduled just days after the election on a Republican lawsuit to overturn the ACA.
Trump "wants to get a justice in there in time for that so they can hear the arguments and vote on it. People have to know what this means to them," continued Pelosi, who spoke with Goldberg this week at the virtual Atlantic Festival. "And what it means to 150 million families in America is that no longer will they have the protection of the Affordable Care Act when it comes to a preexisting medical condition."
Likewise, when asked yesterday about Amy Coney Barrett, one of the leading contenders for the open Court spot, Biden immediately zeroed in on what a new justice would mean for health care—even though Barrett is considered the most likely of Trump's potential picks to vote to ban abortion. "I think we should focus on what this is going to mean for health care, what it's going to mean to once again have to say if you're pregnant [that] it's a preexisting condition, to be able to charge women more for the same procedure as men. It's wrong," Biden told reporters.
Historically, conventional wisdom in both parties has been that fights over the Supreme Court energize Republican voters more than Democratic ones. But operatives say the incredible surge of grassroots donations to Democratic candidates since Ginsburg's death suggests that any GOP advantage on the issue has evaporated. As a result, most operatives I've spoken with aren't expecting the confirmation fight to dramatically change the landscape in a year when the electorate's divisions have been so deep and durable. "I have been saying for probably a year now that it will probably be record turnout since women got the right to vote," says Glen Bolger, a longtime Republican pollster. "Does this increase that? I don't know. Who said, 'I'm not voting—oh, there's a Supreme Court opening? Yeah, I'm voting.' If you are still on the couch, I don't know that this is the thing that gets you off it. I don't know if anything does at this point."
Even if the Court fight doesn't fundamentally upend the election's dynamics, small tremors could have a huge effect given how tight many of the key Senate contests remain. Each party sees one principal potential benefit for their candidates.
The biggest Republican hope is that a highly partisan confirmation fight will help GOP Senate candidates consolidate their party's traditional voters, who in some races are supporting the legislators at slightly lower rates than they are Trump, polls suggest. The theory is that a pitched battle over the Court will encourage voters to retreat to their traditional partisan corners. That would especially benefit candidates in crucial states that lean Republican already, such as North Carolina, Montana, Iowa, and Georgia. "If everybody goes to their own sideline, that is going to help those Senate candidates," Bolger says.
North Carolina Senator Thom Tillis would be the most likely beneficiary of such movement, given how consistently he's trailed his Democratic challenger, Cal Cunningham, in polls. In those surveys, Tillis has almost invariably run behind Trump, including among Republican voters: Last week's New York Times/Siena College poll showed Trump winning 89 percent of self-identified Republicans in the state and Tillis just 80 percent. The same dynamic might benefit Joni Ernst in Iowa: This week's Des Moines Register/Mediacom poll found Trump winning 90 percent of Republicans there compared with Ernst's 84 percent.
In other states, polls show less room for further Republican consolidation. For example, a recent Quinnipiac University survey showing a surprise dead-heat race in South Carolina found Republican Senator Lindsey Graham already drawing 92 percent of Trump voters against Democrat Jaime Harrison. This week's University of Georgia survey found GOP Senator David Perdue winning that same share of Trump voters against Democrat Jon Ossoff. "There's not a lot left" for Perdue to squeeze out among Trump supporters, notes Trey Hood, a University of Georgia political scientist who supervises the poll.
Democrats also see opportunity in the fight, but with a different set of targets: less ideological swing voters exhausted with the level of partisan conflict in Washington. The most recent state polls show GOP Senate candidates trailing among independents in Arizona, Maine, and North Carolina; running even in Georgia (with a large number undecided); and leading only narrowly in South Carolina. In Iowa, Ernst already trails among independents by 15 points, an even bigger deficit than Trump faces among them.
Anna Greenberg, a Democratic pollster working in multiple races, says the GOP's attempt to push through a nominee is likely to alienate independent voters, given that Congress has been unable to agree on a relief package for Americans suffering economically or physically from the coronavirus outbreak.
For those voters, "it's another example of how deeply craven and political Washington is, and how deeply craven [Senate Majority Leader Mitch] McConnell is," she told me. "It's not that hypocrisy arguments are going to be all that powerful; people expect politicians to be politicians. But I think this idea that Rome is burning and we've got to do this thing right now couldn't be a more political thing to do in a moment of ongoing crisis for the country."
The GOP's rush, she says, "just reinforces that sense of intense partisanship, especially for independent voters who are longing for a return to normalcy … It's exactly what independent voters don't want."
Biden more closely reflected swing voters' mood a few days ago when he urged Republicans not to escalate the partisan wars by rushing on a nominee, says Charles Coughlin, a veteran Phoenix-based Republican consultant. "Biden was like: 'Don't do this, this is not who we are,' and I think that's where most of the country, most of those middle-road voters, want to be," Coughlin told me. "They don't want to be in this highly charged atmosphere."
No issue in the confirmation process seems more likely to charge the atmosphere—or heighten interparty conflict—than abortion. For many liberals, the principal threat of appointing another conservative justice is that it will finally provide Republicans enough votes to overturn Roe v. Wade, the 1973 decision legalizing abortion. On a national basis, an argument over abortion is a clear winner for Democrats: In 2019 polling by the Pew Research Center, 61 percent of Americans said abortion should remain legal in all or most cases. And the issue creates greater internal fissures for the GOP: The share of Republicans who said it should remain legal (37 percent) was more than double the percentage of Democrats who said it should not (17 percent). Josh Schwerin, the communications director for the Democratic super PAC Priorities USA, says the group's research has found that a majority of the voters who switched from Barack Obama in 2012 to Trump in 2016 oppose overturning Roe.
But that advantage isn't consistent across the key Senate races. State-by-state polling results from 2018 and 2019, provided to me by the nonpartisan Public Religion Research Institute, show 56 percent or more of adults favoring abortion rights in Colorado, Maine, and Arizona, where Republican incumbents are endangered. Strong abortion-rights majorities of at least 55 percent are also evident in Michigan and Minnesota—where the GOP harbors longer-shot hopes of dislodging Democrats—and in Alaska, where an independent candidate remains within range of GOP Senator Dan Sullivan. In all of those states, white evangelical Christians, traditionally the constituency most focused on installing conservative justices, make up just 15 percent or less of the population.
But in Iowa, only a slim 52 percent majority favors abortion rights. Support dips to 49 percent in North Carolina and Georgia; 48 percent in Texas, Montana, and Kansas; and 47 percent in South Carolina. Evangelical Christians represent nearly one-fourth of the population in Kansas and South Carolina, one-fifth in North Carolina, and just below that in Georgia and Iowa. In all of those states, Mackowiak says, "these cultural issues are net unhelpful to the Democrats." Support for legal abortion falls even further, to the low 40s, in both Kentucky and Alabama.
Comparable state-by-state data isn't available on the ACA's protections for patients with preexisting conditions. But the 2018 election results suggest that defending those provisions was an effective argument for Democrats virtually everywhere. National polling earlier this year by the nonpartisan Kaiser Family Foundation reported that not only did 95 percent of Democrats and 83 percent of independents consider preserving those protections "extremely" or "very" important, but so did 71 percent of Republicans. More recent Kaiser polling, conducted in partnership with "The Cook Political Report," found that voters in Florida, North Carolina, and Arizona all gave Biden big leads over Trump on the issue of protecting patients with preexisting conditions—a measure of how widely Democrats lead on that concern.
Likewise, a new poll from the nonpartisan Commonwealth Fund, released today, found that voters in 10 battleground states prefer Biden over Trump on the issue. The Democrat led by double-digit margins in almost every state tested—not only in places where Democrats have been competitive, such as Michigan, Pennsylvania, Wisconsin, and Florida, but even in states where the GOP has dominated, like Texas, Georgia, Arizona, and North Carolina.
Based on their advertising spending, Democrats are betting that health care may be even more relevant right now than in years past because of the likelihood that insurance companies will consider COVID-19 a preexisting condition. "The whole 'pre-ex' conversation is arguably more salient in '20 than it was in '18, and [the possible upcoming] Court decision adds to that," says J. B. Poersch, the president of Senate Majority PAC, the principal super PAC supporting Democratic senators. Adds Rachel Irwin, the group's communications director: "A good portion of our advertising so far has laid the groundwork on preexisting conditions with personal stories. Every single Senate race has been hammering [that]."
Confirmation hearings for a Trump-appointed justice who may provide the deciding vote to overturn the ACA could provide Democrats an unparalleled platform to keep "hammering" the message that Republican senators are threatening the law's protections. With multiple contests now teetering on the razor's edge, the Democrats' prospects of winning the Senate may turn on whether they can do so.