What Did College Leaders Think Was Going to Happen?
University administrators should have seen this coming.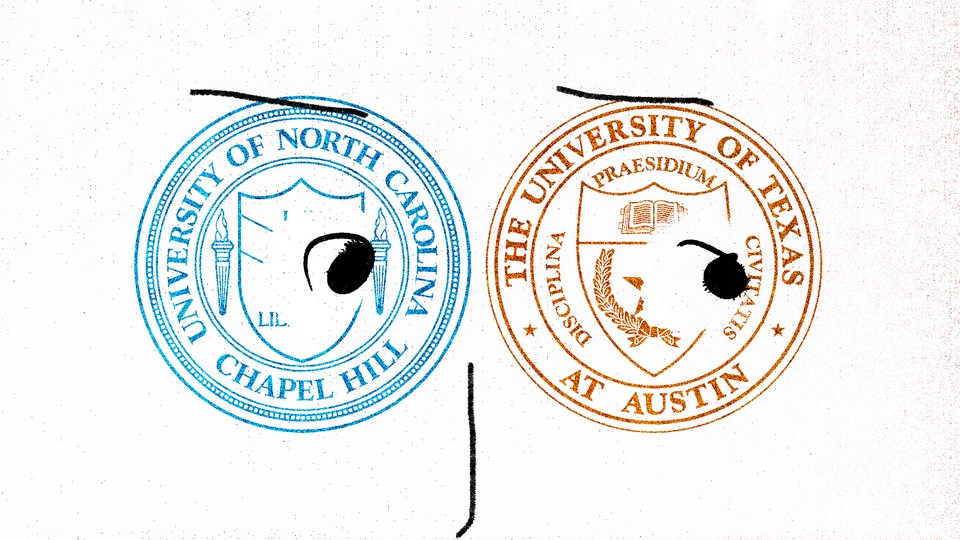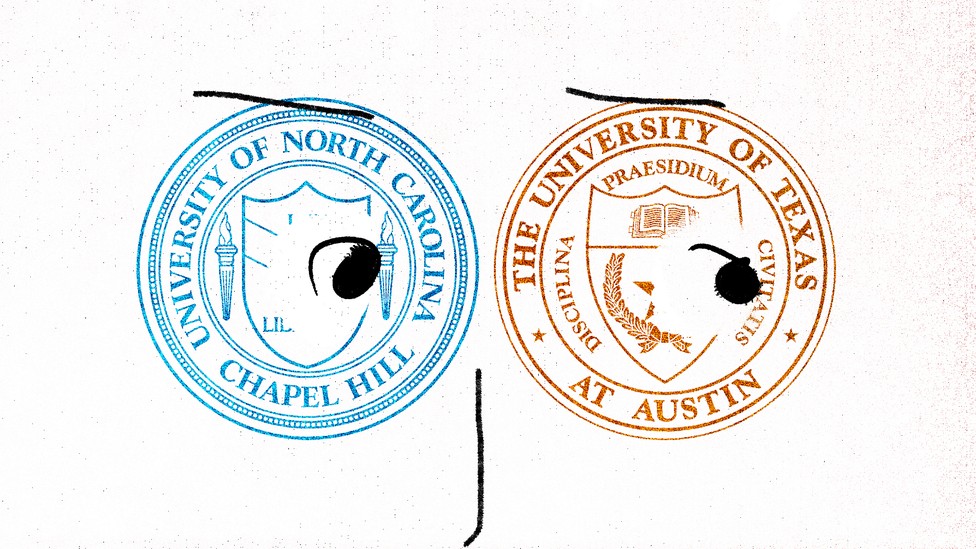 On August 16, dozens upon dozens of students wrap around the barrier in front of Gallettes, a local haunt in Tuscaloosa. It's the end of formal sorority recruitment at the University of Alabama. One student smirks; his eyes are covered by sunglasses, but no mask conceals his mouth. There are four, maybe five masks in the crowd of roughly 100 people packed tightly together. Someone snaps a photograph. The image is circulated widely.
The university released data on its first batch of COVID-19 test results eight days later. Between August 19, when classes started, and August 24, 562 students tested positive for the virus. A few days passed, and another batch of results was posted—this time 481 students tested positive over a three-day period. "There was definitely frustration, because we knew the possibility of that happening," Mikayla Wyatt, an opinion editor at the student newspaper The Crimson White, told me. "The university should have suspended Greek activities in the first place."
For months, local news outlets, including student newspapers, had been pointing out flaws in the university's plan to reopen campus for in-person classes during the pandemic. Institutions like the University of Alabama are built for close contact—the undergraduate population is composed of 38,000 students who study together, eat lunch together, play beer pong together—which makes them highly susceptible to mass infections. But even on the simple measures, such as suspending Greek activities, several institutions fell short.
A day after the Alabama students gathered at Gallettes, the University of North Carolina at Chapel Hill announced that it would suspend in-person instruction this fall. Campus officials had found four coronavirus clusters over three days. Shortly after, administrators learned that one of their housing complexes had more than 100 positive cases. The university soon reported a 31 percent positivity rate. Meanwhile, the University of Notre Dame abruptly moved to online instruction after its own outbreak.
Ever since college leaders first closed dormitories and dining halls in March, at the onset of the pandemic in the United States, they have been trying to figure out how to bring students back to campus. Administrators examined how many tests they would need, how to scale back class sizes, and whether plexiglass in key locations would be enough to prevent the spread of the virus. But just as some people raced back to restaurants and skirted social-distancing guidelines when states began reopening businesses in May, college campuses have been a national debacle—one that educational leaders should have seen coming.
On August 21, Myron Pope, the vice president for student life at the University of Alabama, sent an email to students. "Although we are proud and appreciative of all of you who are wearing masks, practicing social distancing, and showing respect to your fellow students, the actions of a few are jeopardizing the health and safety of our entire campus communities," he wrote. "These behaviors are hindering our ability to continue the in-person experience this fall and the Capstone traditions we cherish." Three days later, the mayor of Tuscaloosa issued an executive order closing all bars for 14 days in response to the outbreak on campus.
"It would have been smarter to never begin face-to-face classes," Wyatt, a senior majoring in political science, told me. "Especially with the plan that they released, which was far from concrete."
In mid-May, Michael J. Sorrell, the president of Paul Quinn College, in Dallas, argued in The Atlantic that college leaders were delusional if they believed they could reopen campuses safely this fall. The coronavirus crisis was mismanaged by national leaders from the beginning, and, due in part to forces out of their control, he said, administrators would have to make sacrifices, including ditching in-person learning. It would not be a popular decision, but it would be the right one.
The higher-education lobbyists estimated that colleges would need at least $74 billion from the federal government to renovate campuses to ensure student safety. But Congress never passed another coronavirus relief bill, so the institutions were left with no safety net. Some colleges are projecting multimillion-dollar losses for the upcoming school year because of how much they've spent retrofitting campuses for social distancing and other costs related to the virus.
Still, as summer wore on, several college leaders stuck to their cobbled-together plans. On top of reducing dorm capacity and promising to increase the work of custodial staff, administrators made students sign safety pledges and commit to avoiding parties and other activities that might endanger the semester. This was an attempt to shift the responsibility to the young people in the event of an outbreak. And when flare-ups occurred, several officials, including Pope at Alabama, jumped at the opportunity to blame students.
After hundreds of students gathered on campus at Syracuse University, J. Michael Haynie, the vice chancellor of strategic initiatives and innovation, issued a stern rebuke that went viral for its finger-wagging. "A large group of first-year students selfishly jeopardized the very thing so many of you claim to want from Syracuse University—that is, a chance at a residential college experience."
All summer, college leaders regularly cited students' desire to return to campus. In several polls, students said they would abide by campus rules and wear masks. In one poll, 79 percent of students said they would not attend parties. But for many students, the residential college experience is more than takeout meals at the cafeteria and survey courses; for some, there is simply no such thing as college life without parties. "In an effort to enjoy the college experience they were promised when deciding to attend one of the nation's top party schools, the freshmen jeopardized what little of that experience is left for the rest of the student body," the editors of The Daily Orange wrote in response to Haynie's scolding. "But the gathering has revealed deep ineptitudes in both SU's ability to prevent large gatherings and in our classmates' maturity to care for themselves and others."
Even before the coronavirus hit, colleges and universities routinely struggled to police student behavior, whether that meant keeping underage students from drinking or keeping Greek organizations from hazing and hosting raucous parties. Administrators can't always have eyes on students. And despite defined enforcement mechanisms such as suspension and expulsion, university leaders cannot always prevent behavior that might violate their code of conduct.
Though the students agreed to practice social distancing, wear masks, and not party—and many are complying—administrators, not students, bear the most responsibility for what happens on campus. And many administrators have failed to satisfy that responsibility. Despite months of planning, the University of Mississippi, for example, does not have a plan for comprehensive testing, Eliza Noe, the editor in chief of The Daily Mississippian, told me. A university spokesperson told me that the school is following the Centers for Disease Control and Prevention's reopening guidelines—which did not recommend entry testing—and are focusing on identifying symptomatic cases. "I do appreciate how they publicize their own plans," she told me. "But for me, personally, I don't know if it's the right plan."
After the spate of cases at the University of Alabama, Stuart Bell, the university's president, offered a threat. "Those who fail to abide by the Health and Safety protocols face serious consequences," he said in a statement. "Those who blatantly disregard the rules will not be given the option of jeopardizing the semester for everyone else." The university issued more than 400 conduct referrals, beginning a disciplinary process, to students who flouted the rules.
The semester was in jeopardy before it began. Colleges are not like the NBA bubble. People come and go from campus. Students can not be monitored around the clock. And without regular testing, schools cannot know whether asymptomatic students are spreading the virus. No one wants to see colleges fail in their attempts at an in-person semester. No one is cheering as case numbers rise. But the signs that this would happen were there, and if more campuses close, administrators will be to blame.