Is This Really the End of Abortion?
Democrats might crush Republicans in November. With a 6–3 conservative Supreme Court majority, abortion rights could still be decimated.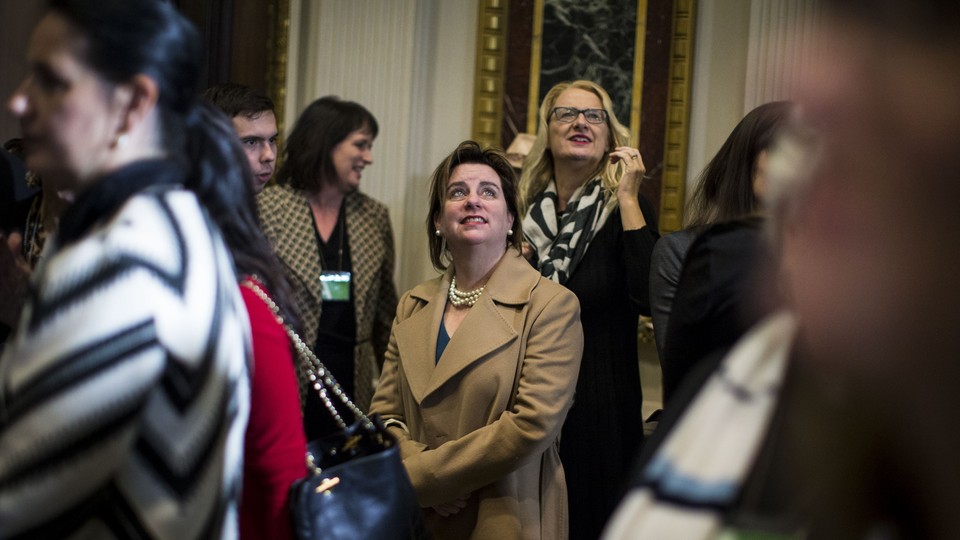 Friday was a perfect early-autumn evening in Washington, D.C., less than 50 days away from the election. Marjorie Dannenfelser, the head of the Susan B. Anthony List, arguably the most powerful anti-abortion group in Washington, had wrapped up her day on Capitol Hill. She and her kids packed cheese and crackers and headed to the lawn outside the Supreme Court building, a majestic spot for a picnic. Dannenfelser's phone rang—it was one of her staffers calling strangely late for a Friday. He had news.
Call it coincidence. Call it fate. "I've literally never sat on the lawn at the Supreme Court," Dannenfelser told me. But in the moment when she found out that the pro-life movement may be about to achieve everything activists have been working toward since 1973, when Roe v. Wade made abortion legal across the United States, Dannenfelser was literally gazing upon the institution she has worked so hard to influence. The thought of victory so close at hand "makes my heart race and my spirit soar," she said.
[Read: The pro-life movement prepares to build a post-Roe world]
For feminists who believe abortion access is essential to women's health, advancement, and self-determination, Justice Ruth Bader Ginsburg's death was a gut punch. "Ruthie was my friend and I will miss her terribly," Massachusetts Senator Elizabeth Warren wrote. "We will use each day to carry forward her legacy," tweeted Ria Tabacco Mar along with a broken-heart emoji; Ginsburg founded the group Mar leads, the ACLU's Women's Rights Project. Rebecca Traister, the New York writer who covers abortion and women's rights, chugged wine on MSNBC. As they mourned, these women also seemed to recognize what Ginsburg's death could mean: Even if Democrats crush Republicans in November, a 6–3 conservative Court could dismantle abortion rights.
For anti-abortion activists, however, the solemnity of Ginsburg's death was mixed with ecstasy: They believe they are about to taste victory. The next six weeks, which will almost certainly see a vicious Supreme Court confirmation battle amid the final race to Election Day, may determine the future of abortion in America for a generation. "I'm under no illusion that this isn't the fight of our life," Dannenfelser said.
If President Donald Trump succeeds in appointing a replacement for Ginsburg, he will solidify a six-person conservative majority on the Supreme Court that could last for a decade or more. The most fundamental issue at stake is the right to abortion, which the conservative wing of the Court has been openly agitating to revisit for years. The almost universally shared goal of the anti-abortion movement is to see Roe overturned so that the question of abortion can return to the states, where voters can directly influence whether their legislatures permit or regulate the procedure. Getting to this moment, in which the conservative justices on the Court may begin fully reimagining abortion jurisprudence, took years of careful planning. "The conservative legal movement has always made sure that it's well prepared to deal with potential vacancies on the Court," Leonard Leo, the former executive vice president of the Federalist Society and an architect of Trump's judicial strategy, told me. His goal for judicial appointments has not been to impose a litmus test on nominees, making them vow to overturn Roe, but "to advance a principled judicial philosophy" that tends to line up with anti-abortion views.
In the years leading up to Trump's election, pro-life political groups had a huge footprint in politics. Dannenfelser's Susan B. Anthony List poured millions into electing strictly anti-abortion legislators to Congress, who were almost exclusively Republican; the group also attacked self-described pro-life Democratic legislators who voted for the Affordable Care Act in 2010. And the group has fully thrown its support behind Trump, vowing to help get him reelected in November. Dannenfelser calls him "the most pro-life president in history." (Before he ran for president, Trump described himself as "very pro-choice.") At the state level, groups such as Americans United for Life have drafted model legislation imposing incremental limits on abortion, teeing up the legal fights they hope will eventually lead to the end of Roe.
[Read: Science is giving the pro-life movement a boost]
Catherine Glenn Foster, Americans United for Life's president and CEO, was driving when she heard the news of Ginsburg's death. She sent a few frenzied texts at the first stoplight she reached, then parked near the Potomac River and worked through dinner. The moment was emotionally complicated: Like Elizabeth Warren and many others, Foster sees Ginsburg as a feminist advocate who made it possible for women like her to advance in the ranks of the legal field. "I wish we could leave it at that. Then her legacy would be something that I could just unequivocally say, 'She's a legend,'" Foster told me. But Ginsburg was one of the Court's most ardent defenders of abortion rights: "Eliminating or reducing women's reproductive choices is manifestly not a means of protecting them," the justice wrote in one particularly cutting dissent from a 2007 conservative-majority decision, Gonzales v. Carhart, regarding the issue of so-called partial-birth abortion. To Foster, Ginsburg's support for abortion "does tarnish her legacy."
[Read: Should a judge's nomination be derailed by her faith?]
Although Dannenfelser believes a new conservative justice will soon ascend the steps of the Supreme Court, she didn't linger on Friday evening once she learned of Ginsburg's death. She had recently appeared at the White House at a number of public events, and "if somebody does recognize me," she thought, "it's going to be a hindrance to them being able to grieve in the way that they need to grieve." She left, and prayed alone.
As night fell, hundreds of people, many of them young women in sweatshirts and face masks, made their way to the Supreme Court steps, carrying bouquets and tea lights and American flags. Thank you, their signs read. That evening, a message Ginsburg had dictated to her granddaughter Clara Spera had begun circulating: "My most fervent wish is that I will not be replaced until a new president is installed." Presumably, Ginsburg equally hoped that her replacement will be someone who believes in the legal project that animated her life: advancing gender equality—which, in her view, had to include the right to have an abortion. Those who were there to mourn, not just Ginsburg but the vision of America that she stood for, were mostly solemn. But they also chanted: Honor her wish.