Georgia Sends a Preacher to Washington
Anger over Donald Trump's leadership created an opening for progressives to flip formerly solid-red states such as Georgia—and reclaim the identity of so-called values voters.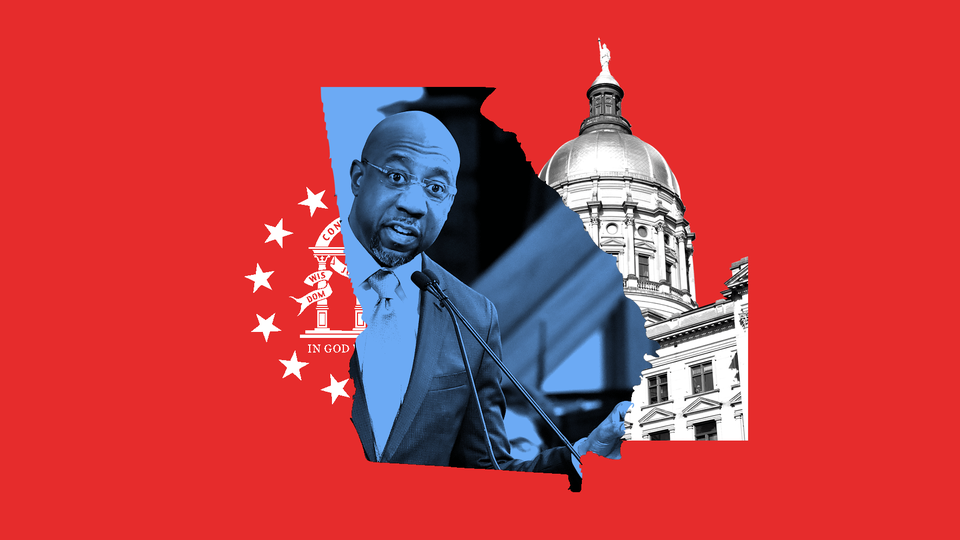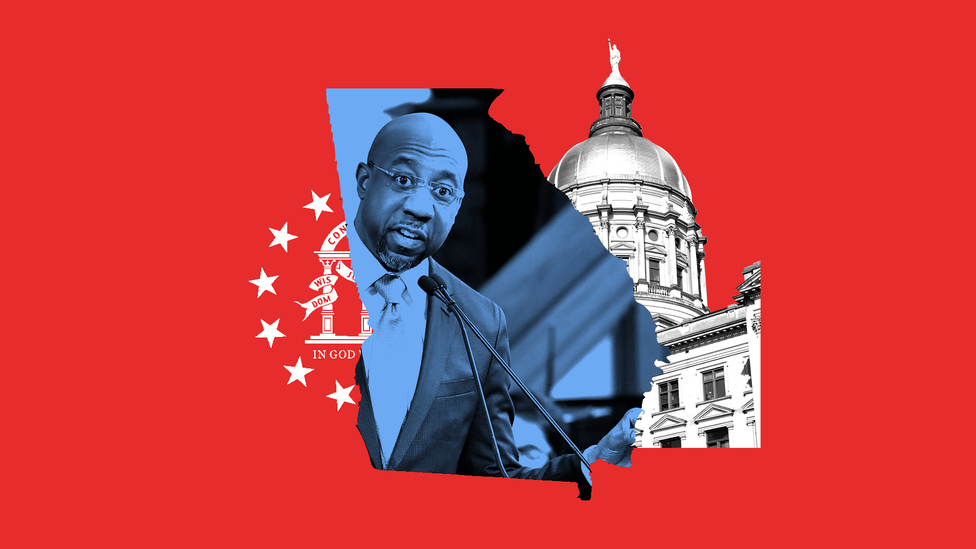 Editor's Note:
This piece was originally published on August 23, 2020. On January 6, 2021, Raphael Warnock, a Democrat, was the winner of one of Georgia's two Senate runoffs. Read Emma Green's profile of the pastor, who is poised to become the first Black senator from Georgia.
ATLANTA—In late July, Democratic political giants filed into the towering sanctuary of Ebenezer Baptist Church to mourn the death of an era, and to declare a new one to come. This is the church where Martin Luther King Jr. once preached, and where Representative John Lewis, the civil-rights icon, was now being laid to rest. Lewis's pastor, Raphael Warnock, stood before the congregation in a black pulpit robe with Kente-cloth panels and lamented the cynicism of this time in American politics. "In a moment when there are some in high office who are much better at division than vision, who cannot lead us so they seek to divide us," he said, "here lies a true American patriot." As former President Barack Obama took the lectern, he turned to Warnock, locked eyes, and pointed.
This was not just a funeral for Lewis and the civil-rights movement. It was a rally for a different America, one where health-care coverage is universal, police officers are traded for social workers, and bail has gone the way of the horse and buggy. Democrats intend for November's elections to be the first step toward building that America.
Warnock wants to help Democrats remake the country. The pastor is hoping his association with King and other civil-rights leaders will come in handy during his campaign for one of Georgia's two United States Senate seats on the ballot in November. Polling experts consider Warnock's race competitive, and if he wins, he could be the first Democratic senator elected from Georgia in two decades, and the first Black senator from Georgia ever. His pitch, modeled after his close ally Stacey Abrams's 2018 gubernatorial bid, is based on math, motivation, and morality. Georgia's voter base has transformed in recent years, with a surge in registrations among young people and racial minorities. Democrats are betting on high turnout, driven by anger about racist violence, outrage over Trump, and frustration with how the state has handled COVID-19. And Warnock's supporters believe his identity as a progressive pastor and activist will help him win in Georgia, a state where three-quarters of the population attend religious services at least somewhat regularly.
Transforming a pastor into a politician can be complicated, however. On a Sunday afternoon a few weeks ago, I drove down to Georgia and met Warnock on the patio of a bougie cafe not far from his church. It had been more than a dozen weeks since he last preached for a crowd at a regular service in Ebenezer's sanctuary. "It would be a shame if the pastor got used to not going to church on Sunday," he told me, laughing. Even away from the pulpit, he sported the formal look of a stylish celebrity preacher: a well-pressed suit in 80-degree weather; rimless glasses that were one click short of "Silicon Valley executive." Purple-striped socks peeked out from his trousers as he settled in for conversation, crossing his legs at the knee and sipping glass-bottled Coca-Cola from a Styrofoam cup. Before taking MLK's former pulpit, Warnock had spent his life in the civil-rights leader's shadow: His mentor, Lawrence Edward Carter Sr., is the chief steward of King's legacy at Morehouse College, and the reverend who ordained Warnock served under King. As a favored son of Atlanta's elite, who carefully cultivate the mythology around MLK, Warnock is adept at invoking King to make the most broadly appealing version of his pitch."What we're really talking about is a renaissance of the Kingian tradition, which is really bigger than the left or the right, and red and blue," he said. "It's a deep human-rights tradition that is … informed by Christian tradition, but is not limited to it." A fundamental part of Warnock's worldview, like King's, is that the gospel should inform politics, and politics are essential to the work of the church.
But Warnock, like MLK, is more complex than ad-ready mantras. Progressive religious leaders such as Warnock have long hoped to see their vision of justice explicitly reflected in politics, looking back nostalgically on 19th-century abolitionism and the civil-rights movement as moments of cultural victory. In the years since King assembled a coalition of clergy to protest segregation, however, the left has failed to build a religion-based political machine that can truly oppose the religious right—movements such as Moral Mondays, the weekly protests at the North Carolina legislature led by the Reverend William Barber, are important, but do not match the might of their conservative counterparts. To some extent, this is because the Democratic Party is too religiously diverse and too secular to base its policy prescriptions primarily on religion. But it's also because the Kingian tradition Warnock admires is radical and activist, calling for a massive overhaul of the economic, racial, and social structures that make American society so unequal. Most Americans in King's time, and especially white Americans, were not ready to embrace such a vision.
Americans who seek a more racially just society have to not only "engage in protests where that's effective," but also "translate our passion and our causes into laws," Obama told mourners at Lewis's funeral. In recent months, white people have been willing to protest. They have eagerly held signs and declared "Black lives matter." But it's not yet clear whether white voters—especially in places such as Georgia—will bring their solidarity to the ballot box, and whether Americans' protests against existing policies will lead to changes in who makes those policies.
It helps Warnock's case that he understands how to cloak the radical nature of his message in the words of the original Christian radical. "I'm an activist preacher," he told me. "I'm a Matthew 25 Christian, where Jesus says, 'I was hungry, and you fed me. I was naked, and you gave me clothes. I was in prison, I was sick, and you visited me. When, Lord, were you hungry? When were you sick? When were you in prison? When were you naked?'" Warnock began riffing, adding in people with HIV/AIDS, immigrants, and the homeless. "The gospel text says, 'Inasmuch as you've done unto the least of these, you've done unto me.'" His policy priorities are similarly progressive: He opposes all abortion restrictions, talks frequently about the importance of living wages for workers, and calls the death penalty "the last fail-safe for white supremacy." In our conversation, he condemned one of his opponents, Representative Doug Collins, on his votes to repeal or limit the Affordable Care Act during his time in Congress. In the Book of Luke, Jesus "says that he came to preach good news to the poor, and to set the captives free," Warnock said. "I don't see how I could lift up that gospel on Sunday, and then fight to get rid of health care in the richest country in the world in the middle of a global pandemic on the floor of the United States Senate."
For all this talk of tending the tired and the poor, Warnock also has a knack for ending up near the action in big, national stories. He invited Obama to speak at Ebenezer in the early days of his 2008 presidential campaign, and later defended the rhetoric of the Reverend Jeremiah Wright, Obama's former pastor, when Wright declared "God damn America!" A few years ago, Warnock got arrested at the Georgia capitol when the governor refused to expand Medicaid under the ACA. He has turned the incident into a campaign one-liner: "Next time I'm escorted by Capitol Police," he likes to say and tweet, "it will be to my new office as U.S. senator."
Running for Senate as a Democrat in Georgia is hard enough. In the midst of a pandemic, it can seem impossible. Warnock is campaigning while pastoring a 6,000-person congregation that has suffered a number of coronavirus deaths, and also taking care of his two small children, who are 1 and 4. "I literally am talking to Elizabeth Warren one minute, and changing Caleb's poopy diaper the next," he told me. A first-time candidate for elective office, he has been stuck recording sermons about racial justice in an empty sanctuary and doing meet-and-greet events over Zoom. It's impossible to witness firsthand whether Warnock can whip up enthusiasm at rallies or ably work the food lines at summer fairs, but other signs of his support have emerged. This summer, after Kelly Loeffler, one of Warnock's opponents and a co-owner of the WNBA team the Atlanta Dream, criticized the league's involvement in the Black Lives Matter movement, players protested by wearing shirts that said Vote Warnock.
Multiple Democrats and Republicans are competing in November's open special-election race, and unless one candidate wins an outright majority, it will go to a runoff in January. Although Warnock is by far the best-funded Democrat, with endorsements from 31 U.S. senators, the national Democratic Senatorial Campaign Committee, and almost all of Georgia's Democratic state legislators, he still faces a Democratic challenge from Matt Lieberman, the son of the former vice-presidential candidate Joe Lieberman. The younger Lieberman typically polls a few percentage points behind Warnock. (The Georgia NAACP recently called for Lieberman to drop out over a self-published novel about a man who owns an imaginary slave.) If Warnock makes it to the January runoff, his campaign will face another challenge: holding voter interest well after America knows who its next president will be. The race could decide which party controls the Senate in 2021: Democrats need to pick up only a handful of seats to retake control of the chamber.
The two competitive Republicans in the race are Loeffler, who was appointed to the seat when Johnny Isakson stepped down in 2019 for health reasons, and Collins, a Republican pastor from one of the most conservative congressional districts in the country. Two clergymen running for Senate from opposite political parties is an alluring gimmick, but it also speaks to a fundamental truth about Georgia: It's a state where religion really matters. Like Collins, 38 percent of Georgians identify as evangelical Christians, compared with just 25 percent of Americans overall. Like Warnock, 17 percent of Georgians are part of historically Black Protestant denominations, compared with just 6.5 percent of Americans overall.
When Democrats make the case for why Georgia is ready to elect a Black, progressive candidate to statewide political office, the argument always starts with race. "The math says it's possible," Abrams told me. Nearly 600,000 Georgians registered to vote from the end of 2018, when Abrams lost, to July of this year, according to data from the secretary of state's office. At least 43 percent of those new voters are people of color—and many Georgians, regardless of race, will have racism on their minds as they go to the polls in November. Warnock spent Mother's Day weekend with family members of Ahmaud Arbery, who was allegedly murdered by three white men in February while jogging in south Georgia; he conducted the funeral of Rayshard Brooks, who was fatally shot by a police officer outside of a Wendy's in Atlanta in June; and he prayed with Lewis, his longtime parishioner, in the days before the congressman's death in July. Warnock's position as the "pastor of arguably the most famous Black church in America … grounds him in a traditional Black politics that could actually be really attractive to traditional or ideologically moderate to conservative African American voters," Andra Gillespie, a political scientist at Emory University, told me.
Although Georgia has one of the largest Black voting populations in the country, white voters alienated by Trump are also prime targets for Democrats in November. During Jon Ossoff's 2017 special-election congressional campaign, which covered much of the suburban area north of Atlanta, "there were scores of folks coming in, saying, 'Look, I have always been a Republican, but the election of President Trump has revealed the identity of the party, and this is not something I can participate in,'" Theron Johnson, a Democratic organizer on the campaign, told me. This rage is especially potent among women. "The suburban female vote is driving what's shifting in Georgia," says Erick Allen, a Black Democrat who flipped a formerly Republican state-legislature seat representing part of Cobb County in 2018. Faith is a big part of that. "There are enough believers and followers of Christ who understand the perversion of religion that the current Republican standard-bearer," Trump, represents, Allen told me. "I think there's going to be some blowback from that."
But Warnock's role in the Black-church world may complicate his attempt to build a coalition of voters. His scholarly work focused in part on the flaws of the prosperity gospel, a theological tradition popular in both Black and white churches that emphasizes individual salvation and health over the collective liberation and the activism that Warnock advocates. "In the decades after Dr. King's death, there are churches that have taken a different kind of view of the gospel," he told me. "They don't necessarily see the work of justice, even when they're engaged in it, as central to their Christian identity." Throughout his career, Warnock has argued that King's tradition of the gospel is as much about economics as it is about race: "King has certainly been sanitized and domesticated and therefore distorted," he told the Montreal paper The Gazette in 2001. "People whose ideological orientation is clearly antithetical to that of King can mouth pious platitudes in honor of King while arguing for policies King would never have supported." In past interviews, Warnock has spoken about the failures of certain Black-church traditions more sharply: Shortly after his book came out in late 2013, he told NPR's Michel Martin that the "burgeoning Black middle class … has too often given in to the kind of narcissism and mindless consumeristic impulses of America without asking the hard questions about the distribution of wealth, about the broadening chasm between the haves and the have-nots."
Typically, Democratic political candidates who depend on Black voters aren't focused on calling out those voters' sins. What makes Warnock's candidacy so unusual is that his critique of America indicts not only his enemies, but his potential voter base. Religious leaders who prefer a prophetic vision of the gospel typically gravitate toward the margins of society, calling out all who are content with the systemic injustices of everyday life. Warnock is attempting the opposite, vying to win widespread support with a distinctly progressive message in a state where Democrats already have difficulty getting elected. But he has spent his life studying the way to build movements around ideas that challenge the status quo. "Even during the civil-rights movement, it was really a remnant of Black churches at the center of that movement," he said. "It was never all the churches."
In his "Letter From Birmingham Jail," King made the case for political activism that makes people uncomfortable: Jesus "was an extremist for love, truth and goodness, and thereby rose above his environment. Perhaps the South, the nation and the world are in dire need of creative extremists." King didn't necessarily intend for this to be a campaign slogan; indeed, he wrote those words in a moment of profound disappointment in his white neighbors. There are still reasons to doubt that white Americans are ready for the kind of political change they've advocated in the streets. Warnock is praying that they are.