Why Is Joe Kennedy Doing This?
The Democratic representative hasn't come up with a good rationale for challenging progressive Senator Ed Markey in Massachusetts. But with a name like his, it may not matter.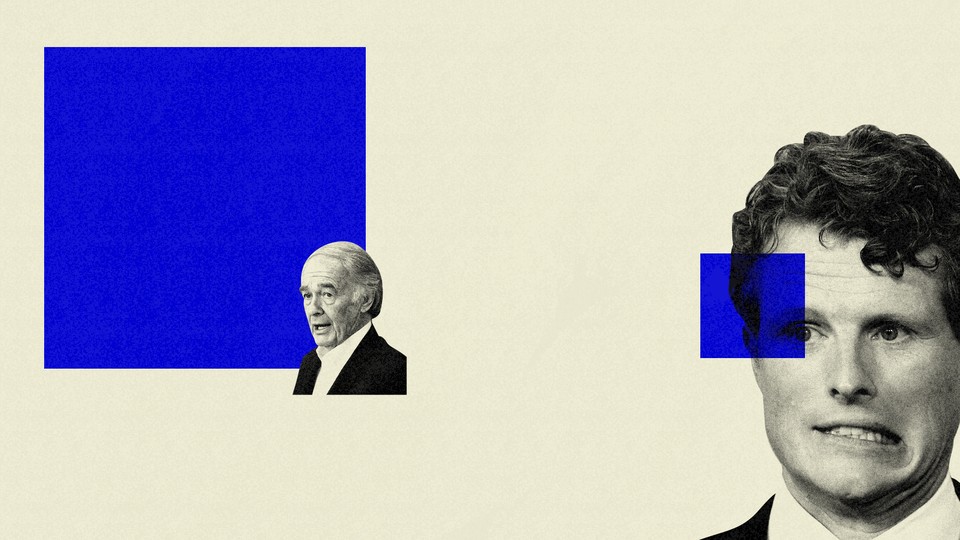 WORCESTER, Mass.—The words tumble out of Joseph Patrick Kennedy III so quickly that the sense of urgency, even an unintended hint of impatience, is impossible to miss. The red-haired representative from Massachusetts—Joe, to just about everybody—is an extremely fast talker. The characteristic might be beyond his control, but it also seems to fit the moment. On a sweltering Saturday afternoon, Kennedy is explaining to me, one more time, why he is running for Senate.
"I got in this race because we have major challenges we have to confront, and the current occupant of this seat is not doing all that he can to actually address it," Kennedy said of his opponent, the Democratic incumbent Senator Ed Markey. We're standing in the shade on a quiet street in a suburban area of Worcester, the once-industrial city about an hour west of Boston, and Kennedy pulls down his mask for occasional gulps of water. "I got in this race and said, Let me show you and I'll prove it to you. Understanding that the burden's on me, let me prove it to you."
A Kennedy from Massachusetts who wants to be a senator is about as common in New England as clam chowder on a diner menu. Joe's most famous great-uncles, John F. Kennedy and Edward Kennedy, held the same Senate seat for more than half a century. (Robert F. Kennedy, Joe's Brookline-born grandfather, was a senator from New York.)
They all had to fight for their seats, at least initially, and Jack had to oust the scion of another Boston royal family, Henry Cabot Lodge Jr., to join the Senate back in 1952. But Joe Kennedy, 39, is challenging a fellow Democrat and a staunch progressive, a longtime fighter against climate change and the co-author, along with Representative Alexandria Ocasio-Cortez of New York, of the Green New Deal. Kennedy's entry into the race last September came at the peak of progressive-primary fever, a year after Ocasio-Cortez and Ayanna Pressley in Massachusetts defeated long-serving House Democrats, and as another class of insurgents were mounting their campaigns.
National progressive activists, including Ocasio-Cortez, have rallied behind Markey, but they find themselves in an unusual position: Rather than bolstering an insurgent, they're marshaling their resources to protect a long-serving incumbent against a better-funded, better-known challenger. They've accused Kennedy of learning the wrong lesson from the left's 2018 primary victories and picking, in Markey, a target who should be rewarded for his record in office, not punished for his longevity. "Ed Markey is one of the most accomplished progressive senators that we have," Evan Weber, the political director of the Sunrise Movement, the youth-oriented grassroots organization advocating for action against climate change, told me.
Kennedy told me he was initially dismissive of entreaties to challenge Markey, a man he's known for his entire life and who served in the House alongside his father for a dozen years. "I had no desire to commit career suicide," he said. In Kennedy's telling, he called around to Democrats across Massachusetts and heard a version of the same thing. "Time and again, they said they haven't seen him in years," he recalled. "We don't know him."
The view from Markey's corner is less charitable. In late August last year, a poll conducted by a Democratic firm found that Kennedy was leading Markey by 17 points in a hypothetical primary matchup. The poll suggested the seat was Kennedy's for the taking, and the next month, he declared his candidacy.
"I don't think we should get rid of someone just because you can," Mayor Paul Heroux of Attleboro told me after Markey stopped in his city on the first leg of a bus tour on a recent Friday. Attleboro is a part of the district Kennedy has represented for the past eight years in the House, but Heroux, like many local Democratic officials throughout the state, is sticking with Markey. Kennedy's rationale also fell flat with national progressive activists. "It's hard to understand how this is about anything more than Joe Kennedy's own career and his own political ambition," Weber told me.
Yet plenty of people run for office simply because they want the job. A compelling rationale beyond ambition isn't a requirement; it certainly hasn't been for Kennedys in Massachusetts. Kennedy's campaign sees the focus on his decision to challenge Markey—and the attendant presumption that a solidly progressive senator automatically deserves renomination—as a fixation of activists and insiders. Kennedy is betting that rank-and-file Democrats, especially those who don't follow every policy battle or vote in the Senate, will view the race more plainly. They'll see a choice between two good progressives, including one who is younger, more vigorous, and more famous than the other.
When I met up with Kennedy's campaign in Brighton, the first person I spoke with happened to be a Markey supporter named Tim Sieber, a former ironworker who told me Markey should "be rewarded" for his long progressive record. "The only thing Kennedy has going for him is his youth and energy," he said. "But," he added quickly, "he still may win."
The Kennedy-Markey clash, which culminates in a primary election on September 1, defies easy characterization. Markey has served in elected office for the past 47 years, but he's running as the candidate of the working class—the son of a truck driver who sold ice cream to pay for college—against a challenger from the moneyed elite. "I can only run as a Markey from Malden," he told me in an interview. As he carefully returns to in-person campaigning during the coronavirus pandemic, his attire includes a white button-down shirt with the sleeves rolled up, dark slacks, and a conspicuous pair of well-worn Nikes the color of a Red Sox uniform.
Markey is vulnerable chiefly because he's not as well known throughout the state as a typical Massachusetts senator—certainly not like the Kennedys have been, or John Kerry, or Elizabeth Warren. Though Markey had represented a Boston district for 37 years in the House, he's been a senator serving the entire state for barely more than a single term, having replaced Kerry when he became the secretary of state in 2013. And before this campaign, he hadn't exactly been a ubiquitous presence back home in recent years. Markey owns a house in Chevy Chase, Maryland, and a person close to Kennedy told me that when Massachusetts lawmakers would board a plane together to Boston at the end of each week in Washington, Markey was the only member of the delegation who often stayed behind.
In 2013, The Boston Globe reviewed the water bills of Markey's home in Malden and found that they "suggest he is there infrequently." He appears to be spending more time there now. In early June, a columnist for the paper "on a whim" dropped by Markey's Malden home to find the senator standing in his driveway. "Welcome to my compound!" Markey said outside the modest, two-story house—a sly reference to the famed Kennedy estate in Hyannis Port. He narrowly avoided an even bigger embarrassment earlier in the spring, when his campaign had to scramble to collect the signatures needed to put Markey's name on the primary ballot after the pandemic shut down traditional canvassing.
The primary is not really an ideological battle or a referendum on progressivism—the candidates broadly agree on the major issues—nor is it strictly a generational challenge. Both the Massachusetts Democratic establishment and the progressive grassroots have rallied around a 74-year-old incumbent who, despite his leadership on climate change, has cast votes in the past that are now toxic on the left: for the Iraq War, for NAFTA, and for the 1994 crime bill, for example.
Yet Kennedy, who has generally hewed close to the Democratic mainstream in his eight years in Congress, is no AOC (who's backing Markey), Pressley, or Jamaal Bowman, who knocked off a veteran Democratic committee chairman this month. All of them, in ideology and identity, represent a break with the predominantly white, male power structure that's stood atop a diversifying Democratic Party. Kennedy does not, and he's no underdog, either. Indeed, in all of America, there may be no greater embodiment of white privilege than the political heir to the Kennedy dynasty—the son of a congressman; the grandson of RFK; educated at the private Buckingham Browne & Nichols School in Cambridge, then Stanford University. Kennedy did a stint in the Peace Corps, the program created by his great-uncle, President Kennedy; then, after earning his law degree at Harvard, he spent a few years working as a lawyer, before, at 32, easing into the House seat vacated by Representative Barney Frank.
The factors behind the recent spate of primary wins on the left, however, go beyond ideology and identity. Ocasio-Cortez, Pressley, and Bowman attacked their Democratic opponents from the left on policy, but they were all young, affable candidates who campaigned hard and who demonstrated, with their energy and aggressiveness, how they'd be different from the entrenched incumbents they were challenging. On that score, Kennedy has more in common with them.
For all of the important policy debates that have convulsed the Democratic Party, charisma—especially when combined with youth—still goes a long way. In 2018, Nancy Pelosi, then the House minority leader, tapped Kennedy to deliver the Democratic response to Trump's State of the Union address. After Democrats won back the House majority later that year, speculation about his next move ramped up, including talk that he would join the crowded field of candidates vying for the presidency. But he passed on the White House race and decided to challenge Markey instead.
At Markey's stops along the state's south coast, supporters of both men spoke of that decision with disappointment more than anger. A few told me they had hoped he'd wait for Senator Warren's seat to open up, should she become vice president or perhaps Treasury secretary in a Joe Biden administration next year. "It's been really frustrating for many of us Democrats," Ellen Farmer, a Markey supporter who had volunteered for Kennedy's congressional campaign, told me. Her friend Patricia Lafond-Valade, a retired nurse, added that she was "annoyed" Kennedy chose to run in a year when Democrats needed to be focused on winning back the White House and the Senate. "I was like, We don't have time," she said.
The reaction online has, predictably, been harsher. Progressives have flooded Kennedy's Twitter replies with critiques of his record, suggesting he's trying to claim the Senate seat as a sort of inheritance and calling him "the prince of privilege." An outcry on social media prompted a group of Broadway stars to back out of a planned fundraiser for Kennedy's campaign.
"Literally my entire life, no matter what I've done, people have leveled the criticism of 'You're doing this because you're a Kennedy.' Literally everything," Kennedy told me. "So I hear that. That is up to me to disprove."
As for Markey, he said: "Yes, he came from more humble beginnings than I did, but he's also been in office for 50 years. That in and of itself is a position of privilege."
Kennedy's rationale is both straightforward and, to many Massachusetts Democrats, pretty thin: He thinks Markey isn't doing enough, nationally or locally, and he would do better. "The job of a senator is more than the votes you cast and the bills you file," Kennedy uses as a refrain, meant to rebut Markey's recitation of a solidly progressive voting record. His implication is that a senator from Massachusetts, like Warren, Kerry, and, yes, the Kennedys, needs to be a star, a national movement leader.
Markey's partnership with Ocasio-Cortez on the Green New Deal blunts that critique. "You have to do both, and I have done both," Markey told me. To Kennedy loyalists, though, Markey's role in the formation of the Green New Deal is overstated, the work of a savvy politician protecting his base ahead of an election. "He signed on to something that AOC and the Sunrise Movement created," Representative Mark Pocan of Wisconsin, the co-chair of the Congressional Progressive Caucus, told me.
A bigger problem for Kennedy is that, over the course of four terms in Congress, he's been no more a star in the House than Markey has been in the Senate. He hasn't been a trailblazer in the mold of Bernie Sanders or Warren, or even as assertive as Ocasio-Cortez. He's treaded carefully on policy—he did not initially embrace Medicare for All, for example, and he's been a latecomer, especially given his relative youth, to the cause of marijuana legalization. Kennedy's biggest turn in the national spotlight, his response to Trump's address—was bestowed on him by party leaders.
When I asked Weber, of the Sunrise Movement, to respond to Kennedy's charge that Markey, beyond his recent role in launching the Green New Deal, had been a lackluster progressive voice, he scoffed. "That's just kabooey," he replied, before rattling off a number of Markey crusades, including his early-1980s battle to end the nuclear arms race. But Weber also turned the question of whether Markey had been enough of a leader around on the challenger. "First of all, I would ask: Has Joe Kennedy?"
Before the pandemic, Kennedy's campaign plan had been simple: He'd out-hustle Markey on the stump. He'd show Massachusetts Democrats, by the sheer ubiquity of his presence across the state, that he'd be the more energetic, harder-working fighter for progressive causes. The stay-at-home orders forced both campaigns inside, but they hurt Kennedy even more. "Campaigning on Zoom sucks," Kennedy told me when I met up with his "Jobs and Justice" tour outside a Brazilian restaurant in Brighton, where he posed alongside union workers at a food drive.
Recent polls show a narrower race, and Markey has caught up to Kennedy in fundraising. The Markey campaign's early dreams of bringing Ocasio-Cortez in for huge rallies with the senator may be dead, but a late push from the progressives could still lift him over the top. (Ocasio-Cortez filmed a TV ad for Markey that the campaign released last week.) The Kennedy campaign is making a big drive for lower-income and minority voters, hoping to convince them that Markey is disconnected from inner-city and rural communities in Western Massachusetts.
The race's many televised debates—there have already been several, with two more to come—have gotten punchier. In June, Markey called Kennedy a "progressive in name only," hitting him for initially opposing Medicare for All proposals and for working for a conservative district attorney in Cape Cod after law school. As the Black Lives Matter protests surged across the nation, Kennedy raised Markey's record on race in an echo of the presidential-primary attacks on Biden. "I have a hard time taking criticism of who's more progressive from a guy who was against the integration of the Boston public schools," he told me.
As the state has gradually reopened this summer, Kennedy has been more aggressive about relaunching his in-person campaign and interacting with potential voters—social distancing be damned at times. Markey debuted a campaign bus that will serve as a rolling billboard but, because of the pandemic, carry far fewer passengers than the 56 it could fit inside. And although Markey (who, at 74, is in a higher-risk category) kept his events outdoors and tightly controlled, Kennedy was a bit more lax. On the day I spent with him in Worcester, he toured an indoor food market, bumping fists and elbows with cooks and cashiers as he sampled dumplings and sipped an iced tea. (He pulled down his N95 mask only to drink and eat.) Afterward, he ventured inside a Mexican restaurant, where he squeezed in tight for photos with the owners as a couple dozen mostly masked supporters and patrons crowded around to watch. An exuberant employee went in for a forbidden handshake, and Kennedy obliged.
The Kennedy mystique caught up with him at points too. Kathy Gleason, 56, ran up excitedly to Kennedy at the market to ask for a photo. As she left, she told her friends waiting outside, "I could have kissed him, he's so cute." Gleason told me that fond memories of working with Joe's uncle, Robert Kennedy Jr., in the 1990s were a big reason she was supporting him. Later in the afternoon, Rosanna Swillo, 67, was waiting for Kennedy when he went canvassing around the Worcester neighborhood where she lived. She handed him a copy of a diary that one of Robert F. Kennedy's college roommates—a family friend of hers—had kept as he rode the funeral train for RFK, and which mentioned Joe's father, then a teenager.
When Kennedy went to visit a new Black Lives Matter mural in the city, however, the response was chillier. A couple of Markey supporters confronted him to ask why he was running. And a Black activist, Chantel Bethea, chastised him to return without reporters and cameras in tow. "He's shown up to a lot of things. He's trying and he's listening," she told me of Kennedy. But she wasn't particularly excited about either primary candidate. "They're both white," Bethea said. "What I want to see is Black people at the forefront."
State Representative Nika Elugardo is a Black progressive who defeated an entrenched Democratic incumbent in 2018. When I spoke with her by phone, she acknowledged one of Kennedy's main arguments against Markey—that the senator is "disconnected" from communities of color back home and focused too much on his legislative work in Washington. But she's still supporting Markey, noting that he "has the ability to own the places where he needs to grow." Elugardo told me she called Kennedy when he declared his candidacy. "I don't understand why you would run against Ed Markey," she told him. "He didn't have a good reason."
Come September, Kennedy might find that he didn't need one. And most Markey supporters, despite some disappointment and annoyance, will probably be fine with that. Neither candidate is really tearing the other apart, and unlike the fall presidential election, no one is saying the fate of the commonwealth hangs in the balance. Whether it's Markey or Kennedy, Massachusetts Democrats are likely to have a reliable progressive vote in the Senate. History also suggests that any party rift will heal: After all, Ted Kennedy challenged a sitting Democratic president, Jimmy Carter, in 1980, and by the end of his life—despite myriad transgressions—was hailed as a lion of the Senate and Massachusetts politics.
The coming month in Massachusetts will show whether the Kennedy cachet remains strong enough to elevate the family's next generation into the upper echelon of American politics. But the Kennedy-Markey primary is more significantly a test for the progressive grassroots, and whether it can muster the same energy to protect a long-serving incumbent as it has in boosting young, insurgent challengers.
Joe Kennedy is betting that his urgency—yes, even impatience—can, along with that famous name, overcome a much longer electoral record of progressivism. "Markey's been great," Charles Neulist, a 65-year-old ironworker from Amesbury, told me in Brighton. He's backing Kennedy, however. "We'd just like a change—younger blood, new ideas," he said. Neulist meant it as no knock on the gray-haired Democrat he'd be ushering out to pasture. "I don't think it's punishment," he said. "It's retirement."