Kamala Harris's Nomination Is a Turning Point for Democrats
It's difficult to imagine the party nominating two white men for president and vice president ever again.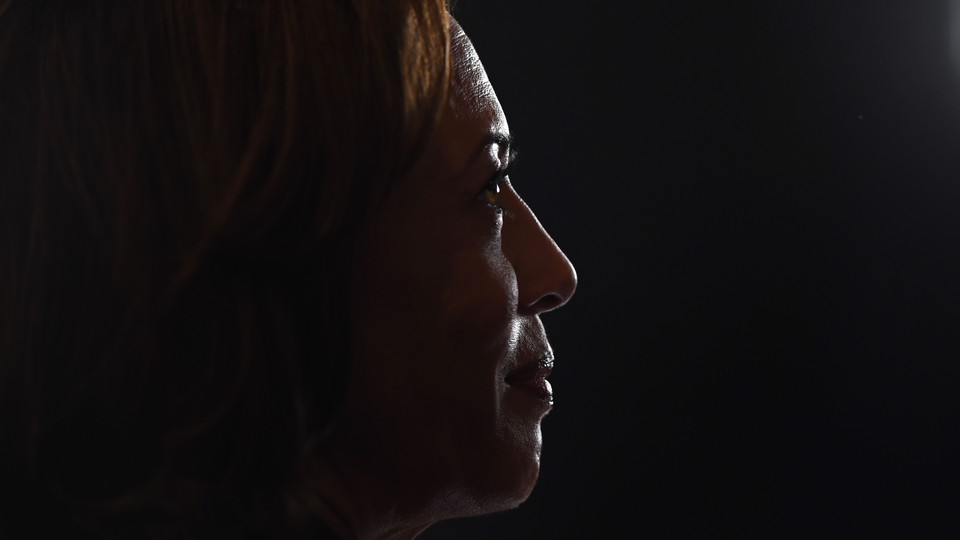 In the final rally Joe Biden held before COVID-19 shut down the country in March, he clasped hands on a stage in Detroit with a group of emerging Democratic stars. "I view myself as a bridge, not as anything else," he declared a few minutes later. "There is an entire generation of leaders that you saw standing behind me. They are the future of this country." Yesterday, Biden took a major step toward redeeming those words when he chose Senator Kamala Harris of California, one of the Democrats on that stage, as his vice-presidential nominee.
By selecting Harris, Biden has positioned the Democratic Party for a profound generational and demographic transition, and he's addressed the fundamental incongruity of his candidacy: the inherent strain of a nearly 78-year-old white man leading a political coalition that relies on big margins among young voters, people of color, and women.
Biden represents the Democratic Party of his post–World War II coming-of-age: a coalition centered on blue-collar white people who worked with their hands, mostly in smaller industrial cities such as Scranton, Pennsylvania, where he was born. From almost every angle, Harris embodies the Democratic Party of the 21st century: a biracial child of immigrants (who is herself in an interracial marriage) who rose to political prominence from a base in San Francisco, a diverse, globalized hub of the emerging information economy.
Many obstacles still prevent women and people of color from achieving power in the Democratic Party's leadership commensurate with their influence in its voting base. But Harris makes the concept of Biden as a bridge more concrete—and potentially more attractive to younger nonwhite voters displaying lagging enthusiasm for him—by embodying the other side of that span: a party that potentially makes more room at the table for people who look like her. "I think Kamala Harris has the potential to activate a voter that otherwise has not seen themself reflected in the Democratic Party," says Terrance Woodbury, an African-American Democratic consultant who studies younger voters.
Many members of the Democrats' "coalition of transformation," including professional women, immigrants, and African Americans, can see aspects of their experience reflected in Harris's life. That could make her a resonant symbol of the Democrats' embrace of a changing America, and offer a rebuke—not only in her words but through her sheer presence—to a president who has openly wielded racist and sexist language. Yet the fact that she personifies the changing country so clearly will also make her a more tempting target than Biden for Trump and his allies, who are trying to convince the GOP's "coalition of restoration" that a Democratic victory will threaten to erase the America they have known.
Attacks from the right won't completely muffle complaints on the left. As Woodbury and other activists note, Harris will "have some things to prove" with younger racial-justice advocates skeptical of her record as the district attorney of San Francisco and as California's attorney general, particularly her reluctance to pursue prosecutions against law-enforcement officials involved in the killing of civilians. But no one I've spoken with disputes the power of Biden acknowledging that Black voters—especially Black women voters—deserve representation at the very apex of the Democratic Party's leadership. Harris's new role is especially meaningful because of the possibility that Biden, if he wins, might not run for reelection in 2024, which would position her as a front-runner, if not the front-runner, for the Democratic nomination that year.
When Biden made his announcement yesterday afternoon, I was on the phone with Aimee Allison, the founder of She the People, which advocates for advancing more women of color in the Democratic Party. We were discussing her ambivalent feelings about how Biden's vice-presidential selection process had unfolded over the past few weeks. She considered the large number of Black women, and other women of color, considered for the position an overdue recognition of their pivotal role in the modern Democratic coalition. "For me, the VP discussion reflects a new way of thinking about and valuing the leadership of women of color," she told me.
But she was frustrated and angered that several of the Black women candidates, particularly Harris, had faced what Allison saw as a hazing in the press from some older white male Democrats, including former Senator Chris Dodd of Connecticut, who was part of the small committee Biden had assigned to assess his choices. "What's very clear is we have political institutions and a political culture that has a very unique way of tearing down women who are standing for leadership, who have impressive experience [and] come with impressive résumés, with a capacity to inspire voters in a way white guys can't," Allison told me. "The conversation was very racist and very sexist. It's a problem. It's a problem we have with Republicans. It's a problem with Democrats. It's bigger than a political party."
Those words had barely left Allison's mouth when the news broke that Biden had selected Harris. For a moment, she was overcome with emotion. "It's pretty remarkable. I get emotional—she's just made history," she said, her voice cracking. Harris "stands on the shoulders of remarkable generations of Black women who have fought and bled for this moment." The selection, she thought, showed that Biden meant what he'd said onstage in Detroit. "She represents a new America," Allison told me. "She already knows how to speak to that language of solidarity, to that multiracial coalition. She is showing up in the moment we need. This is what the country needs."
This ticket always seemed to some observers (myself included) the most logical choice for Democrats in their fight against Trump. That's because the pairing reflects the party's promising but tenuous position as demographic shifts inexorably transform the electorate. By any measure, Harris symbolizes a Democratic future rooted in groups and places that are growing as a share of society: the well-educated and diverse voters centered in the nation's largest metropolitan areas. A massive recent compilation of survey research by the nonpartisan Pew Research Center found that the non-college-educated white voters Biden grew up around now constitute only about three in 10 self-identified Democrats, while white voters with a four-year college degree or more constitute nearly as many. People of color represent the plurality, at about 40 percent of Democrats.
But because of lagging turnout among some of those people of color—and also because white voters without a college degree are overrepresented in key Rust Belt states—many Democrats concluded after 2016 that they needed a nominee who could win back working-class whites. A solid majority of Democratic primary voters, including all but the youngest African American voters, in effect hired Biden to perform that very specific job.
Polls have generally found that Biden is making at least some progress on that front. But he's continually struggled to generate much excitement among younger people, especially those who are nonwhite. Many Democrats are hopeful that Harris will provide more of the spark with younger people of color that he has not (within the limits of the vice-presidential nominee's capacity to influence the race).
In 2016, just 60 percent of eligible African American voters turned out, down from 67 percent in 2012, according to the Census Bureau. Kasim Reed, the African American former mayor of Atlanta, told me last night he is confident that Harris's position—combined with antipathy toward Trump and Biden's own connections with older Black voters—will ensure a dramatic rebound in Black participation. "I am going on the record that Black turnout is going to exceed President [Barack] Obama's Black turnout," Reed said. Harris's selection "sends a very important message that high achievement and dedication matter."
Others are more cautious about her potential to energize younger voters. Harris is a demographic bridge between Biden and the modern Democratic Party, but she's not nearly as much of an ideological bridge. Though she ran sharply to the left during the early stages of her unsteady presidential bid, her record, like Biden's, is fundamentally moderate.
Stanley B. Greenberg, a veteran Democratic pollster, told me that overall, he believes Harris will boost Biden. "I think this will be viewed as real, historic, and likely to be helpful to him in many ways," Greenberg said. "It will look like a generational change, like someone who is in touch with the country, who can prosecute the case against the administration and against [Mike] Pence" during the vice-presidential debate this fall.
But to the extent that lagging youth enthusiasm for Biden represents ideological suspicion of him, Greenberg said, Harris isn't likely to solve the problem. Instead, that will probably require sustained engagement from other, more liberal figures in the party, such as Senators Bernie Sanders of Vermont and Elizabeth Warren of Massachusetts.
Uncertainty about Biden's and Harris's commitment to the full slate of ambitious policing and civil-rights reforms pushed by many racial-justice advocates threatens friction if the ticket wins, Steve Phillips, the founder of the advocacy group Democracy in Color, predicts. "These are people who have been strong voices for far-reaching change, and they have found a lot of leaders, including Kamala, wanting," he told me.
But he believes that between now and November, those concerns will be eclipsed by the powerful message Biden has sent about "the centrality of African Americans in general, and Black women in particular," to the Democratic Party. "I think that given the depth and the pervasiveness of the … racism and sexism of this president, to be able to put up a strong, unapologetic, culturally relevant woman of color is really going to resonate with people," Phillips said.
This far into Biden's career, it's unlikely that Democrats would have picked him as their nominee in any circumstance other than the pressing need many saw to recapture working-class white voters from Trump. Even in this environment, there's little chance that the grassroots movements focused on racial justice, climate, and gun control (among other issues) will turn to him for inspiration or direction. "If we look at Biden for leading, we are going to be disappointed," Allison said. "He himself has evolved as a candidate and a leader, but he needs to be surrounded by especially women of color that can speak to the issues of racial and gender justice in a way that I don't think he's able to do."
Biden's inner circle has tilted heavily toward older white men, but by choosing Harris, he's taken one significant step toward acknowledging his need to open more doors to younger and more racially diverse leaders. Many activists of color were deeply frustrated this year that, even with the party's most diverse presidential field ever, all of the race's finalists were white candidates in their 70s: Biden, Sanders, and Warren. Harris's selection won't eliminate all the structural inequities that produced that incongruous result. But whether Biden wins or loses in November, her nomination may be remembered as a moment when the pinnacle of Democratic Party leadership came to more closely resemble the base of voters that elects it to power. Even as the GOP at every level remains dominated by white men—starting with Trump and Pence—the Democrats haven't nominated a presidential ticket of two white men since 2004. It's difficult to imagine when they ever will again.