How Jerry Falwell Jr. Lost His Liberty Flock
The university's leader has effectively become a spokesman for evangelicalism. Pastors and alumni worry about the consequences for their faith.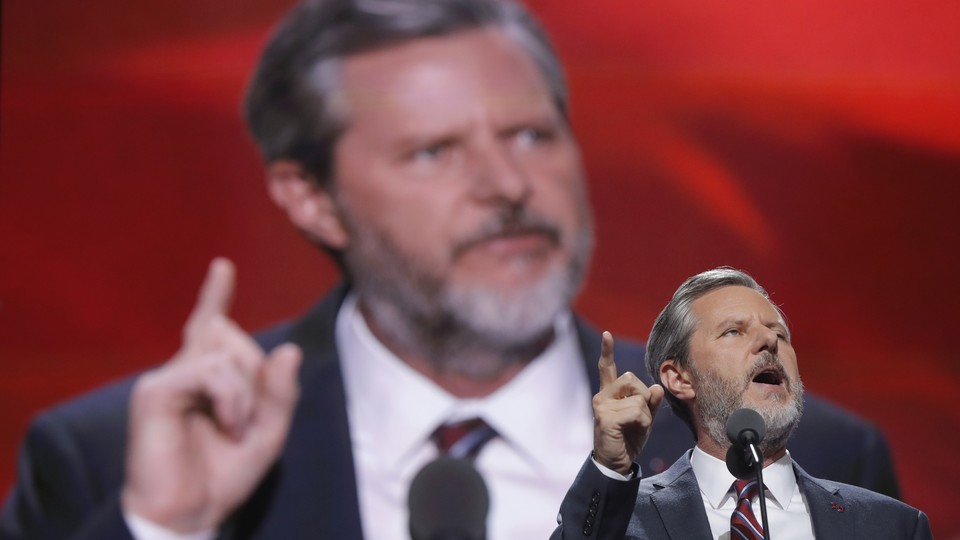 As president and chancellor of the country's largest Christian university and the son of one of the founding fathers of the religious right, Jerry Falwell Jr. has come to serve as a stand-in for American evangelicals. But to those inside the Liberty University community, Falwell's leading role has lately seemed more like a liability than an asset. On Friday, the executive committee of the school's board announced that Falwell will take an indefinite leave of absence.
Alumni feel "they have to hide their association with Liberty," Colby Garman, a pastor who graduated from Liberty and serves on the board of Virginia's Southern Baptist Convention, told me by phone Friday night. "A lot of pastors feel that way, a little bit, when it comes to the leadership of the school." (Falwell did not reply to my request for an interview.)
What finally pushed Liberty's leaders to act was their belief that Falwell had openly flaunted immoral behavior: He posted, and then deleted, an image of himself on a yacht, his arm around the waist of a young woman who was not his wife. Both of their pants were partially unzipped, and a glass of what looked like alcohol—which he called "black water" in his caption—was in Falwell's hand. Later, in an interview with a local radio station in Lynchburg, Virginia, where Liberty is located, Falwell explained that the woman works as an assistant to his wife. He laughed the incident off: "I promised my kids I'm going to try to be a good boy from here on out," he said. But alumni and staff who had previously expressed their concerns about Falwell in private began openly calling for his resignation, including Representative Mark Walker of North Carolina; many of them noted that any number of Falwell's actions would have gotten a Liberty student written up.
With Falwell's ouster, one of the most influential evangelical institutions in the country is facing an identity crisis: There's never been a time when Liberty wasn't led by a Falwell. The president has also lost one of his most prominent ties to the evangelical community. Donald Trump earned credibility in Christian circles four years ago in part because Falwell promoted him as the evangelical champion, and now it's not clear who Falwell speaks for. Liberty's leaders see Falwell's statements and actions as unbecoming of a Christian leader, especially for someone in such a high-visibility role. But most of all, Christians inside and outside of Liberty fear Falwell has tarnished the mission of the school, and of evangelicalism—to "train champions for Christ."
Falwell has long courted scandal, but was previously met with seemingly endless patience from his backers at Liberty. The school's leadership stuck by Falwell as he became one of Trump's earliest and most dedicated supporters, and when, following the 2015 mass shooting in San Bernardino, California, he encouraged students to get concealed-carry permits so they could "end those Muslims before they walk in," ostensibly referring to terrorists. School leadership supported him through allegations of internal bullying and corrupt self-dealing, and when Trump's former personal lawyer, Michael Cohen, said he helped Falwell destroy racy "personal photographs." Falwell didn't even lose his job in May, when he tweeted a picture of a face mask depicting figures in KKK robes and blackface, an attempt to mock Virginia Governor Ralph Northam. Enough of Falwell's supporters saw that photo as a debatable political stunt that the controversy dissipated. But it was still a turning point—a moment when pastors, alumni, and board members began questioning whether Falwell should stay in his role.
"It was just particularly disturbing," Ike Reighard, a pastor and Liberty board member, told me. "Every leader carries two buckets in their hand. One bucket has water. One bucket has gasoline. And the test of leadership is to know when to throw which bucket." (Liberty was also one of the only schools in the country to bring students back to campus this spring, as the COVID-19 pandemic was unfolding.)
Young people affiliated with Liberty have typically been more willing to speak out against Falwell. A contingent of students condemned his support for Trump ahead of the 2016 election. A group of Black student athletes recently left the school over what they described as its racist environment, and Black pastors and young alumni wrote a letter decrying the face-mask incident. But with the yacht photo, Falwell lost the confidence of even the older generation of Liberty leaders. "Years ago, I promised the founder, Jerry Falwell Sr., that I would serve on the board as long as I was asked to continue to do so, and to help try to be part of the spiritual barometer that he always wanted," Reighard told me. Falwell Jr.'s actions showed "some lapse in judgment."
Falwell is the beloved son of the university, who pulled the school deep out of debt when he took over after his dad's death. The school built an online-education empire and invested heavily in sports to turn a profit. He won cheers of "Jer-ry! Jer-ry!" at campus events, and once let students at a basketball game crowd-surf him, Dwayne Carson, a former campus pastor, told me. Falwell's supporters at the school were willing to rationalize his behavior and focus on his strengths. But this is the "Achilles' heel of evangelicalism," Karen Swallow Prior, an English professor who recently left Liberty, told me. "We put so much emphasis on the redemption narrative that we are too willing to excuse sinful behavior, and not hold people accountable." This culture of forgiveness and redemption, she added, is why so many evangelical leaders are willing to overlook bad behavior in Trump.
To those evangelicals who abhor Trump's association with evangelicalism, however, Falwell's support for the president was his original sin. Falwell provides "religious cover for moral squalor—winking at trashy behavior and encouraging the unraveling of social restraints," Michael Gerson, the evangelical Washington Post columnist who served as a speechwriter for President George W. Bush, wrote in an Atlantic cover story about evangelical support for Trump. Falwell was able to survive at Liberty for so long in part because many of the school's leaders agreed with his politics, and they felt justified dismissing criticism of Falwell's behavior as just another biased attack. The yacht photo, however, "could not be brushed off as someone else's bad-faith interpretation of what Jerry had done, or some exaggeration or falsehood reported by the media, or a misunderstanding," Prior said.
Even within the Liberty world, alumni worry that Falwell's name has become synonymous with the word evangelical, and see the association as misguided. "To say that Jerry Jr. speaks for evangelicalism is a misnomer, because he himself did not want to wear that mantle," Brandon Pickett, a pastor and Liberty alumnus who is the associate executive director of the Southern Baptist Convention in Virginia, told me. "As Jerry himself has said many times, he is not a pastor, and he is not the spiritual leader."
When Falwell Sr. died, he split his empire in two, giving Falwell Jr. leadership of the university, and his other son, Jonathan, leadership of Thomas Road Baptist Church, the congregation Falwell Sr. built next door to the school. Jonathan has a much quieter style of leadership, and doesn't have nearly the same public profile as his brother, even though he has more theological credentials. As Jerry has stepped more aggressively into national politics over the past five years, evangelical pastors inside and outside of the Liberty world have struggled with his outsize visibility, especially in moments of scandal. "There's been a strong assumption that pastors in Virginia line up with Jerry Jr. politically, and that he somehow speaks for the Christian community," Garman said.
As the news of Falwell's leave of absence broke, his skeptics gleefully cheered his downfall. "Long time coming," tweeted Amanda Carpenter, a former senior staffer to Texas Senator Ted Cruz, who announced his 2016 presidential candidacy at Liberty University, only to get snubbed when Falwell Jr. announced his endorsement of Trump. "I've already seen some things written on Twitter; they're just bashing Christianity now. And that's sad," Carson, the former campus pastor, told me. "I'm hurting for the cause of Christ." But though Falwell may have crossed one too many lines for him to stay at Liberty for now, a redemption story may still lie ahead. "Character is a lot easier kept than regained," Reighard, the board member, told me. "I'm praying that the character can be regained by everyone that's involved."