When a Family Separation Becomes Permanent
Two summers ago, Idrissa Camara was summoned to an ICE field office. He had no idea of the damage to come.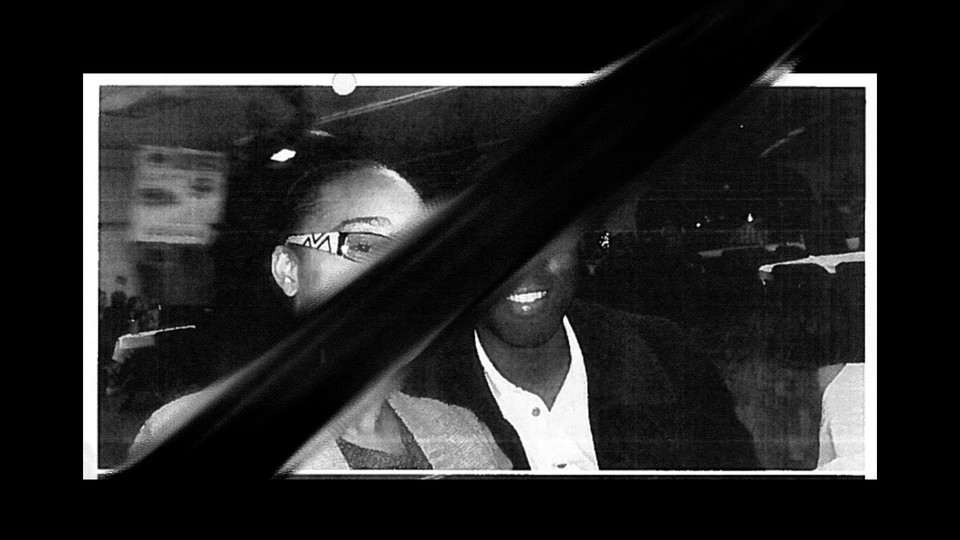 On a Friday morning in April 2019, a guard at the Immigration and Customs Enforcement detention facility in Aurora, Colorado, entered a cell occupied by Idrissa Camara, a 31-year-old immigrant from West Africa, and informed him that he had a visitor. Camara wasn't expecting anyone, but figured it might be his wife, Arri Woodson-Camara. Typically, detainees are allowed to speak with visitors only through a pane of glass in a narrow visiting room. On this day, however, a guard escorted Camara into a common area and instructed him to sit at a table.
The couple's plan had been to talk on the phone regularly while Camara was detained. There were questions about lawyers and paperwork and deadlines that needed to be addressed. Meeting Arri three years earlier—they both worked for the same social-services organization in Pueblo, Colorado, Arri's hometown—had been an exciting moment in Camara's life. The two of them often discussed their future, and were saving up for a house and thinking about starting a family. Camara had tried to remain hopeful that they would still realize those dreams. Lately, though, he was struggling with feelings of depression; he felt he couldn't do much about his legal troubles from a cell. That week, the couple hadn't spent a lot of time talking about his case. So getting to see Arri in person, whatever the reason for her visit, was a pleasant surprise.
Camara sensed something was wrong when he saw who walked into the room: Wayne Payne, a pastor at Camara's church in Pueblo. Before Camara was locked up, he and Payne had had a standing weekly chess game, and attended the same Wednesday-night Bible study. Over the years, their relationship had become almost familial, akin to that of a grandfather and grandson. When Payne sat down, Camara noticed tears in his eyes.
The day before Payne visited Camara, Arri had abruptly left work. She told a friend and colleague, Christy Adams, that she'd forgotten her lunch at home and was going to pick it up. When Arri didn't come back, Adams began to worry.
At about 1 p.m., Adams checked her phone and noticed a text from Arri that said she was outside the office. The message had been sent almost an hour earlier; Adams had been busy serving lunch and hadn't seen it.
She texted Arri back: You are starting [to] scare me. Are you ok
No response. Adams went outside and looked around, and noticed Arri's white Toyota RAV4 parked next to the south side of the building. She approached the car and saw Arri hunched over in the driver's seat. Adams called Arri's name, opened the car door, and attempted to wake her. No response. Adams dialed 911.
Officer Christian Ceja of the Pueblo Police Department and his partner arrived on the scene a few minutes later. Ceja found Arri motionless. There was a bullet hole in her shirt and blood stains on her jeans. Another officer found a revolver on the floor of the passenger side. There were three live rounds and two spent shell casings in the gun, and a third spent shell casing on the passenger seat. The coroner arrived about 40 minutes later and pronounced Arri dead. The cause of death was a single, self-inflicted gunshot to the left side of Arri's chest. Given where the bullet had entered Arri's body, it seemed that she had aimed for her heart.
Then the police found the note.
This is too much. I can't stand him not being w/ me and the thought of him not being w/ me to share our future together like we planned. I'm tired of crying about it every night when Idrissa doesn't deserve this; we both don't. I'm sorry everyone. I'm sorry Idrissa, I love you, love you all. Please cremate me. This pain is too much. My heart is broken. Don't dare call me selfish. You don't know what these 265 days have been like. Anyone who voted for Trump cannot attend my funeral. You helped ruin my life.
Payne told Camara all of this that spring day. Standing together in the detention center, they embraced in a long hug. When Camara returned to his cell, he curled up on the thin mattress and pulled his blanket over his head.
No one could have anticipated the trajectory of Camara's life—his case and situation are distinctive—and yet his story is why immigration advocates are worried about a policy that encourages the detention of noncitizens anytime, anywhere, for any reason. "His case really exemplifies why we've been fighting for prosecutorial discretion for a decade," says Colorado State Senator Julie Gonzales, a longtime immigrant-rights advocate who previously worked on Camara's case as a paralegal. "His story also demonstrates the consequences that immigrants fear for doing the right thing, for showing up and taking responsibility, for trying to acknowledge past mistakes and do better and rehabilitate."
Social scientists and other scholars have long studied the broad impacts of deportation and forced family separation, and have found that these actions can reverberate beyond a single person or family, affecting the health of entire communities. "The people being harmed by these policies are not only people who are being detained and being deported," says the UC Santa Cruz psychology professor Regina Day Langhout, the lead author of a 2018 paper in the American Journal of Community Psychology summarizing three decades of work on this topic.
Research has shown that people close to someone who has been targeted by ICE, regardless of their immigration status, tend to become more fearful of public institutions. In study after study, respondents reported calling the police less frequently, even if they were the victim of a crime; attending fewer religious services; not using public parks as often; and seeking less access to health care. "When we stop trusting in the systems that are designed to help us, that leads to greater social isolation," Langhout told me. "When our social fabric disintegrates, that hurts everybody."
Camara had been part of the social fabric of the United States for nearly two decades before Donald Trump was elected president and took an especially hard line on immigration. The oldest of five children, Camara was born in Guinea, a small nation along the West African coast. He grew up in the capital, in a busy house full of extended family. When he was 12, he traveled to the U.S. on a tourist visa with a few cousins. Only after he landed in New York City did he learn that the move was for good. Camara spent almost a year in Harlem with his uncle before boarding a Greyhound bus bound for the Rocky Mountains, where his father and stepmother lived.
Still attempting to grasp basic English, Camara struggled academically. He started breaking curfew and getting into fights. At 16, his parents sent him to a group home for troubled youth. He acted out there, too, and was eventually taken to see a doctor, who diagnosed Camara with bipolar disorder with psychotic features. The prescribed medication, an antipsychotic drug called Haldol, made him drowsy and restless, and he experienced tremors and stiffness in his joints. Camara stuffed the pills in a drawer and forgot about them. The emotional highs and lows of his condition soon returned, culminating in his arrest in March 2007, at age 18. In the midst of what Camara describes as a delusional episode, he sold an eight ball of crack cocaine for $90 to a confidential informant working with the police. "I felt like I was in a movie and I was just playing a role," Camara told me. "I was thinking this is like Boyz n the Hood."
In exchange for probation, Camara pleaded guilty to possession of a controlled substance with intent to distribute. Almost a year later, according to court documents, Camara walked into a stranger's house thinking it was his own and rummaged through vehicles in the garage; Camara was convinced that his stepmother was hiding contracts from professional soccer clubs offering him a spot on their team. The police arrested him, and he spent more than a year in a county jail awaiting trial on second-degree burglary and trespassing charges. At the time, Camara's father was sick with cancer, and Camara felt overwhelmed by sadness and despair. A month after his arrest, Camara's father died. When Camara finally got into a courtroom in 2009, the jury found him not guilty by reason of insanity.
Adjudicated to the Colorado Mental Health Institute at Pueblo for rehabilitation, Camara began a steady drug regimen for the first time in his life. After years of not taking medicine consistently to treat his condition, Camara had been heavily medicated at the county jail. The new program prompted a gradual, yet remarkable, turnaround. "We slowly tapered his medication, and he became a whole new person," says Ted Smith, Camara's psychiatric provider at the institute. In the fall of 2014, the hospital approved Camara for a community-placement program, which allowed him to live outside the facility while continuing to be monitored by staff at the institute. A local couple, Wayne and Susie Payne, whom Camara had met through friends when he began attending a Pueblo church, agreed to let him move in. "He's like a family member," Susie told me. "We will do whatever it takes to help him."
Camara met Arri a couple of years later, in 2016, when he got a job at the same nonprofit where she worked. Arri was a middle child, with a brother on either side. "We were all really close growing up," Dave Woodson, her younger brother, told me. "We had probably the best childhood anyone could hope for." All three kids were athletic, and they often shot hoops together in their driveway. Arri went on to play point guard at a small college a couple of hours away from home. After graduation, she moved back to Pueblo, looked after her parents, and started working at the nonprofit, caring for people who were disabled and needed help. "It's kind of cliché, but she was through and through a good person," Dave said. "She was doing what she was meant for—she was a caretaker, and she enjoyed that. She put others first."
The first time Camara and Arri spent time together outside of work was one night in early 2017, after a fundraiser, when a group of co-workers decided to go out for a bite to eat. Camara kept checking his phone at the restaurant—he had plans to meet another woman for a date in Denver, and didn't want to be late. Arri teased him about why he was in such a hurry. She suggested that Camara forget about his date and stay with her and the rest of the group. "She distracted me that whole night," Camara told me. "We just talked and talked."
Arri was adamant about keeping things professional at work; still, everyone knew that she and Camara were dating. "Arri was a very reserved person, but when she saw Idrissa or spoke his name, she just lit up," says Maureen Meyette, a colleague. In their free time, Camara and Arri enjoyed backyard barbecues with friends and eating at Olive Garden. The Woodson family was happy too. "Once he came along, you just got the feeling he was the right guy," Dave said. Eventually, Camara started thinking about marriage. He came up with a clever way to broach the topic with Arri's parents. Camara told me that, customarily, when a man proposes in Guinea, he buys the woman's father a goat. Camara explained the tradition to Arri's dad. Not-so-jokingly, he added, "There might be a goat in your future."
Years earlier, before Camara met Arri, his parents had filed a green-card application for him. However, by the time his paperwork came up for review, Camara had picked up his drug charge, which made him ineligible for lawful-permanent-resident status. In 2011, Camara was removed from the mental-health institute and placed in ICE detention while the government reviewed his green-card application, later his asylum application, and eventually tried to deport him. The presiding judge in the asylum case indicated that he might have approved Camara's application for reasons that included mental-health care in Guinea being effectively nonexistent. Again, though, Camara's plea deal from the drug case derailed the application, and the government ordered him removed from the country. What happened next is unclear. According to Camara's current attorney, Hans Meyer, it seems that officials were unable to coordinate the deportation process with Guinea. With nowhere to deport Camara, the government sent him back to the state hospital in Pueblo in 2012, and placed him under what's known as an ICE order of supervision.
The orders were common during George W. Bush's and Barack Obama's administrations. The arrangement allowed undocumented immigrants whose countries wouldn't take them back, who had pending legal cases, or who had sympathetic circumstances—such as long-standing ties to a community or an ill family member—to avoid detention and deportation, as long as they stayed out of trouble and regularly checked in at an ICE field office. Camara complied with his order for six years without incident.
After Trump took office, however, these noncitizens under orders of supervision became targets for removal; immigration experts, including a former ICE acting director in the Obama administration, John Sandweg, referred to this group as the "lowest-hanging fruit." Some immigrants attempted to avoid being deported by hiding in churches, which under Obama had been designated "sensitive locations" in an effort to discourage enforcement activity in such places. Camara wasn't following the headlines, but he did think it was odd when he got a call from an ICE agent in the summer of 2018 asking him to come into a field office. "He really put me at ease," Camara told me, describing the call. "He made it seem like it wasn't a big deal." Camara said that when he walked in the door, three ICE agents surrounded him and placed him in handcuffs. "It was just like, this is it, you know? The hopes and dreams are dead and gone," Camara told me. "Mistakes were made along the way, but there won't be [any] opportunity to rectify it and get on a trajectory that is on the up incline. It was just, like, shock."
Camara was allowed to notify Arri of what was happening via text. "I thought I was getting on a plane right then and there," he told me. Instead, Arri and Wayne Payne found Meyer, who was able to delay the deportation process while he tried to fight Camara's case, and Camara began what would become a lengthy stay at the ICE detention center in Aurora. "My sister led the way in trying to get him released," Arri's brother Dave told me. "I know for a fact she stayed up countless nights working on his case." After a few months, unable to plan a wedding with Camara detained, the couple improvised. Meyette, their colleague, performed the ceremony that fall via teleconference—Arri in a quiet room at work and Camara at the detention center. "She doesn't show much emotion, but that day she did," Meyette told me. "She was so happy." Arri signed the paperwork right then, so Camara could see.
But as Camara's detention dragged on, Arri was hurting. In mid-April 2019, she mailed her husband an Easter card. On the front was a picture of an egg and a rabbit, with "Hippity Happy Hoppy Easter" written in ornate lettering. Inside, Arri wrote about how she'd recently been to a baseball game, and that it had reminded her of the year before, when the two of them had caught a game together. She also wrote about how crushing it was that another holiday was coming and they wouldn't be able to spend it together. She signed the card: I love you and miss you an incredible amount. Love, Arri. The envelope was postmarked two days before she died.
About a week after his wife's death, Camara was back in Pueblo, living in a spare room at the Payneses'. ICE had released him from custody in time for him to attend Arri's funeral service; he'd spent nine months in lockup. In a statement, an ICE spokesperson, Alethea Smock, said Camara was released for "humanitarian reasons." Smock provided a timeline of Camara's immigration case and his interactions with law enforcement, but declined to comment further, citing privacy guidelines. Camara is once again on supervised release, just as he was years earlier.
In the weeks after Arri's death, Camara barely left the house, sleeping so much that he lost track of the days. He eventually started taking long walks through downtown Pueblo, by the river. "It was really hard, because you're in the beginning stages of processing everything that happened," Camara told me, "trying to find meaning in the midst of it all." Eventually, he returned to work at the nonprofit, which had held his job for him. "Going back was like an explosion of joy, but kind of sad at the same time," Camara said.
Even after all his struggles and the tragedy of his wife's death, Camara still identifies the United States as a land of opportunity, a place where prosperity can be achieved through hard work, decency, resilience, and second chances. "People are doing the best with what they have," he said. Whether Camara will be able stay in the country, however, remains in question.
His fate is now tied to the outcome of a number of technical legal arguments. The first is that recent federal circuit-court case law suggests Camara's drug charge may no longer qualify as an aggravated felony, meaning, Meyer argues, the government should be able to reconsider Camara's asylum claim. Meyer is also appealing Camara's criminal case, in part on the grounds that he was mentally ill at the time and thus not fit to be making decisions about a plea deal. What's more, if the government were ever to return to exercising discretion in immigration cases, Meyer believes Camara would have a good argument to make that he should be able to stay in the country. "He really does present the perfect example of the rehabilitative road to redemption," Meyer told me.
Then there's the matter of Camara's marriage to Arri. Normally, immigrants who marry American citizens are able to apply for legal residency. But, again, Camara's drug charge bars him from doing so.
Despite the challenges of his legal situation, Camara doesn't see himself as being all that different from any other American. He was lucky enough to fall in love, and happily worked a steady job to save up and start a family.
For now, all Camara can do is wait. He regularly works overtime at the Pueblo nonprofit, in hopes that he might be able to stay in the U.S. and pay his way through college. He wants to study psychology, the field that finally helped him cope with his mental-health condition. "I look forward to putting all my efforts and the money I've saved toward going to school and getting a bachelor's degree," he told me. When the coronavirus pandemic hit, Camara stayed busy. He was declared an essential worker at the nonprofit, where he now wears a mask at all times, regularly sanitizes surfaces, and has his temperature checked three times a day. Having to self-isolate as a widower has been difficult, but it's in Camara's nature to remain positive. "Not a day goes by without thinking about her," he said. "It's a reminder to spend time with those you care about most."
Dave Woodson has been able to take some solace in knowing that his sister is no longer suffering. "That's what gets me through the day," he said. As he sees it, it took his sister's death for ICE to release Camara from detention, and that hurts. Long before Arri's death, Dave said, he would see stories on the news about how the government was treating immigrants, but he never thought about how that might affect his family someday. "The current administration and the way they're doing things to people—I don't think the man in charge understands who he's affecting with his words and policies," Dave said. "It ruined my sister's life, and broke all of our hearts."