What Really Scares Voting Experts About the Postal Service
No matter what Trump says, the USPS has the money and the capacity to handle a huge surge in mail-in ballots. But new restrictions could disrupt the election.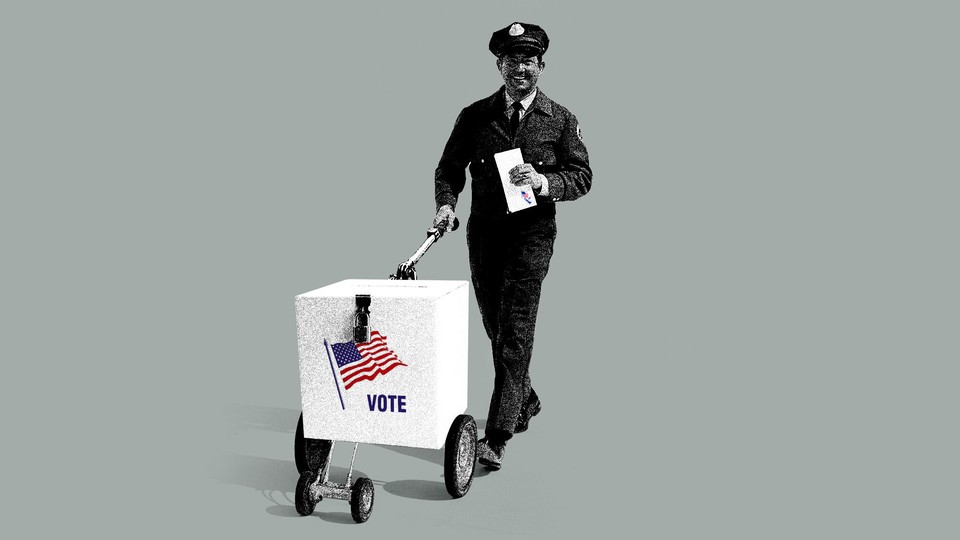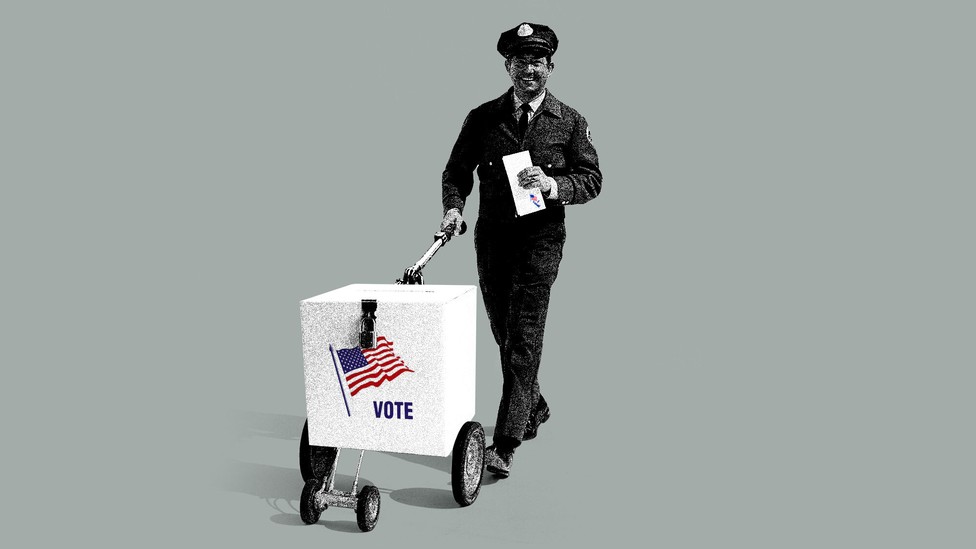 President Donald Trump and his allies might well succeed in undermining the United States Postal Service's ability to handle an expected surge in mail-in ballots this fall. But the biggest immediate threat to voting by mail isn't blocked funding.
Trump acknowledged yesterday that he opposes a major stimulus deal with Democrats in part because he wants to stop an infusion of $25 billion to the Postal Service ahead of the election. "They need that money in order for the Post Office to work, to take in these millions and millions of ballots," Trump said in an interview with Fox Business's Maria Bartiromo. But the president doesn't want more voting by mail, and he doesn't want the Postal Service to have any more money to help with it. "If we don't make a deal, that means they don't get the money. That means they can't have universal mail-in voting. That means they can't have it."
Democrats see the president's comments as slam-dunk evidence of what they have been charging for weeks: that Trump is sabotaging the November election by purposely degrading the ostensibly independent Postal Service. They have assailed the appointment as postmaster general of a Trump donor, Louis DeJoy, who has moved rapidly to reorganize the Postal Service's leadership and institute cost-cutting measures that have already resulted in slower mail delivery. Those service changes, rather than the congressional fight over funding, are what alarm advocates for mail-in voting the most. At stake is nothing less than the integrity of the election itself, which to a large degree rests on whether tens of millions of ballots can get into mailboxes and then back to their precincts in time to count.
"This is a different form of massive voter suppression occurring in front of our eyes," Representative Gerry Connolly of Virginia, the chairman of the House subcommittee that oversees the Postal Service, told me.
The president's claims about the Postal Service's existing capabilities are off base, according both to the agency itself and to outside analysts and voting experts. The Postal Service has been preparing for expanded vote-by-mail for months, before the coronavirus pandemic cast doubt on the safety of in-person voting and long before DeJoy took office as the nation's 75th postmaster general in June. The agency began its outreach to 11,500 election administrators in March, and hundreds of regional election-mail coordinators regularly consult with state and county officials on everything from the dates they plan to send out ballots to the design of the envelopes themselves.
Despite the Postal Service's shaky finances, which have been deteriorating for years, by its own accounting the agency has both the money and the capacity to handle a presidential election likely to shatter records for mail-in voting. "The Postal Service's financial condition is not going to impact our ability to process and deliver election and political mail," a spokesperson, Martha Johnson, told me. "The Postal Service has ample capacity to adjust our nationwide processing and delivery network to meet projected election and political mail volume, including any additional volume that may result as a response to the COVID-19 pandemic."
From a sheer numbers perspective, none of the experts I spoke with doubted that the Postal Service could handle a vote-by-mail election, even if every one of the nation's more than 150 million registered voters stuck their ballot in a mailbox. As one noted to me, a presidential election might be a big deal, but in postal terms, it's no Christmas. The Postal Service processes nearly 500 million pieces of mail every day, and it annually handles more than 3 billion pieces in the week before Christmas alone. "I don't worry about their capacity," Amber McReynolds, the former director of elections in Denver, who now runs the National Vote at Home Institute, a mail-balloting advocacy group, told me.
People like McReynolds are instead preoccupied by the changes DeJoy introduced within weeks of taking over the agency, and the cautionary letters the Postal Service has sent to election administrators in certain states. According to a memo published by The Washington Post, whose authenticity was verified by the American Postal Workers Union, postal employees are now instructed to leave mail behind at the post office rather than make extra trips or wait for a delayed truck—a directive that amounts to a sea change for men and women trained, in the words of one union official, that "when the mail comes in, the mail goes out." The agency is also cutting back overtime, even though as many as 40,000 postal workers have been quarantined or out sick because of the coronavirus. The changes have already led to complaints about delayed deliveries across the country, and the potential effects on the collection and delivery of ballots in the days before the election is obvious.
"If carriers are being told that, at the end of your shift, you need to be back at the office even if you haven't collected all the mail that day, there could be ballots in those mailboxes," says Tammy Patrick, a senior adviser at the nonprofit Democracy Fund Voice and a former Obama appointee to the Commission on Election Administration, a panel created in 2013 to identify best practices in running elections. "If the truck drivers are being told, 'You leave the post office to take that day's mail to the processing plant at your scheduled time to leave, even if all the carriers aren't back in yet with that day's mail,' that can have an impact."
The Postal Service has not widely publicized or even confirmed the operational changes. The agency declined to make any of its leaders available for an interview, instead responding to questions in writing. "Our network is designed to handle increases in volume and deliver that mail in a timely manner," Johnson said. She said DeJoy did not distribute the memo the Post published, but she did not deny the operational changes it described.
The advocates I spoke with weren't sure whether those changes are tied to the upcoming election or simply represented an oddly timed pivot aimed at solidifying the agency's financial footing. "The jury is out on all of this stuff," Arthur B. Sackler, the manager of the Coalition for a 21st Century Postal Service, a business group composed of large companies and trade associations that is pushing Congress to strengthen the agency. "These are big changes, and how are they going to be absorbed during the peak of a national crisis and with the peak of the election season on the horizon?"
Mark Dimondstein, the president of the American Postal Workers Union, told me the changes were "demoralizing" for his members. He's heard reports from postal workers who say Monday mail isn't going out until Wednesday and that in some jurisdictions on some days, mail isn't going out at all. "They're ordering workers to leave mail for another day," he said. "That goes against our DNA."
As for the cost-saving rationale for the moves, Dimondstein added: "It's not called the United States Postal Business. It's called the United States Postal Service."
The Postal Service is an independent agency that gets no appropriations from Congress. Trump did not even directly appoint DeJoy, a former logistics executive, although he did appoint the members of the USPS Board of Governors who hired him. DeJoy has said he does not take direction from the president, and in remarks to the Board of Governors last week, he said that he and the Postal Service were "fully committed to fulfilling our role in the electoral process."
"Despite any assertions to the contrary, we are not slowing down election mail or any other mail," DeJoy said. "Instead, we continue to employ a robust and proven process to ensure proper handling of all election mail."
But Democrats argue that the new postmaster general is doing the bidding of a president who has for years tried to jawbone the Postal Service into raising rates in a way that would hurt one of Trump's perceived enemies, Jeff Bezos. CNN reported Wednesday that DeJoy's financial-disclosure forms revealed that he had major investments in a USPS competitor, along with other potential conflicts of interest.
"From my point of view, this is happening right in front of your face," Representative Connolly said. "So are you going to trust what you're seeing, or are you going to hope for the best?"
Tammy Patrick sees other troubling signs at the Postal Service. For years, the agency has allowed some states, particularly those in the West that have already adopted universal vote-by-mail, to send out ballots using a lower rate for bulk mailings, rather than paying the more expensive first-class rate. The Postal Service has always expedited ballot deliveries as if they were first-class mail, as part of a general effort to "move mountains," as Patrick puts it, to make sure they get delivered on time. But this year, the agency is signaling that it may not. Late last month, the Postal Service sent letters to election administrators in certain states, including Washington, Pennsylvania, and Florida, warning them that their deadlines for requesting and returning mail ballots "may be incongruous with the Postal Service's delivery standards."
"This mismatch creates a risk that some ballots may not be returned by mail in time to be counted by your laws as we understand them," the letter to Washington's secretary of state, Kim Wyman, read, according to a copy obtained by The Atlantic. The Postal Service generally advises voters to request a ballot at least 15 days before an election and to mail it back a week before, but many states allow voters to request ballots much closer to Election Day.
"I've never seen the Postal Service throw anyone under the bus before, and they're preemptively blaming election officials if anything goes wrong," Patrick told me. "The tone is very different this year." Amber McReynolds told me the letter "looks to be very CYA to me."
How smoothly mail-balloting goes this fall will depend on more than just Postal Service policies. Many state and local election administrators will be ramping up expanded vote-by-mail for the first time, and it'll be up to them to engage their local postal coordinators, McReynolds told me. And post offices may not follow directives from Washington, D.C., if they believe doing so will tamper with the election. Postal workers are voters too, and for years they've been trained to prioritize ballots at election time. "To some degree, they'll be able to mitigate and prevent the majority of issues," Patrick said. "But that's not to say they'll be able to protect against all issues."
With less than two months before early voting begins in many states, the turmoil at the Postal Service has left Democrats in an awkward position. They are demanding money for the USPS in stimulus talks, even though they contend that the agency can handle the surge in voting by mail this year without more cash. (The agency isn't projected to run out of money until 2021.) Connolly told me the $25 billion would "take away the argument" that DeJoy's cost-cutting moves are necessary.
More significantly, however, Democrats have urged voters for months to cast ballots by mail as a way to participate safely during the pandemic. Now they're saying that Trump is sabotaging the Postal Service—questioning whether the mail can still be trusted.
Can it? I asked Connolly. Yes, he replied. "It's really important that we not fall into the Trump trap that you can't trust the Postal Service to handle your ballot. That's a false narrative," he said. "There's no reason to believe that. There are complications because of what DeJoy is doing."
If there is a cause for optimism, Patrick noted that the solution to the Postal Service uncertainty is largely in voters' hands. Because of the pandemic, most states now allow voters to request their ballots well in advance and send them in weeks before November 3. "You don't want to wait," Patrick said. She added, with a laugh: "Leave nothing to chance!"